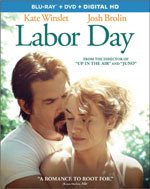 Labor Day



– for thematic material, brief violence and sexuality.
Director: Jason Reitman
Starring: Kate Winslet, Josh Brolin, Gattlin Griffith, Clark Gregg, Tobey Maguire, James Van Der Beek
Running Time: 1 hour, 51 minutes
Theatrical Release Date: January 31, 2014
Official Site
Blu-Ray Release Date: April 29, 2014 (Amazon.com)
Plot Summary
Depressed single mom Adele and her son Henry offer a wounded, fearsome man a ride. As police search their town for the escaped convict, the mother and son gradually learn his true story as their options become increasingly limited.
(from IMDB.com)
Film Review
Sometimes talent outweighs genre preference when choosing a film to watch. Director Jason Reitman, son of director Ivan Reitman (most known for Ghostbusters), has made a name for himself with films like Juno, Up in the Air, and Thank You for Smoking. Labor Day is his latest venture, a film adapted from the popular romance novel by author Joyce Maynard. The story revolves around a depressed divorced mother (played by Kate Winslet) who lives with her young son in his budding teens when they're suddenly met with an escaped convict (Josh Brolin) who forces them to help him. But what the two broken adults find in each other is a fulfillment and companionship they had been missing for many years. And the boy, Henry, finds a father figure he never really had.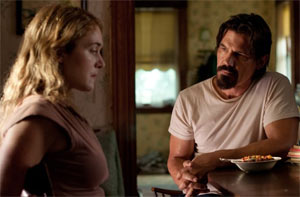 I was a little surprised to find that Labor Day is told through the eyes of Henry's character. His adult self, played by Tobey Maguire, narrates the story, recalling his relationship with his mother, Adele, and then when they met the man who escaped from prison, Frank. Henry struggles with coping with the emotional pain he sees his mother suffering, and when we eventually find out the root of his mother's pain and his parents' divorce, it's about as tragic as it can get for young parents. What surprised me even more, however, was Henry's pubescent struggles with sexuality and becoming a young man (and how that kept coming up in the story). As he ponders his mother's needs, and Frank's once he's in the picture, he finds himself laying awake at night and fantasizing about a girl in his class. It's an honest an realistic look into the mind of a curious preteen, and Reitman approaches the subject of sex and intimacy delicately. However, it may disappoint some viewers to see Frank and Adele jump into a physical relationship on a whim only about two days after meeting each other (and under such unusual circumstances). The relationship becomes a therapeutic thing for both of them, but the moral question of it never comes into play. And as Henry, who's really a good kid at heart, begins to ponder romance and sexual desires, the viewer may find themselves worrying about where this plot point is headed.
Sticking with that thought, I was relieved that, although the film seemed to needlessly focus on Henry's coming-of-age in the midst of a story that was more about Adele and Frank, Henry ended up making seemingly all the right decisions. When we find the story jumping years into the future, we see that Henry took his life seriously, settled down, and even made commendable career decisions. In a way, it totally contrasts nicely the life paths of all of his adult influences. Labor Day covers several heavy topics like these, and Reitman does a pretty good job dancing around the various ones while tying them together (maybe not always neatly though). Musically and directionally, he approaches the story in a similar fashion to that of Christopher Nolan. Rolfe Kent's score is eerily similar at times to David Julyan's for The Prestige (a Nolan film), while the way Reitman handles flashbacks of Frank's story is very akin to Batman Begins or Inception. We get glimpses tossed into the middle of the main story that increase as the movie progresses and then eventually get revealed in full. It's quite effective for Labor Day (giving it a more artsy feel), and both Kent and Reitman work hand-in-hand quite well to create tension and uneasiness as it serves the story.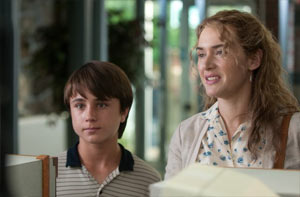 At the core of Labor Day is a very mature drama that works as well as it does through fantastic performances from the main cast. Kate Winslet perfectly plays the part of Adele in a way that's pretty believable (even though how fast their romance blooms is a bit of a stretch). You get the severity of why she is the way she is and how she got there through Winslet's intensity. Brolin is equally good as this mysterious criminal who seems to be a good guy, but there's a darkness in his behavior that makes the other characters, and the viewer, skeptical. Once we learn his tragic story, we're able to sympathize with him more, and we see a bit of his naivety relate to Henry's own personal journey. This core trio is surrounded by an able-bodied supporting cast that helps create this very tangible world in a 1987 Massachusetts. And anyone who grew up in the late 80s will get a kick out of the authenticity that Reitman brings to the details of that time.
The content is edgy when it comes mainly to thematic material. We see some brief violent images, but it's downplayed for the most part. The language is limited to 1 "d*mn" and 1 use of Jesus' name in vain, while the rest of the content is heavily about sexuality more than showing it. In the contrast of sexual comedy versus straight-up perversion in some movies, Labor Day examines how it relates romantically. In one particular scene, we see a flashback of Adele and Henry lying in a hammock and she brings up the topic of sex. He tries to stop her from talking to him about it by saying he's heard about it in school, but she proceeds to address how they don't usually talk about how it "feels." It's something that Henry recalls when he realizes Adele and Frank start sleeping together–and another moment has him lying awake and listening to faint sounds of one of those moments coming from their room nearby. In that sequence, we see flashes of imagery haunting Henry, from the girl who sits in front of him in class (where you can see the bra straps on her back through her sheer shirt) telling him in his mind's eye that he wants her, to him briefly fantasizing about being in a lake with her at night as she throws her arms around him (Possibly topless. We only see it from behind, and in a brief flash). Then he meets a new girl in his town who talks very frankly about adults having sex and wanting their kids out of the picture so they can do whatever they want, and she puts thoughts in his head that start to worry him about Frank's intent. It's all stuff like this that permeates the thematic material in Labor Day. It's a film most suitable for adult audiences, as I'm sure parents may find the movie sparking topics of conversation when they might not be ready for it. Finally, there are topics relating to miscarriages and stillborn babies that will be very heavy for anyone sensitive to this. It's not very subtle, either, so if this is a touchy subject for you or someone you know, I highly recommend passing on this movie altogether.
Overall, Labor Day is a quality, beautifully shot drama with heavy topics delivered with solid acting and a story that's intriguing. It's not a film to watch just to be entertained, and some viewers won't be comfortable with some of the content or characters' decisions, but it's a well-executed romantic drama that any fans of the genre or any of the main cast will probably especially enjoy.
– John DiBiase, (reviewed: 4/25/14)
Blu-Ray Special Features Review
Labor Day releases on DVD or in a Blu-Ray/DVD combo pack (with Ultraviolet) and through the usual digital retailers. Along with the feature film in HD (which looks excellent), is a feature-length commentary from director Jason Reitman and crew. It was recorded before the film released to theaters and is an insightful look at the production of the film. There are also two additional bonus features:
End of Summer: Making Labor Day (29:06) – This is a fabulous making-of featurette about how the book came to the screen. Author Joyce Maynard talks about how the original story came to her and how quickly she wrote it (It only took 10 days!), while Jason Reitman talks about choosing the project and the themes of the film. We see some fantastic, in-depth behind the scenes footage, as well as scenes as they're being set up and Reitman calls action. We also see some interesting outtakes, B Roll footage, and cast and crew interviews about the film and characters. One of the highlights is a bonus snippet of the baseball scene in the backyard where Frank pitches the ball to Henry to hit. However, in this take caught on film, Gattlin (who plays Henry), hits the ball and it clocks Josh Brolin in the forehead. This featurette also shows hints of deleted footage from the final film. It's definitely worth watching! (1 bleeped "F" word)
Deleted Scenes (10:36) – There is a handful of deleted scenes included here. The first, "Biscuits," has Frank showing Henry how to pull apart a biscuit instead of cutting it. "Diner" finds Henry visiting the eccentric new girl at a diner and they awkwardly (and loudly) talk about their privates and the way their parents get weird about talking about them. The dialog from the end of the scene was reused during their meeting on the bridge near the end of the movie. "Mr. Jervis" has JK Simmons visiting Adele's house while everyone's packing up to leave and Henry has to cover for them. "Joe" and "Loss" are about Adele telling Henry to abandon his hamster Joe because they won't be allowed to take him across the border. Henry gets really upset at this notion and the next morning comes downstairs to find that the little animal has died. He accuses Adele and Frank, the latter of whom insists they would never do such a thing. Finally, "Something Like Popularity" takes place after Henry returns to school and a girl shows interest in him just because of the story she's heard about Frank being in their home. Older Henry then talks about this girl being his second first kiss and we see him kiss her. Most of these scenes aren't crucial ones, but they're worth watching here.
– John DiBiase, (reviewed: 4/26/14)
Parental Guide: Content Summary


 Sex/Nudity: We see a flashback of Adele talking to her son about sex and how they don't tell the kids how it feels, just about bodily fluids; We see flashback imagery of a couple laying down in the back of a truck together, clothed and kissing; We see Frank slowly slide his hand sensually across Adele's clothed back; In narration, Henry talks about rhythm and how the nights were no longer silent between Adele and Frank (hinting that they were starting to sleep together). As he talks about this, we see a flashback of Henry in class looking at the back of a girl sitting in front of him who is wearing a sheer shirt with her bra straps visible through her shirt (We only ever see her back); We see Adele wearing a dress that shows some cleavage; Frank shows Adele and Henry how to bake a pie and we see Frank sensually guiding Adele's hands through the peaches and ingredients; In flashback, we briefly see a girl straddling a guy and undoing his belt on a couch; We then see this same flashback again, while they're clothed, but with some movement (meaning they probably undressed just enough to have sex); Henry lies in bed listening to some faint moaning of Frank and Adele sleeping together in another room. He starts to envision the girl in school and imagines them in water at night with her throwing her arms around him (possibly skinny dipping, we just see his face and her back). He then pictures the magazine covers he saw in the store featuring women on them and one winks at him. He also fantasizes about the girl from school taunting him that she knows what he wants; Henry goes over to talk to a new girl in town. They get to talking about how adults just want the kids out of the picture so they can have sex. And when Henry tells her about Frank being around (not by name, though), she says Frank will want Henry out so he and Adele can have sex; Henry and the new girl talk about adults and sex again, and she references Bonnie and Clyde; We see a flashback of young Frank recognizing that his wife was having an affair. He asks her and she just mocks him; Henry's dad tries to talk to him about sex but he tells him that he knows about it already. His dad then talks about Adele having been very passionate.

 Vulgarity/Language: 1 "d*mn," 1 "J-sus"

 Alcohol/Drugs: None.

 Blood/Gore: Frank has some blood on his side on his shirt; When Frank asks Adele for a ride, he turns his head and we see a little blood around his ear and hairline; We see lots more shots of Frank in his white shirt with a blood stain on the side; We see Adele removing the bandage from Frank's side with some blood around the scar/sewn incision; In a flashback, we see Adele get up from a toilet with blood running down her leg as she talks about having a miscarriage.

 Violence: Frank cups his hand around the back of Henry's neck when he asks Adele for a ride; Frank ties Adele up by the wrists and ankles; A mother slaps her disabled son in the face; Henry envisions bullets blowing through car seats above him as he cowers on the floor of the car (but it's not real); A man shoves his wife roughly and she flies back and hits her head on a nearby iron heater, being instantly killed. He the realizes they left the bathtub water running and it's presumed that a little baby drowns in the tub; We see flashbacks of a woman talking about having multiple miscarriages. At one point, she carries a baby to full term and gives birth to a stillborn baby. We then see them hand the baby to her all wrapped up with a bonnet on its head (the baby isn't alive) and we see the mother cradle and kiss the baby (it's a very emotional moment).