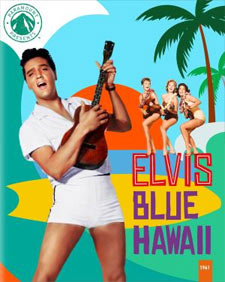 Blue Hawaii


 – for mild sensuality.
Director: Norman Taurog
Starring: Elvis Presley, Angela Lansbury, Joan Blackman, Roland Winters, John Archer
Running Time: 1 hour, 42 minutes
Theatrical Release Date: November 22, 1961
4K UHD Release Date: November 15, 2022 (Amazon.com)
Plot Summary
After arriving back in Hawaii from the Army, Chad Gates (Elvis Presley) defies his parents' wishes for him to work at the family business and instead goes to work as a tour guide at his girlfriend's agency. (from IMDb)
Film Review
While I have a great love for classic films, I have to admit that I've never gravitated towards any of musical superstar Elvis Presley's cinematic work. I've always respected the man's incredible voice, but I just have never had interest in seeing any of his movies (which are also basically musicals). After seeing this year's Elvis biopic, Elvis, the studio pitch for the 4K release of Blue Hawaii piqued my interest. I figured there's probably no better time than now to get introduced to Presley's films, and the fan favorite Blue Hawaii seemed like a good place to start.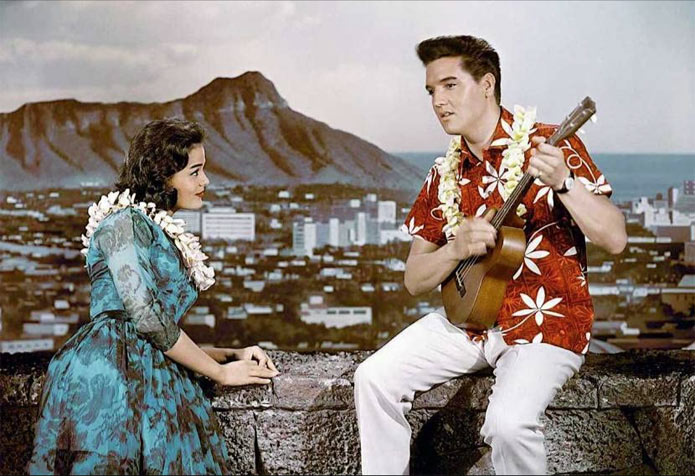 Blue Hawaii starts off with Elvis's character, Chad Gatess, returning home to Hawaii from being away in the Army for two years. Upon his arrival, Chad reunites with his girlfriend, Maile (but not before kissing an airplane stewardess just to make her jealous?), and his Hawaiian buddies, in an effort to avoid going home. See, Chad's father has his own lucrative business and hopes his son will follow in his footsteps someday, but Chad really just wants to do his life his own way. Meanwhile, Maile hopes he might settle down with him, but Chad's parents aren't too keen on the idea of Chad marrying a lowly commoner. It's not an original plot by any means, but the Elvis songs and Hawaiian setting make Blue Hawaii stand out a bit from the many other stories with a similar plot.
I was surprised at how Elvis is actually a decent actor. His role doesn't call for a great deal of acting range, but he plays the part well, and is often charming, too. However, the way he treats Maile throughout the movie is kind of odd, and it feels a little awkward at times, especially in this present social climate. For example, if kissing another girl just to make her jealous isn't a little icky enough, he sings a song about how he was ALMOST always faithful to her while he was away, which is supposed to be endearing somehow. But another example is when he goes swimming with Maile shortly after returning home, and very suddenly ditches her in the middle of the ocean to hop in a canoe with his buddies, grab a guitar and sing a song about how hot the women in Naples were. We soon find out that, at some point during the musical number when she's nowhere in sight, she loses her bikini top (in completely calm waters, I might add), and needs assistance before getting out of the water. Surprisingly, Chad is a bit oblivious to Maile and her needs, so their dog ends up coming to the rescue. Later in the film, after Chad takes a job as a tour guide, a teenage girl acts very hostile towards him, but later she reveals an unwavering crush on the man, and even throws herself at him a couple times. When he rejects her advances one too many times, she runs away and tries to drown herself in the surf, but thankfully Chad pursued her and was able to stop her before she can complete her suicide attempt. Yeah, it's a little weird. Finally, there's one of those classic rom-com misunderstandings where our hero kisses another girl who we think is interested in him, but we later find out was just taking an incredibly unnecessarily flirtatious way of thanking him for setting her up with someone else. It's an odd mix of drama and romance that doesn't really work all that well.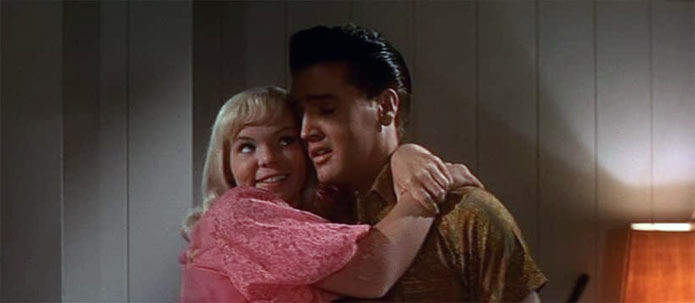 So why even watch Blue Hawaii, you ask? Honestly, while the movie proved to not be my cup of tea after all, it's a good hour-and-forty-minute commercial for Elvis's music, and a little slice of Hollywood history where we can see Elvis take a stab at acting. The movie was a big hit in 1961, and the soundtrack for the movie – which offered a whopping 15 songs from Elvis – ended up being the biggest album that year. This 4K UHD release of the movie gives fans a pretty clear and colorful transfer of the film, although it certainly isn't one of the best 4K movies you'll see. However, it's still a good one, and it breathes some new life into a film that debuted over 60 years ago.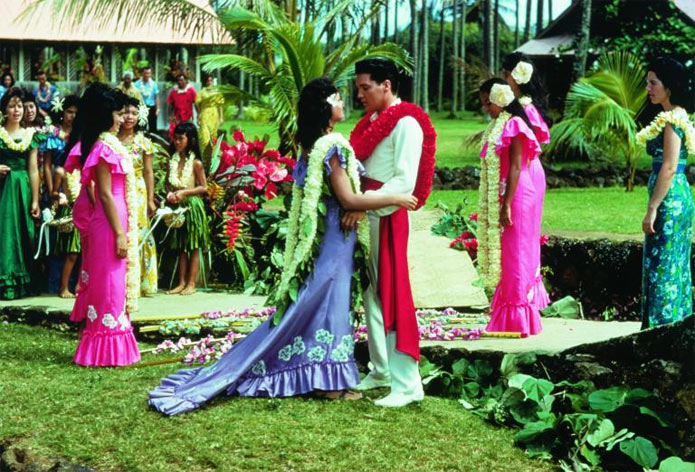 The content for Blue Hawaii is rated PG for "mild sensuality," and I have to say that is mostly true. There is some smooching between Chad and Maile on several occasions, a teenage girl that tries to woo Chad, and some of Elvis's signature hip-swaying dancing. The only language used is a single "d*mn" from Angela Lansbury, and there is some mild violence. Aside from Chad's rough-housing with Maile (like forcing her into the water "playfully"), he gets involved in a fist-fight in a club (that breaks out in a bar room brawl) and ends up spanking Ellie after she laments to him that no one has even cared enough to discipline her. (There's also Ellie's aforementioned dramatic suicide attempt.) A lot of characters do drink quite a bit, but Chad often turns down the alcohol when offered to him. (It's just straight-up pineapple juice for this guy!)
Diehard Elvis Presley fans, and those interested in viewing one of his most popular films, will find Blue Hawaii's 4K UHD Paramount Presents release to be a no-brainer. It's not a great movie, and the plot is thinner than the cherry stem in a Mai Tai, but it's a decent Elvis musical that showcases some of his most memorable songs, while doubling as a love letter for life in Hawaii.
– John DiBiase (reviewed: 11/14/22)
4K UHD Special Features Review
The Paramount Presents BLUE HAWAII release includes the film on both 4K Ultra HD Blu-ray Disc™ and on Blu-ray, as well as access to a digital copy of the film. The Blu-ray additionally includes the original theatrical trailer and the following new bonus content:
Commentary by historian James L. Neibaur
Blue Hawaii Photo Scrapbook—contains high-res images from the Paramount archives, including behind-the-scenes shots
Parental Guide: Content Summary

 Sex/Nudity: We see Chad kissing a stewardess as he gets off a plane, which he admits he did just to make his girlfriend, Maile, jealous; Chad tells his girl Maile he was "almost always true" to her and then sings a song about it; Chad forcefully but playfully throws Maile in the water then takes her to the beach where they fall down and kiss. A little boy walks up to them while they're in an embrace and kissing and asks if he can play too. Chad jokes that he cannot and tells him to find his own girl. We soon see the little boy with a little girl watching Chad and Maile on the beach; We see Maile in a small two-piece bathing suit; Chad's Hawaiian friends ask him how hot the girls in Naples were, so he sings a romantic song about it; Maile loses the top to her two-piece bathing suit in the water, and covers her chest with her arms under the water. The boys find the top on the beach, and then her dog gets a shirt and swims it out to her (the scene ends there); The travel agent boss says he doesn't want a man taking girls around the island because of "hanky panky." Maile tells him he's being silly, and when he says the teacher is interested in Chad, Maile says that that is hanky panky; Ellie makes a comment about girls being "oversexed and overage" and she comes on to Chad in his hotel room, but he turns her down and tries to get her out of the room. Two of her tour-mates go looking for her and enter Chad's room, but he tries to get them out of the room as fast as possible, until Maile calls and he panics.


 Vulgarity/Language: 1 "d*mn"


 Alcohol/Drugs: Chad goes to parents house where everyone is drinking; Dad jokes that people at a party get "absolutely stoned;" Many people drink at a party at the parents' house for Chad being back.


 Blood/Gore: None.


 Violence: Chad forcefully but playfully throws Maile in the water; A man shoves Chad. He then swings at him and hits someone else. A fight breaks out in a club where Chad is punching multiple people as many fights break out; A man punches out another man with one punch while in jail; A car crashes into some trees and brush; Ellie tries to drown herself. Chad forcefully pulls her out of the ocean. When Ellie complains that people don't even care about her enough to discipline her, Chad takes her over his knee and spanks her repeatedly; Maile throws a pillow at Chad that hits him on the face; Chad's mom faints off screen and we see her lying on the floor.