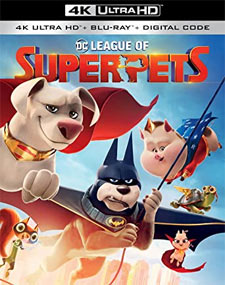 DC League of Super-Pets


 – for action, mild violence, language and rude humor.
Director: Jared Stern, Sam Levine
Starring: voices of Dwayne Johnson, Kevin Hart, Kate McKinnon, John Krasinski, Natasha Lyonne, Diego Luna, Keanu Reeves, Olivia Wilde, Vanessa Bayer, Marc Maron
Running Time: 1 hour, 46 minutes
Theatrical Release Date: July 29, 2022
4K UHD / Blu-Ray Release Date: October 5, 2022 (Amazon.com)
Plot Summary
Krypto the Super-Dog and Superman are inseparable best friends, sharing the same superpowers and fighting crime side by side in Metropolis. However, Krypto must master his own powers for a rescue mission when Superman is kidnapped. (from IMDB)
Film Review
With most superhero movies usually having either too much violence, too many scary visuals, unnecessary profanity, or all of the above, it can be hard to find one that's suitable for your children — which is ironic since toys usually are pushed to children for each film. DC Comics throws their hat in the ring by offering up the animated DC League of Super-Pets. With an all-star voice cast led by Dwayne Johnson and Kevin Hart, and including Kate McKinnon, John Krasinski, Diego Luna, Keanu Reeves and many more, parents are probably excited they can finally take their kids to a superhero movie…. right?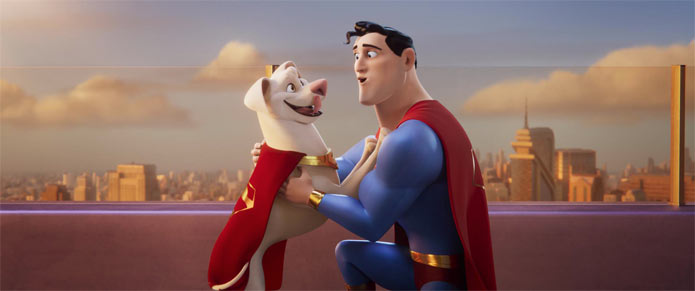 DC League of Super-Pets revolves around Krypto, a Kryptonian dog that stows away with baby Kal-El — AKA Superman – as his parents send him off to live on Earth. Krypto and Kal grow up to be inseparable friends and crime-fighting partners, as both have Superman superpowers that are perfect for defeating some of the toughest enemies. However, when an evil guinea pig, formerly of Lex Luthor's laboratory, gets Kryptonian powers to kidnap Superman in hopes to destroy the Justice League, it's up to Krypto and a ragtag bunch of new super-animals to save the day. From the start, the animation is crisp and expressive – on par with something Disney usually turns out. And it's in that familiar style that the story kind of gets some of its charm. The voice acting is excellent and on-point, with Johnson, Hart, Krasinski, McKinnon and Reeves all really standing out. Not all voice performances land (Natasha Lyonne's Merton is a little weird and more grating than endearing), but for the most part, the talented ensemble delivers.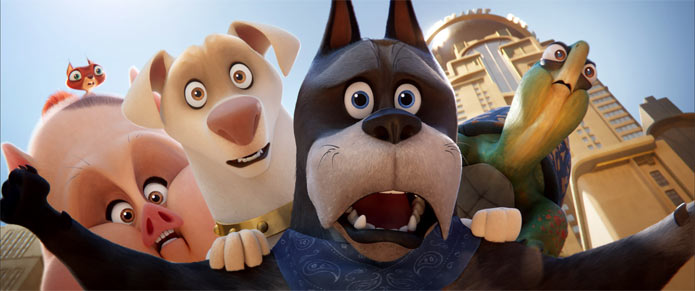 There is also quite a bit of action in the story. McKinnon's evil guinea pig, Lulu, wreaks all kinds of havoc, and some cameos from the Justice League team is a fun addition. The humor is also good, although it too doesn't always land. Yet, there are still some great laughs along the way. The story also has some heart to it, as Krypto struggles to figure out where he fits in, while coming to grips with the fact that Superman is planning on marrying Lois and sharing his attention with her. One of the film's most memorable moments is a great little heart-to-heart between Krypto and Kevin Hart's dog, Ace.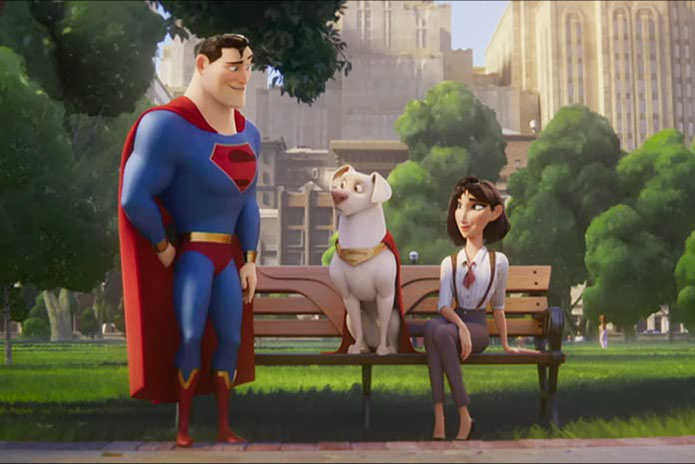 So, can you really take your kids to a DC Comics superhero movie finally? Well, that kind of depends on the child. First off, the elderly and visually-impaired turtle, Merton, uses profanity in a couple scenes, and it's bleeped out to add some humor. However, it's pretty obvious when she swears that she's using the "S" word on two occasions and even the "F" word on the last occasion (She says that she "can't see *bleep*" twice and then wonders "where the *bleep* am I?"). It really surprised me and it was kind of awkward hearing that in a kids movie (particularly with children present). To make matters more uncomfortable, earlier in the movie, a comment is made about two random characters in a park, mentioning that two women had gotten engaged to each other (and we see them together). It was my first uneasy feeling that this wasn't going to be totally kid friendly. Later, it kind of looks like two guys are snuggling up behind a telescope on a rooftop, but it's fleeting and not very obvious. Lastly, there is a suggestive joke from Merton about "you never forget your first time," and Krypto references that Lois sometimes "stays over" Superman's apartment in his bed. When it comes to the action, some of it could scare younger viewers, especially when there's a kaiju-sized monster terrorizing the city in the film's climax. Overall, I was definitely surprised – and disappointed – by the content choices they made in this family film.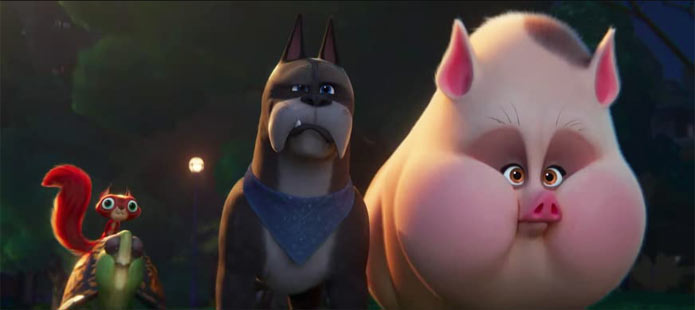 As far as other content goes, there are about 3 uses of "Sucks" and 1 use of "cr*p" in addition to the two bleeped out "S" words and the one bleeped out "F" word. The violence isn't graphic, but one emotional flashback shows a toddler with small bloody teeth marks on her arm briefly (from being pulled away from danger, not attacked), and Krypto has a purple black eye that is swollen shut for a lengthy sequence. (We also briefly see a zoom-in on the insides of an animal's brain and cells, which made my son squeamish, but it wasn't too detailed).
DC League of Super-Pets is a fun animated action movie, but the filmmakers seemed unsure how to make it fit for families. The profanity and sexual content is edgy enough to warrant caution for parents, and it's stuff I'd expect from a PG-13 film – not a kids movie. Hopefully this isn't a trend that continues for family affair either, as it's really disappointing to see this kind of disregard for the intended younger viewers. Oh — if you do decide to see the movie, there's a mid-credits scene that could setup a sequel and a bonus scene after the credits that has a great Black Adam/Dwayne Johnson gag.
– John DiBiase (reviewed: 8/3/22)
4K UHD Special Features Review
DC League of Super-Pets is now available to own on 4K, Blu-Ray, DVD and digital. We were sent the 4K disc release and I must say the movie looks fantastic in 4K UHD. The color pops and the image is crystal clear!
The special features included on the Blu-Ray disc (there are none on the 4K disc) and the iTunes digital copy include the following:
How to Draw Krypto (6:59) – These are usually fun little featurettes. Here, Dave Burgess talks about Krypto's design and breaks down the pup's basic shapes as he shows us how to draw him. He draws the super-pooch on a computer, but says it can be done on paper too.
Behind the Super Voices (14:35) – Here we see the central cast recording their lines in the studio for the movie. All of the Super-Pets are shown, as well as John Krasinski who voiced Superman, and some of the other additional actors. It's always fun to see the celebrities acting out the lines while recording. (1 "Oh my G-d")
Super-Pets Animation 101 (8:19) features the directors and some other members of the creative team talking about the basic designs for the film, their individual favorite characters, the evolution of the characters, and even give us some insight into some additional characters that didn't make it into the finished film.
The World of Super-Pets (7:42) covers the colors, design, and inspiration for the DC world of Super-Pets. One director is from New York and the other is from Vancouver, so they talk about how both cities were big inspirations for the film's visuals. They also talk about how the original Superman comics inspired the design and how they modernized some of the look as well.
Find the Easter Eggs (3:35) – There are lots and lots of in-jokes to the DC comics, toys, movies and TV shows throughout the years. From Star Labs and the coffee joint Jitters, to Brainiac, aliens from the Superman world, Action Comics #1, and even nods to the 1978 film. This is a really fun featurette.
Deleted Scenes (9:54) – There are five deleted scenes with a Play All option. Each scene is showed in semi-animated storyboard form with stand-in voice actors in place of the celebrity cast. "Storm Scenes" (1:32) shows us a pair of scenes that involved a character cut from the film. Storm is a seahorse who gains the power of being able to reproduce himself. In the second scene, we see an army of Storm characters meeting and rescuing Aquaman. "Sc 100: Krypto Powerless" (2:30) shows the super dog in a cage after he loses his powers and meets an octopus in a cage next to him. "Sc 190: Meanwhile at the HOJ (A)" (2:44) shows Krypto trying to train the League of Super-Pets at the Hall of Justice. In "Sc 220: Meanwhile at the HOJ (B)" (1:17), which takes place later, we see that the team has progressed some and are now able to control their powers better. Lastly, in "Sc 285: Capturing the JLA" (1:51), we see Lulu fighting and trapping members of the Justice League.
– John DiBiase, (reviewed: 10/2/22)
Parental Guide: Content Summary

 Sex/Nudity: It's mentioned very matter-of-factly that two women recently got engaged to each other; Krypto says he got hit by a car and Merton reflects on how "you never forget your first time;" Krypto mentions that he gets kicked out of Superman's bed when Lois "stays over" (implying they sleep together); PB expands to a large size, busting through the ceiling where a man is in the bathtub. She exclaims that she "didn't see anything"; We see the man in the bathtub two more times.


 Vulgarity/Language: 1 bleeped "F" word, 2 bleeped "S" words, 3 "sucks," 1 "cr*p"


 Alcohol/Drugs: None.


 Blood/Gore: We see tiny bloody teeth marks on a toddler's arm in a flashback; Krypto's eye is purple and swollen shut in one scene.


 Violence: Lots of comic book style action; We see the planet Krypton being destroyed – with Superman's parents on it – as they send Krypto and Kal-El off in a spaceship for earth; There is some slapstick humor with Krypto smacking Clark, sitting on his face and dropping him to the floor to try to wake him up; We see Krypto gnawing on an empty boot of Superman's in anger; Superman, Krypto and the Justice League battle Lex Luthor on a rooftop as he tries to capture a hunk of kryptonite; Lulu uses the kryptonite to gain powers and sets the pet shop on fire; Some of the roof collapses on Ace but he's okay; Clark is exposed to kryptonite and collapses. He's then beaten up by Lulu and thrown through buildings; Krypto is injured when he realizes he no longer has his powers; Krypto uses Ace as a shield from a rocket; Ace bangs his head twice on the invisible jet; We see some guinea pigs given various powers – like one on fire, one turned to ice, one grows huge as a muscular beast, one growing wings, etc; We see some characters imprisoned in cages and vaults who try to get out; A building is rocketed into the sky to kill a bunch of people. Some characters try to cut them free from the rocket and then we see, from the ground, the rocket explode. It's assumed everyone on it died, till we see the piece cut from it falling through the sky with the people on it. PB then grows large to break their fall; A flashback shows a toddler waddling towards the top of the stairs. A puppy bites the child's arm to pull it to safety. We see the teeth marks on the child's arm and the parents think the dog attacked the child. We then learn the dog was brought to a pet store after that; A small kitten shoots rockets from its whiskers to try to kill the hero pets. The cat's tail then turns into a machine gun to shoot at them. The cat also hacks up grenades like hairballs and throws them at the pets. The pets hide in a car from the kitten as it continues to blow up cars around their position; An animal uses a super punch to hit another animal. As they're falling, another animal catches them and saves them from apparent death; and lots of other comic book action violence.