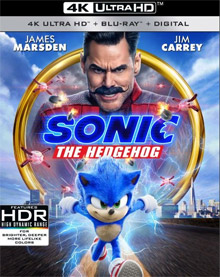 Sonic the Hedgehog


– for action, some violence, rude humor and brief mild language.
Director: Jeff Fowler
Starring: Ben Schwartz (Voice), James Marsden, Jim Carrey, Tika Sumpter, Natasha Rothwell
Running Time: 1 hour, 39 minutes
Theatrical Release Date: February 14, 2020
4K/Blu-Ray Release Date: May 19, 2020 (Amazon.com)
Plot Summary
After discovering a small, blue, fast hedgehog, a small-town police officer must help it defeat an evil genius who wants to do experiments on it. (from IMDb)
Film Review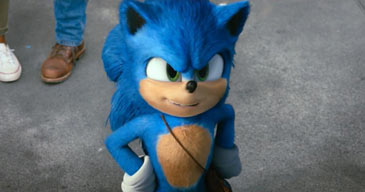 The video game genre has been a troubled one since the first time Hollywood tried to adapt a popular video game into a feature film with Super Mario Bros. in 1993. Most of them have been misses through the years, with the occasional decent entry (I still think the Prince of Persia film was fun, and the most recent Tomb Raider reboot was a step in the right direction), so expectations were appropriately low when the first trailer for Sonic the Hedgehog released last year. However, the immediate backlash over the hideous live action CG interpretation of Sonic cast a pretty big shadow over the film from the start. The negative feedback from fans actually led to the filmmakers deciding to ditch their original November 2019 release for a Valentine's Day 2020 release in order to redesign Sonic's look. The fact that the director and studio even would care enough about the fans and the film itself to make such a big change spoke volumes. It's no wonder that enough fans showed up at the theater opening weekend to earn it a successful box office debut.
Admittedly, for me, one of the best things Sonic the Hedgehog has going for it is Jim Carrey as the film's villain, Dr. Robotnik. While the comedian has spent most of his 40's and 50's exploring non-comedic (or dark comedy) roles, it's such a blast to see him return to form as his classic over-the-top comedic self. Robotnik isn't your usual Carrey character, though. He's far more ornary than we usually see him, but he channels a bit more of that amusingly vicious performance he gave as The Riddler is Batman Forever (well, in this case of playing villains, that is). Still, Robotnik feels different; it's classic Jim Carrey, but still different in a way. James Marsden, who originally was the first to play Cyclops in the X-Men film franchise, is no stranger to acting alongside digitally animated characters. We saw him take on a very similar role in 2011's Easter-themed Hop, but here he plays a smalltown sheriff who's desperate to move up in the ranks with a relocation to San Francisco. Marsden plays the "straight man" to the animated central character really well, and he's a charming bonus that a movie based on a 2D video game from the 90's really needs. Rounding out the cast is Parks and Recreation's Ben Schwartz as the voice of Sonic, giving the character just the right amount of youthful spunk to keep the character likeable and relatable. Thankfully, Schwartz reins in the zany antics of Jean-Ralphio, or even Dewey from the DuckTales reboot, to turn in just a really solid performance as Sonic here.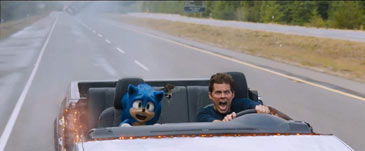 The film works quite well as a family movie. Sonic the Hedgehog may be pushing 30 years old as a game franchise, but he still appeals to younger video game players as Sega continues to churn out new adventures for the little blue bullet. The tone of the movie is a fun mix of lighthearted and adventurous, with far better dialog and witty jokes that land than the more recent family outing attempt, Dolittle (that mess of a film has had me appreciating family films that are so much more well-done). Carrey is abrasive, but not vulgar, although some jokes are certainly more aimed at the parents in the seats than the young ones. Still, my 9-year-old son, who has never seen Carrey outside of voicing Horton in Horton Hears a Who, made it a point to express to me while watching the film how much he loved Robotnik's rudeness. (As a parent, I found that alarming, but he's not wrong; it's Robotnik's bluntness and absurd disregard for anyone else that sparks a lot of the humor.) I suppose this kind of comedy, particularly since it's coming from the villain, will only really be a problem for the much more impressionable viewers. But since the story, and the humor, doesn't pander to children exclusively, Sonic the Hedgehog ends up feeling designed to a far wider audience.
The story of an alien or creature coming to our known world of Earth to interact with us is hardly a foreign concept. From Smurfs to Transformers and even Hop and Enchanted (the latter two of which also starred Marsden, interestingly enough), we've seen this concept play out on the big screen several times before. It's a fun one, don't get me wrong, but it alone robs some of the uniqueness of the concept of Sonic the Hedgehog because it's a familiar one. But director Jeff Fowler and his creative team make use of this technique well. The overall themes for Sonic the Hedgehog end up being of friendship, family, and learning our purpose in life, and it's one that kids can definitely get some takeaways from. (Although having a whole sequence centered around what a "bucket list" is felt a bit mature for a movie about an animated blue hedgehog.) At the same time, none of the themes are in-your-face to the point of the film being bogged down with mushy sentiment, which is certainly a plus.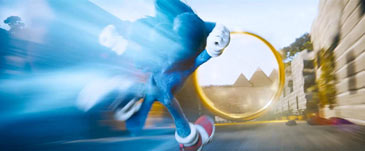 I'd say the content for Sonic the Hedgehog is of the slightly more edgy PG variety. There's no real bloodshed or anything in the movie, but Sonic's life is threatened several times, even playing up the seriousness of it more than just once. The violence is largely nonlethal though–which is ideal for a kids movie–with lots of fast-moving explosive action to appease fans of the video game. The movie also appropriately employs the "so-fast, life slows-down" gag that we've seen before in movies like Over the Hedge and X-Men: Days of Future Past, and they work really well here. However, the first scene takes place in a bar for an all-out barroom brawl, which uses some silly slapstick violence (like wedgies and pulling hats over people's faces)–but it's a bar, so there's beer and the like largely involved. There's some mild language in the film, including Marsden's Tom saying "Son of a—" before it gets cut off by the action, while Robotnik uses the trendy "h*lla" in one instance and "who the h-ll…" during the climax. There isn't really any major blasphemy, but some may be opposed to the four or so uses of "Oh my G-d" in the film (and a woman makes a prayerful exclamation, which is played for laughs, saying "Sweet Lord Jesus" or something like that; I don't think it was intended to be profane). Overall, some of the action and content may be a little more for the littler viewers, but I'd say the PG rating is warranted.
Sonic the Hedgehog is a good example of a fun family action movie done right. It's funny, it's entertaining, it has heart, and it's rewatchable. Now, pardon me while I go play some of the old school Sonic the Hedgehog game and race around the loops and valleys of Green Hills.
– John DiBiase (reviewed: 1/29/20)
4K UHD / Blu-Ray Special Features Review

The 4K UHD combo pack of Sonic The Hedgehog includes the feature film in stunning 4K UHD, the standard Blu-Ray disc and a digital copy, along with a Feature Commentary (by Director Jeff Fowler and the voice of Sonic, Ben Schwartz) are the following Extras:
Sonic The Hedgehog in 4K UHD – As expected, Sonic The Hedgehog looks excellent in 4K UHD. It's a very vibrant and colorful film, so it's a perfect candidate for this higher definition, more crisp presentation.
"The Adventures of Sonic & Donut Lord" Comic Book – This 13-page comic comes bundled with the physical copy of the 4K UHD disc packaging. It tells a shortened version of the movie's story presented in a 16-bit video game art style. The pages have a high gloss, unlike the usual comic book, so it seems more durable than one might expect. Anyway, it's a nice little added bonus for the younger fans.
Deleted Scenes (13:47) – The deleted scenes have a Play All option, but can also be viewed separately. In "Introduction by Director Jeff Fowler" (0:34), Jeff introduces the scenes by saying some of them just didn't fit in the final cut of the film. "Original Opening" (3:33) shows the crazy old guy, Carl, setting a trap to try to catch Sonic. However, he himself gets trapped when Sonic shows up, zipping around. "Super Observant Carl" (2:35) shows Tom going to the smalltown local bar (where he orders whiskey). Carl comes in and complains about seeing Sonic (Tom hasn't met Sonic yet), and the others in the bar laugh at and mock Carl. "Baby Sonic" (3:52) is an alternate origin story for Sonic where the owl, Longclaw, actually comes to Earth with him and ends up dying of old age there (instead of giving her life so he can escape his world safely). In "Tom and Sonic Have a Chat" (1:50), they have a heart-to-heart talk about his powers while at Rachel's house. Finally, in "Rachel and Wade Plan a Date" (1:23), she calls the police department to complain about her car damage. He kind of asks her out and she agrees (1 "a" word).
Around the World in 80 Seconds (1:50) – Sonic narrates a trip he takes around the world, presented as if sketched on lined paper.
Bloopers (2:14) – This is a fun little collection of goofy takes and just plain silliness on set.
"Speed Me up" Music Video (3:44) – This is the official music video inspired by the movie, a hip hop song by Sueco the Child, Wiz Khalifa, Lil Yachty, and Ty Dolla $ign.
For the Love of Sonic (4:03) – James Marsden talks about growing up playing the video game, while other cast and crew also share their fond memories of having played the Sonic games.
Building Robotnik with Jim Carrey (4:05) – Jim talks about the character of Robotnik and how he didn't have much experience with the game, but played it with his grandson before filming (and got his butt kicked). His fellow actors gush about working with him (especially Marsden). We also see some of the same bloopers from the blooper reel here. (1 "h*ll")
The Blue Blur: Origins of Sonic (6:24) is a short documentary about the creation of Sonic the Hedgehog–the character and the game–and how, in 1991 Sega Genesis came out as an attempt to rival Nintendo. This segment also offers some facts about the character of Sonic.
Sonic on Set (3:29) – We see actor Ben Schwartz (the voice of Sonic) getting dots put on his face for filming and recording his lines (so they can capture his facial expressions for animation purposes). James Marsden meets him in his makeup trailer and they have a candid little exchange. (1 "Oh my G-d")
– John DiBiase, (reviewed: 5/15/20)

Parental Guide: Content Summary

 Sex/Nudity: A comment is made about being breast-fed as a baby; Dr. Robotnik threatens to Major Bennington that he will look into and reveal his web browser search history; While talking about being probed by aliens, Sonic comments about the fact he's not wearing pants; Maddie wears cleavage-revealing outfits during the film.


 Vulgarity/Language: 1 incomplete "Son of a–"; 2 "h*ll" (1 as "hella"), 4 "Oh my G-d," 1 "Sucks" (spoken and written)


 Alcohol/Drugs: Sonic and Tom end up hiding out in a southern style bar. At one point, Sonic accidentally hits a waitress's tray full of beers with darts (for a dartboard) and we see beer spraying out of the cans; Tom has a beer at the bar; We see people drinking beers and other alcoholic beverages at the bar; Tom tells Sonic that payphones are for drug dealers.


 Blood/Gore: None.


 Violence: In the opening sequence, the narrator talks about how Sonic was raised by an owl named Longclaw. We see some little creatures with bows and arrows chase after Sonic and Longclaw, shooting arrows at them during the chase. At least one strikes Longclaw and she falls to the ground and forces Sonic to flee for his life as she's overtaken by the little creatures. Sonic panics and tries to rush back to her but can't; We see a turtle walking across the road and almost get hit by a truck, but Sonic saves it; Robotnik chases Sonic throughout the movie, often using drones that have guns on them. There's a prolonged car chase where Sonic even flips a pursuing car over. Then a small drone cuts the top off of Tom's truck; A tiny bomb explodes, hurting Sonic. Tom and his family are worried Sonic might be dead, but they're able to help him; Two people are pushed off a building but are saved at the last second; There's a big barroom brawl with people fighting and breaking things over each other. We see Sonic in slow motion as he manipulates the fight by giving a guy a wedgie, moving punches that are being thrown, etc. It's a playfully violent scene; Robotnik throws a person through the bar window; Robotnik hit his assistant in the throat, who coughs and shakes it off; Sonic fights Robotnik as he flies his drone ship; There's another scene where Sonic appears to be dead–with everyone reacting to it, but he ends up being fine; We see a man shaving his head with a sharp piece of metal; and other action violence.