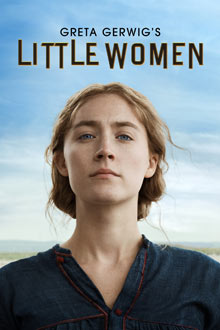 Little Women


– for thematic elements and brief smoking.
Director: Greta Gerwig
Starring: Saoirse Ronan, Emma Watson, Laura Dern, Florence Pugh, Eliza Scanlen, Timothée Chalamet, Chris Cooper, Bob Odenkirk, Meryl Streep
Running Time: 2 hours, 15 minutes
Theatrical Release Date: December 25, 2019
Blu-Ray Release Date: April 7, 2020 (Amazon.com)
Plot Summary
Writer-director Greta Gerwig (Lady Bird) has crafted a Little Women that draws on both the classic novel and the writings of Louisa May Alcott, and unfolds as the author's alter ego, Jo March, reflects back and forth on her fictional life. (from iTunes)
Film Review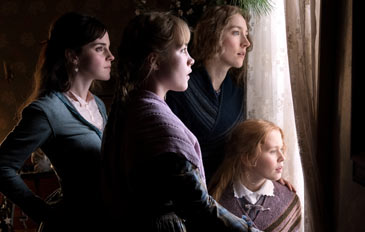 When it comes to novels that have been made into films over the years, one that seems to be always getting some kind of new treatment is Lousia May Alcott's Little Women. From silent films to TV mini-series to modern retellings, Little Women has been made and remade many times over. But for the sake of full disclosure, as a film fan (and occasional reader), I have to admit I've never read the book, nor have I ever seen any previous adaptations. However, with the positive buzz, and multi-Oscar nominations, surrounding Greta Gerwig's 2019 adaptation, I decided it was time to fix that.
While I can't compare this film to previous movies or shows, or even the source material, as a film and story, it's certainly a well-acted, quality production about what it was like to be a woman in the late 1800's. Gerwig adapted the screenplay herself, writing her own treatment for this film, and then brought it to the screen from the director's chair. In the special features that accompany the film's home release, she talks about how she grew up loving the story and making it into a film was a dream come true. To her, it's about women and the arts, and that's very apparent from the start. With Gerwig having written the screenplay herself, it's clear that she can relate most to the film's central character, Jo March, played by Saoirse Ronan. But all of the sisters are artsy in their own way; Jo is a writer, Amy is an artist, Beth is a musician, and Meg is an actress. The movie opens with the girls grown up, and the film frequently jumps back and forth from their present adulthood to the past when they were younger and living together. I'm not sure Gerwig's use of this device is exceptionally clear at first, as I found it a bit confusing, and even after I realized it was often switching back and forth, it was sometimes still distracting trying to figure out what scene took place when.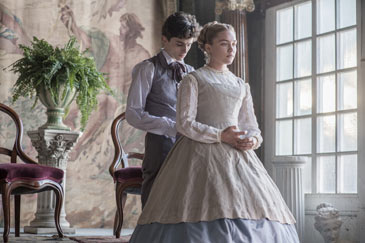 To accomplish this storytelling method, Gerwig employed the uses of color most often. The past was warm and often dressed in a splash of orange. The present was far colder and drenched in blues and grays. Life for Jo and her sisters was more joyous, alive and colorful in their youth, whereas her present was more drab, serious, and in some ways, lifeless. It's a sad but true representation of how life can change as we age — with family and friends growing up and growing apart over time, whether we want it to or not. Jo refuses to let life as she knows it change, but she inevitably realizes that it's something beyond her control.
I can definitely see why Saoirse received a Best Actress Oscar nod for playing Jo. She's real, convincing, inspiring, and feisty. You can really believe these girls are sisters. Florence Pugh also received a Supporting Actress nomination as Amy, but while her performance is fine, I found her character frustrating and often irritating (maybe that's more of a testament to her character than her performance, but I felt that way before I learned of her nomination, and I was then genuinely surprised to learn of it).  Overall, though, the cast is solid (Can we also acknowledge how lovable Chris Cooper is in this? It's nice to see him play a good guy for once!), and it only strengthens an already wonderfully made drama.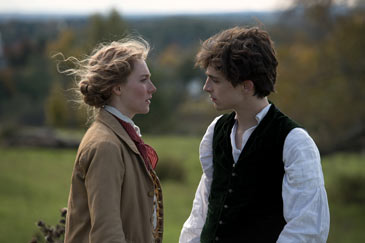 It might be easy for some to dismiss Little Women as just a "chick flick" (even Joey in the show Friends ended up loving the book, ha!), but there's a deep human relativity to this story. As a male viewer, regardless of gender, I can relate to Amy trying to make her way as an artist–especially her sentiment that she wants to be great at it or not do it at all (although, one could argue that that might suggest that one should give up before practicing yields improvement, but I digress). Furthermore, it's not difficult to relate to Jo's passion for writing (which was actually one of my first loves as well), or Beth's quiet pursuits of her musical interests. Even Meg's desire to start a family–going against all that Jo strives for–is relatable. And while I can kind of understand the sisters' fascination with the rich boy next door, Laurie, he just seemed to lack the endearing qualities a character with such importance to the story needs. Maybe it's because I'm a guy, or perhaps it's more of Gerwig's perception of men, I'm not quite sure, but because of the shifty, droopy-eyed way Timothée Chalamet played the character, I kept waiting for a darker or more sinister reveal from his character. (And there really was no point where I felt he needed to end up with one of the girls. It reminds me a little of a reversal of Gone with the Wind, where Rhett Butler is more likeable and charming, while Scarlet is kind of a brat and you realize they're probably better off not ending up together.) Overall, I felt Chalamet seemed too charmless for what his character of Laurie needed to be.
The content for the film is pretty mild. There's a single use of "Oh my G-d" in joyful exclamation from one of the sisters. There's some romance and kissing, but nothing especially sensuous or inappropriate. Part of the story deals with sickness and loss, which thematically could be heavier for younger viewers. There's a little bit of drinking in the film, with Laurie appearing quite drunk in a brief scene, and violence is really limited to a brief scuffle between two of the sisters, a scare when one falls through the ice in a following scene but is rescued, and a quick distant shot of Amy with bloody scrapes on her hand after getting punished in school.
Overall, 2019's Little Women is a good drama with solid performances, great production values, and an inspiring spirit.
– John DiBiase (reviewed: 4/5/20)
iTunes / Digital Copy Bonus Features Review

Little Women is available on Blu-Ray/DVD/Digital, DVD, and through the usual digital providers. I will say, although I greatly appreciate movies shot on film, I was super surprised to notice the occasional white flecks of dust showing up on screen during the movie. It's barely noticeable, but it did stand out to me on more than one occasion. It's something that used to show up all the time on old VHS and DVD transfers, and something that has largely gone out of high resolution transfers on Blu-Ray these days. I get the vibe that Gerwig wanted this effect because it comes with the territory, so to speak, with shooting on film, but I'm still pretty surprised to see it in a brand new, 2019 movie.
Along with the feature film, the iTunes digital copy includes the following extras:A New Generation of Little Women (12:52) is about updating the story for the current generation. The actors talk about playing their characters, while director Greta Gerwig talks about what the book means to her. The producer also talks about how she was involved in making the 1994 film, and felt it was time for an updated version. (1 "a" word)
Making a Modern Classic (9:02) focuses on the characters' wardrobe, finding the shooting locations, shooting on film, and more!
Greta Gerwig: Women Making Art (9:22) – Here, Greta talks about making the movie about women, art, and money–and how she wrote the script and put a lot of herself in it. The cast and crew also talk a lot about working with Greta, as well as her process.
Hair & Make-Up Test Sequence (2:59) – This is a montage of little moments of the characters running around while music from the film's score plays.
Little Women Behind the Scenes (3:25) is a promotional montage that sums up the production and shooting in Massachusetts. It contains a lot of pieces from the other featurettes.
Orchard House, Home of Louisa May Alcott (10:14) – Jan Turnquist, the Executive Director of Lousia's family's house introduces this. She talks about the house and Alcott sisters who Lousia modeled the book's characters after (Beth is the only sister she didn't change the name of for the story!). Greta and the film's production designer talk about the house and researching it, with the Alcott family having bought the house in 1857. Turnquist also details the house's major restoration through the years, giving us a look at images from this process as well.
– John DiBiase, (reviewed: 4/5/20)
Parental Guide: Content Summary

 Sex/Nudity: Amy asks Laurie to unbutton her painting smock. In a somewhat sensual shot, we see a closeup of him slowly undoing a couple buttons in the back, and then untying the tie knot. (She has a full dress underneath it.) Nothing happens and Amy leaves; Some characters are seen kissing briefly throughout the film.


 Vulgarity/Language: 1 "Oh my G-d"


 Alcohol/Drugs: Amy asks Laurie if he's been drinking and enjoying life while traveling; Jo goes to a pub where we see many steins of beer as people are partying and dancing; Laurie is drunk at a party and splashes champagne in the air while talking as he walks away from Amy.


 Blood/Gore: We briefly see some bloody scratches on Amy's palm (not close-up); A sick person's face is red and a little discolored in several scenes.


 Violence: Jo's dress catches on fire as she stands by the fireplace and she quickly smothers the flames out; Jo punches Laurie in the arm playfully; Amy burns some papers; Jo and Amy fight, with Jo knocking Amy down and hitting her repeatedly; Amy falls through the ice (the action is not seen) and we see her panicking and struggling to get out of the water as Jo and Laurie rescue her with a branch.