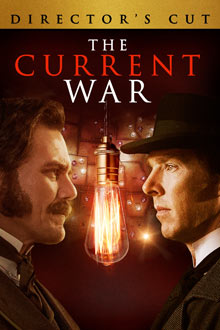 The Current War: Director's Cut


– for some disturbing/violent images, and thematic elements.
Director: Alfonso Gomez-Rejon
Starring: Benedict Cumberbatch, Michael Shannon, Tom Holland, Nicholas Hoult, Katherine Waterston, Tuppence Middleton, Louis Ashbourne Serkis
Running Time: 1 hour, 42 minutes
Theatrical Release Date: October 25, 2019
Blu-Ray Release Date: March 31, 2020 (Amazon.com)
Plot Summary
The dramatic story of the cutthroat race between electricity titans Thomas Edison and George Westinghouse to determine whose electrical system would power the modern world. (from IMDb)
Film Review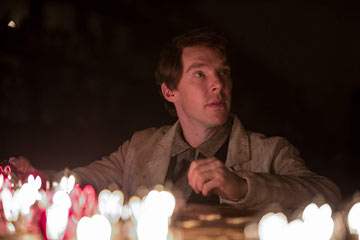 The long-delayed The Current War has finally seen the light of day as a "Director's Cut." The film was supposed to release 2 years ago, but the Harvey Weinstein scandal got it shelved, due to his company being the distributor for this movie. After re-edits and reshoots, and securing new distribution, it's finally here.
The Current War follows the conflict between inventors Thomas Edison, played by Benedict Cumberbatch, and George Westinghouse, played by Michael Shannon. After Edison invented the lightbulb, Westinghouse attempted to perfect it with an alternating current, and each one tries to convince towns and cities to adopt their method of electricity. The end result is a surprisingly dark rivalry between the two as they try to undermine the other in the process.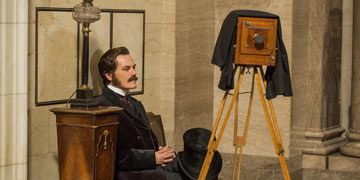 Cumberbatch and Shannon are solid in their performances, and it's a wonderfully cast film that is worth watching the film for alone. However, it's a slow burn for sure, as, despite it being beautifully and artfully shot by director Alfonso Gomez-Rejon, The Current War is a slow moving film that has its moments but is certainly not for everyone. It's a bit reminiscent of The Prestige, which even involved Edison and Tesla, but isn't nearly as exciting or suspenseful and leans more heavily on the docu-drama style of storytelling.
The content for the film is relatively mild, but the subject matter surprisingly arises involving the use of electricity for the death penalty, and one scene shows a man covered in blood walking into a police precinct and confessing to murdering his wife. The ethics of the death penalty then become a big part of the plot. There is also some other heavy themes, like a main character's wife dying of a sudden illness and another character suddenly dying from an accident involving electricity. Finally, there is also some moderate profanity, including some uses of blasphemy, but it's mostly mild given the time period it's set in.
Overall, if you like dramas and are a fan of anyone in the cast, The Current War: Director's Cut is worth checking out. However, if solid acting and a great cast isn't enough for you, then you may want to just pass this one up.
– John DiBiase (reviewed: 11/15/19)
iTunes / Digital Copy Bonus Features Review

The Current War: Director's Cut is available now on Blu-Ray/Digital, DVD, and through the usual digital providers. Along with the feature film, the iTunes digital copy includes the following extras:Deleted Scenes (5:29) – There are three deleted scenes, with a Play All option. Honestly, given the "Director's Cut" branding on this film (to the point where it's practically part of the movie's title now), I'm surprised there weren't more deleted scenes included here. "I'd love to meet him" (2:15) is an alternate title card and introduction of Westinghouse, where we see he's at a party and talking about wanting to meet Edison. "Are you a preacher?" (1:08) shows Westinghouse as he and a team are erecting telephone-like poles to carry electricity. Since they're shaped like crosses, a young boy asks if he's a preacher. He tells him he's not and then explains their plan for spreading electric power. In "This is costing us a fortune" (2:06), Westinghouse's wife, during a somewhat heated argumment, tells him he's over-extending himself (with this feud with Edison). He tells her he wants to fold their company, which she isn't thrilled about.
Feature Commentary (1:42:17) – To round out the super thin extras, we have a feature commentary track from director Alfonso Gomez-Rejon. While some directors fumble through these commentary tracks (like Taika Waititi, for example), Alfonso barrels through, offering insights about added scenes, character representation, artistic choices, and more. He explains how he wanted to do this story because of the theme of the dominance of nature – even more so than the conflict between Edison and Westinghouse. He talks about some of the movie changes to this "Director's Cut," as well–which I found very interesting. If you like commentaries and/or want to know more about the film, check this one out.
For this much-delayed, star-studded production that finally saw the light of day at theaters as a "Director's Cut," I would have loved to see more bonus features about the story, the characters, the actors, and the drama behind the scenes regarding the film's production — at least a featurette about why this is a "Director's Cut" and what changed. But, at the very least, it's nice to have some deleted scenes and Alfonso's commentary.
– John DiBiase, (reviewed: 4/4/20)
Parental Guide: Content Summary

 Sex/Nudity: None.


 Vulgarity/Language: 5 "d*mn," 1 "Chr-st," 2 "G-dd-mn," 1 "b*stard," 1 "Good G-d," 1 "For the love of G-d"


 Alcohol/Drugs: There is some miscellaneous drinking in the film, but nothing substantial.


 Blood/Gore: A man, covered in blood, is seen walking down the street and then into a police precinct where he confesses to murdering his wife.


 Violence: A woman collapses suddenly and we find out she's terminally ill; Edison throws a glass in anger; We see a machine spark and burst; After a test showing how dangerous electricity can be, we see a horse–the test subject–being carried away in a body bag; We briefly see a hanging with a person dropping through the floor on a noose; A man, covered in blood, is seen walking down the street and then into a police precinct where he confesses to murdering his wife; We find out that a man accidentally kills himself with electricity, but it happens off screen. We just see a flash of light through a window; Westinghouse recalls a memory of being a soldier and being held at gun point; We later see a continuation of the memory where Westinghouse shoots the man who held him at gunpoint; We see a man getting strapped into an electric chair, where he is put to death (off screen).