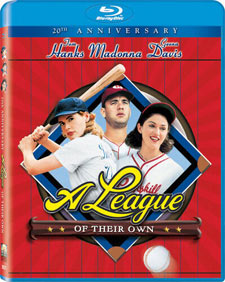 A League of Their Own



– for language.
Director: Penny Marshall
Starring: Tom Hanks, Geena Davis, Madonna, Lori Petty, Jon Lovitz, David Strathairn, Bill Pullman, Rosie O'Donnell, Tea Leoni, Bitty Schram
Running Time: 2 hours, 8 minutes
Theatrical Release Date: July 1, 1992
Blu-Ray Release Date: October 16, 2012 (Amazon.com)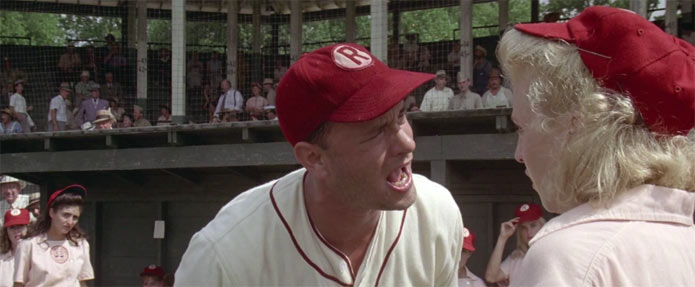 Plot Summary
Tom Hanks, Geena Davis and Madonna star in this major league comedy from the team that brought you Big and City Slickers. Hanks stars as Jimmy Dugan, a washed-up ballplayer whose big league days are over. Hired to coach in the All-American Girls Baseball League of 1943 – while the male pros are at war – Dugan finds himself drawn back into the game by the hearts and heroics of his all-girl team. Teammates Madonna, Lori Petty and Rosie O'Donnell round out this all-star roster, with Jon Lovitz adding a scene-stealing cameo. Based on the true story of the pioneering women who blazed the trail for generations of athletes, A LEAGUE OF THEIR OWN is "a home run!" (Joel Siegel, ABC-TV) (from Sony Pictures Home Entertainment)
Film Review
It's a little known fact that four years before this very website came into fruition, I was nothing short of a huge baseball fan. What changed you may wonder? The baseball strike of 1994. It was at that time that my priorities shifted from baseball to music (and a few years later to current movies as well). But in 1992, in the heat of my passion for that great American sport, I saw the unique baseball comedy A League of Their Own in the theaters as a kid. The movie takes place in 1943 while many of the usual, male professional ball players had gone off to war. Someone gets the keen idea to keep baseball going with an all-womens league instead, and the All-American Girls Baseball League was born. Obviously, the league isn't taken seriously from the start. There really weren't career women back in the 40's, and they sure as dirt weren't baseball players. But this didn't mean there weren't talented women primed and ready to rule the ball field, and the women of the All-American Girls Baseball League were ready to prove to the world they could.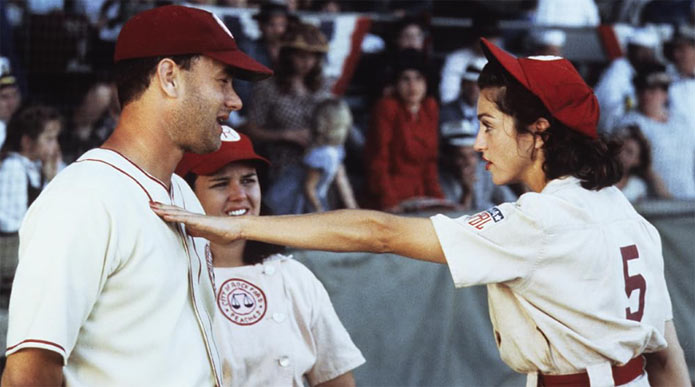 A League of Their Own focuses on the story of two sisters, Dottie (Geena Davis) and Kit (Lori Petty) who grew up on a farm and are noticed for their talent with the sport. A rude and sarcastic recruiter (Jon Lovitz) discovers them and brings them to the league for tryouts where they inevitably get in. Famous retired baseball player Jimmy Dugan (Tom Hanks), who no longer plays due to poor health and being a drunk, is asked to manage the team. Jimmy's not too keen on this idea, but takes the job begrudgingly and ends up really investing himself in the ball team (This kind of character really isn't a likable one at the start, but Hanks keeps his deplorable nature amusing until he starts to redeem himself). While this story is a very fictionalized version of the true story, director Penny Marshall and her team have put together a really entertaining and inspiring sports comedy. It's funny to watch this film twenty years later, too, and see just how many familiar faces are in this movie. From Madonna, who's still making popular music, to Rosie O'Donnell, who's still very active on TV, to Bitty Schram, who had a major role in several seasons of the popular crime comedy show Monk, to Geena Davis, who went on to star in several more big films, and Tea Leoni, who had just a bit part in this but went on to become a well-respected actress in Hollywood–there's a lot of talent invested in this film. Male actors here included Hanks, Lovitz, Bill Pullman in a small role and David Strathairn, who has been seen in a few of the Bourne films, among other notable movies in recent years. Marshall makes A League of Their Own quite an underdog story, making it easy to stand behind these ladies and root for their success.
My main gripe with the film, however, is the likability of Kit, the younger sister of Dottie, played by Lori Petty. She's immature and rough around the edges, and she's a bit of a whiner. Meanwhile, Dottie is a stronger character and Geena Davis plays her with a good amount of sympathy. Dottie is a woman who decides to play baseball to support her family and her country while her husband is overseas fighting in the war. She's talented and wrestles with her recessed love for the game, but she feels her real duty is to her family and patriotism. The problem is, with the movie leaning in Kit's favor at times, it makes things like the film's ending rather bittersweet. For example, when Kit is ultimately traded to a different team, is the viewer really sad to see her leave the Peaches? But her spiteful attitude and brattiness doesn't really weigh in her favor. At the same time, Dottie's own ideals take precedence over the team she helps lead to the World Series, so we're left at the end rooting for the Peaches as a team and not the sisters we were introduced to, and invested in, in the start of the film. It's a tough way to end the movie and it leaves things on a moderately soured note. I remember the first time I saw the film, the ending nearly ruined everything for me, but knowing how it ends in later viewings does help with the overall enjoyment of it. Still, I wonder if A League of Their Own would have been a stronger film if it had ended differently.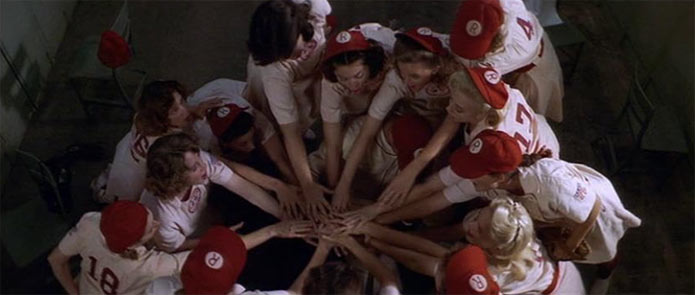 A League of Their Own is rated PG "for language," but the movie probably would garner a PG-13 rating by today's standards. Dugan is pretty crass at times, from being drunk or scratching himself in public to cursing out the girls. Also, there's some sensuality, including Madonna's Mae being nicknamed "All The Way Mae" and the implications that come with that, and the girls being seen in their underwear in the locker room a few times and getting touchy-feely with some guys in a bar in one scene. Some of this will sound minor to some readers, but parents probably will be taken by surprise by some of the content for a PG-rated movie. There are a handful of "S" words, several uses of "g*dd*mn" and an assortment of other colorful words. Overall, the film's probably more aimed at adults than children, but the inspirational theme of the story is certainly for everyone. It's just unfortunate that it isn't a little more family friendly.
Peggy Marshall's A League Of Their Own is a classic sports comedy/drama that put the All-American Girls Baseball League on the map. Funny, touching, and a fine display of acting talent, A League Of Their Own is a memorable and fun girl power sports flick.
– John DiBiase, (reviewed: 10/15/12)
Blu-Ray Special Features Review
A League of Their Own makes its Blu-Ray debut on its 20th Anniversary. Sony has released the film in HD exclusively to Amazon.com, too. It's a Blu-Ray disc only, but it includes fifteen deleted scenes, clocking in at 30 minutes of extra scenes (watchable separate from the film), and a 50+ minute documentary about the making of the movie.
Deleted Scenes (33:46) – There are fifteen deleted scenes with optional commentary by director Penny Marshall. There's a disclaimer at the beginning saying that the quality of the film had degraded since '92 and these deleted scenes were recreated "using a combination of footage from the workprint, negative, and a VHS copy of an earlier 4-hour version." The first scene is a baseball owner's meeting where the idea is proposed for women to play baseball.(1 "G-d," 1 "S" word). The next scene is Kit talking Dottie into joining the baseball league. We also get to hear how Bob and Dottie got married. The third scene shows Marla, Dottie and Kit on the train with the recruiter eating, with Ernie mercilessly mocking Marla's lack of manners (1 "G-d"). Harvey and Jimmy meet in the next scene where Harvey introduces Jimmy to his personal bartender, who stays in a hidden bar in the wall. The fifth scene is an extended scene of Ernie telling a story about Babe Ruth to the girls before he leaves the field. The sixth scene is Evelyn waking up a very intoxicated Dugan in the dugout after the game ended. It precedes her asking him if Stillwell can come out on the road with them (1 "G-d"). Next is a scene in the locker room where Marla receives a brand new glove as a gift from her boyfriend. The eighth scene is Alice telling a story in the dugout about twirling a baton. The following scene is a super short snippet from a dinner party with the girls where we see Marla mailing an envelope full of cash. The tenth scene is an extended moment outside the bus after Lou runs off. Dottie tells Kit not to hang out with Mae because she heard she's "gone all the way." Kit then looks back at the group of girls and Mae is doing a handstand with her skirt hanging upside down and her panties showing. The next scene is Jimmy with Miss Cuthbert as she's throwing up sick in her room after the girls poisoned her. It's a pretty funny dialog moment with Jimmy ordering room service and then a maid to clean up the mess (which we don't see). After that is an extended scene in the bar where a boy who wants to take Kit into the back of his truck insists that Kit has to strike him out if she doesn't want to make out with him (or more than that). She then pitches to him in the bar. The guy takes off his shirt and she contemplates letting him win just because she finds him attractive, but Jimmy actually stops her and tells her that she probably should not do this with so many beers in her. The thirteenth scene takes place as Dottie is dragging Marla out of the bar. In the process, Marla accidentally pulls off Dottie's coat revealing her in her nightgown. Just then, Ira walks in, so Jimmy knocks him out before he can see Dottie like that (thus getting her in trouble with the league). The second-to-last scene is Dottie finding Jimmy hitting pitches on the ball field. The two have a real meaningful moment–until Jimmy spontaneously kisses her. It actually happens right before she makes the decision to leave. In the finished film, it was used right after Dottie's fight with Kit. Lastly is some footage from the World Series games where Dottie and Evelyn find Marla on the opposing team, Dottie and Jimmy talk about that night, Dottie accidentally bowls over Marla, and other character moments. It's interesting to see what little bits were left in and where these cut scenes would have fit (2 "J-sus," 1 "S" word, 1 "G-d"). These are interesting subplot cuts too. Fans will want to check these out, even though some of the omitted material changes the meaning of some of the scenes in the finished movie.
"This Used To Be My Playground" Music Video (5:02) – This is the official music video for Madonna's song for the movie.
Nine Memorable Innings (52:27) – This is a classic A League Of Their Own making-of featurette that spans the full process of making the film, from concept to pre-production, casting, and making the movie. It's pretty in-depth and we get to hear from most of the cast and crew about training, filming, working together, and the film's reception. It's especially interesting to hear director Penny Marshall talk about the difficulties in getting the film made at the time. This is a great featurette for fans of the film.
– John DiBiase, (reviewed: 10/6/12)
Parental Guide: Content Summary


 Sex/Nudity: Ernie asks Dottie if milking the cows' udders hurts them. She says "Doesn't seem to," to which Ernie replies, "That'd bruise the h*ll out of me;" Ernie leans in front of a woman to look out a train window and his knee lands on her lap. She goes "Sir, your knee!" and he answers, "Like it?"; Ernie makes a remark about giving the wife "a little pickle-tickle;" A radio announcer calls the fact that girls are replacing men in baseball as "sexual confusion;" Some men in the stands yell at the girls to lift their skirts (They don't); Dugan, slouched in the dugout, scratches his clothed crotch while drunk; Dugan angrily says "Girls are what you sleep with after the game, not what you coach during the game!"; Dugan grabs Miss Cuthbert, who's trying to wake him up, and kisses her passionately. He then realizes what he's done and is revolted; A young teen boy drives Dottie to a bar and she thanks him for the ride, to which he suggests they hop in the back seat and "make a man" out of him. She responds by offering to smack him around. He then asks why they can't do both (obviously nothing happens); We see Mae making out with a guy in a bar and we overhear a man tell Kit suggestively he has his truck parked outside; Mae's teaching Shirley how to read by having her read a dirty novel, which finds Shirley reading allowed words like taking off her dress and "grabbed her milky white breasts." Mae says "It gets really good now. A delivery boy walks in…;" Dugan asks the umpire if he's ever been told he "looks like a penis with a little hat on?"; Mae proposes the idea of if her uniform "accidentally" pops open during the game exposing her "bosoms" and asks the girls if they think that would attract a male audience. Doris then asks if there's any man left who hasn't seen her "bosoms;" We see a girl in the locker room in a bra top while other girls are just in towels and Dottie starts to unbutton her uniform (all while she and Kit talk); We briefly see a girl in her nightgown. Then Doris tells Mae her dress is too tight and Mae comments that she doesn't plan to wear it very long. Doris gasps and says aloud that she wonders why Mae gets dressed at all; We see a girl in just a towel; We see the girls in the locker room dressing with one who pulls off a camisole down to her bra while Mae is singing in just her bra. A little boy peeks while a girl is taking off her stockings; Dugan smacks Miss Cuthbert's bottom and calls her a "gorgeous stack of pancakes;" Dugan signs a ball for a little boy "Avoid the clap"; During a prayer, Dugan thanks God for a waitress who he says God knows because "she kept calling your name" (a sexual reference); Mae's nickname is "All The Way Mae"


 Vulgarity/Language: 5 "S" words, 5 "g*dd*mn," 5 "h*ll," 5 "a" words, 6 "G-d," 2 "d*mn," 1 "t*ts," 1 "b*tch," 1 "p*ss"


 Alcohol/Drugs: There's talk of Jimmy being a drunk, but he quit drinking because he couldn't afford it; Dugan shows up to his first day drunk and pees in the girls' locker room for a really long time; Dugan takes a swig out of his flask and spits it out; We see people drinking pints in a bar; We see Marla drunk at a bar singing and the girls say they gave her a lot of liquor.


 Blood/Gore: We briefly see a huge bruise with a bloody cut in the middle on the side of a girl's thigh from sliding (Which apparently is a real-life injury the actress sustained while filming, so the wound isn't fake)


 Violence: Doris whips a ball toward Dottie and her sister to scare them off and Dottie catches it with her bare hand; A little boy runs down the aisle of a bus smacking the girls in the back of the heads with fly swatters and then covers the eyes of the bus driver, causing the bus to lose control and luggage to fly around inside on top of the girls. Mae then chases the boy out of the bus with a baseball bat; The bus driver hits Miss Cuthbert in the face with a handful of dirt; Doris taunts Kit for being taken out of the game, so Kit hits Doris in the head with her glove. Doris throws her cup of water in Kit's face and Kit runs after her and tackles her to the ground and the girls roll around on the ground. Dottie and Mae end up pushing each other. Jimmy carries Kit off on his back and puts her in the shower to cool off; Kit throws a ball at Dottie and smashes the window behind her; Dugan hits an obnoxious kid in the face with a mitt and laughs.