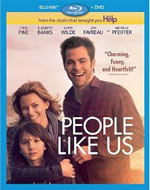 People Like Us



– for language, some drug use and brief sexuality.
Director: Alex Kurtzman
Starring: Chris Pine, Elizabeth Banks, Michael Hall D'Addario, Michelle Pfeiffer, Olivia Wilde, Mark Duplass, Philip Baker Hall
Running Time: 1 hour, 54 minutes
Theatrical Release Date: June 29, 2012
Blu-Ray Release Date: October 2, 2012 (Amazon.com)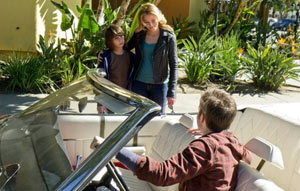 Plot Summary
From DreamWorks Pictures comes "People Like Us," a drama/comedy about family, inspired by true events, starring Chris Pine ("Star Trek") as Sam, a twenty-something, fast-talking salesman, whose latest deal collapses on the day he learns that his father has suddenly died. Against his wishes, Sam is called home, where he must put his father's estate in order and reconnect with his estranged family. In the course of fulfilling his father's last wishes, Sam uncovers a startling secret that turns his entire world upside down: He has a 30-year-old sister Frankie whom he never knew about (Elizabeth Banks). As their relationship develops, Sam is forced to rethink everything he thought he knew about his family—and re-examine his own life choices in the process. (from MovieWeb.com)
Film Review
You may recognize the name Alex Kurtzman as a producer and writer more than a director, having worked on movies like 2007's Transformers, 2011's Cowboys & Aliens, 2009's Star Trek, and the upcoming sequel, Star Trek: Into Darkness (2013). However, aside from some work on TV, People Like Us marks Kurtzman's very first feature film directorial job. The end result is impressive as he tells a unique, very human story about a complex and quite dysfunctional family. People Like Us has been a labor of love for Kurtzman for about seven years, something he's often worked on writing on the side while working on other projects, with the story loosely inspired by his own family experiences.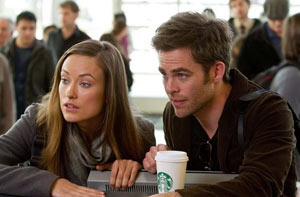 The film stars Chris Pine as a successful salesman named Sam who has a history of running away from responsibilities. When he finds out his estranged music-producing father passes away, he tries to dodge going to the funeral. But his girlfriend, Hannah (played by Olivia Wilde), insists they go to LA to support his family and it's there that Sam gets a rude awakening. While settling his father's estate, he's given a shaving kit bag full of cash and a note telling him to deliver it to someone he doesn't even know. To add insult to injury, his father only leaves him his vinyl record collection. He soon learns that the recipient of the money–all $150,000 of it–is a sister he never knew he had, named Frankie, who was the result of a fling his father once had. Sam decides to get to know Frankie and her troubled son Josh before deciding what to do with the money, but as he gets more involved with their lives, he realizes how much more difficult it will be to tell her who he really is. While the premise is a bit complex (Director Alex Kurtzman wrote the story based on a sister who came to him out of the blue that he never knew he had), the script and the players involved make this an engrossing drama. There's enough charm and humor thrown into the mix to keep it from being too emotionally weighty, but Pine makes it easy to feel for his character and the pain he struggles with from having a difficult upbringing, despite how poorly he may handle it. Elizabeth Banks is fantastic as Frankie, a recovering alcoholic and single mother who struggles to make ends meet as a bartender at night. She's strong-willed and determined to be a better parent to her son than her father was to her and her chemistry with Pine is undeniable. It's almost to the point where you kind of wish they weren't related so that they could end up together and support each other, but just knowing they're family and can be together for each other in that sense has possibly a stronger impact. Both of them are only-children, and they end up being the support they each need to move on in life. It doesn't take long to realize that Pine's Sam hasn't quite grown up yet, and this bizarre situation is the push he evidently needs to do so.
Michelle Pfeiffer plays Lillian, Sam's mother and widow to his father. She plays the emotional elements in all the right ways and the dynamic between her and Sam is appropriately damaged. Sam displays an incredilbe amount of bitterness and resentment toward his father, who had been successful in the music realm and had apparently neglected Sam as a result of it. And learning that his father had had another family on the side (which he then learns was abandoned, creating a wealth of issues that Frankie has to deal with) didn't help paint the picture of his dad in a better light. There's a great moment in the film where Sam goes into his father's private music room (which had been off-limits to him as a child, but now his father's not around to object) and ends up freely exploring his dad's life that had been a mystery to him. Pine does a great job balancing genuine pain with a bitter rebelliousness that can result from such feelings. The loss of his father, meeting his sister and spending time with her and his own mother while he's in town all become part of a healing and growing process for Sam. It all leads up to a powerful and emotional finish to the film that makes the journey worthwhile. Every character in the movie is undoubtedly flawed and broken, and it's rewarding to see some healing come to the characters by the end.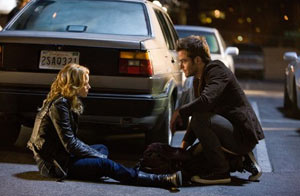 Kurtzman makes no bones about his characters' flaws. The PG-13 rating is pretty edgy as profanity is frequent throughout the film. I can understand, to a degree, where these characters are coming from and that some of the language is expressed out of the anger and pain they struggle with (and that it's just part of the culture), but still, I'm a firm believer that profanity isn't necessary and it hurt the film for me personally to have the profanity so frequent. There is a surprising three uses of the "F" word in this film, which seems like a lot for a PG-13 film. One of them is barely noticeable from Pine, while another is muttered under her breath by Banks and then the most emphatic and clear usage is by the young boy Josh, played by Michael Hall D'Addario. On top of that, there is some alcohol abuse and marijuana usage, particularly in a scene where Sam drowns his sorrows and smokes some of his dad's medicinal weed. His mother then finds him while doing that and the two are then seen walking and talking while sharing some of the drug. There's also a brief sex scene where Frankie shows up at her neighbor's house and the two have a quick fling as a fix for her. It's brief, just to get the idea across, but it's still a bit of a surprise to have thrown into the movie (and there's no nudity at all). Both this act and Sam's substance abuse are used to illustrate the kinds of things people do to erroneously find relief for their stress, but including them in the movie adds to its adult nature.
People Like Us is one of the more entertaining, engaging and emotional dramas to come out this year. Fantastic acting and solid writing with a relatable human element make People Like Us a worthwhile achievement for Kurtzman's first directorial feature. While the film's adult nature will limit the audience, there's an importance placed on family and devotion to each other (and the consequences that result when those aren't taken seriously enough) that gives the movie a redeemable and impactful overall message.
– John DiBiase, (reviewed: 10/15/12)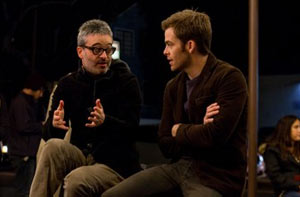 Blu-Ray Special Features Review
People Like Us is available from all digital retailers as well as on DVD or in a Blu-Ray/DVD combo pack. Along with the feature film are the following extras…
Number One With A Bullet: The Story Behind People Like Us (14:28) – This fifteen-minute making-of featurette features the director and cast talking about the film, their experiences, and what it was like to work on the picture. Director Alex Kurtzman reveals that this was a project inspired by his own experiences and that has been seven years in the making as he's worked on writing it within that time. It's a very insightful featurette.
Taco Talk (4:51) – Kurtzman introduces the taco stand chat scene as a director's cut version with omitted dialog inserted in. It's pretty rough as we hear the director saying "action" more than once, but it includes more of the half-scripted/half-improvised dialog that we hear in the movie. It feels sort of like half-deleted scenes/half-bloopers but it's a fun inclusion here. (1 "S" word, 1 "G-d")
Deleted and Extended Scenes (18:25) – There are five deleted/extended scenes with introductions from the director. The first deleted scene is Hannah and Sam talking about going to the funeral at the beginning of the movie, but Sam avoids her and avoids talking about it. The next scene is an extended version of the fight between the two of them while at his mom's house. Olivia's performance is great, but some of the dialog is a little weird in it. It was smart to cut it down the way they did (2 "G-d"). The next scene is a batch of little scenes that were cut near the end of the film. They're actually all great moments that probably could have been left in the film, too. The first is a little more between Hannah and Sam after she visits him and they make up, then it's a scene where Frankie apologizes to Ted for the one-night-stand, and then Sam calls Frankie after a rough day at school. The fourth deleted scene is an awkward one between Josh and Lillian. The director's intro explains that the scene works better as a quiet moment without the dialog and I have to agree that it did. This version doesn't work nearly as well and is too offbeat (1 "S" word). Lastly, Kurtzman includes a first take of the final scene between Sam and Frankie that was later rewritten for several reasons. It really isn't nearly as bad as Kurtzman makes it sound, but it's a nice addition for the home video release. He also mentions that it was cut due to tons of parrots overhead in the trees squawking, but we don't hear them in this cut (1 "S" word, 1 "pr*ck").
Bloopers (3:54) – This is a pretty fun blooper reel made up mostly of line mess-ups or improvised lines from Chris Pine. We also get to hear some of the aforementioned parrots ruining the first take of the final scene that Kurtzman mentions in the deleted scenes. (1 "S" word, 1 "Oh my G-d")
Commentaries – There are two feature-length commentaries on the Blu-Ray disc. The first is with Director Alex Kurtzman and actors Chris Pine and Elizabeth Banks. The second features Kurtzman with writer Jody Lambert. There is also a separate Bonus Feature called Select Scene Commentary that features eight scenes – with a Play All option – featuring commentary by Kurtzman and actress Michelle Pfeiffer. I've never seen a scene-specific commentary included on a disc like this before, but it's a great idea.
– John DiBiase, (reviewed: 10/14/12)
Parental Guide: Content Summary


 Sex/Nudity: Frankie wears a busty t-shirt as well as other cleavage-revealing outfits during the movie; Josh is creeped out by Sam talking to him in a record store for the first time and threatens to bite Sam's finger off if he (Sam) grabs his (Josh's) "balls;" Josh talks about who his neighbors are to Sam and mentions a seventeen-year-old Mexican girl who goes "braless;" Frankie sees Ted walking home so she shows up at his door. We briefly then see them both clothed, standing up with her roughly undoing his pants and then knocking a bunch of books off a shelf as they have sex standing up. It's a very quick and cut-up sequence and we then see them sitting next to each other on the couch (clothed) looking frazzled; Sam's mom, while stoned, smells the cologne Sam put on that was his dad's and comments that she loved that smell and it used to turn her on. Sam jokes that he's stoned but he'll never be that stoned;
Josh sees the aforementioned Mexican teenager and comments to Sam that he wouldn't know what to do with himself if he spoke to her. He then jokes suggestively that he does know what he'd do with himself; Sam says he was in a band in high school called "Technical Virgin" and Frankie said when she was in high school she was on a team of "technical virgins" called "cheerleaders;" Frankie tells Sam she was in a destructive pattern of drugs, drinking and getting "laid" when she got pregnant with Josh, so she doesn't know who his dad is; Sam recites the "Six Rules" from his father to Josh and says one of them is "Never sleep with someone who has more problems than you."


 Vulgarity/Language: 3 "F" words, 30 "S" words, 2 "J-sus Chr-st," 2 "J-sus," 4 "a" words, 7 "Oh my G-d," 5 "G-d," 1 "For Chr-st's sake," 2 "pr*ck," 1 "h*ll," 1 "*ssh*le," 1 "Swear to G-d;" 2 "p*ssed," 3 "d*ck," 1 "Good L-rd," 1 "d*mn;" A kid gives Josh the middle finger.


 Alcohol/Drugs: Sam has a drink on a plane; Sam finds medical marijuana in his late father's medicine cabinet; Sam and Ike have drinks over lunch; Sam goes into his dad's hangout room and drinks a lot of alcohol; Sam visits Frankie in the bar she works in; Sam smokes some of his dad's medicinal marijuana. His mom finds him and then we see the two walking and smoking it together.


 Blood/Gore: Sam has a small abrasion on his cheek after being hit there.


 Violence: Sam's mom slaps him in the face; Josh dumps a chemical into the school pool and it explodes, sending water and debris everywhere; Sam angrily slams something in his dad's room; Sam slaps a rack of vinyl records angrily; Josh hits a kid in the face with a textbook; A woman slaps a man in the face really hard, then punches him and pushes him out the front door, throwing his stuff at him.