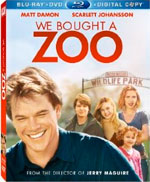 We Bought A Zoo



– for language and some thematic elements.
Director: Cameron Crowe
Starring: Matt Damon, Scarlett Johansson, Thomas Haden Church, Elle Fanning, John Michael Higgins
Running Time: 2 hours, 4 minutes
Theatrical Release Date: December 23, 2011
Blu-Ray Release Date: April 3, 2012 (Amazon.com)
Official Site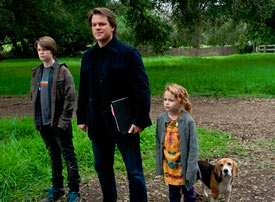 Based on a true story, a widowed father buys a dilapidated zoo in hopes of making a fresh start. Facing enormous odds, he and his children, along with a small but loyal staff, work to get the zoo re-opened.
(from MovieWeb.com)
Film Review
For Christmas 2011, director Cameron Crowe, the man behind films like Jerry Maguire and Vanilla Sky, delivered his first family film in the uniquely titled We Bought a Zoo. Matt Damon stars as Benjamin Mee in this story based on true events where a single father buys a dilapidated zoo and tries to restore it to working order. Zoo is a drama first and foremost, but plays out like a traditional family film with a hint of indie flair. In some ways, it's got the vibe of Dan In Real Life with the gloss and smiles of, perhaps, Cheaper By The Dozen.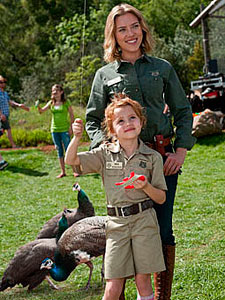 Dramatic themes permeate this mostly feel-good dramedy, but Crowe tries to walk a fine line between drama and wonder throughout the film. For example, a major plot point involves the fact that the Mee family is recovering from the recent loss of wife and mother Katherine to an unspecified illness. Because of this, Benjamin is struggling to keep life moving forward with his teenage son and young daughter, and makes the difficult decision to uproot his family from the town they live in and move to a different location entirely. A chunk of the story involves fourteen-year-old Dylan's own coping with the loss of his mom, and as an aspiring artist, we see that a lot of his artwork is dark, disturbing, and sometimes even graphic (as shown in one particular scene). Financial stress and deciding when to put down a sick animal at the zoo are also some of the heavier themes that We Bought A Zoo tackles, and it's this kind of thematic material that younger audiences may not enjoy so much.
Otherwise, Crowe does his best to give Zoo a "magical" feel. We see the wonder of the zoo through little Rosie's eyes (played charmingly by Maggie Elizabeth Jones), while we also view it through the hopeful perspective of Benjamin. His voice-of-reason brother, Duncan (played by Thomas Haden Church), is a fair blend of comic relief and a reality check for Benji, even if he's given some truly corny dialog to speak (particularly about how he likes the animals, but really likes the people). Jonsi provides the film's music, which Crowe uses extensively to manipulate the mood of the film. While that's common for most films, I felt like Crowe was particularly forcing scenes to feel lighter than they actually were by the use of Jonsi's score. For example, one scene where Benji and the zoo crew chase after an escaped bear could have easily felt more dangerous and ominous with either a more dramatic score or no score at all, but Jonsi gives the scene a light and bouncy soundtrack which makes it feel more surreal than anything (and a deleted portion of the scene would have only added to that). To the composer's credit, however, his score does give a much lighter overall mood to a film that could have been pretty dismal in the hands of a different director, but Crowe's choice to keep things as light as possible given the material mostly works in its favor. Some may be able to see through this attempt, however, which may taint the viewer's enjoyment of the story.
The film's content is pretty mild, with language and thematic weight being the film's biggest concerns. The dramatic story elements will most likely lose the younger audiences, but the language, while present, is still kept to a minimum. However, both of the children use some profanity in two different instances, which could be imitative for the little viewers. Dylan uses "bulls**t" in an argument with his dad, while Rosie tells the zoo inspector that everyone says he's a "d*ck." While the latter was played for laughs, it seemed like a distasteful gag. The Blu-Ray disc does, however, offer a family-friendly alternate audio track that is on-par with the kind of overdubbing you'd hear on a TV edit. While two uses of "h*ll" still squeak by, the other profanity is replaced with substitutes — sometimes bizarre ones. The "S" word in one scene is replaced by "scat," while Bejamin calling a porcupine an "a–hole" is replaced by "rascal." And, humorously, Rosie's use of "d*ck" is replaced by "dork." The only other content concern is that Dylan's drawings are often creepy, disturbing and sometimes violent. It's meant to show how lost he's feeling since his mother's death, but for a family movie, it feels awfully dark (and the fact that the sunny character Lily is intrigued by the creepy art is bizarre).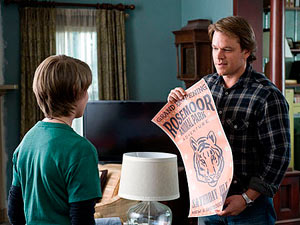 The casting for We Bought A Zoo is well done. Matt Damon is excellent as Benjamin Mee–a young father trying to make sense of life after the unfortunate loss of his wife and the mother of his children. Damon has proven he's got the skills to pull off drama and comedy (heck, just Jason Bourne or Linus Caldwell from the Ocean's movies prove his versatility), so when the script calls for both here, he does so quite well. Scarlett Johansson stretches her acting chops here too. While she's often the go-to actress for roles that call for beautiful young ladies who can also act well, Johansson's appearance is deliberately not made up much for her role here as a zookeeper. She looks thinner and more ragged than usual, but it all makes her feel much more like the real-life kind of character she's playing, and less like a beautiful Hollywood icon performing a part. Super 8's Elle Fanning also turns in a completely different character than seen in last summer's blockbuster. While her character in J.J. Abram's film was more serious and troubled, Fanning does a wonderful job playing a more naive and sheltered girl who immediately becomes infatuated with the city boy, Dylan. Colin Ford plays Dylan, looking and acting like a young Mark Whalberg, and does a fair job as the moody teen. Finally, the aforementioned Maggie Elizabeth Jones is delightful as the wise-beyond-her-years little Rosie and warms up the scenes she appears in.
We Bought A Zoo is a well-acted drama with a heart for family, but Crowe's direction feels a bit unbalanced; for a movie based on true events, it seldom feels like it's grounded in a sense of reality. The movie sometimes feels like it wasn't to be a serious drama, while other times, it wants to be treated as a whimsical, magical family adventure. The movie only falls somewhere in between as it teeters between the two tones, and as a result, We Bought A Zoo gets a little lost in the struggle. However, the players behind We Bought A Zoo help keep this movie enjoyable from start to finish, and it rises above its corny or dark moments to be a good pro-family venture. You can certainly do much worse than We Bought A Zoo, but with all of the talent involved, it's difficult not to consider that it could have been a much stronger movie. All in all, We Bought A Zoo is still worth a look.
– John DiBiase, (reviewed: 4/12/12)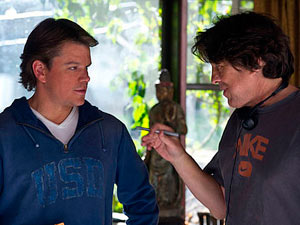 Blu-Ray Special Features Review
We Bought A Zoo is available on DVD and on Blu-Ray in a Blu-Ray/DVD/Digital Copy combo pack. The picture looks great and the HD format allows for some great bonus features as well. When you pop the Blu-Ray disc in, you'll immediately see a new Ice Age cartoon featuring Scrat called "Continental Drift, Part 2," the sequel to an animated short that has been circulating with other releases. This one, while it has its moments, does feel a bit sloppily executed and isn't nearly as good as other Scrat shorts. Still, it's a nice addition to the movie. Along with the feature film are the following extras…
Deleted/Extended Scenes (37:27) – There are a staggering 20 deleted or extended scenes totalling 37 minutes of footage. The first scene is an awkwardly bizarre scene where three people are on elevator with Ben and he's watching all three of them stare at him and then burst into tears as they empathize with his loss. He then realizes he's imagining it (it clearly doesn't fit in with the tone/reality of the film either). The next two scenes are from Ben's first tour of the zoo, and he meets a strange animal named Robbie that slobbers on his hand. Next is an extended version of when they check out the tiger pen, but here it continues as Ben hears a gunshot signaling the death of a sick tiger as it's being put down. Next is an extended scene where a chatty Rhonda gossips to Benjamin about people at the park and reveals her two-faced nature when she takes a phone call after he leaves. The following sequence shows Rosie introducing all of the names she's given to the peacocks. The next one shows an alternate scene where Ferris shows up unannounced, but the event that precedes it in this version has Benjamin climbing a tree and tying meat to a tree limb for Spar (the tiger). There's then a brief sequence where Ferris goes looking for McCready. In the next deleted scene, Lily delivers a sandwich to Dylan who is shown drawing a pretty violent and graphic sketch (yet she smiles at it like it's something endearing). In the ninth deleted scene, we see some more of the team looking for the escaped bear and warning Rosie not to leave her room. The tenth scene immediately follows the events in that scene and is an extended take of when Benjamin finds Buster… and proceeds to have a heart-to-heart (albeit one-sided) talk with the bear (the footage is unfinished here, too, as it's clear there was green screen used to make Damon look like he was in the same frame as the 700 pound bear). It's kind of a corny exchange, but it does add more impact to the scene. The next sequence is a brief extension of when Ben goes to visit Duncan at work. The twelfth has Robin visiting Benjamin in his office to talk about work. Next shows more of Rosie and Benjamin at Home Depot. The fourteenth scene is a little nugget where Ben watches Dylan drawing on the steps of the house as Duncan pulls up and the two chat briefly. The following scene shows a bunch of volunteers showing up to help work on the zoo for a long park restoration montage. The next scene has Duncan and Benjamin carrying a drunk McCready back to his room, followed by a short scene where Dylan and Lily are sitting on the roof in the rain. Sadly, the next scene would have been a nice addition to the film as McCready visits Ben to give him some encouragement once the rain comes. The grand opening scene is briefly extended to include a moment where Benjamin tries to quote Katherine but can't bring himself to actually say it. Lastly, we see a lot of opening day footage from around the zoo, including Dylan delivering a sandwich (complete with creepy gothic drawing) to Lily and McCready confronting Ferris finally (and putting him in a choke hold and wrestling him to the ground). Several of the above deleted scenes reveal that there was an unnecessary subplot about Robin maybe being McCready's long lost son, but they leave it only ambiguously resolved. These also show more interaction with McCready and Robin, some of which would have been nice additions to the film. Overall, I can understand why a lot of these were cut simply for the sake of pacing.
Gag Reel (6:57) – This is a montage of line flubs and goof-ups on set. It's pretty amusing, but not the funniest gag reel.
We Shot A Zoo (1:15:52) is an hour-plus long documentary, separated into six segments, based on the making of the film We Bought A Zoo. The documentary opens with a voice over from Cameron Crowe and then moves into the true story of Benjamin Mee, taking us to Dartmoor where the real Benjamin is from. Here we see real footage from 2006 when Benjamin began his undertaking with buying a zoo to fix up (and we see the real Katherine!). However, in the real story, Benjamin had bought the zoo with his wife Katherine who didn't get sick and pass away until after they started to fix up the place (in the film, she's already gone before Benjamin buys the zoo). The documentary then shows the team scouting for locations to literally build the zoo set in California and they sought to recreate the Dartmoor zoo from scratch. We then see the cast hanging on the set, doing practice reads and even screen tests. It's an extensive and thorough documentary that shows a great deal of on-set footage and feels complete by having a hearty amount of cast and crew interviews mixed in as well. It's one of the finer making-of featurettes for a film like this I've seen in a while.
Their Happy Is Too Loud (17:29) is focused on Jonsi's score for the film. We even see Cameron in the studio as he first hears Jonsi's work with a scene between Dylan and Ben. There is also some of the recording session footage as Cameron and Jonsi talk about the film's music and how it fits with the movie. We see Cameron and Jonsi evaluating the music chosen for the film's final scenes as well. Jonsi's work is also Crowe's first use of a real score for one of his films (according to him) and he filmed the scenes with this musician's work in mind. It's really an interesting look at scoring a film.
The Real Mee (28:35) is a documentary about the real-life Benjamin Mee. Ben is interviewed here and tells his story of acquiring the Dartmoor zoo. Mee's story is fascinating and well worth learning about, especially if you enjoyed the Hollywood rendition of the story. Mee and his children take us on a walk around the zoo, introducing some of their famous animals along the way, to give viewers a good idea of what the Dartmoor Zoo really looks like.
A Photo Gallery by Still Photographer Neal Preston, an Audio Commentary with director Cameron Crowe and actor JB Smoove and Editor Mark Livolsi, and the film's theatrical trailer all round out the extras on this impressive BD package.
– John DiBiase, (reviewed: 4/12/12)
Parental Guide: Content Summary


 Sex/Nudity: Duncan tells Benjamin to "court" a girl he met recently and Benjamin comments that she's been asking him to go hiking, so Duncan tells him to "hike her;" As Benjamin walks into the bar, we hear the faint murmurs of people talking amongst themselves and asking if one of them would sleep with some guy; One of the zookeepers tells Kelly that Ferris "lusts" her and she says she won't take one for the team; We briefly see a topless photo of Katherine while very pregnant with her arm covering her chest.

 Vulgarity/Language: 5 "S" words, 1 "J*sus," 1 "a**h*le," 2 "d*mmit," 1 "Son of a-;" 1 "d*ck," 2 "h*ll," 3 "Oh, G-d," 2 "Oh my G-d"

 Alcohol/Drugs: Some people have drinks at a party next door to the Mee house; McCready seems a bit drunk in the bar at the zoo, where the other staff are also drinking; Benjamin asks McCready if he's been drinking and he says "All night long;" The zoo gang has celebratory drinks in their bar; We see McCready uncap a flask and flip it upside down to show that it's empty.

 Blood/Gore: We see a detailed drawing that Dylan made of a creepy cartoonish head with a torn mouth as it's flying from the body's shoulders with lots of blood. We later see some more dark and creepy drawings in his sketch book during the film; There's a little bit of dried blood around Dylan's nostril from an unseen nosebleed.

 Violence: McCready throws darts at the poster of a Ferris's face; Benjamin kicks a barrel over in anger; Buster the bear hits a rifle out of Benjamin's hand. The bear is then suddently hit with a tranquilizer dart. McCready frequently talks about wanting to kill Ferris (but he doesn't).