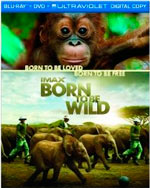 IMAX: Born To Be Wild




Director: David Lickley
Starring: Narrated by Morgan Freeman
Running Time: 41 minutes
Theatrical Release Date: April 8, 2011
Blu-Ray Release Date: April 17, 2012 (Amazon.com)
Official Site
"Born to be Wild" is an inspired story of love, dedication and the remarkable bond between humans and animals. This film documents orphaned orangutans and elephants and the extraordinary people who rescue and raise them—saving endangered species one life at a time. Stunningly captured in IMAX 3D, "Born to be Wild 3D" is a heartwarming adventure transporting moviegoers into the lush rainforests of Borneo with world-renowned primatologist Dr. Birute Galdikas, and across the rugged Kenyan savannah with celebrated elephant authority Dame Daphne Sheldrick, as they and their team rescue, rehabilitate and return these incredible animals back to the wild.
(from MovieWeb.com)
Film Review
IMAX has been the ideal format to view intriguing documentaries on wild life and other nature-related topics for decades. One of the latest documentaries from Warner Bros. is a short film about raising orphan orangutans and elephants in Kenya, called Born To Be Wild. Narrated by documentary regular Morgan Freeman, Born To Be Wild is a beautifully-shot and presented documentary for nature lovers and fans of the topical animals themselves.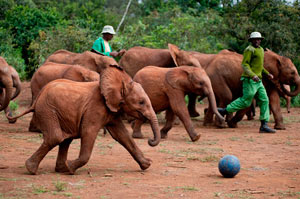 The film, directed by David Lickley, flips back and forth between two doctors who have been tending to rescued animals for most of their lives. Dr. Birute Mary Galdikas, OC raises orangutans who have lost their mothers and whose home forests had been cut down. Dr. Dame Daphne M. Sheldrick focuses on rescuing orphaned baby elephants who have no chance of surviving in the wild without their mothers. Most of them have lost their parents to poachers, and Daphne and her crew are dedicated to making sure these animals have a fighting chance at life on their own once they're old enough to be released to the wild.
To properly convey these stories, Freeman is accompanied by Daphne and Birute themselves as they tell their own personal stories as well as the stories of specific animals in their care. Both of their narratives are rather dry and make the visuals on the screen a little less engaging (especially when you have such an incredible voice like Freeman's to compare to), but the personal touch of having them relate their own experiences first hand is a nice one. Throughout the film, we see the orangutan babies through various stages of their growth with them bathing, playing, eating, etc. We then see the babies being given some time in the forest to help adjust to life there. At one point, Birute briefly focuses on one particular orangutan named Ombray who she considers to be quite a "comedian." We watch him play and be a little mischievous on a clothes line and then we see him inside a kitchen (where he makes quite a mess). It soon switches back to the story of the baby elephants and one in particular named Sities who has trouble sleeping. Lickley then gives us a little peek of Sities trying to rest at night while his caretaker tries to calm him enough to sleep.
Over halfway through the forty-minute story, Daphne's crew finds a baby elephant among a group of bull elephants in the wild after its mother had been poached, so they realize they need to capture it to save it. The music picks up with a feeling of tension and suspense, but it's all over pretty quickly as we see them hauling the baby into a plane and whisking it away to safety. It's an intriguing segment, but it's handled rather quickly and is over about as swiftly as it began. This part is then followed by the orangutans and elephants being evaluated for release back into the wild. They show a couple of each "graduating" and a few elephants being moved to a "halfway house" of sorts in Tsavo where they will reside until they no longer need human help. It's fasinating when Freeman's narration reveals that other adult elephant orphans, who are now in the wild, come back to the camp to greet the newcomers.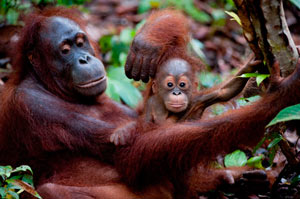 The content for IMAX: Born To Be Wild is pretty pristine. There isn't anything objectionable here, so it's a pretty safe film for viewers of all ages. The pace of the documentary moves very slow, however, and I can imagine that nature fans and documentary fans are really the only viewers who would be interested in this film. The cinematography is great and the HD presentation really draws you in, but it isn't one of the more engaging documentaries you will see. It also seems a little odd to marry the topics of baby orangutans and elephants into one forty-minute film; it almost feels as if it would have made more sense to have two separate films, one for each. The Blu-Ray release of the movie includes six webisodes on the making of the documentary feature film (so they're mini documentaries about the making of a documentary) and they're actually more interesting than the feature film itself. I understand that Born To Be Wild works well as an IMAX presentation, but these webisodes are actually more entertaining and informative in many ways.
All in all, IMAX: Born To Be Wild looks great, but only documentary fans should check in to this one. If you're a more casual movie watcher, you should pass this one buy, but if you happen to have a soft spot for wildlife shows, or orangutans and elephants specifically, you won't want to miss this short film.
– John DiBiase, (reviewed: 4/15/12)
Blu-Ray Special Features Review
IMAX: Born To Be Wild is available on DVD, 3D Blu-Ray/Blu-Ray/DVD/Digital Copy, Blu-Ray/DVD/Digital Copy and just Blu-Ray/Digital Copy. The following features are included on the Blu-Ray/DVD/Digital Copy package.
"Born To Be Wild On Location" Webisodes – There are six webisodes included as extras, which focus on the making of the film: Borneo (2:48), Kenya (2:33), Camp Leakey (2:39), Coming Home To Tsavo (3:38), 'Wild' Filmmaking (3:31), and Caregivers (3:21). This is a collection of short videos–most under three minutes in length–that are, arguably, far more interesting than the film itself. While most of the footage is B-roll footage and not presented in high definition, these films focus on the filming process and interviews with people in who work with these animals and care for them. If you enjoyed the feature film, you'll definitely want to watch these short videos. (The only thing it's missing, unfortunately, is a Play All option. Also, each video has a short intro that's the same for each video. Combining it all into chapters for one making-of special feature may have made a little more sense. But they're definitely wonderful additions to the disc.)
– John DiBiase, (reviewed: 4/15/12)
Parental Guide: Content Summary


 Sex/Nudity: None.

 Vulgarity/Language: None.

 Alcohol/Drugs: None.

 Blood/Gore: None.

 Violence: A rescued baby elephant named Kandecha runs at some of his rescuers thinking they're the enemy and slams head-first into a fence.