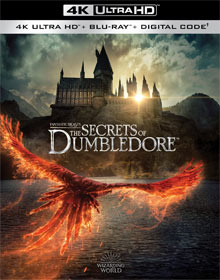 Fantastic Beasts: The Secrets of Dumbledore


 – for some fantasy/action violence.
Director: David Yates
Starring: Eddie Redmayne, Dan Fogler, Alison Sudol, Jude Law, Mads Mikkelsen, Ezra Miller, Callum Turner, Katherine Waterston
Running Time: 2 hours, 22 minutes
Theatrical Release Date: April 15, 2022
Blu-Ray/4K Ultra HD Release Date: June 28, 2022 (Amazon.com)
Plot Summary
Professor Albus Dumbledore must assign Newt Scammander and his fellow partners as Grindelwald begins to lead an army to eliminate all Muggles. (from IMDB)
Film Review
Third time's the charm. I repeated my intro for the last two Fantastic Beasts film reviews, and I'm adapting it once again here because I feel the need to share it again. So, once again, I must admit I've never seen a single Harry Potter film or read any of the books. In full disclosure, I had decided to avoid them early on due to feeling uncomfortable with the idea of making witchcraft appealing and normal to young children. And when I had seen a Harry Potter witchcraft kit on sale at a local Border's Bookstore during the rise of the Potter phenomenon, I felt it was something to steer clear of. And, honestly, to this day, I haven't really cared to change that. Although, I must admit, after seeing the third installment of the Fantastic Beasts series, I'm a little more curious about the story that follows this one. Still, I do realize my deciding to watch the Fantastic Beasts series may seem puzzling if not altogether hypocritical. The deciding factor for me was that the story seemed less focused on witchcraft and teaching it to kids in a school, and more about the unique creatures within their world. And, upon viewing the first film, I'd found that to be mostly true, with some of the history of the wand-wielders in the Wizarding World playing a big part of this new prequel story. But with each installment, the series seems to be focusing more on the spell-casting than the "fantastic beasts," and The Secrets of Dumbledore takes it even more in that direction.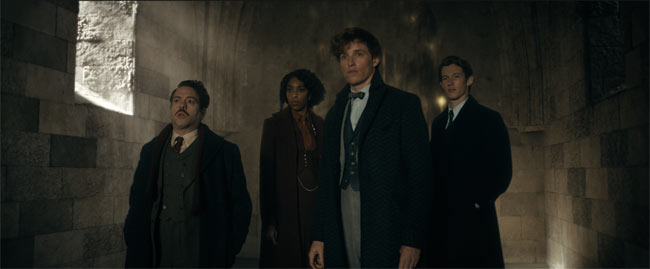 In revisiting the first two Fantastic Beasts movies before seeing this one for the first time, I realized just how much I'm not really crazy about Rowling's Wizarding World. Maybe swinging wands at everything just seems a little silly (especially in a wand-on-wand battle), but I guess a "Wizarding World" isn't really my bag. I love the opening scenes of Fantastic Beasts and Where to Find Them, where we meet Newt and he runs into Jacob the baker, Queenie, and Tina, but the story soon gets super dark as it introduces a troubled magic-wielding orphan named Credence (played by the equally troubled actor, Ezra Miller — seriously, just google his name for his recent scrapes with the law. Yikes). Newt is a shy, sheepish and awkward "magizoologist" of magical creatures, who makes for an intriguing character to focus on, but the story frequently turns its focus away from Newt on to characters and storylines that exist to tie these prequels to the original Harry Potter tales. (It's the same problem that the Hobbit movies had when trying to tie them specifically to the Lord of the Rings movies, and not just being adaptations of the books.) I honestly couldn't be more disinterested in Credence's storyline in the first two movies, and it isn't until the final moments of The Crimes of Grindelwald that we learn that Credence is actually a Dumbledore. Maybe this detail, if revealed sooner, would prove to have a bit more explanation as to why we were spending so much time on his character. Thankfully, his character is far less ambiguously brooding in The Secrets of Dumbledore, and his story is finally given some clear development now that we know who he really is. Grindelwald had taken a bizarre interest in the boy in The Crimes…, but now it finally all makes sense.
Speaking of Grindelwald, let's talk about what no one making this movie is addressing: the recasting of Johnny Depp's Grindelwald. In Where to Find Them, we find out that Colin Farrell's character was actually Depp's Grindelwald in disguise, and in the sequel, we see just how evil and powerful this man is (Not to mention the fact that they reveal a weird romantic relationship between Albus Dumbledore and Grindelwald). While filming The Secrets of Dumbledore, Depp was fired due to controversy surrounding his volatile marriage to Amber Heard in real life, and Grindelwald had been recast with Mads Mikkelsen in the role. The movie, nor the special features ever address this recasting, and viewers are just supposed to automatically accept Mikkelsen in the role. Now, to be fair, I have loved watching Mikkelsen in any role I've seen him play ever since first seeing him in one of my favorite movies, 2006's Casino Royale, playing the villain LeChiffre. But let's be honest; Depp's Grindelwald was creepy, intense, evil, and mysterious. Mikkelsen strangely plays the character as rather straight-forward and more down to Earth. I think that would be a fine way to play the character if Depp hadn't played him up so much more larger-than-life before, so here he just feels a little, well… neutered? It does actually make more sense that Albus and Grindelwald would have been such close friends (and "more") with Grindelwald seeming more "normal" here, but as a villain, Depp really made Grindelwald stand out. Also, at the end of The Crimes of Grindelwald, there was this intense and unsettling showdown where he seduced some characters to the "Dark Side," as Jacob calls it. But in The Secrets of Dumbledore, things feel a lot more subdued and definitely less obviously evil. I'm not quite sure how to process this glaring tonal shift.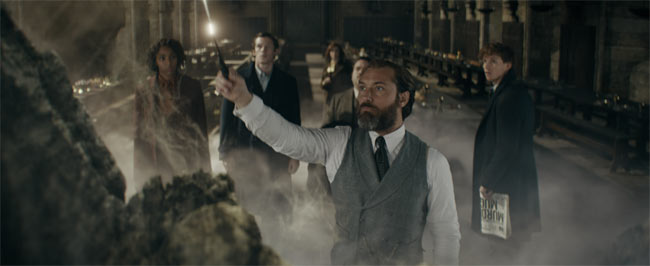 Otherwise, I might have to admit that I think, as a whole, The Secrets of Dumbledore may be the strongest of the three Beasts movies. The characters are good, the creatures are interesting, and the story is much less frenetic this time around. And since we know the significance of Credence now, the time spent on his character feels like it actually has purpose. Overall, the story just flows a lot better in this outing. These movies, like the Star Wars prequels, are plagued a bit with some sluggish plot developing, but recurring characters like Newt, Jacob, and Queenie – and this time, Theseus Scamander and Eulalie "Lally" Hicks – make the story a fun journey. Again, since I haven't seen Dumbledore in the Potter movies, the extent of my knowledge of the character is what we see of Jude Law's performance in these movies. I enjoy Law's performance (even if it feels a bit dry or stoic), but I can't compare how his take on the character stacks up against the much older wizard. I do have to complain that there's a distinct, and curious, lack of Katherine Waterston as Tina Goldstein in this movie — after being such a big part of the first two movies. There's no clear reason for why she was mostly left out of the story, but speculation rests on the fact that the movie being filmed during the pandemic may have had a lot to do with it. Tina is missed, and it feels weird that she wasn't around in the movie much, but the film isn't hindered too much without her, thankfully.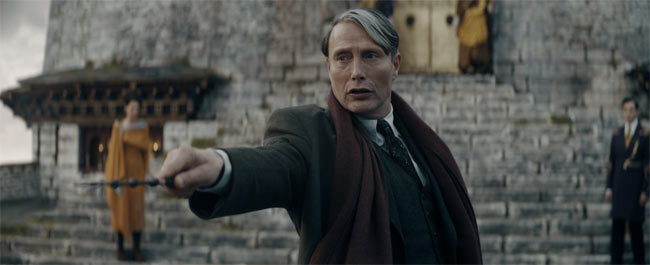 The content of Fantastic Beasts: The Secrets of Dumbledore is on par with the previous films, although I'd say it isn't quite as dark. I'd even venture to say they seemed to have the younger audience more in mind for this threequel, but there was still some surprising violence at times. Language is kept to only 1 use of "bloody h*ll" from Theseus. There isn't any sexual content in the movie, but the opening scene has Albus Dumbledore telling Grindelwald that he "loved" him. Later, there's some references to their relationship in the past, and their blood oath that keeps them from being able to fight each other. The rest of the content is violence, with there being a brief shot of Newt having a bloody, injured hand (we see it in greater gross detail in a deleted scene in the film's extras), and a surprising moment when Grindelwald slices the throat of an animal, causing a puddle of blood to form on the ground. The scene in the creepy Erkstag jail (which is one of the best sequences in the film), shows a large creature's stinger quickly impaling unseen men off screen, pulling them into the darkness and eating them. In two instances, it spits some remains back up out of the pit, and in the first of those instances, we see some skeletal remains covered in yellowish-green goo. And if magical elements upset you, I'd steer clear of this franchise altogether. After seeing these movies, I'd consider the "magical" elements far more fantastical than realistic, but if you're really sensitive to even the fantastical, I'd recommend skipping these movies.
One viewing may not be enough to say with certainty, but I felt like, out of the three Beasts entries, Fantastic Beasts: The Secrets of Dumbledore was possibly the most enjoyable and satisfying of the three movies. It didn't do well at the box office, and the critics weren't too kind on it, but I found it to be pretty entertaining.
– John DiBiase (reviewed: 6/26/22)
4K UHD Special Features Review
Along with the feature film in 4K UHD, the 2D Blu-Ray disc and digital copy of Fantastic Beasts: The Secrets of Dumbledore feature the following Extras:
The Dumbledore Family Tree (8:26) – If you're like me, and you have a limited knowledge of these characters, this featurette is a lot of help. A narrator tells the story of the Dumbledore family, including how it plays out through the Potter movies. While they do touch on Albus's relationship with Grindelwald, they completely ignore Depp's portrayal of the character in the clips they show. Overall, I felt like this really helped clear up some confusion.
Dumbledore Through the Ages (7:12) features interviews with the cast, crew, and Rowling herself through the Harry Potter films and these newer ones. There are also interviews with all of the actors who played Albus through the years.
Magical or Muggle (4:28) – In this cute little Extra, the cast hear words that sound unusual and vote if they think it's a "magical" thing or just a "muggle" thing.
The Magic of Hogwarts (5:37) focuses on the physical sets built and green screen used to make the movie, and figuring out what places would look like 50 years earlier than when they debuted in the Potter series.
Even More Fantastic Beasts (6:16) profiles the new creatures including the majestic Qilin, the Wyvern, the creepy Manticore, and the returning favorites: the Niffler and Bowtruckle.
Newt in the Wild (4:44) – Before Covid hit, throwing the world off its axis, the film crew had planned to take the production to China. They had shot real locations in China but had to build the waterfall sets from scratch elsewhere. We also see how they had used puppets to film the Qilin, and how Newt is in his element finally while out in the wild.
The German Ministry of Magic (4:49) – The story takes the characters this time to Berlin, and here they talk about what it was like to design 1930's Berlin.
A Dumbledore Duel (3:55) is about the fight between Credence and Albus, and the significance of their scuffle.
The Candidates' Dinner (4:43) covers the the magic storm, Jacob's dilemma, and how they filmed Jacob and Lally running up floating paper!
Erkstag Jailbreak (4:48) is about Newt's rescue of his brother in the creepy caverns of Erkstag's prison, and the scary monsters that lurked there.
Battle in Bhutan (5:30) is about recreating the location on set, and the dance-like quality to the climactic battle.
Deleted Scenes (7:16) – There are five deleted scenes with a Play All option. "Hogwarts Owlery" (1:05) shows Dumbledore as he goes to visit an owl. "Newt's House" (3:47) is a great scene that should have been left in, where Theseus helps Newt after he's injured while saving the Qilin (we briefly see some close-ups of Newt's bloody/torn hand). "Credence Kills Auror" (0:54) shows Credence killing an auror that he finds following Albus into an alley. "Wands Checked" (0:38) is a silly little scene where Jacob and Lally have their wands checked as they enter the banquet. Finally, "Vogel at Nurmengard" (0:52) is a throwaway scene where Vogel visits Grindelwald.
Extras: The Secrets of the Cursed Child (4:48) is a backstage look at the London play, Harry Potter and The Secrets of the Cursed Child.
– John DiBiase, (reviewed: 6/26/22)
Parental Guide: Content Summary

 Sex/Nudity: Albus Dumbledore tells Grindelwald he was in love with him; As the two fight later, they place their hands on each other's clothed chests around their hearts and close their eyes.


 Vulgarity/Language: 1 "bloody h*ll"


 Alcohol/Drugs: We see people drinking at a banquet; Jacob drinks wine at a banquet and gets drunk; We see a swirling wine is delivered to a table.


 Blood/Gore: After an attack, Newt's hand is covered in blood; Grindelwald suddenly cuts an animal's throat. We see a blood puddle on the ground and some blood on his sleeve; A man is impaled by a stinger off screen and pulled into a pit screaming. We see a yellow goo covered carcass thrown onto a ledge where baby creatures pick at it; Theseus accidentally steps on a creature and squishes it into green goo on the bottom of his shoe; We see some blood in the water when the dead qilin is submerged; Newt has a small bloody cut on his forehead.


 Violence: A room is engulfed in flames with a man in it. It turns out to be a vision; A deer-like creature, called a qilin, is hit with a green blast from a wand. Yellow blasts chase Newt through the woods as he runs away. He's hit with a blast and falls into water; Newt finds an animal dying; Grindelwald suddenly cuts an animal's throat. We see a blood puddle on the ground and some blood on his sleeve; A chain wraps tight around Dumbledore's arm and then his neck. The medallion from it scrapes into the wall before coming back to him, and releasing him; A man gets zapped by a wand and falls over; Theseus is hit by a blast from a wand and falls over and is carried off; Credence makes the streets and buildings break up and he throws the pieces at Dumbledore. Albus uses his wand to blast them up and stop them. The two end up on a tram and use their wands to tear it apart. Dumbledore then causes Credence to be still and calm, holding him down on the street; A man is impaled by a stinger off screen and pulled into a pit screaming. We see a yellow goo covered carcass thrown onto a ledge where baby creatures pick at it; Another man is stabbed and a shoe is spit up onto the ledge; A blob of wine rises up out of a glass and Lally uses her wand to throw it at a door, where it burns the paint; Jacob points his wand at Grindelwald and Lally makes his wand cause a storm in the room. She then she trips some guys with a wire, causing them to fall forward. Plates and papers whirl around the room with some papers catching on fire. They then escape by running up the floating papers; Theseus accidentally steps on a creature and squishes it into green goo on the bottom of his shoe; A large scorpion-like creature rises out of a cavern and chases Newt and Theseus, shooting fire at them that turns molten as it hits nearby rocks. They run as it tries to stab them; We see a dead qilin thrown to the ground and we see it close up. Grindelwald then submerges it in water and we see some blood in the water. It comes alive in the water with a spell Grindelwald casts; Grindelwald throws Credence back with a blast of water, then grabs his face and threatens him; We see a wand fight as two people shoot at other wizards, throwing things at them, trapping one in a wall, wrapping one in clothing, etc; Jacob hits two men in the face with a case; The man in the wall is released by a wand and he falls on the ground; Books fly from a case and pages fly around; An orb knocks into many wizards; Pastries by the hundreds flood out of a case, smothering at least one person; Newt is knocked out by a blast from a wand; A man hits the ground with his wand, knocking down a lot of bad guys; A muggle is hit by a wand blast then has a cast spell on him that nearly kills him before someone releases him; Wizards block a wand blast sent at a man; Two men fight each other with wands, dancing around as they shoot magical blasts of energy at each other; A man puts up a shield and is shot at. They shoot more as he vanishes away off the side of a cliff.