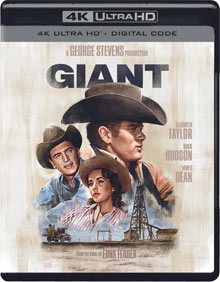 Giant


 – for not containing material to warrant a higher rating.
Director: George Stevens
Starring: Elizabeth Taylor, Rock Hudson, James Dean, Dennis Hopper
Running Time: 3 hours, 21 minutes
Theatrical Release Date: November 24, 1956
4K UHD Release Date: June 22, 2022 (Amazon.com)
Plot Summary
Sprawling epic covering the life of a Texas cattle rancher and his family and associates. (from IMDb)
Film Review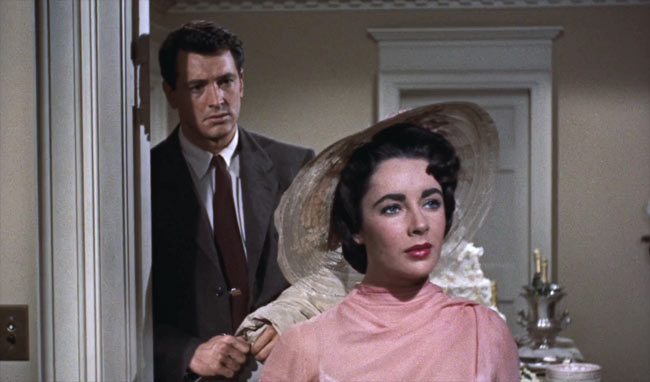 When you think of "sprawling epic" films, movies like Gone with the Wind, Ben-Hur, and The Ten Commandments usually come to mind. And now I know why the 1956 western drama Giant does not.
Although it was nominated for 10 Academy Awards, with director George Stevens winning for Best Director, I find this a little baffling. I have said many times that I love classic films, spanning many decades in the history of cinema, but I also know when a movie just isn't working for me. While hardly a "bad" film, Giant feels slow, bloated, and meandering. The story follows Elizabeth Taylor's Leslie Benedict, a young girl who falls in love with a wealthy ranch owner named Jordan 'Bick' Benedict Jr., played by Rock Hudson. They're decent characters, but neither especially have the big screen presence to really pull the viewer in. In other words, Hudson's no Clark Gable, and Taylor is no Vivien Leigh (although that may be for the best). I actually found James Dean's Jett Rink to be one of the most interesting characters in the film, and when time quickly passes to show the Benedicts' kids grown up, Dennis Hopper turns in a solid performance as young Jordan Benedict III (as do his spunky sisters). But, for the most part, the story just lacks impact and weight. There is some commentary about race discrimination that is sprinkled throughout, and a finale that finally brings some life to this snoozer, but in some ways, it feels like an afterthought. When Hudson's Jordan finally stands up for the discrimination his Mexican daughter-in-law and grandson experience, it is moving, but it feels like a side note in the movie that is finally, and suddenly, brought to the forefront. Giant has several ideas in the mix, but none of them really come through strongly enough or executed well.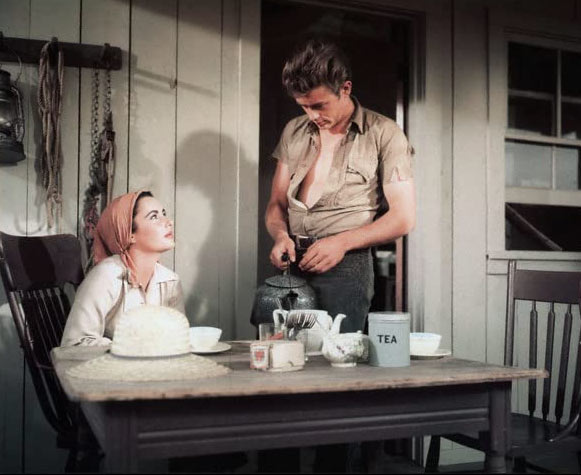 It feels like all of the film's attempts at really trying to say something get kind of lost in the process of trying to tell a muligenerational story. At just under three and a half hours, the movie takes its sweet time trying to say something — or anything — and comes dangerously close to saying nothing at all. If it weren't for the finale where Benedict stands up for his grandson, I think we'd all just wonder what the point of this movie is. Giant's final scenes also wrap up Jett's story, revealing a decades-long love he carried for Taylor's character, Leslie. This had been hinted at earlier in the film a couple times, then abandoned altogether, only to resurface near the end when he tries to woo Leslie's daughter. It's a subplot that feels poorly developed — which is odd given the lavish runtime. Also, the time jumps seem random and feel rather jarring. There's no real indication as to how much time is passing, except for gray added to the leads' hair, and the little Benedict children suddenly becoming adults. In the end, Giant feels like an ill-conceived idea of a story that is well cast and acted, but poorly executed. It's listless and seemingly aimless, till it ends with an attempt at poignancy that leaves you realizing what they were going for here and wondering how it could have been done better.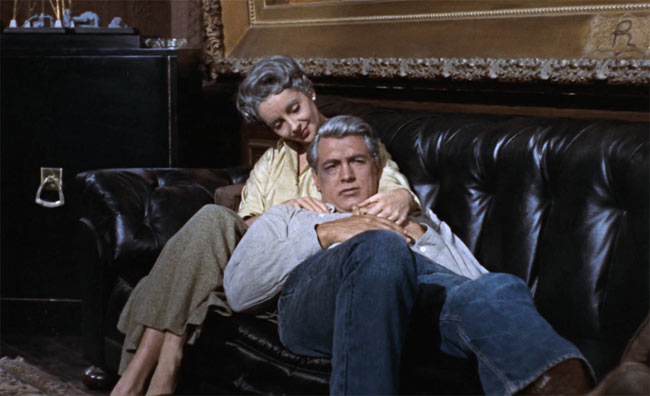 The film is rated G, and is suitable for most audiences, only getting weighty in theme a few times. The movie even touches on war time, but nothing of that is shown. If anything, drinking to excess is shown several times, with several characters getting drunk off wine or punch. Later in the film, Jett passes out on a table from being drunk, then wakes up, slurring a loud rant while drunk, and then falls over onto some tables. The fist fight at the end shows a little blood on Jordan's face, but that's about it. Language is pretty tame with only a few uses of "L-rd" as exclamations, and sexual content is limited to two scenes that show couples either lying in bed or entering a bedroom together, but in both cases, they were just recently married.
Giant may look good and have a great cast, but the film is pretty disappointing. It's hardly the sweeping epic it's advertised as, and its runtime could have easily been shaved down to a more reasonable 2-and-a-half hours with some pace correction or trimming off some of the bloat. As it is though, Giant is a well-meaning, albeit kind of dull, multigenerational western drama.
– John DiBiase (reviewed: 6/24/22)
4K UHD Special Features Review
Giant Ultra HD Blu-ray contains the following previously released special features:
Commentary by George Stevens Jr., Screen Writer Ivan Moffat and Critic Stephen Farber
Parental Guide: Content Summary

 Sex/Nudity: We see Benedict and Leslie in bed on a train and discover they're on their honeymoon; Judy elopes and her and her husband sneak into her room and close the door. They emerge in the morning.


 Vulgarity/Language: 3 "Good L-rd," 1 "L-rd," 1 "L-rd have mercy"


 Alcohol/Drugs: The family has wine at the dinner table; Jett pours some alcohol into a cup and sips it; We see Jett drinking from a bottle while working on his oil well; The punch on Christmas is spiked; Jordan is drunk while drinking punch; Jett has a bottle and a glass of liquor at the table. He pours himself more and drinks more; Jordan drinks in his hotel room; Jordy grabs a glass and downs it fast; We see people drinking and getting drunk at party in a hotel room. Jett is visibly drunk; Jett grabs a bottle of vodka and drinks from it; Jett passes out drunk at a banquet table; Jett rants on and on while drunk.


 Blood/Gore: We see a super quick shot of a spur hitting the side of a horse, causing blood; Jordan has some blood on his cheek and mouth; We see a healing bruise on Jordan's face under his eye.


 Violence: We see a super quick shot of a spur hitting the side of a horse, causing blood; A woman was thrown from a horse off screen and dies on a couch; Jordan punches Jett. Then Jett sucker-punches Jordan in the face and stomach; Jett runs his car into the back of another person's car. When he's confronted by the driver, Jett punches him repeatedly; Jordy throws a jar at a mirror in the parlor, smashing it; Jordy threatens Rink, so Jett's men hold him as Jett punches Jordy twice; Jordan throws a jug into a shelf that crashes many shelves of wine; Jett falls onto and knocks over a banquet table while drunk; Jordan and Sarge fist fight, knocking each other into and over tables repeatedly.