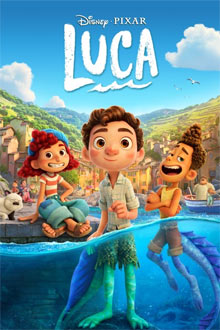 Luca


 – for rude humor, language, some thematic elements and brief violence.
Director: Enrico Casarosa
Starring: voices of Jacob Tremblay, Jack Dylan Grazer, Emma Berman, Maya Rudolph, Marco Barricelli, Jim Gaffigan, Sacha Baron Cohen
Running Time: 1 hour, 35 minutes
Disney Plus Release Date: June 18, 2021
Digital Release Date: August 3, 2021 (Amazon Prime Video)
Plot Summary
On the Italian Riviera, an unlikely friendship grows between two human beings who are really sea monsters disguised as humans. (edited from IMDb)
Film Review
As we continue to feel out what life is like in a post/mid-pandemic world, Hollywood continues to experiment with how to best release their movies in this fear-stricken climate. Moviegoers are starting to trickle back to the cinema, but still, many are content with just staying home to do their movie-watching. Starting with 2020's Soul, Pixar and Disney bypassed theaters altogether, debuting the movie on Disney's streaming service, Disney Plus, exclusively for an additional $29 fee. Both studios are continuing this tradition in 2021, but while Disney is simultaneously releasing titles like Cruella, Black Widow and Jungle Cruise to Disney Plus and theaters, Pixar's newest feature is only getting the digital treatment. And, at the time of this review, the movie has expanded beyond the Disney Plus exclusive to be released on all digital platforms.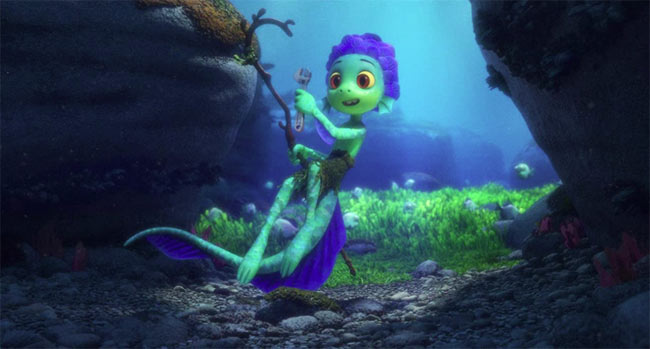 I have mixed feelings about the digital-only release of movies I probably would have otherwise caught on the big screen. Movies like Soul and Luca may not scream for the big screen treatment, like a new Toy Story movie or similar property might, but still, we've come to know what to expect from Disney and Pixar by way of quality, and their latest movies are no less. Luca takes viewers to the waters of Italy's Cinque Terre where we meet Luca, an underwater creature who lives with his family, tending to a school of fish like a sheep herder. His family lives in fear of all "land dwellers" who also fear the "sea monsters" of the water world, but when some land items – like a clock and playing card – make their way to the sea floor for Luca to find, his interest is piqued. He then bumps into a fellow sea creature named Alberto, who encourages Luca to explore the world above water, and upon touching land, he discovers that he can assume the appearance of a normal human. Alberto begins to share his life-out-of-water with Luca, and the young boy starts to develop a new love and appreciation for life on land, and the humans he meets.
The elephant in the room is that the early trailers for Luca sent the Internet abuzz with the idea that Luca and Alberto were "more than friends." Thankfully, that's not the case here. But the theme of not hiding who you really are is a popular one these days, and can definitely be interpreted in a number of ways. As a story without any hidden agenda, Luca is a lovely tale of friendship, growing up, and meeting people who help you grow out of your comfort zones. In college, I made a Christian friend in an art class who was the complete opposite of me — he was outgoing, I was fully introverted — and he helped me be more comfortable with the artsy, dorky Christian guy I was. Alberto does the same for Luca in many ways, and when they both meet a spunky, nerdy girl in town named Giulia, they all help each other grow in different ways.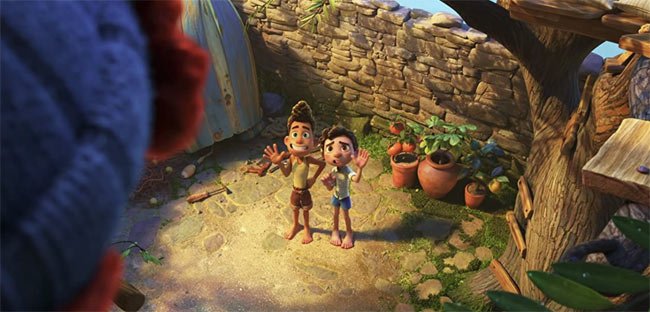 As an American with Italian heritage, one thing I miss most about getting older, is the dying out of old Italian traditions — like big family gatherings with tables covered from end-to-end with pastas and other beloved Italian dishes. Being based in Italy, Luca is a sweet little nod to the culture that you really don't see in animated films. Disney and Pixar have been working overtime to represent more cultures in their films — like in Moana, Soul, Brave, and Raya and the Last Dragon, for example — and I definitely appreciated what they've done with Luca. (And, honestly, I've found the exploration of other cultures in these movies quite interesting and different.) There's a nice little behind-the-scenes featurette on iTunes that shows how the production team took a trip to Italy to take reference photos and drawings and soak in the real-life settings. Their appreciation and love for it really shines through in the film.
When you think of Luca being produced by the animation house that has made some truly unforgettable movies like Toy Story, Cars, Finding Nemo, Monsters, Inc., Wall-E, and more, Luca feels a bit… ordinary. It's a good, sweet, well-made film, don't get me wrong, but compared to the other films, it's a little forgettable. It doesn't have the impact that any of the aforementioned films had, and it doesn't really leave you with much to think or talk about after seeing it. Again, that's not to say it's in any way a bad movie, but it's definitely underwhelming when stacked up against the great films this studio has made before it.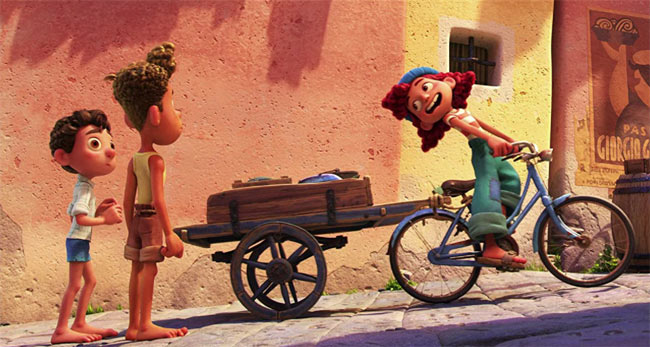 The character of Luca, voiced by Pete's Dragon's Jacob Tremblay, is certainly lovable, while Jack Dylan Grazer (Shazam)'s Antonio is a little bit rougher around the edges. And Emma Berman is just adorable as the feisty Giulia; I think some of my favorite scenes were when she was palling around with Luca. The story's main villain, aside from overall humans vs. "sea monsters," is Ercole, voiced by Saverio Raimondo. He's a nasty little teenager who picks on other kids and is in some desperate need of some humility. Sadly, his kind is all too real and familiar (he's practically an Italian "Sid" from Toy Story), and, despite being annoying, he makes a good antagonist for the film.
The content, while the movie is rated PG, is pretty mild, although there are some themes and gags that may unsettle younger viewers. For example, although he doesn't have much screentime, the fish creature Uncle Ugo has a translucent chest, so you can see his heart and some organs, which I know would certainly gross out my 10-year-old (Side note – he has a bonus scene after the credits finish). Giulia's father is missing his right arm, which we learn was the way he was born and not from a violent injury, but the absence of an arm (even though it's clothed) may surprise some younger viewers. Ercole is pretty nasty and often hits/smacks his own friends and bullies Luca, Alberto, and Giulia. Lastly, there isn't much by way of language, although some keen observer on IMDb noticed the Italian word for "d*mn" was used at least once. Otherwise, the kids call some people "stupido," not realizing it literally means "stupid," and some kids calling each other "jerk" is used a few times pretty prominently.
Luca is another well-made, quality Pixar production. It's mostly lighthearted fun set against the gorgeous landscape of Italy, with Pixar's usual photoreal, colorful animation. The film isn't quite as good or memorable as the top echelon of Pixar movies, but it's still very good, and worth a look for fans of the studio's work.
– John DiBiase (reviewed: 8/4/21)
iTunes / Digital Copy Bonus Features Review
At the moment, Luca is available on all digital movie providers. Along with the feature film, the iTunes digital copy of Luca includes the following extras:
Our Italian Inspiration (14:20) – The production crew took a trip to Italy and used the Cinque Terre as inspiration. Director Enrico Casarosa was born in Italy, and used his childhood best friend as inspiration for the character of Alberto. The crew talks about using their trip to Italy for getting reference for color, textures, buildings, underwater, etc. They also talked to the people there and took note of the little characteristics of the area – like how laundry is always hanging outside of people's homes, and how the houses are stacked on one another along the hillside.
Secretly a Sea Monster (12:23) is about the challenges of making the transformations from sea monster to human and back again work in the movie. (1 "Oh my G-d")
Best Friends (7:14) – Here, they talk about the relationship between the characters in the movie, and how Alberto was based on the director's real life best friend whom he met around age 11. He talked about how his friend helped him get out of his comfort zone, just like Alberto did for Luca. In this little featurette, the cast and crew say which of the three main characters they're most like in real life.
Deleted Scenes (30:20) – Lastly, there are 6 deleted or alternate scenes with an introduction from the director. All of the scenes are presented in rough, animated storyboard form.
– John DiBiase, (reviewed: 8/5/21)
Parental Guide: Content Summary

 Sex/Nudity: None.


 Vulgarity/Language: According to IMDb, "As Ercole first comes into town, a police officer says 'Mannaggia! Here we go again.' 'Mannaggia' means 'd*mn'; 1 "Holy carp" (said like that); Several instances of kids calling each other "jerk" and Antonio and Luca misuse the Italian word "stupido," by calling people that (not knowing it means "stupid")


 Alcohol/Drugs: Some characters probably have wine in the background, but it's not focused on.


 Blood/Gore: Uncle Ugo's chest is translucent, so you can see his heart and some organs; Massimo uses a cleaver to cut the heads off fish, which we see pile into a bucket. He also has visible blood on the cleaver; Massimo is seen with the sleeve of his right arm pinned up because he is missing a right arm; We see some bloody scrapes on Luca's face briefly after the cat scratches him;


 Violence: We see Luca's grandmother sleeping with eyes open. Her face suddenly gets a little freaky/creepy for a moment, startling Luca and making him realize she's asleep; Luca sees a character clad in full human diver's gear, which scares him; Alberto jumps from a tower and falls through a tree to the ground; Luca and Alberto make a homemade vespa that falls apart as Alberto rides it down a hill. He falls face first into the water; They ride another homemade vespa and crash into the water; Luca has a nightmare where he soars through the air and touches a big fish but it wets him, turning him to a fish creature again and he falls through the air; Uncle Ugo's chest is translucent, so you can see his heart and some organs. At one point, while talking, he freezes up and Luca is instructed to punch him "in the heart" twice; Two women hit Luca and Antonio with their purses; Luca gets startled when he sees statues and posters of people spearing fish around town; A man smacks another guy on the nose; Massimo uses a cleaver to cut the heads off fish, which we see pile into a bucket; Massimo is seen with the sleeve of his right arm pinned up because he is missing a right arm; We see some bloody scrapes on Luca's face briefly after the cat scratches him; Luca's mom slaps his dad in the face repeatedly; Massimo's cat jumps on Luca's face and he flings it off; Ercole hits another teen with a sandwich in the face; Luca gets thrown from his bike; A kid slaps another kid twice; A woman kicks a ball and it knocks a kid into a fountain. She then knocks several kids into the fountain on purpose by bumping them and throwing them into the water (to see if they are sea creatures); Ercole punches Alberto in the stomach and knocks over Luca; Luca's parents drop water balloons on kids below; Ercole kicks a sandwich out of his friend's hands; Luca and Alberto ride a bike down a steep hill that crashes into a railing and throws them into the water; The boys push and wrestle each other; Some people throw spears at a sea creature in the water; We see a bunch of little fish attack a swimmer; Ercole shoves pasta in another kid's mouth; Ercole smacks Giulia on the helmet; A net is thrown over a sea creature; While the kids are on a bike, a harpoon is thrown at them.