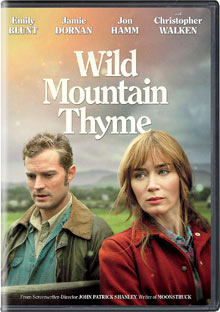 Wild Mountain Thyme


 – for some thematic elements and suggestive comments.
Director: John Patrick Shanley
Starring: Emily Blunt, Jamie Dornan, Jon Hamm, Christopher Walken
Running Time: 1 hour, 43 minutes
Theatrical Release Date: December 11, 2020
DVD Release Date: February 2, 2021 (Amazon.com)
Plot Summary
John Patrick Shanley, who created the classic, Moonstruck, brings his sweeping romantic vision to Ireland with WILD MOUNTAIN THYME. The headstrong farmer Rosemary Muldoon (Emily Blunt) has her heart set on winning her neighbor Anthony Reilly's love. The problem is Anthony (Jamie Dornan) seems to have inherited a family curse, and remains oblivious to his beautiful admirer. Stung by his father Tony Reilly's (Christopher Walken) plans to sell the family farm to his American nephew (Jon Hamm), Anthony is jolted into pursuing his dreams in this comedic, moving and wildly romantic tale. (from IMDb)
Film Review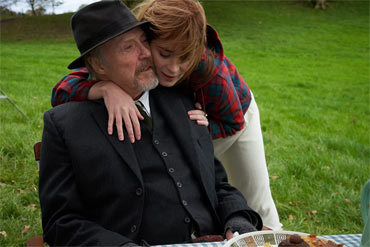 Cultural films are often just as an acquired taste as any other genre. They often zero in on a very specific subset of a culture, to the point where, unless you were a part of that culture yourself, you wouldn't know of its validity (and might not understand it entirely). Popular films of this kind would be My Big Fat Greek Wedding, Moonstruck and Crazy Rich Asians, with the latest being the little Irish indie venture, Wild Mountain Thyme. Starring British actress Emily Blunt and Irish-born actor Jamie Dornan, is a quirky romantic comedy about two childhood friends that have trouble owning up to their love for one another. It's only complicated further by a dispute over the ownership of a family farm. Dornan plays Anthony Reilly, a quiet and shy farmer who seems to have a love/hate relationship with his life in Ireland. His neighbor, Rosemary Muldoon, played by Blunt, has loved him for as long as she's known him, but is growing weary of waiting for Anthony to make his move on her. Things escalate when a cousin of Anthony's from New York visits and takes interest in Rosemary.
Wild Mountain Thyme isn't a traditional rom-com or even a traditional drama. It's definitely sort of an oddball kind of film, with quirky dialog and characters. But the thing that makes the movie work is in its standout performances. Emily Blunt is fantastic as Rosemary Muldoon. I don't think the film would work nearly as well as it does without her stellar performance. Her first scene with Dornan's Anthony is a bit rigid, but before long she proves, yet again, to be a force. Dornan is good as Anthony, but he's a really peculiar character. It may take a bit to figure out his character and decide if you even like him or not. Jon Hamm steps in to shake things up as the charming-but-shallow Adam. He's likeable, but he is also clearly trouble. While he seems to represent some of the things Rosemary is looking for, his advances only make it clearer to her that what she really wants most is Anthony — warts and all. Finally, Christopher Walken has always been such a comedic gem that to see him in dramatic moments, and hit a grand slam, is still surprising for me to see. I probably haven't seen him in too many dramatic roles, but I can honestly say I think this is one of his all-time best performances. A particular tender moment he has with his son is one of the best scenes in the entire film (and a difficult one to keep a dry eye through).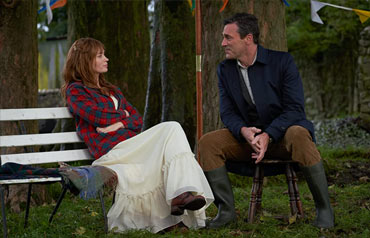 The movie has caught some flack, ironically, from the Irish for its lack of authentic accents represented in the film, but I think, to the general public, the cast does a fine job. The accents are pretty thick at times, and their lingo is quite "Irish," to the point where it can be really tough to understand what they're saying. I ended up turning to the subtitles for some guidance and, although I hate relying on subtitles, I think it helped me enjoy the film a lot better. The movie is based on a play and it certainly has that kind of feel to it. It takes place almost exclusively in Ireland, and almost exclusively on the land that these two families own. Because of this, it has a very intimate feel. My favorite sequence in the whole movie is when Rosemary and Anthony have a sweet-yet-weird talk at her house towards the end. It's what the movie was building to, and it is a satisfying blend of humor, drama and romance.
The movie didn't have much of a theatrical release, so it comes home digitally and on DVD; you unfortunately won't find a Blu-Ray release of the movie (at least, not right now). Sadly, the DVD transfer is atrocious. It's muddy, the colors are muted, and the only time the picture is the least bit clear is during close-ups. From the movie's opening shots of the rolling hills of Ireland, my heart sank at how poor the picture looks (and of no fault of the movie itself). If you do get a chance to see the movie, avoid the DVD disc release entirely and check out the digital HD release instead.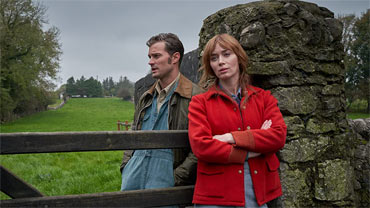 The content of the movie is probably on the lighter spectrum of PG-13. There are two uses of the "S" word (as "sh*te"), and a bunch of other milder profanities, but there's a significant amount of blasphemy throughout. Although God is talked about in a positive light, including how He directs and inspires some of the characters' more crucial life decisions, they frequently use Jesus' name as an exclamation. Even if this is authentic to the Irish culture, and isn't entirely meant to be offensive, it's really unfortunate. Otherwise, the thematic content of the film is really the only other content to be concerned about. The story deals with the loss of parents and how the children take the loss, and it can be a bit heavy or emotional at times. We also learn later on that, after a character quits smoking, they admit to feeling suicidal, and have often considered ending their life with a gun. They don't, but that's obviously a weightier topic than some parents may want to deal with with their children. (Also, its slower, more modest pacing is one younger audiences might not have the patience or appreciation for.)
Wild Mountain Thyme is an indie film through and through, from its small budget to its intimate presentation, but it's a charming one no less. It's certainly an acquired taste, especially with the offbeat humor, strange occurences and quirky characters, but it's also a funny and touching romantic drama that is easy to return to.
– John DiBiase (reviewed: 1/30/21)
DVD Special Features Review
Wild Mountain Thyme is available on DVD and through the usual digital providers in HD. The DVD has no special features and doesn't even offer a digital code (!?), so unless you absolutely must have your movies on disc, I recommend passing on this DVD and opting for a digital release through your vendor of choice.
– John DiBiase, (reviewed: 2/1/21)
Parental Guide: Content Summary

 Sex/Nudity: A woman confesses to Anthony that she slept with a priest twice in her mother's bed; Adam passionately kisses Rosemary, surprising her; While confronting Anthony, Rosemary asks if he's a homosexual. He acts shocked and emphatically says "What?!" and she asks if he's gay and he insists he's not. She then asks if he's ever thought about her naked or wondered about her shape. Feeling uncomfortable, he says he has not. She asks if he's a virgin and he avoids answering the question.


 Vulgarity/Language: 13 "J-sus," 5 "J-sus Chr-st," 2 "g*dd*mn," 1 "sh*te," 1 "gobsh*te," 4 "d*mn," 1 "G-d in heaven," 1 "Chr-st," 2 "Mother of Chr-st," 1 "Mother of G-d," 4 "Oh my G-d," 1 "Oh G-d," 1 "J-sus G-d," 2 "h*ll," 1 "b*stard," 1 "p*ssing"


 Alcohol/Drugs: We see Anthony drinking in a bar. A woman comes and sits next to him and drinks from his drink; Rosemary pours a guinness for Anthony and encourages him to drink it. He insists she must drink too and she reluctantly does; We see Rosemary drink some of the guinness.


 Blood/Gore: None.


 Violence: Chris shoots a crow off screen and we see a closeup of a dead crow lying in the grass. Later in the film, we see a couple more shots of Chris shooting his rifle in the air at the crows; Chris slaps a horse's butt that adult Rosemary is riding and it takes off; Anthony slips and falls on the wet ground; During an argument, we see a cup go through a glass window; A woman sitting on a wall laughs so hard she falls off onto the grass below (we don't see the impact); Anthony slips and falls on a hill; Upset upon getting off the phone, Anthony smacks the wall, takes down his coat, stomps on it and then puts it on; Rosemary talks about struggling with feelings of depression and suicide (and mentions her father's rifle); Rosemary shoves Anthony at the door and threatens to shoot him (but more so playfully); A woman purposefully crashes her car into a tree. The people inside the car are okay.