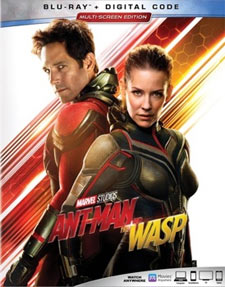 Ant-Man and the Wasp


– for some sci-fi action violence.
Director: Peyton Reed
Starring: Paul Rudd, Michael Douglas, Evangeline Lilly, Michael Peña, Hannah John-Kamen, Judy Greer, John Slattery, Walton Goggins, Laurence Fishburne, Michelle Pfeiffer, Randall Park
Running Time: 1 hour, 58 minutes
Theatrical Release Date: July 6, 2018
Official Site
Blu-Ray Release Date: October 16, 2018
Plot Summary
As Scott Lang balances being both a Super Hero and a father, Hope van Dyne and Dr. Hank Pym present an urgent new mission that finds the Ant-Man fighting alongside The Wasp to uncover secrets from their past. (from IMDB)
Film Review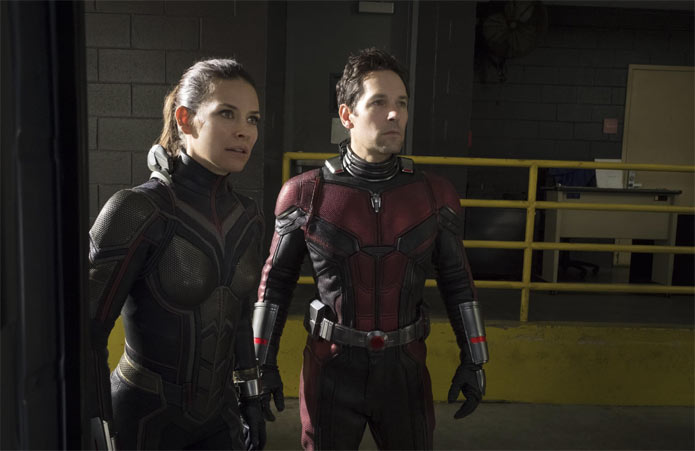 When Ant-Man released three years ago, the film – like the hero – was an underdog of sorts. Few had much faith in it being good or doing well at the box office. But upon its release, moviegoers and Marvel fans alike found a lot to enjoy about the action/adventure film. 2016's Captain America: Civil War cemented Paul Rudd's Scott Lang in the MCU, and now 2018's Ant-Man and the Wasp shows Scott paying for his alliance with Cap in that film.
While Avengers: Infinity War changed the game just two months before the release of this film, we saw that Scott and Ant-Man were nowhere to be found. We learn that he's been on house arrest for the past two years and is just days away from being finishing out his time served. We also soon learn that Michael Douglas' Hank Pym and his daughter Hope van Dyne (Evangeline Lilly) have been in hiding since the events of the first Ant-Man, and Scott hasn't seen them since before the events in Civil War. But Ant-Man and the Wasp sheds some light on the quantum realm, a place Scott visited during the climax of the first film. We know Hank's wife/Hope's mother was lost there many years ago, and it's revealed that Scott may be the key to finding her and rescuing her from that realm. What ensues is a reunion of sorts that proves that size does matter – big and small alike.
In regards to sequels, Ant-Man and the Wasp is actually very different from its predecessor – much in the same way that Captain America: Winter Soldier was compared to The First Avenger. Most sequels end up piggybacking on what was successful from the first outing and copies it too much. Ant-Man and the Wasp does well to avoid this for the most part, while upping the shrinking and enlarging antics from the first one. There are aspects of the first one that are a little missed here — like Scott's journey to becoming Ant-Man was actually a real charm of the first one — but we're introduced to a lot of new things, and we finally get to see Hope suit up as The Wasp!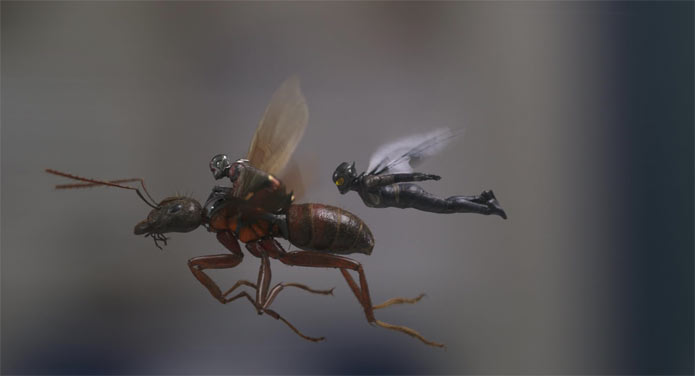 I've been a fan of Evangeline Lilly since binging all six seasons of Lost on Amazon several years ago. It's been a treat to see her join the MCU, but this movie really gives her a chance to shine as a hero alongside Ant-Man. Lilly proved on Lost that she's a versatile actress with an intense emotional range, and she brings that depth to Hope in these films. Ant-Man used a mid-credits scene to tease Hope's graduation to becoming The Wasp, and the pay-off is great here. It's apparent that she's spent the past couple years with the technology, and her first action sequence in the film (in a restaurant kitchen) is just gold.
Because the scale of these individual hero films need to keep to isolated locations of mayhem and peril (otherwise, where are the Avengers or other heroes?), the stories stay much more personal in scope. As usual, the villain in this film has some kind of connection to Hank Pym's past, but it works in allowing the film to be just as much about getting to and searching the quantum realm for Janet as it is about the film's villain. And, really, the "villains" of the film are far less evil than the usual villain, which makes it easier to understand their motivations and what drives them. Ready Player One's Hannah John-Kamen is good as "Ghost," but she feels like a distraction from the main storyline (even though she certainly impacts it). She definitely stills adds to some of the movie's best scenes, though. Unfortunately, while I loved Michael Peña as Luis, along with Lang's other ex-con buddies, they felt a little shoehorned into this story. It was great seeing them again, but there were definitely points where they made the movie feel like a sequel. I'm curious how repeat viewings may impact that feeling, but I think, in the long run, I'm glad they were included somehow.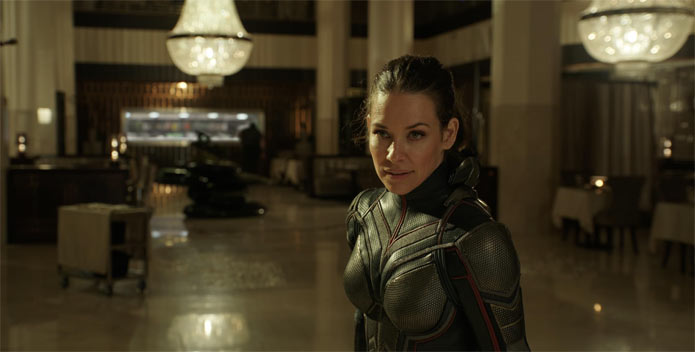 The content is right on par with the first film, if not a little darker and more ominous in tone at times. (I've debated on whether or not my 7-year-old son could/should see the first Ant-Man movie, while I'm pretty sure he'd find this one to be a little too intense. After all, he was scared during a few moments in last month's Incredibles 2.) The profanity isn't constant, but there are 2 clear uses of the "S" word and one partial one, as well as a sort of masked "S.O.B." (by characters talking over each other), and a handful of other profanities, including around 10 uses of "d*mn,' 1 "g*dd*mn," and a bunch of other cuss words. Again, it isn't constant, but it's there and it definitely didn't need to be (especially the blasphemy). There's loads of action violence, but nothing graphic (aside from seeing a needle go into a person's arm). And there are only a couple suggestive jokes, but nothing truly crude. One scene where Scott and another man compare how big they've gotten (like, as Ant-Man) is used as a setup for Hope to ask them to stop comparing "size," but it's all played for laughs and handled subtly. And when Hank suggests that his wife and Scott had some kind of "quantum entanglement," Scott quickly says that he would never, but Hank corrects him that it's something else.
Overall, Ant-Man and the Wasp is a delightful superhero film that I can't wait to see again. It continues to pave the way to Avengers 4 next May, and it certainly has me eagerly anticipating Captain Marvel in March. By the way, don't miss the mid-credits scene as it directly relates to the finale of Avengers: Infinity War and sets up how Ant-Man will possibly come into play in future films. (There is a post-credits scene, but it's not crucial to see, although it is kind of amusing.)
– John DiBiase (reviewed: 7/7/18)
Blu-Ray Special Features Review
Along with the feature film in HD, the Blu-Ray/Digital combo pack version of the Ant-Man and the Wasp offers a series of Extras (Side note – I saw the Blu-Ray on the shelves at Wal-Mart and those copies did NOT come with a digital copy but were priced the same as others I've seen that do. So if you want a Digital Copy, do make sure the one you pick up says "Blu-Ray + Digital" at the top). Seeing the film a second time, I liked it more than I did the first time around. And I can see this sequel being more easily rewatchable than the first one. I loved the first Ant-Man, but origin stories can be a little tedious. Plus… The Wasp! It's great to see Evangeline suit up this time around for sure.
Now, on to the Extras:
Play Movie with Intro (1:07) – There's an option to play the whole film with a 1-minute introduction from director Peyton Reed at the beginning. In the intro, Peyton talks about the characters, what has transpired since the last Ant-Man movie, and how the characters come into their own in this movie.
Making of Featurettes (22:36) – There are five short featurettes that are viewable separately or together via a Play All option. "Back in the Ant Suit: Scott Lang" (5:58) is focused on Paul Rudd's character, Scott Lang, as well as Paul's presence on the set. The actors and crew reflect on how funny he is and how his fun personality affects the film and team. "A Suit of Her Own: the Wasp" (5:19) is about Evangeline Lilly taking on the suit for the first time following the first film. Here they talk about designing it and how important the first fight sequence was to introducing the Wasp. "Subatomic Super Heroes: Hank & Janet" (4:12) is devoted to the characters of Michael Douglas and Michelle Pfeiffer and how they play the original Ant-Man and Wasp. Evie shares how she had actually recommended Michelle four years ago to play her mother, and was thrilled she signed on for this film. It's also fun to hear Michael and Michelle talk about working together. "Quantum Perspective: the VFX and Production Design" (7:07) focuses on the set design in the film, shooting in Atlanta and at Atlanta's Pinewood Studios, and then taking the production to San Francisco.
Gag Reel and Outtakes (3:47) – This is a short compilation of gags and outtakes, available as 3-and-a-half minutes together or separated into three segments. "Gag Reel" (1:32) is your standard gag reel, showing the actors goofing around, dancing, and making some mistakes (it's a nice change of pace that this one doesn't have profanity in it – even bleeped-out). "Stan Lee Outtakes" (0:47) are a series of ad-libs he did for his short cameo, with different versions of what he could say upon seeing his car shrink (1 "d*mn"). "Tim Heidecker Outtakes" (1:29) is a series of ad-libs and outtakes of the guy playing the whale watching boat guide.
Deleted Scenes (1:39) – There are two short deleted scenes with optional commentary. The first, "Worlds Upon Worlds" (0:48) is a neat little scene where Janet is leading Hank out of the quantum realm and they must get past an ominous being first. "Sonny's on the Trail" (0:50) shows Sonny finding video surveillance in a bookstore of Hank and Hope on the move, and they see Hank's building shrink.
Sizeable Moments – There are 10 isolated moments from the film that showcase the shrinking and growing moments in the movie. They're titled "We need what's in your head," "Kitchen Encounter," "Ant-Man and the Wasp Meet Ghost," "Show and Tell," "Ulysses S. Gr-ANT," "Jail Break," "San Francisco Car Chase," "San Francisco Wharf," "Back from the Quantum Realm," and "Movie Night." This kind of side feature feels a little pointless, but I suppose if someone just wants to watch these moments over and over, this is a nice way to pinpoint those movie moments.
Finally, we have an Image Gallery, with two sections: Ant-Man and the Wasp and "Marvel Studios 10th Anniversary," all showcasing the incredible concept art for these films.
Featured Extras:
10 Years of Marvel Studios: the Art of Making the Marvel Cinematic Universe (7:43) – The talented concept and design artists that have worked on the Marvel franchise talk about working on the various films and designing everything from the look of a movie to the look of the hero or villain.
Online Close-Up Magic University (0:55) – This is a short, fake commercial for the "Online Close-Up Magic University" that Scott Lang apparently studied while on house arrest.
– John DiBiase, (reviewed: 10/24/18)

Parental Guide: Content Summary

 Sex/Nudity: Scott and Bill compare how big they've gotten (like, as Ant-Man) and Hope asks them to stop comparing "size"; When Hank suggests that his wife and Scott had some kind of "quantum entanglement," Scott quickly says that he would never, but Hank corrects him that it's something else; In a montage of one of Luis's stories, we briefly see Hope and Scott passionately and exaggeratingly making out, with him grabbing her leg as they kiss.


 Vulgarity/Language: 2 "S" words, 1 incomplete "Oh sh–," 10 "d*mn," 1 "g*dd*mn," 2 "J-sus," 1 "S.O.B," 6 "oh my G-d," 2 "G-d," 7 "h*ll," 1 "a" word, 1 "For Chr-st's sake"


 Alcohol/Drugs: Nothing is focused on, but some characters may have drinks at a restaurant; A man sees something shrink and comments that "The 60s were fun, but now I'm paying for it!"


 Blood/Gore: We see a prolonged shot of a needle going into a man's arm, injecting a truth serum of sorts.


 Violence: We see a flashback of Hank as Ant-Man and Janet as Wasp as they race to disarm a nuclear missile, and we see her go "subatomic" between the molecules and get lost in the quantum realm; Wasp fights a group of men in a kitchen, dodges knives and punching and kicking them; Ghost can phase through objects and, in one scene, we see her arm sticking through a man's neck threatening him (but he ends up being okay); a man fakes a heart attack and people around him panic for him to be helped; Large ants surround and intimidate characters; A big car chase causes several car accidents and some destruction; Ant-Man, while huge, pushes a man down; A couple people are surrounded by soldiers and law enforcement and taken into custody; Inside the quantum realm, a small vessel gets approached by some large organisms and appear like they may be threatening, but the vessel evades them; Some people are shocked by tasers; A building explodes in a flashback, killing some people. We see their bodies lying on the ground, but it's not bloody or gory; and other sci-fi action violence.