Blindspot: The Complete Second Season

Starring: Jaimie Alexander, Sullivan Stapleton, Rob Brown, Audrey Esparza, Ashley Johnson, Luke Mitchell, Michelle Hurd
Running Time: Blu-Ray – 4 discs: 943 minutes
Blu-Ray/DVD Release Date: August 8, 2017 (Amazon.com)
Plot Summary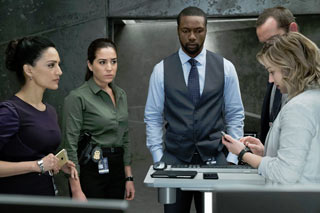 Season Two blasts open with shocking revelations about Jane Doe's true identity and her connections with the shadowy terror organization Sandstorm. When Jane escapes CIA custody, she is recaptured by Weller's FBI team, who convince her to become a triple agent. Nas Kamal -head of a secret NSA division- joins Weller, Patterson, Reade and Zapata to help take down Sandstorm, where Roman and Shepherd now work. With explosive threats coming from all sides, solving the riddle of Jane's cryptic clues becomes more urgent than ever. But betrayals threaten to tear Jane and the team apart for good. All 22 high-octane, suspense-filled episodes hurtle toward deciphering the treasure map of tattoos inked on Jane's body… before more innocent lives are lost! (from Warner Bros.)
Season Review

A lot rides on a new show's second season — almost as much as the initial first season. This is usually when fans decide if they're in it for the long haul or not. For Blindspot, a lot of questions were inevitably raised as to what the budding series newfound fans could expect. The premise revolved around the FBI finding a duffle bag in Times Square containing a living, nude woman who's covered with tattoos from head to toe… and has no memory. The show largely dealt with decrypting the mystery of the tattoos — which often aided in preventing a terrorist attack or something else horrible — and figuring out who this woman is. She quickly earned the name Jane (as in Jane Doe) and is still called that well into the second season. For this second chapter, after many revelations at the end of season one, the focus of the show shifts largely from decoding the tattoos on her body to the organization behind Jane's situation. The first episode of season two answers a lot of the questions posed in season one, too — including what her actual name is, who the leader of the terrorist faction is, etc. At the same time, it takes things forward, introducing new characters and shaking up the team dynamic… not to mention hinting that there's a "mole" in the FBI!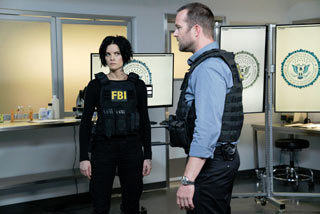 Following the exciting first season, at first I found myself a bit disappointed in where the show seemed to be going. It wasn't quite as riveting, and the events of the season started 3 months after the end of the first season with there being quite a shake-up in the team. After Jane had grown so close to the FBI team, the writers blew it to pieces in the finale and season two opens with the team reluctantly being forced to work with her again, feeling extremely betrayed and wary of her. It's understandable, yes, but it felt like the story was backpedaling a bit. Season two ends with a shocking development timeline-wise that should make season three extremely interesting, particularly because there will be a renewed sense of mystery and a lot more to answer for the fans of the show. (However, at the same time, it's possible they'll also have shaken it up too much — kind of like a film that tells of an intriguing event through a bout of exposition but never actually SHOWS it.) Season two, otherwise, spends a good deal of time developing the central FBI team further, with one of the biggest subplots expanding on one of the best episodes from season one ("In the Comet of Us"). During a school shooting, Agent Reade had learned that his old high school coach, Coach Jones, had been abusing male teens, and he vowed to take down his troubled former mentor. In season two, he reconnects with an old classmate who had also been a victim of Jones in an attempt to get the coach prosecuted, but it proves to be far more complicated than he could have imagined — and it's a plot that impacts much of the season for Reade (and in unexpected ways).
Show creator Martin Gero has described the show as having seasons that act as separate books in a series of volumes, and has even described this season as a sequel of sorts to last season. With that in mind, there are some exciting developments throughout the course of the season's 22 episodes. An incident happens where a character's memory is wiped in a similar fashion to Jane's and when it happens, it's really unexpected and surprising. Where the idea might seem unoriginal or too much of a repeat of something from the first season, it works perfectly within the context and mythos of this show and it feels fresh. It also makes complete sense for how it fits within the show, and it makes for some great stories and twists moving forward. There's also plenty of romantic tension between Weller and Jane again, as well as some "are they more than best friends?" tension between Reade and Zapata. And, of course, the mole hunt within the FBI brings some added fun to the season as well (and maybe some heartbreak).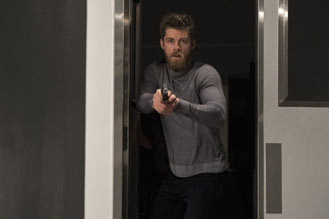 Now, the content is certainly TV-14 on an episode to episode basis. And if it were to be rated by the MPAA for theaters, it's safe to say it's a PG-13 show. There's infrequent use of mild/moderate profanity, but there's usually some in each episode – be it "h*ll," "d*mn," "a–," or "S.O.B" (with the only blasphemy being exclamations like "Oh my G-d"). There's also only occasional sexual content. It can get a little heated sometimes, but it's not explicit and doesn't last too long. But when they do have sexual scenes, it's usually pretty passionate. Also, the amusing character Richdotcom returns, and he always makes innuendos towards Jane and Weller, as well as often bisexual references. This season also contains some drug references and even drug use, with a subplot involving a significant character slipping into illegal drug use. Finally, violence is the main red flag of the show. It's not gruesome (like The Blacklist or something over the top like The Walking Dead), but it can get bloody at times — gunshot wounds, scrapes and bruises, bloody bandages, etc. The show just isn't gory, thankfully. The violence is often intense and physical, very similar to a Jason Bourne film. So, overall, it's not a show that's good for the whole family to tune in to.
If you like action, suspense, character development and some mystery mixed in, Blindspot is right up your alley. It isn't perfect by any means, and sometimes there's a dud in the mix when it comes to an episode, but overall, it's a relatively solid show. As the momentum picked up through the season, I found myself looking forward to it each week again. If you haven't seen it and are interested, I recommend binge-watching it. It's mostly designed as a serial with continuing story threads from episode to episode, so you'll get the most out of your viewing experience if you watch it in one large chunk. In summary, season two is a really good continuation of the show that has me intrigued about where it could go from here. I'm definitely looking forward to season 3 this fall.
– John DiBiase (reviewed: 8/4/17)
Blu-Ray Special Features ReviewBlindspot: The Complete Second Season is available with all 22 episodes in a 4-disc Blu-Ray set (with Digital HD) or a 5-disc DVD set. The special features are pretty solid for this set, as they work hard to keep viewers invested in this ongoing saga. All four discs offer deleted scenes while 1, 2 and 4 include a bunch of bonus features…Disc One
Writer's Conspiracy: Breaking the Season (11:18) Creator Martin Gero and his team of writers and producers sit in a room and talk about building a season backwards, as well as the dynamic of the central characters within. Gero describes each season as being like a chapter in a series of books.
The Writers Conspiracy: Premiere Revelations (11:16) – Gero and the writers talk about the season 2 premiere more in-depth, including the new characters and some issues that arose during filming. They talk about the challenge of inserting exposition into the episode that recapped season 1, as well as the revelation of Jane's real name (which they insist is her real name). Finally, they talk about the brutal fight between Weller and Jane that happens before the end of the premiere.
The Writer's Conspiracy: Family Secrets (11:46) covers events after the premiere, talking about family, Weller and the baby, our introduction to Roman, and the orphanage that Remi and Roman grew up in.
Conspiracies and Cover-Ups: Zero Division (6:37) is all about the addition of Zero Division and the new character, Nas. They also talk about the new sets introduced for Zero Division, some added mystery… and budding romance!
Deleted Scenes – There are short deleted scenes for pretty much every episode. However, most are tiny little snippets–sometimes 15 to 20 seconds long–that are just a tiny moment or extended little scenes.
Disc Two
Conspiracies and Cover-Ups: Sandstorm (9:51) – The cast and show writers talk about the characters and the evil organization known as Sandstorm.
Deleted Scenes – The deleted scenes are more just minor, little moments from each episode.
Disc Three
Deleted Scenes – The only special feature on the third disc is a collection of deleted scenes.
Disc Four
My Crazy Comic-Con Experience (3:23) – Ashley Johnson, who plays Agent Patterson, tells of how weird the people can be at the conventions and how she's been to cons since she was 19, while working 7 of them so far as a star. Creator Martin Gero also shares some of his experiences, including bizarre questions both he and Ashley have gotten from fans!
Blindspot: 2016 Comic-Con Panel (34:33) – This takes you into the audience of the 2016 San Diego Comic-Con panel for Blindspot. This was before Season 2 aired, so the cast and Gero talk about clues of what's to come in season 2, answer fan questions, talk about the season 2 premiere, the new cast, etc. (The audio isn't censored, so there are 3 uses of the "S" word and a bunch of uses of "a–".)
Bound and Gag Reel (6:17) – This is a great little collection of goofs and fooling around on set during the filming of season 2. There is some profanity, but it's bleeped out.
Deleted Scenes – There are small batches of extra deleted scenes here, including more scenes with Roman, like past memories he has as a kid in school (or the orphanage?), as well as a great flashback involving his mother.