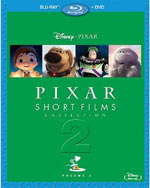 Pixar Short Films Collection: Volume 2




Director: Various
Running Time: 1 hour, 15 minutes
Blu-Ray Release Date: November 13, 2012 (Amazon.com)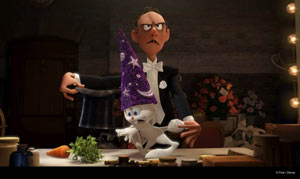 Plot Summary
From Disney/Pixar, the Award-winning studio behind 'Toy Story,' 'Up' and 'WALL-E,' comes a new collection of short films. Experience the revolutionary animation and unforgettable characters with 12 short films together for the very first time. This must-own collection also features seven rarely screened student films from directors John Lasseter, Andrew Stanton, and Pete Docter. Available on Blu-ray Combo Pack and Digital on November 13, "Pixar Short Films Collection: Volume 2" will delight audiences of all ages. (from Click Communications)
Film Review
Whenever you enter a movie theater to watch a Pixar animated movie, you can expect to see an original animated short at the beginning of the movie. In most cases, these shorts are unique, clever little cartoons for entertainment purposes, of course, but sometimes also offer a poignant little message too. And, usually, when the feature films get a home entertainment release, their respective shorts make an appearance on the set as an extra. But to celebrate these little shorts individually–and therefore collectively, Pixar and Disney have released them in separate volumes as new ones accumulate. Pixar Short Films Collection: Volume 1 released in 2007 and Pixar has now assembled Volume 2 for fans of the studio's work to enjoy.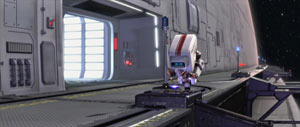 There are a dozen shorts featured on this one-disc release. If you've seen any of the Toy Story Toons since the release of Toy Story 3 in 2010, the first two are included here and are highlights of the set (incidentally, "Small Fry" makes its disc debut in this set). Also, two of "Mater's Tall Tales" also make it onto this set, starring Mater from the Cars films. And the Wall-E inspired short "Burn-E" is another standout moment. The rest of these are primarily new, original concepts, including one of my favorites, "Presto," about a magician and his uncooperative, hungry little rabbit partner. "Day and Night" celebrates our differences through the eyes of the different times of day, and "Partly Cloudy" provides a clever idea for where storks may get the baby humans and animals for delivery to expectant mothers.
I'll provide a brief rundown of the shorts you'll find on here…
1. "Your Friend The Rat" (11:16) – This is presented like an old school Disney cartoon that covers the history of rats candidly throught hand-drawn style 2D animation. It was created for the Ratatouille DVD release and features Remy and his buddy talking about where rats came from. It's cute but not one of the better shorts, and kind of a dud to launch the set with. Also, keep in mind that some of the imagery used here may be a little creepy for little kids (whereas, some of these other cartoons are perfect for little kids).
2. "Presto" (5:15) – As I said earlier, "Presto" is one of my all-time favorite Pixar shorts. In it, a magician (who's been styled to look like classic actor William Powell) is using his little white rabbit for a stage performance, but all the rabbit wants is a carrot to eat. The magician keeps the carrot from the rabbit, so the two end up battling over it for the duration of the cartoon. It's violent in the classic Disney or Looney Tunes sense, but it's adorable and quite fun.
3. "Burn-E" (7:35) – This is a Wall-E inspired short that takes place during the events of the feature film after Wall-E makes it to the Axiom space ship with Eve. It's about a little repair bot on the Axiom who must fix a light on the outside of the ship and is constantly being affected by Wall-E and the events in the movie. It's quite funny actually.
4. "Partly Cloudy" (5:49) – This one might be just a little bit creepy as it features large animated clouds that create the babies for storks to deliver. One dark and stormy cloud ends up creating alligators, rams, porcupines, sharks — things that are violent in nature and end up beating up the stork that tries to deliver the creatures. At one point, the stork abandons the cloud and heads to another cloud, causing the storm cloud storm to cry and rain. But the beat up stork actually returns with football gear the other cloud had made for him and resumes his job with the storm cloud. It's a cute little short overall, which is only enhanced by some beautiful music by composer Michael Giacchino.
5. "Dug's Special Mission" (4:42) is from the Up DVD release and features Dug the dog with a neat backstory that involves him doing menial tasks for Alpha and the other dogs on the island. In doing so, he inadvertently causes the dog pack trouble. It's actually a little bit sad near the end, but it all leads up to the moment in the feature film when Dug meets Carl.
6. "George and AJ" (4:01) is another Up-themed story. It utilizes jerky (not fluid) 2D animation and centers around the male nurses from the retirment home that wants to take Carl in. It follows the two guys after Carl's house floats away, and we find that his escape inspires other elderly folks to pick up their homes and evade George and AJ. It's a neat idea, but the animation isn't very engaging, and so it feels pretty cheap and more like a DVD extra than a featured short.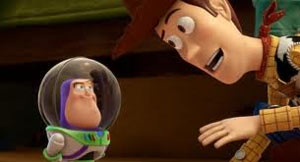 7. "Day and Night" (6:02) is the cartoon that preceded Toy Story 3 in the theaters and made it to its home entertainment release. It centers on two figures who represent day time and night time, respectively. They are intrigued by each other's characteristics and then are kind of intimidated by these differences. It turns just a little bit preachy at the end as the two learn the error in their ways and learn to celebrate these differences. It's wonderfully animated though and quite a clever concept.
8. "Hawaiian Vacation" (5:53) is the first-ever "Toy Story Toon," a short that takes place after the events of Toy Story 3. Bonnie is leaving for a Hawaiian vacation and suddenly Barbie and Ken show up in her room of toys after she's left, assuming that stowing away in the little girl's school backpack would get them to Hawaii too. To help ease the pain of Ken's crushing disappointment, the toys do their best to make Bonnie's room feel like Hawaii. It's a fun one (and my 2-year-old loves it!)
9. "Air Mater" (5:12) is one of the "Mater's Tall Tales" that features Mater telling an outrageous story of the time he was taught how to fly. It's fun, too, but it's pretty obvious that Owen Wilson doesn't provide the voice for Lightning McQueen for any of the "Mater's Tall Tales." Voice actor Keith ferguson steps in for McQueen instead.
10. "Small Fry" (7:06) – This is another one of my favorite shorts in this set. It was released with The Muppets last year, but it makes its disc debut here (you can, at least, get it on iTunes). It's the second "Toy Story Toon" and is about Bonnie and her mom going to a fast food place called Poultry Palace. There, a tiny kids meal toy version of Buzz Lightyear stows away in Bonnie's backpack with Rex and ends up back with the other toys at her house. Meanwhile, the real Buzz is lost in the ball pit at Poultry Palace and, while trying to escape, finds himself in a room full of discarded kids meal toys that are going through some kind of therapy session to get over their rejection. It's super clever, full of rapid-fire gags, and well worth checking out for Toy Story fans.
11. "Time Travel Mater" (6:23) is the better of two Cars-themed tales and involves Mater going back in time to where he meets Stanley, a cap salesman, who only appeared in the Cars films as a statue. It also shows how the crazy old car, Lizzie, actually meets Stanley. It's got a bit of a Back To The Future feel to it too in the way it's executed. Comedy actor John Michael Higgins guests as Stanley.
12. "La Luna" (6:57) is probably the latest Pixar short on this set. It features three generations of [seemingly] Italian fishermen who climb a ladder to the moon in order sweep up glowing stars to one side of the moon — to make it a crescent shape. It's clever, but certainly one of the more quirky and bizarre Pixar shorts.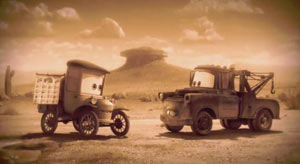 Sadly, the third "Toy Story Toon," "Partysaurus Rex," which debuted in theaters with Finding Nemo 3D this year, does not appear on this set (although it is currently on iTunes). I imagine we'll see that in a couple years on Volume 3.
As far as extras go, they've included seven student films from three different popular Pixar directors. They vary in tone and execution, but they're neat to see here at least once, especially for animation fans. However, I can't see many people rewatching them much. The main content here are these theatrical shorts.
Pixar Animation Studios easily produce some of the highest quality films in the animated world (and sometimes in general) today. Their animated shorts aren't much different. While obviously some are better than others, their stories are always very inventive and fun to watch (and sometimes offer quite a bit of heart to boot). While the disc painfully lacks a useful "Play All" option, this set is still ideal for big fans of movies like Cars, Toy Story, Wall-E and Up. If you own all of the Pixar movies individually, you'll have most of these cartoons, but if you are looking for a collection like this one to enjoy, Pixar Short Films Collection: Volume 2 should do the trick.
– John DiBiase, (reviewed: 11/12/12)
Blu-Ray Special Features Review
The only extras on the Blu-Ray/DVD set are the seven director's student films. I'll give a brief rundown of those here as well…
"Nightmare" (5:20) is by John Lasseter. It's a hand-drawn piece — very loosely presented — about a child getting a drink of water and being paranoid about monsters in his room.
"Lady and the Lamp" (4:26) is another by Lasseter, which is about a lamp store owner whose lamps come to life. One of them falls off the shelf and breaks its bulb. As it searches for a bulb, it accidentally finds a bottle of alcohol, drinks it and gets drunk. Before long, it has accidentally stumbled around the store, trashing every lamp. "The Lady" (from the title) is the woman who barges into the store at the end and buys this last remaining unbroken lamp.
"Somewhere in the Arctic" (3:50) is a neat little cartoon by Andrew Stanton about Eskimos chasing a polar bear around the screen.
"A Story" (4:37), also from Stanton, is from 1987 and features Melvin the monster — who looks remarkably like Sully from Monsters Inc — and is definitely a bizarre story (and contains a use of the word "pissed").
"Winter" (1:41) is by Monsters Inc director Pete Doctor, about a toddler who is excited for snow but is overly bundled up and can't even move (a la A Christmas Story).
"Palm Springs" (1:56), from Pete Doctor, is about a purple dinosaur jumping on top of a palm tree who is then chased off by a caveman.
Lastly, "Next Door" (3:23), another from Pete Doctor, is about a man who comes home from work and just wants to watch TV, but there's a little girl going wild while playing outside, imagining things and making a lot of noise.
– John DiBiase, (reviewed: 11/12/12)