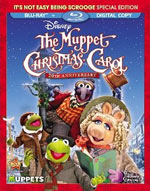 The Muppet Christmas Carol




Director: Brian Henson
Starring: Michael Caine and The Muppets (voices of Steve Whitmire, Dave Goelz, Frank Oz, Jerry Nelson, etc)
Running Time: 1 hour, 25 minutes
Theatrical Release Date: December 11, 1992
Blu-Ray Release Date: November 6, 2012 (Amazon.com)
Official Site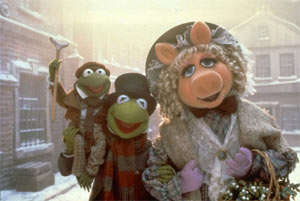 Plot Summary
And now, a word from Gonzo: Greetings, holiday movie fans and lovers of culture, I am Gonzo … or perhaps better known to fans of this classic motion picture as literary legend Charles Dickens. Are you ready to laugh, cry, sing, frolic, cavort and enjoy yourself beyond belief!? Well, you're in luck, because this 20th Anniversary Edition of Disney's "The Muppet Christmas Carol" is guaranteed to put you in the holiday spirit that will stay with you forever-or at least until your Aunt Edna starts complaining that nobody is eating the
fruitcake she brought … again!
Available for the first time ever on Blu-ray with high definition sound and picture, so you can enjoy even more of my blue-ness, not to mention the incredible spectacle of Kermit the Frog as Bob Cratchit, Miss Piggy as Emily Cratchit, Academy Award® winner Michael Caine (Best Supporting Actor, 1999, "The Cider House Rules") as Scrooge, wonderful songs by Oscar® winner Paul Williams (Best Original Song, 1976, "Evergreen" from "A Star Is Born") and, of course, my pal Rizzo the Rat as … well, Rizzo the Rat.
This is a heartwarming and hilarious holiday classic, told as never before by yours truly! Yule love it! (from Disney)
Film Review
It may be hard to believe that it's been twenty years since The Muppets presented their own version of Charles Dickens' A Christmas Carol. Mixing a straight, dramatic performance from Michael Caine as Ebenezer Scrooge, with the silly, candid performances of The Muppets, this is a version of A Christmas Carol like no other.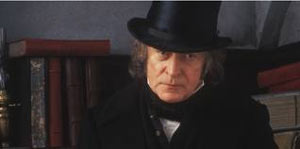 I vaguely remember seeing A Muppet Christmas Carol as a pre-teen when it was in theaters in the early nineties. It's been quite some time since I've seen it, so revisiting it on Blu-Ray has been a real treat. While there's hardly a shortage of tellings and retellings of this famous fable, there are a few that stick out as classics over the course of film history. From the Allistair Sim-starring Scrooge to even Disney's own animated Mickey's Christmas Carol, there are plenty of versions of Dickens' story to choose from. What's unique about The Muppet Christmas Carol is how it ultimately stays faithful to Dickens' tale while inserting the expected hijinks (and cameos) from familiar Muppets characters. Ultimately, it lightens the mood of the weighty story and makes it a little more appropriate for younger viewers — even though no single version of the story has been able to tone down the Ghost of Christmas Yet to Come sequences enough to not be creepy.
Academy Award winner Michael Caine is solid in his performance of Scrooge. While I can't say he provides the best performance of Scrooge to date here, he certainly does a great job, especially with most of his co-stars being Muppets. It probably is hardly easy to maintain a dramatic edge when you're acting with puppets surrounding you. There are times when Caine seems like he may be struggling ever so slightly with keeping up with the dramatic needs of such a dynamic role, but it's only because of who he's acting with in a given scene. Still, it's clear that Caine delivers when he needs to and in ways most actors probably couldn't when acting with puppets. The Muppets themselves are really a delight. Honestly, I had forgotten most of the film in the years since I'd last seen it (I didn't even remember Scrooge being performed by Caine!), so I was a little surprised that the ghosts visiting Scrooge (aside from Marley and his invented brother) were not familiar Muppets. In a dramatic sense, it worked perfectly for the story, but even characters like the Ghost of Christmas Past was a little bit creepy as it was designed in the attempt of making a Muppet version of a human child. But the Ghost of Christmas Present was the best of the three with its wonderful and charming design.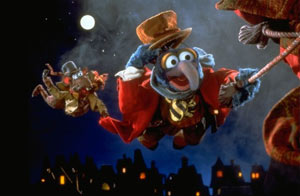 Along with the silliness of The Muppets — in particular Gonzo and Rizzo who serve as the film's narrators — are a collection of brand new (to this film) Christmas songs. Most of the them are a mix of cute, silly, and serious, and they pack a lot of heart in them. Also, it's important to note that Disney and The Muppets didn't censor the spirituality of Dickens' story, and Bob Cratchit's mention of church and Tiny Tim hoping his condition would remind others of Who made "lame men walk and blind men see" has always been an impactful moment in the story. Aside from the somewhat expected creepy finale involving the Ghost of Christmas Yet To Come, The Muppet Christmas Carol is a delightful and fun version of this holiday classic that families can enjoy year after year.
If you are a fan of The Muppets, Michael Caine, or Dickens' classic and somehow missed The Muppet Christmas Carol when it released in 1992, then you'd do well to check this little gem out. While it may not be the best version of A Christmas Carol you're likely to see, it is one of the most fun and enjoyable, and one I can easily recommend to families this holiday season!
Note: Apparently there's some controversy on the web about a song having been cut from the film that is not on this Blu-Ray release. It's true; the song "When Love Is Gone" is not on this Blu-Ray release. What's really strange, however, is that in one of the special features, which is from the 2002 DVD release, director Brian Henson mentions that "When Love Is Gone" is one of his favorite moments in the film, and we even see footage of Caine singing it in the studio. In that footage, he remarks that his singing was terrible, which makes me wonder if he had anything to do with it's deletion from this release. However, apparently, the song was never in the theatrical version, which makes this Blu-Ray release the original theatrical version. It would have been nice to at least have had the song included here as a bonus feature, though.
– John DiBiase, (reviewed: 11/5/12)
Blu-Ray Special Features Review
This year, 1992's The Muppet Christmas Carol makes its HD, Blu-Ray debut with two buying options: A Blu-Ray/Digital Copy pack and an Amazon.com exclusive Blu-Ray/DVD/Digital Copy combo pack. The film looks excellent in HD, which definitely breathes fresh life into the twenty-year-old film. The special features are a little thin, and only include features from the 2002 DVD release, but they're pretty solid. A 20th Anniversary retrospective would have been cool, but they probably figured the 2002 extras were good enough.
While not officially a "special feature," the Blu-Ray release does add one unique thing called "Intermission," which begins ten seconds after you press pause while watching the movie. During the "Intermission," there are widescreen, HD performances from select Muppets (like the chickens, rats, and Swedish Chef) of popular Christmas carols. It's pretty great!
Frogs, Pigs and Humbug: Unwrapping A Holiday Classic (21:56) – This is a behind-the-scenes featurette about the film from its 10th Anniversary DVD release in 2002. Although it's presented in standard definition, it's a very thorough making-of featurette that features interviews with Michael Caine and the producers and writer, while Rizzo and Gonzo interview director Brian Henson. There's some great behind-the-scenes footage on-set and some interviews from 1992 as well. It's a really fantastic behind-the-scenes featurette.
On The Set Blooper Reel (2:33) – This is also from the 2002 DVD release and features some brief goofs on set and intentional messing around on set. It's short but cute. (2 "G-d")
Pepe Profiles Presents – Gonzo: A Portrait of the Artist as a Young Weirdo (5:29) – This is a little mockumentary about Gonzo and his origin — also presented in standard definition from a previous release.
Christmas Around The World (2:58) – Here, Gonzo and Rizzo take a look at other Christmas traditions in other countries – including Australia, Czech countries, France, Sweden, and England. (from the 2002 DVD)
Audio Commentaries – Finally, there are two audio commentaries: one with director Brian Henson and one that features Kermit, Rizzo, Gonzo "and more." The latter, which is new for this 20th Anniversary release, is a fun and candid listen!
– John DiBiase, (reviewed: 11/5/12)
Parental Guide: Content Summary


 Sex/Nudity: Some women at Fozziwig's party wear cleavage-revealing dresses.

 Vulgarity/Language: One of the rats says that their "assets are frozen."

 Alcohol/Drugs: None.

 Blood/Gore: None.

 Violence: Scrooge tosses a Muppet out of his office's front door; Scrooge throws a wreath at a little rabbit Muppet who's standing out in the street; Gonzo falls backward when Jacob's ghost shows up at Scrooge's door and yells; Scrooge is spooked by his dressing gown and beats it with a poker before realizing what it is; The Marley ghosts are wrapped in chains when they appear to Scrooge. At one point, they wrap their chains around Scrooge who then pulls away from them; Rizzo jumps from a fence for Gonzo to catch him but he falls to the ground; A cat chases Rizzo the Rat and then runs into a door; The shelf that Rizzo and Gonzo are sitting on next to statuettes breaks and the statues crush them against a wall until they push them back and slide off the other side of the shelf; Gonzo accidentally lights Rizzo's tail on fire and then pushes him into a bucket of frozen water to put the fire out; With Rizzo completely frozen in ice, Gonzo slams him against a barrel to break him out; The Ghost of Christmas Present pushes a window open, knocking Gonzo and Rizzo to the ground; Rizzo falls through a chimney onto a rotisserie over the fire; Scrooge opens his window, tossing Rizzo and Gonzo from his ledge to the ground.