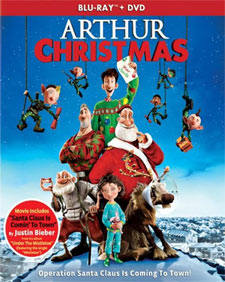 Arthur Christmas



– for some mild rude humor.
Director: Sarah Smith
Starring: voices of James McAvoy, Bill Nighy, Jim Broadbent, Hugh Laurie, Imelda Staunton
Running Time: 1 hour, 37 minutes
Theatrical Release Date: November 23, 2011
Blu-Ray Release Date: November 6, 2012 (Amazon.com)
Official Site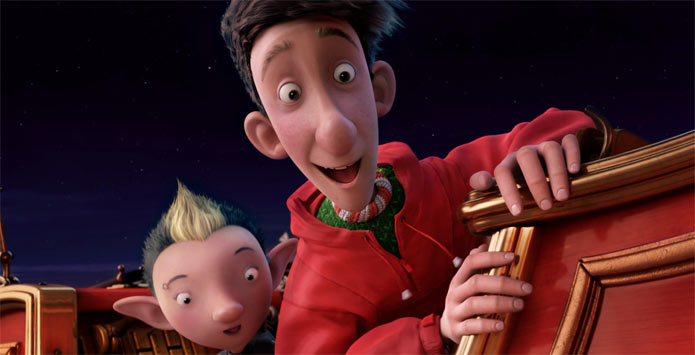 Plot Summary
The film tackles the question of how Santa delivers all his presents in one night. When Santa's elves and their high-tech system of present delivery forgets to deliver one present to a young girl in England, Arthur embarks on a mission to safely deliver her pretty pink bicycle. Arthur decides it's up to him not to disappoint this little girl and ensure that she will still believe in the magic of Christmas, even if it means conquering some of his own fears. With Arthur's determination and Grand-Santa's quirky cynicism, the operation is bound to be an adventurous one.
(from SPHE Publicity)
Film Review
One of the highlights of the holiday season is watching Christmas movies. While every year debuts new seasonal features, only a select few become annual favorites for movie watchers and Christmas lovers. Arthur Christmas throws its name into the mix in hopes of becoming one of those family classics that is embraced each year. Aardman, the company that brought you Wallace & Gromit, Chicken Run, Flushed Away, and recently Pirates!, helms this story about the youngest son of Santa Claus who lets his love for the season and for children everywhere drive him to risk everything to make sure every child receives a toy for Christmas. It's a gorgeously animated movie that gives a fresh take on the legend of Santa that we've never heard before, and proposes an idea for that age-old question of how on earth does Santa deliver all those toys in just one night!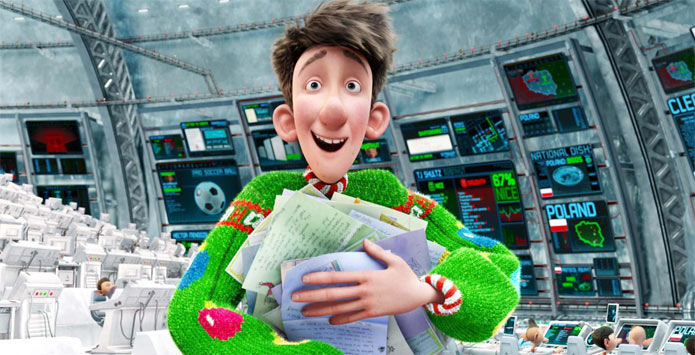 Arthur Christmas's take on Santa is an interesting and simultaneously bittersweet one. In this version of the tale, the role of Santa has been handed down from generation to generation from one man to the next, with a new Claus stepping into the boots every so many decades. When Arthur Christmas opens, the current Santa, Malcom, is on the eve of his 70th year as Santa Claus. As such, he's rather slow and burnt out, but he's not quite ready to give up the red coat just yet. In the running for his replacement is his tech-savvy oldest son, Steve, who has a space-ship-sized "sleigh" and a very computer-driven means of getting the job done. He has a team of thousands of elves who run "Mission Control" as well as those who are out in the field working together to speedily deliver all of the presents. Santa himself hardly lifts a finger anymore; the holiday icon merely places a few presents under a few trees while Arthur answers his mail and the elves do all the hard work of going undetected while delivering the gifts. In the end, this film's plot presents Santa, more realistically, as an ordinary man with an extraordinary persona and job. And, sadly, while Steve and Santa are content with the news that all but one present were delivered, it's young Arthur who hates the idea of little Gwen waking up Christmas morning without the present she begged Santa for. It's a little strange to paint the image of Santa as being not only somewhat self-centered but also fine with the idea of missing a child. Of course, it sets up Arthur to be the obvious choice to replace Santa as he possesses the "spirit" of what Santa is supposed to represent, but at the same time, the film kind of torpedoes the iconic Santa kids have grown to adore.
The title character of Arthur Christmas is wonderfully voiced by James McAvoy who really has the perfect vocal delivery for making this character work. While Arthur is visually a bit lanky, awkward and ultimately clumsy, McAvoy helps make the character become the underdog to root for. Otherwise, Arthur is a bit hard to warm up to. He's somewhat dopey at times, but his Christmas spirit and enthusiasm is probably most in line with those watching the film. Jim Broadbent is perfectly cast as the current Santa, Malcom, who is road weary but reluctant to relinquish his title. Hugh Laurie is good as Steve, but his voice is identical to Dr. Cockroach from Monsters Vs. Aliens and I had a hard time not thinking of that character the entire time I was watching Steve (but then again, I'd just seen their Halloween special, which probably didn't help any). Bill Nighy is almost unrecognizable as Grandsanta, the unorthodox elderly retired Santa who accompanies Arthur on his quest to deliver Gwen's present. He has the best lines and the quirkiest moments and easily steals the film. Nighy is a fantastic talent alone, and he brings a lot to the role and the movie.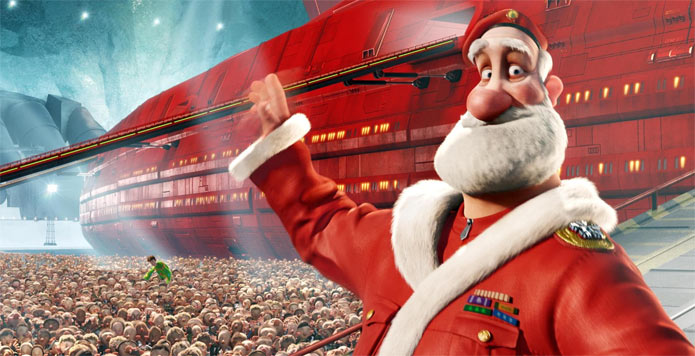 While wonderfully animated and rather fresh in its storytelling approach, I felt the execution of Arthur Christmas seemed like it was missing something. The story does take maybe a bit too long to get off the ground as there are probably a few too many scenes with characters just standing around and talking for a film like this. And, probably because of that, the film feels a little long at times, even though it's just an hour and 37 minutes. Still, director Sarah Smith utilizes the length and these moments to develop her characters. Whether or not the movie will prove stronger with repeat viewings remains to be seen for this reviewer, but for the most part, the movie seemed to take a little long to get going. However, by the film's end, I found myself emotionally involved and its heartwarming finish was just what the movie needed to capture that Christmas spirit. While it, like most commercial Christmas films, doesn't ever address the true meaning of Christmas with Christ's birth, it does place importance on the giving spirit of Christmas and even family. (However, there is also this bizarre theme that encourages Arthur to worry more in order to get his job done, which I found to be a really strange thing to encourage in a movie like this. Worrying really doesn't solve anything and is actually rather unhealthy, so while it seemed to work for Arthur, I don't think it's a smart thing to encourage viewers to worry more.)
The content for the movie is rather mild. Actually, I'm kind of surprised it got a PG rating over a G rating. I think some of the Pixar films have included more "rude humor" in them than Arthur Christmas and they've only been rated G. So there are a few gross gags or references to drunk elves in storytelling of Christmases past, but nothing really outwardly vulgar or offensive. Being that the characters are from England, there is plenty of British slang used, so it's possible something was said that'll fly over the heads of American audiences more so than British, but I didn't really notice anything significant otherwise.
Arthur Christmas is a unique take on the legend of Santa Claus and Aardman and Sony Animation have delivered a beautifully animated Christmas tale that is worthy of checking out this holiday season. Only time will tell if it'll endure over the years as a seasonal favorite, but it's definitely one of the more worthwhile Christmas films to have come along in recent years — and it's one the whole family will likely enjoy.
– John DiBiase, (reviewed: 11/4/12)

Blu-Ray Special Features Review
Arthur Christmas is available on DVD, in 3D Blu-Ray and in regular Blu-Ray. Sony also packaged an Ultraviolet digital copy with the film, which unfortunately, doesn't include a downloadable digital copy (i.e. like for iTunes). In addition to the movie are just a couple extras…
Arthur Christmas Unwrapped (13:26) – This is the main featurette that showcases the voice cast and crew talking about the film and its story while showing scenes from the film as the story progresses. We also see some fun footage of the voice cast in the studio as they recorded their voices. It's short but sweet.
Progression Reels (13:51) – Animation lovers will really enjoy this collection of progression reels from the film. Here we learn that the artists designed over 30 unique environments as we hear them talk about the detail of the sets, techniques they used, the character design, and how the software they used for the elves allowed them to generate 10,000 of them! It then goes into a few sub-featurettes that focus on Arthur's Office (where there were 8,000 props created with 25 hours spent on each of the 1,000 frames in his opening scene!), Grandsanta (character design and his advanced facial animation system), the "Invasion" (when the elves tactically delivered the gifts), and the English town of Trelew (and the exhaustive detail that went into "filming" Arthur's grand dash to Gwen's house at the end). It's some truly fascinating stuff!
Elves Recruitment Video (1:03) – This is basically a one-minute trailer dressed up to look and sound like a recruitment video for the elves.
And while not a featurette, the Blu-Ray box boasts a Christmas song by Justin Bieber used in the film's credits. The annoying auto-tune-laden holiday song is nothing to get excited about and certainly not worth advertising on the box cover of the film.
– John DiBiase, (reviewed: 11/4/12)
Parental Guide: Content Summary


 Sex/Nudity: We see two elves briefly embrace and kiss as the elves return home.

 Vulgarity/Language: None.

 Alcohol/Drugs: Grandsanta tells a story about having a drunken elf on Christmas Eve night who ends up falling out of the sleigh never to be seen again; An elf tries to motivate Arthur to keep trying and tells him the child who didn't get the present will become an alcoholic by the age of 9.

 Blood/Gore: Grandsanta briefly loses his dentures and it splashes into some nearby food; A dead rat falls out of a really old trumpet when Grandsanta blows on it.

 Violence: Arthur's foot accidentally snags the headsets of several elves, causing them to fall off their chairs. He then falls down the stairs; Grandsanta flips a gameboard during an argument; A man with a shotgun shoots at Arthur and Grandsanta since they're trespassing on his property; Several wild lions surround Arthur and his friends and then chase them on their sleigh.