'OCTOBER BABY' DEBUTS AT NO. 1
ON SOUNDSCAN VIDEO CHART
DVD, Blu-ray Continues Remarkable Success of Hit
Independent Film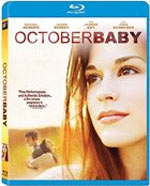 NEWS: Lovell/Fairchild
NASHVILLE – Sept. 25, 2012 – The OCTOBER BABY DVD and Blu-ray continued the winning ways of the surprise hit independent film by topping SoundScan's Christian Video Chart rankings after its Sept. 11 launch. When it premiered in theaters in March, the film debuted at No. 8 at the box office and No. 3 in per screen average sales against big-budget competition such as THE HUNGER GAMES.
"The conversations that OCTOBER BABY started about the value of every life continue to resonate, and we're so pleased about that," Co-Director and Co-Writer Jon Erwin said. "OCTOBER BABY shows the power of a film to entertain and engage audiences."
OCTOBER BABY topped $5.3 million at the box office, sparked debate in national media and touched audiences nationwide with its drama, humor and compelling message about the sanctity of life. The success of the DVD draws attention to the value-of-life discussion just in time for November's National Adoption Month, and it follows a pattern of faith films doing well in the home entertainment market. For example, two well-known faith DVDs—COURAGEOUS, 2012 and FIREPROOF, 2009—remain in SoundScan's top 20, long after their launch.
OCTOBER BABY is a production of Jon and Andrew Erwin and American Family Studios with Provident Films. Distribution in the Christian bookstore market is through Provident Distribution, while Twentieth Century Fox Home Entertainment distributes to all other domestic markets.
OCTOBER BABY stars John Schneider (Smallville, Dukes of Hazzard), Jasmine Guy (A Different World) and newcomers Jason Burkey, as Jason, and Rachel Hendrix, who plays Hannah. In the filmas the curtain rises, Hannah hesitantly steps onto the stage for her theatrical debut in college. Yet before her first lines, she collapses. Countless medical tests all point to one underlying factor: Hannah's difficult birth. This revelation is nothing compared to discovering that she was actually adopted . . . after a failed abortion attempt. Bewildered, angered and confused, Hannah embarks on a journey with Jason, her oldest friend. In the midst of her incredible journey to discover her hidden past and find hope for her unknown future, Hannah sees that life can be so much more than what you have planned.
The film shines light on the little-known subject of survivors of failed abortions and was inspired by the life of survivor Gianna Jesson. (See Gianna's and other compelling stories at EveryLifeIsBeautiful.com.)
Special features on the OCTOBER BABY DVD and Blu-ray include:
Commentary by Jon and Andrew Erwin and the OCTOBER BABY family
October Bloopers
Deleted Scenes, featuring the characters Truman, Bmac and much more
Shari Rigby's story—How OCTOBER BABY helped an actor in the film deal with events from her own past
Gianna Jessen: The Inspiration for OCTOBER BABY
Singing the Praises of OCTOBER BABY
Facebook Q&A with Rachel Hendrix and Jason Burkey
Every Life Is Beautiful Stories

 Jon Erwin
 Gianna Jessen
 Andy Erwin
 Mark Hall (Casting Crowns)
 Pat Layton
 Ken Bevel (COURAGEOUS)
 Dan Atchison (OCTOBER BABY producer)
 The Afters Life Is Beautiful music video
To learn more, visit: OctoberBabyMovie.net
For site license information, visit: ProvidentFilms.org
About Provident Films  ProvidentFilms.org
Provident Films, a division of Provident Music Group, develops, produces and markets faith-based films. Nashville-based Provident Music Group, a division of Sony Music Entertainment, has been one of the world's leading Christian entertainment companies for more than three decades.
About Twentieth Century Fox Home Entertainment
Twentieth Century Fox Home Entertainment, LLC (TCFHE) is a recognized global industry leader and a subsidiary of Twentieth Century Fox Film Corporation, a News Corporation company. Representing 75 years of innovative and award-winning filmmaking from Twentieth Century Fox, TCFHE is the worldwide marketing, sales and distribution company for all Fox film and television programming, acquisitions and original productions on DVD, Blu-ray Disc Digital Copy, Video On Demand and Digital Download. The company also releases all products globally for MGM Home Entertainment. Each year TCFHE introduces hundreds of new and newly enhanced products, which it services to retail outlets from mass merchants and warehouse clubs to specialty stores and e-commerce throughout the world.