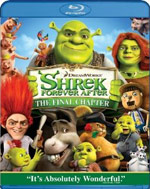 Shrek Forever After



– for mild action, some rude humor and brief language.
Director: Mike Mitchell
Starring: voices of Mike Myers, Eddie Murphy, Cameron Diaz, Antonio Banderas
Running Time: 1 hour, 33 minutes
Theatrical Release Date: May 21, 2010
Blu-Ray Release Date: December 7, 2010 (Amazon.com – Single Disc) / (Amazon.com – All 4 Movies)
Website: Shrek.com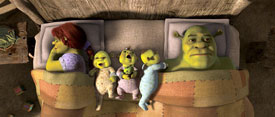 Plot Summary
After challenging an evil dragon, rescuing a beautiful princess and saving your in-laws' kingdom, what's an ogre to do? Well, if you're Shrek, you suddenly wind up a domesticated family man. Instead of scaring villagers away like he used to, a reluctant Shrek now agrees to autograph pitch forks. What's happened to this ogre's roar? Longing for the days when he felt like a "real ogre," Shrek is duped into signing a pact with the smooth-talking dealmaker, Rumpelstiltskin. Shrek suddenly finds himself in a twisted, alternate version of Far Far Away, where ogres are hunted, Rumpelstiltskin is king and Shrek and Fiona have never met. Now, it's up to Shrek to undo all he's done in the hopes of saving his friends, restoring his world and reclaiming his one True Love. (from MovieWeb.com)
Film Review
It's no secret that since the success of Shrek 2 in 2004, the series has gone down hill. Because of the first sequel's smash hit status, the studio had talked about the possibility of eight – count 'em – eight more Shrek films. While that sounded excessive, it was understood that if each film could deliver like the first two did, the series would be a welcomed franchise. However, when Shrek The Third was served in 2007, the film not only seemed to fall unwanted upon Shrek-ed out moviegoers, but the film itself was widely viewed as a disappointment, and the series came to a screeching halt. The talk of multiple sequels quieted, while plans for the fourth had already been underway. By the time buzz began to build for the fourth installment, promotion for the film began to center on the idea that this movie would indeed be Shrek's final chapter. What had begun as a beloved series has somehow become sort of an exhausted trend.
To properly prepare for watching Shrek Forever After, I rewatched the previous films in one evening. The story has a good progression and maturation of the character of Shrek, but the best of the bunch is still easily the first sequel, Shrek 2. That film took what people loved about the first film, shook it up and made it even more fantastical. It introduced Antonio Banderas' beloved Puss In Boots as well as Fiona's parents – voiced by Julie Andrews and John Cleese (how awesome is that?!). Shrek The Third was the beginning of the end. It didn't feel very much like the previous films, and it sort of approached the story from the misguided mind set that "bigger is better." And sadly, that is not the case. Yet, while they tried to throw the kitchen sink into the third film, the Shrek series had begun to lose its gusto. Shrek himself was becoming domesticated, losing the elements of his character that made people fall in love with him in the first place. Plus, part of what made the Shrek films so much fun was the dynamic between Shrek and Donkey (wonderfully voiced by Eddie Murphy). With Shrek The Third and Shrek Forever After, that dynamic is horribly missing or diminished and the films suffer because of it. The other major problem is the change in directors in the later two sequels. The first two films were co-directed by
Andrew Adamson, while the latest two were handed over to completely different teams. The end result certainly shows it.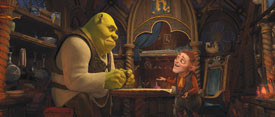 Shrek Forever After picks up less than a year after where Shrek The Third left off. Shrek is starting to feel suffocated by his domesticated lifestyle and is tired of the monotony of parenthood and his star status in the kingdom. He merely wishes to live life as an ogre again. This is where Rumpelstiltskin comes in. The series throws out the reality that Rumpelstiltskin appeared as a scrawny, entirely different character in Shrek The Third, and expects no one to notice this and accept the fact that this little weasel has been lurking in the background of the story since the events of the first Shrek. It's not a major continuity error, but it's really one of the only significant continuity errors in the four-film series. Upon making a deal with the devil (so to speak), Shrek follows in the footsteps of George Bailey for a sort of It's A Wonderful Life meets Back To The Future 2 – experiencing what life would have been like if the events of the first film never even happened, and he experiences an alternate reality. Of course, in this tale, it's no angel trying to make him realize how much worth is in his life, instead we have a villain that threatens Shrek's very existence.
The movie has a completely different feel out of the gate. For one, it's much, much darker – even darker than the third film. Also, as we watch Shrek struggle a domesticated life as a husband and father, it no longer feels like a Shrek film. And when his world is turned upside down, not even the alternate Far Far Away feels like a Shrek film. In an attempt to be fresh and new, somehow Fiona became some sort of barbarian ogre outlaw while a large race of more-hideous-than-the-next-guy horde of ogres that for some reason exist just because Shrek didn't save the princess and don't exist if he did? While the idea of Donkey never knowing Shrek or Puss somehow becoming Fiona's pet and therefore being fat and lazy (a fat, orange, lazy cat… Garfield, anyone?) sounds rather humorous on paper, in the context of the Shrek series, I would think fans would want to see their favorite characters in action one more time as themselves and not as almost entirely different characters. The premise has its moments, but ultimately, it's pretty humorless and all-around disappointing. I found myself waiting for the story to become more fun or exciting, but I felt like I had seen most of this movie already in the trailer. The trailer offered almost all of the film's funniest moments, and I didn't find the trailer all that funny to begin with. In the first movie, Shrek is a grumpy ogre who has to deal with circumstances beyond his control. He has an unlikely partnership with a talkative Donkey and entertainment ensues. In Shrek Forever After, Shrek is a ultimately a sad, lovable big guy going through some sort of mid-life crisis, forced to try to find a way to get his life back to the way it was before he met Rumpel. These just don't feel like the same characters.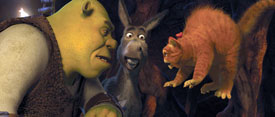 The content of Shrek Forever After is the most mild of all the Shrek films. Because Shrek is now a big green warm fuzzy teddy bear, most of his attitude and sass is gone. The only language in the film – a "h*ll" and a use of the "a" word – are both uttered by Donkey, with both either coming out very quick or a bit obscured by Donkey's delivery. There is a little bit of crude humor, but most of it is especially mild compared to the previous films. We see what looks like a feminine male witch who makes eyes towards Fiona's father (who is repulsed by this), while a male ogre named Cookie acts pretty flamboyant. A few minor comments are also made – like, for example, Donkey starts picking up a scent and saying it smells "delicious" and Shrek, thinking Donkey is talking about Fiona, scolds him for talking about his wife that way (really, Donkey is smelling and describing food). The film has some violence – mostly nonlethal action violence and the throwing of knives and axes, but nothing outrageously violent.
All in all, Shrek Forever After successfully wraps up the series in a neat little bow, but does it in a pretty bizarre and lackluster way. This hardly feels like the same Shrek we fell in love with nearly a decade ago. While some can say Shrek matured over the course of the series, the fact remains that the ingredients that made the franchise start out so strongly died with the conclusion of the second film. Switching directors halfway through the four films certainly took its toll on the third and fourth chapters (and an inexperienced writer for this one doesn't help either). Shrek Forever After was helmed, curiously, by Mike Mitchell, whose credits include the atrocious Surviving Christmas and the adult-themed Deuce Bigalow: Male Gigolo. Whatever made the studio pick Mitchell to finish off a beloved family series is beyond me. Diehard Shrek fans may just be content enough getting one more outing with some of their favorite characters, but considering how many changes have taken place and how much little time we get with the actual characters we love here, even they are likely to be disappointed. Shrek Forever After is entertaining enough, but for anyone wishing for the enchantment from the first two films will be sorely disappointed. The series probably should have ended six years ago. If a fifth film somehow finds its way into production, let's all hope DreamWorks goes back to the drawing board and returns the series to what worked in the first place.
– John DiBiase, (reviewed: 5/21/10)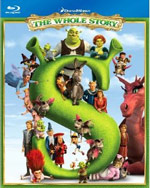 Blu-Ray Special Features Review
Shrek Forever After was probably only slightly better than I was expecting it to be, still it's nowhere near the memorable original or the masterfully executed first sequel, Shrek 2. The fourth and final film is also the first to release on Blu-Ray Disc and it's available to purchase as a stand alone one-disc release, a Blu-Ray and DVD combo and a four-disc box set of just the Blu-Ray treatments of all four films. Let's take a look at the Special Features of the one-disc Blu-Ray release of Shrek Forever After…
The Animators' Corner – The first of the Blu-Ray Exclusives is a feature-length picture-in-picture visual commentary of the film with the director and three members of the animation team. Here, the filmmakers give an inside look into the making of the fourth and final Shrek film. We also hear interviews from the cast, like the voice of Shrek, Mike Meyers, and also get a glimpse at a lot of the storyboard drawings used in production.
Shrek's Interactive Journey IV – Exclusive to the Blu-Ray versions of the movie (which, again, are currently only available in the box set, but I'm sure they'll be released separately in the near future), are a new series of four featurettes called "Shrek's Interactive Journey." Each of the four movies has a part and what it is is a map of key locations in the film with highlighted areas. For each location, fans can view concept art for specific setttings in the respective film. So, for Shrek Forever After, viewers can check out several concepts and artwork for the following settings: Crone's Nest Carriage Park, Ogre Camp, Shrek's Swamp, Dragon's Keep, Village, and Rumpel's Palace.
Spotlight On Shrek (13:46) – This is a new little ode to the character of Shrek and his evolution over the four feature films. A few minutes into the featurette, the segment turns to "The Man Behind The Ogre" and showcases Mike Meyers in several different interviews taken from the promotional periods for the different films as he tells how he got the part and what he likes most about it. "Spotlight" then delves into Meyers' creation of the iconic voice, Shrek's worldwide popularity, and the story arc across the four films. It's a wonderful, quick but in-depth look at Shrek's character evolution.
Secrets Of Shrek Forever After (3:58) – This little video is an informative one that quickly highlights the voice cast — including those who return in smaller roles, and pointing out just which animation crew provided voices in the movie as well — and points out references to previous Shrek installments (some subtle, some obvious).
Deleted Scenes (5:44) – There are three deleted sequences. Director Mike Mitchell introduces these scenes, starting with the first one, "Fairy-tale Creatures Attack," which is a mostly completely finished and rendered sequence (which is unusual for animated movies). It was probably a smart cut, because as the director points out, it seemed too dark to have the otherwise beloved fairytale characters attacking Shrek. "Gingy Attack" is entirely animated storyboard frames of a sequence that would have been Gingy fighting animal crackers in an arena. It's rather stupid, so it was a wise cut. "Emperor No Clothes" is a short storyboard sequence where Rumpel cons a naked king out of his crown… another wise deleted sequence.
Filmmakers' Commentary – This is a feature-length audio commentary provided by Director Mike Mitchell, Head of Story Walt Dohrn and Producers Gina Shay and Teresa Cheng.
Conversation With The Cast (9:18) – Ryan Seacrest interviews a panel of the Shrek 4 main cast as they reflect on the franchise over the past decade. Seacrest asks each cast member different questions, starting with Meyers and moving down the line through Murphy, Diaz and Banderas. The four then comment on what it's like to meet fans over the years, telling some pretty amusing stories, before the panel switches the topic over to Fiona's transformation in the fourth film, which Diaz comments on. Head of Story, Walt Dohrn, who voices Rumpel in this movie, becomes the topic of conversation next, and then the featurette ends as Seacrest asks the new cast, Jon Hamm as Brogan and Craig Robinson as Cookie, to talk about what it was like to join the team.
The Tech Of Shrek Forever After (7:32) – This a cool little featurette that discusses the evolution of the animation technology over the past ten years, focusing on how things have changed and what they could do and accomplish with this fourth film that they couldn't in 2001 with the first one. Some of it does tend to sound like a commercial for HP servers and processors, but it's something that many will find humorous to look back on in a few years (kind of like how silly many of the old computers, cell phones and car phones look today). But it's neat to see the technological evolution… even if the story's quality doesn't match up to its advancement in animation.
Shrek, Rattle & Roll breaks down into several subcategories. First we have "Shrek The Musical" or "Darling I Do" Music Video. Then the Musical option breaks down into "From Swamp To Stage: The Making Of Shrek The Musical" or "Who I'd Be." "From Swamp To Stage" (8:13) is introduced by Cameron Diaz who shows how the movie became a Broadway musical. I can't say I've seen the Broadway show… and I can't say that this little behind-the-scenes video makes me want to see it either. In fact, seeing the characters as people in make-up singing corny broadway songs is slightly disturbing (and kind of cheeses out the animated films). But, if this is your cup of tea, there's a full video of one of the Broadway tunes, "Who I'd Be," included for viewing. Lastly is the "Darling I Do" music video from the film's soundtrack, performed around a piano by Landon Pigg and Lucy Schwartz.
Shrek's Yule Log (30:18) – Pretty simple but awesome, this is exactly what it sounds like… A Shrek Yule Log! I remember watching (and listening to) the Yule Log as a kid and to see the Shrek characters in their own special Yule Log is pretty cool. It starts with Fiona asking Shrek to light the fire before the guests arrive and then suddenly Donkey busts in and warms his rear in front of the fire (accidentally lighting up his tail). The rest of the animated video is just the fireplace with some chilled out Christmas tunes played instrumentally over it, but the occasional Shrek characters step in to change things up from just staring at the fire (SPOILER: don't read on if you want to be surprised!): Wolf tries to throw Pinnochio on the fire, Donkey roasts a marshmallow, Puss In Boots steps in while munching on a Christmas treat, Cookie comes in with a pot of stew, one of the little Ogre babies interacts with a donkey baby, the three blind mice discover Shrek warming his feet by the fire, Gingy rescues a cookie from Fiona, Rumpel tries to put out the fire, Puss tries to have a catnap then eats another cookie, Pinnochio dances with the Pied Piper, Fiona cracks a nut for Cookie, the Pied Piper causes a Menorah to take shape in the fire's flames, Rumpel tries to sneak into the party in a gift box; Pinnochio realizes they're all being watched (by us viewers), Gingy rescues another cookie, a donkey baby relights the fire, Puss steals a Christmas cookie for Santa, Pied Piper causes a Christmas tree to form in the flames, a fat Puss In Boots tries to eat a candy cane, Cookie and one of the three little pigs mixes hot chocolate; and Fiona puts out a final cookie, which is fought over before Santa shows up. It's a fun little Yule Log that Shrek fans will surely enjoy!
Donkey's Caroling Christmas-tacular (5:11) – This is a new Christmas party animated video featuring all of the Shrek Forever After characters (even Rumpel) while Donkey sings Christmas tunes. There's also an optional lyrics caption to have for a sing-a-long. After Donkey sings, the ogres present a disgusting spin on "Jingle Bells" while singing about swamp-inspired cuisine, and then Puss takes over with "Fleas Nav-i-dad." Finally, the whole gang sing a new take on "Jingle Bell Rock" to close.
Deck The Swamp features several fun activities for the kids, including a "12 Days Of Christmas Pop-Up Book," "Donkey's Decoration Scramble" and "Cookin' With Cookie."
Overall, while Shrek Forever After isn't quite the "grand finale" the franchise deserves, the Blu-Ray version of the film gets a decent treatment. And with all four films being available together in a Blu-Ray box set for the first time, grabbing all four together in one swipe isn't a bad idea (however, they are the Blu-Ray discs ONLY. No DVDs or digital copies are included. It's likely that DreamWorks might release individual combo packs for the first three films in the near future).
– John DiBiase, (reviewed: 12/5/10)
Parental Guide: Content Summary


 Sex/Nudity: We see a feminine looking male witch make eyes at the King who responds in disgust; Shrek tries to get Donkey to follow Fiona's scent. Donkey refuses, but when he describes a smell he DOES pick up, Shrek thinks it's Fiona, but Donkey really is smelling food. When Donkey says he smells something "delicious," Shrek irritatedly fires back, "Hey! That's my wife you're talking about!"; Fiona's outfit shows some cleavage throughout the duration of the film; Puss asks Donkey to lick his back for him. Donkey refuses untile Puss gives him the big-eyed cute look and then he agrees. They're interrupted before Donkey could do it though; We see Shrek in just a towel or shorts several times; Several of the male ogres have bare chests


 Vulgarity/Language: 1 "h*ll," 1 "a" word.


 Alcohol/Drugs: We see Shrek drinking eyeball martinis several times; Shrek and Rumpel drink martinis together; We see ogres drinking in a bar, etc


 Blood/Gore: We see eyeballs in Shrek's martinis and in a bowl. Donkey also makes them stick out of his nose.


 Violence: Some action violence. We see ogres training and throwing knives and axes; Fiona and Shrek get into a training brawl together, even punching each other in the face a few times; A bunch of witches attack Shrek with apple and pumpkin smoke bombs and iron skulls attached to chains and drag him through the air; We see some characters chained up; Shrek runs around scaring people and enjoying it; a dragon attacks some people and threatens to eat them; and other comedic violence