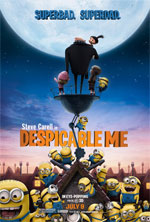 Despicable Me



– for Rude humor and mild action.
Director: Pierre Coffin, Chris Renaud
Starring: voices of Steve Carell, Jason Segel, Russell Brand
Running Time: 1 hour, 35 minutes
Theatrical Release Date: July 9, 2010
Blu-Ray Release Date: December 14, 2010 (Amazon.com)
Website: despicable.me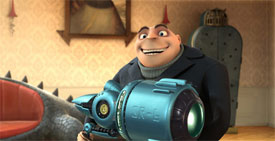 Plot Summary
In a happy suburban neighborhood surrounded by white picket fences with flowering rose bushes, sits a black house with a dead lawn. Unbeknownst to the neighbors, hidden beneath this home is a vast secret hideout. Surrounded by a small army of minions, we discover Gru (voiced by Steve Carell), planning the biggest heist in the history of the world. He is going to steal the moon (Yes, the moon!) in Universal's new 3-D CGI feature, "Despicable Me." (from MovieWeb.com)
Film Review
It's intriguing how deceiving movie trailers (previews) can be. So far this year, three of the less impressive trailers – for How To Train Your Dragon, Toy Story 3, and Despicable Me – have turned out to represent some of the best animated movies to come along in awhile (and some of the best movies this year, period). The most recent, the awkwardly titled Despicable Me (I'd love to hear a little child try to pronounce this one) didn't look super promising from its hit-and-miss advertisements. However, the truth is quite the opposite as Despicable Me easily joins the aforementioned titles as some of the most fun you'll have at the movie theater with the family this year.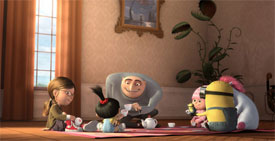 Despicable Me takes a devious, dark-souled character with aspirations for being the world's greatest villain named Gru, and teams him with three quirky orphan girls who he meets one day while they're out trying to sell cookies to raise money for their orphanage. When Gru gets the inspiration to use them to help his dastardly plans of stealing the moon, he finds parenthood an unlikely kink in his ingenious plan. This was one theme that the trailers didn't divulge in great detail, but it's quite a huge plot element — the potential greatest villain in the world suddenly finds himself a father — and it stirs up emotions within him he never knew he had. The film then touches on his own childhood a little bit, giving the audience some insight into why Gru may be up to his no-good trickery. But with most of his "evil" ways, we see that he really isn't all that good at being bad, and this becomes an important lesson in the story that redeems the potentially dark thematics that the title and premise might suggest.
And that lighter tone can be attributed greatly to the ensemble of little yellow overall-suited minions that accompany Gru in his quest. The minions can probably most closely be compared to the three-eyed little green aliens from Toy Story, but are given a lot more character and personality individually. They do, however, cause a lot of mischief, some that might be imitated by children — like poking each other, punching each other in the arm hard, or, in the worst case, photocopying their butts and giggling at the print-out. Still, everything from their look to their voices make all of their scenes highlights of the film. But to Steve Carell's credit, the comedian does an absolutely fantastic job voicing the lead, Gru. Carell gives the pseudo-super-villain a quirky and believable European accent that makes the character sinister and lovable sometimes simultaneously. Carell puts his usual spunk into the performance and even though it seldom sounds like him, fans of his will still be able to locate the actor's voice beneath the guise of the accent. Julie Andrews does a nice job as Gru's mom, while crude comedian Russell Brand (he just starred in the R-rated Get Him To The Greek) is sufficient as Dr. Nefario. Miranda Cosgrove heads up the oldest of the three orphan girls, while little Elsie Fisher voices the smallest orphan, Agnes, who's positively adorable every time she shows up or says something. Between Agnes, the minions, and Carell as Gru, these ingredients alone help make this a strong and fun film.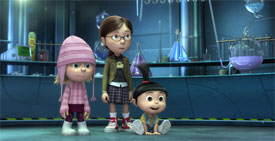 Really, the only downside to Despicable Me, in any form, is in the chief villain Vector. He's supposed to be a big, goofy nerd, but he's usually more irritating than funny (The "Oh yeaaaah!" that he says in the trailer isn't funny then, and it isn't funny by the fourth or fifth time he says it in the movie). Perhaps this is mostly due to Jason Segel (who is most known for crude comedies like Forgetting Sarah Marshall or I Love You Man) and his vocal performance of the character, as he plays up the nerdy angle, but Vector isn't one of those villains you love to hate; you're likely to just hate him.
Ultimately, Despicable Me is very much a pro-family film that injects a lot of heart – unexpectedly, even – into an outrageously silly and therefore fun movie. Also, there's a cute little moment where we see the girls praying one night before going to bed at the orphanage. It wasn't overtly spiritual, but it's the kind of thing you don't see in many family movies these days, so it was fun and cute to see.
Despite the dismal title, heart and fun abound in Illumination Entertainment's freshman release, Despicable Me. It's fun, it's silly, and it just might tug at your heartstrings.
– John DiBiase, (reviewed: 7/11/10)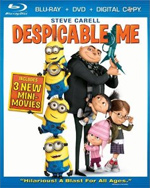 Blu-Ray Special Features Review
One of the biggest surprise hits of the summer was a little animated film about an aspiring super villain who adopts a trio of young girls who turn his life (and priorities) upside down. It's a funny, touching, and visually beautiful film, and it looks gorgeous in HD. The Blu-Ray combo pack release of the film (which is also available in a 3D combo pack which comes with all of these features as well) includes a DVD and digital copy.
Gru-Control (1:36:17) – This is a feature-length alternate way to view the film that has the characters from Despicable Me (particularly the minions) periodically interrupting the movie while you watch it. It also incorporates pop-up interviews with cast and crew occasionally as well. It's only recommended if you've seen the movie before, as it's fun but distracting if you haven't seen the film yet.
Mini Movie: "Home Makeover" (4:22) – The Blu-Ray edition of Despicable Me includes three exclusive "mini movies" created just for this release. The first is an adorable short where the orphan girls receive a call that child services were coming over to see if Gru's home was appropriate for children. The minions then help the girls child-proof the super villain's lair.
Mini Movie: "Orientation Day" (4:00) – The second short is a great little video that shows five minions sitting in a small theater watching a minion training video before venturing out to put into practice what they'd learned.
Mini Movie: "Banana" (3:45) – The final video is simply the minions fighting over a banana. It's really cute and fun… and may be proof that these guys either need their own show or at least for Universal to start putting more animated shorts like these at the beginning of their feature films (like the old days with Looney Tunes cartoons).
The Voices of Despicable Me (16:34) – This is a great featurette that covers the voice cast of the film, especially highlighting Steve Carell as Gru. Carell often hams up his interviews with straight-faced nonsense about things that normally would be obvious jokes (but he presents them convincingly). By the end of the featurette, though, he cracks himself up and it becomes more clear that he's joking. But the featurette is pretty comprehensive when it comes to the characters, covering everyone on down to the evil doctor assistant of Gru (voiced by Russell Brand) and Gru's mom (voiced by Julie Andrews). It's a highlight of the extras.
The World of Despicable Me (15:16) – This one takes you into the "world" that the filmmakers created for Despicable Me — from the characters to the plot to even the artistic design. It's cool, too, because we get to hear more from the voice cast, especially Carell and Andrews. The directors talk about wanting to explore the role of the bad guy while also exploring what makes a villain become a villain… and how they decided to trace it back to Gru's childhood. It's a neat and fun detailed look at the film.
Despicable Beats (2:48) – This featurette is dedicated to the film's composer, Pharrell Williams, who is a mainstream producer and recording artist who has worked with hit makers like Gwen Stefani and Justin Timberlake. He was also responsible for the film's theme song.
Super Silly Fun Land – This is a series of three games: "Feed The Creatures!," "Tin Can Alley!" and "Freeze The Minions!" Each game is pretty simple but playable with your blu-ray player remote. Kids will probably dig these, but they're pretty easy to play for adults. And, for the record, the voice over guy here is really annoying…
Gru's Rocket Builder – Here's another game for the kiddies. Annoying-Voice-Over-Guy returns for "Gru's Rocket Builder." In this one, you're given a famous landmark to guess from a close-up of it and then you win a piece of Gru's rocket to add on and build for him.
Miss Hattie's Top Secret Cookie Recipes – Here is a collection of cookie recipes including "Minty Mints," "Choco Swirlies," "Coconutties," "Toffee Totes" and "Caramel Clumpies." When you select a box of cookies it then brings up the recipe plus instructions for baking.
Global Effort (3:23) – This goes back to the making-of for the film, highlighting that the crew was spread out all across the globe — from the U.S. to Spain, France, and the UK! The efforts from such a big team used to make the film is unmistakable when you view it. The animation is top notch and the detail is fantastic! It's a nice little additional featurette.
Despicable Me Game Previews (3:23) – These are two trailers for the game that's available on PS2, Wii, PC and Nintendo DS and another trailer for the iPhone/iPod app game.
Overall, there aren't a ton of bonus features, but what's included are fun and worth checking out. The bonus minion movies are also a great addition to the film and are a fun watch. It may be a little edgier for the little kids, but otherwise, Despicable Me is still a great family film for young and old.
– John DiBiase, (reviewed: 12/12/10)
Parental Guide: Content Summary


 Sex/Nudity: We see a bunch of minions giggling around a Xerox machine. We then see one of the minions has his overalls around his waist as he's sitting on the copier's scanner and the minions keep saying "butt" and giggling. We then see color copies of the minion's butt cheeks as they giggle about it.


 Vulgarity/Language: None. (Just a couple uses of "oh poop!")


 Alcohol/Drugs: While the news is talking about the world's greatest attractions needing to be guarded, we see a hick guarding a gigantic can of beer with a shotgun.


 Blood/Gore: None. We do see a closet with huge spikes close on one of the little children with red blood-like liquid pouring out of the bottom of the box, but it turns out that one of the spikes pierced her juicebox (so that was juice, not blood) and she's totally fine.


 Violence: Lots of cartoon-styled violence. The minions poke and punch each other a lot; Lasers and missiles and even a shark attack Gru when he tries to get into Vector's hideout; A character kidnaps the children, one nearly falls from a great height; Gru's dog is kind of vicious and seems to threaten to attack people, but we only see it bite Gru's arm once (played for laughs); Gru uses his freeze ray on customers in a coffee shop; Gru crashes his car into other cars to make a space for his huge vehicle; Lots of dangerous, sharp, lethal weapons are spread across Gru's house; A closet with huge spikes close on one of the little children with red blood-like liquid pouring out of the bottom of the box, but it turns out that one of the spikes pierced her juicebox (so that was juice, not blood) and she's totally fine; Vector has a gun that shoots live piranha and one attacks him; and other assorted cartoon, comedic violence