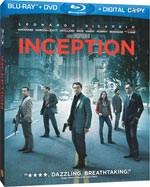 Inception



– for Sequences of violence and action throughout.
Director: Christopher Nolan
Starring: Leonardo DiCaprio, Ellen Page, Ken Watanabe, Joseph Gordon-Levitt
Running Time: 2 hours, 28 minutes
Theatrical Release Date: July 16, 2010
Blu-Ray Release Date: December 7, 2010 (Amazon.com)
Official Site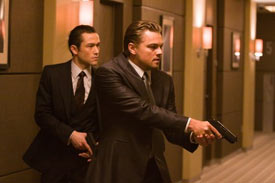 Plot Summary
Acclaimed filmmaker Christopher Nolan directs an international cast in an original sci-fi actioner that travels around the globe and into the intimate and infinite world of dreams. Dom Cobb (Leonardo DiCaprio) is a skilled thief, the absolute best in the dangerous art of extraction, stealing valuable secrets from deep within the subconscious during the dream state, when the mind is at its most vulnerable. Cobbs rare ability has made him a coveted player in this treacherous new world of corporate espionage, but it has also made him an international fugitive and cost him everything he has ever loved. Now Cobb is being offered a chance at redemption. One last job could give him his life back but only if he can accomplish the impossible inception. Instead of the perfect heist, Cobb and his team of specialists have to pull off the reverse: their task is not to steal an idea but to plant one. (from Movieweb.com)
Film Review
It really wasn't until Batman Begins in 2005 that anyone besides indie film buffs had really heard of director Christopher Nolan. After the filmmaker's acclaimed reboot of the Batman franchise, he released The Prestige next to mixed reception, but won over moviegoers far and wide with the 2008 blockbuster The Dark Knight. Now, two years after the mega film hit, Nolan returns with Inception – a mind bending crime drama that takes place within the dream world.
Like Nolan's previous puzzler films, Memento and The Prestige, Inception relies heavily on the cerebral, but injects much more action and special effects into this film than either of those previous endeavors. It's as if Nolan took the action experience learned through the Batman films and the mind-twisting smarts of his other films and married them in a Matrix-like packaging. Inception isn't for the casual moviegoer, but for those looking for something challenging and entertaining. And while some found The Prestige to over-explain itself by film's end, Nolan makes sure with Inception that there will be plenty to talk about – especially after the last frame before the credits roll (which understandably caused a gasp of disbelief from the audience that the film would wrap so open-endedly).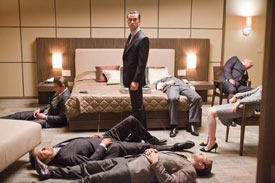 Leonardo DiCaprio stars as Cobb, a sort of tortured soul who is unable to return to the U.S. to see his family, and works mysteriously for an organization that steals secrets through people's dreams. When a deal goes bad, he finds himself making a new deal that could solve his problems, but it's the most dangerous job of his career and a new team must be assembled to pull the job off. Among the players are Ellen Page as Ariadne, Joseph Gordon-Levitt as Arthur, Ken Watanabe as Saito and Tom Hardy as Eames. Nolan is no fool when it comes to casting the right actors for his films, even frequently reusing actors across his movies like Michael Caine, Watanabe, and Cillian Murphy. It's been a while since I've seen one of DiCaprio's films, and the once-pretty-boy actor plays the role as 'action family guy' here exceptionally well (think of Tom Cruise in Minority Report). Page, who's most noted for the title role in Juno adds a nice young talent to the mix, while Joseph Gordon-Levitt (who couldn't add much to last year's G.I. Joe film) is another great addition here. Watanabe, who starred in Nolan's Batman Begins, as well as The Last Samurai and the third Pirates of the Caribbean movie, helps round out the stellar cast. Even Tom Hardy, who I haven't seen in a film except for the 2002 Star Trek installment Nemesis, is a fun addition to Inception.
Inception is a difficult film to describe without delving too deeply into specifics. Most of the film takes place within dreams, and even sometimes relies on the audience's ability to follow three different storylines and time lines simultaneously. It's not impossible to follow, but this certainly isn't a movie you can expect to shut your brain off for. But the characters do explain a lot of what is going on through the explaining of details to each other (and in a natural way, thankfully). It's solid storytelling on Nolan's part, even if some of the more explicit details may take a viewing or two more to fully grasp. And then there's the ending… if you like to be spoonfed a classic finished conclusion, you're not really going to find it with Inception. Nolan chooses a kind of discussion-starter ending that leaves things open to interpretation. It's not a cliffhanger by any means, but it reinforces the fact that this isn't a movie for everybody.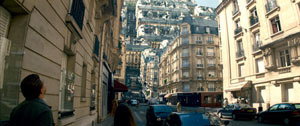 The content of Inception may be among the least brutally violent of Nolan's films (save for maybe Batman Begins which seemed to trade gruesome violence for creepy imagery). There's plenty of violence that takes place within the dream world, with countless imagined characters meeting their respective demises, but it's seldom done in an explicitly graphic way. Most of the violence involves shooting and vehicular violence. Language is mild for such a film, but because of some heavy thematic elements, it seems that blasphemy was used instead of strong profanity in many cases. Several uses of Jesus' name and "g*dd*mn" were used in moments where other strong language might usually be used. Either language choice is unfortunate and unnecessary, but on a whole, Nolan tends to keep the dialogue of the film rather intelligent and less profane. But despite the language and violence, there are themes involving suicide, dreams versus reality, and tense family situations that may be disturbing to some. Inception has plenty of dark moments (akin with The Dark Knight), and is definitely not suitable for younger audiences.
Inception is quite an experience visually as well. While the movie doesn't rely on visuals to define itself, it's the visuals – which are stunning – that strengthen the story. They're not used as the main reason to see the movie (like a film like 2012 did), but are just as memorable as the warped and thought provoking plot is.
Christopher Nolan's latest feature film isn't for everyone, but it's meaty and clever enough to offer movie fans an experience unlike few experienced today. It's biggest problems lie within some of its content, which will limit its audience even further, but those who already enjoy Nolan's previous work may find Inception to be one of his best yet. It's exciting to ponder where Nolan may take moviegoers next.
– John DiBiase, (reviewed: 7/17/10)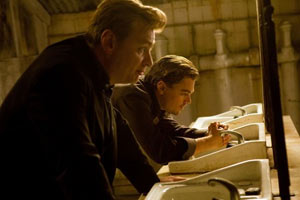 Blu-Ray Special Features Review
Inception is one of those intricate, complex films that delivers in entertainment while giving the viewer plenty to chew on thoughtfully after the movie has ended. It was a summer movie highlight for 2010 and a film worth revisiting more than once. This makes the movie an ideal choice for home viewing and Warner Bros. makes it real easy with a couple of release options. The movie is available as a standard DVD release and the Blu-Ray, DVD, and Digital Copy 3-Disc combo pack. This is a review of the latter. The first disc is the film in Blu-Ray with a special "Extraction Mode" viewing option (more on that later) while there's an entire second disc dedicated to just Special Features.
Behind The Story (59:03) – The first special feature on Disc 2 is an hour-long "Behind The Story" feature that is split consists of two parts (with a handy play-all option), but both pieces are actually entirely unrelated. The first half is called "Dreams: Cinema of the Subconscious" and is hosted by Joseph Gordon-Levitt, who plays Arthur in the film. The beginning of the documentary shows experts talking about dreams, Freud's influence on the subject, and even relates a real court case in which a man committed a murder via sleep walking. Some of the footage shown is a mix of staged dream-like material just for this documentary while other snippets look like they're taken from random films or projects throughout film history. Some of it is very, very creepy and surreal, but it's itended to represent the twisted reality that makes up most dreams (still, this isn't really a family-friendly documentary). About ten minutes into this, it starts to incorporate how the subject matter inspired Christopher Nolan to make Inception and we hear him talk about the film, along with Leonardo DiCaprio. In between the filmmakers talking about Inception, there are more clips from dream/sleep experts talking about the matter with various opinions (some that get a little New Age-y too), and we hear from normal everyday folks about some recurring dreams they experience. This documentary is just a few seconds under forty five minutes (perhaps it was fashioned as an hour-long TV special to promote the movie?). The second half is actually a sort of animated comic book prequel to the movie about the Cobol Job (the one that ultimately gets botched). The comic plays with only minimal sound effects and Hans Zimmer's score as the prominent sound for it. There's no audible dialog, so you have to read along to the characters' speech bubbles. There's quite a bit of action and violence and a little bit of language (1 "d*mn," 1 "g*dd*mn"), so keep that in mind before watching. But it's no more violent than the movie itself.
Project Somnacin: Confidential Files – This is a BD-Live feature. This is a little documentary about Christopher Nolan's writing and planning of the film, revealing that he'd been working on the idea for ten years and had been tweaking it between his other films. It's a cool featurette but seemed rather short. As it turns out, this segment IS on Disc One as part of the "Extraction Mode," so I'm not entirely sure what all is supposed to in the "Project Somnacin" featurette as BD-Live seems rather clunky and slow to navigate.
5.1 Inception Soundtrack (38:38) is the full Hans Zimmer score (well, the retail version… which isn't the COMPLETE score) in 5.1 Digital Surround sound… and it sounds so good, it gave me the chills. "Dream Is Collapsing" is the highlight! Put it on and turn up your home theater system's sound!
Conceptual Art Gallery – A series of photos of artwork done in preparation for the film. 32 frames in all. It's neat to see these drawings and how close to the final film's designs they are.
Promotional Art Archive – This is a gallery dedicated to the poster artwork done for Inception. There are only 12 posters included (two I've never seen before), but it doesn't seem to include all the versions of the posters out there (as they include the wide versions here of some of the concepts that can also be found in their cropped, regular-sized movie poster dimensions).
Trailers and TV Spots – This is an all-inclusive collection of the promo trailers and TV spots for the movie. There are three trailers — two from 2009 and one from this past Spring. And there are thirteen (!) TV spots, clocking in at 11 and a half minutes.
What floors me about Disc Two of the Blu-Ray release is the incomplete nature of the special features. I had honestly expected a slew of bonus featurettes about the film's special effects, cast, etc… but instead, all of that is missing from the Special Features disc. The closest to it is the Project Somnacin BD Live featurette, but as I noted earlier, it's cumbersome to navigate and clunky in its presentation. It doesn't do justice to the film.
However, this is where the "Extraction Mode" comes in to play (quite literally) on the first disc. Like other Warner Bros. releases (like this year's Clash Of The Titans remake), there's a mode to watch behind-the-scenes content during the movie, but you can actually watch it apart from the film as well through the "Jump Right Into The Action" option. The featurette is broken down into many topics and chapters, but the Play-All option let's you view them together as a 44-minute chunk. This is where all the good stuff is.
Extraction Mode (44:13) – The documentary opens with what I found via BD-Live for the Project Somnacin, so that seems a little confusing. But this is ultimately the special feature honey pot for fans of the movie. After the intro, we get a look at how they did the deconstruction of the Japanese castle in the beginning, followed by the cafe explosion. It's pretty cool to see what techniques they were able to use and even what techniques they ruled out (and we see a lot of test footage for those kinds of attempts). But I was most of all shocked to learn that the basic explosion of the cafe was filmed for real on the streets of Paris with Leo and Ellen Page in the shot as debris flew around them. Digital effects were later added to make it more complex. Another intriguing segment is about the Penrose steps – the infinite staircase – and how they designed the actual steps and filmed it physically. What was next showed how they got a train to drive down a busy city street in the rain… I won't ruin it for you, but it's pretty cool how they devised this. After briefly showing how they made sunny, clear days in L.A. rainy and overcast, we get an inside look at what it took to actually tilt the hotel bar in the movie. But the real nugget of this "making-of" is the footage of how they created and filmed the revolving hotel hallway fight sequence. It's exciting to watch in the finished film and incredible to see how they created it in reality. Next up is about how they filmed on the snowy mountain top before covering how they did they did the incredible zero gravity effects in the hotel scene — which was actually just a lot of unique rigging and wire work! We then get a look at the snow fort destruction and how they created that before we hear from composer Hans Zimmer on creating the impactful score for the film. Lastly, Nolan offers a bit of a retrospect on the project and process as we see a series of great production photos while he talks about the experience. "Extraction Mode" is easily the highlight of the bonus features and what you will want to check out if you watch nothing else from the extras. The only thing it did seem to lack, however, was talk on the cast and casting, and hearing more from them individually. We do hear from Joe Gordon-Levitt and DiCaprio on the disc along with Nolan, but never hear anything from Tom Hardy, Ellem Page, Caine, or anyone else.
Overall, I was surprised that the second disc, devoted entirely to Special Features, was almost wholly unnecessary next to what the first disc offered. And with Inception being quite the summer blockbuster this year, it's a little surprising that there wasn't more included on both discs. However, it's the "Extraction Mode" on the first disc that offers the best of the behind-the-scenes content and is well worth a watch. Otherwise, Warner Bros. does a fine job delivering Inception in high definition, as it's one of the best films of 2010… if not the best!
– John DiBiase, (reviewed: 12/5/10)
Parental Guide: Content Summary


 Sex/Nudity: It is talked about that a man has an apartment because of having a mistress there, but we never see any encounters; A woman in a dream tells a man that if she gets lonely, to call her number (to meet in her hotel room), but he doesn't and the woman had no real intentions


 Vulgarity/Language: 1 possible mouthed "f" word, 1 possible "s" word, 6 "h*ll," 6 "g*dd*mn," 5 "d*mn," 2 "a-h*le," 3 "J-sus Chr-st," 1 "J-sus," 1 "b*stard," 1 "p*ss off," at least 5 "G-d"


 Alcohol/Drugs: There seem to be some miscellaneous drinking in a few scenes during the film, but nothing major; Cobb meets a contact in a bar; We see Robert Fischer in a bar in a hotel in a dream


 Blood/Gore: We see a man with some scrapes on his face in a dream; A man is shot in the leg and we see a little bit of blood spray. The same happens with his other leg. He's then shot and killed while in a dream, causing him to wake up (we may briefly see a non-bloody bullet wound on his forehead in the dream); A man has some blood on his nose from being beaten up, interrogated; A man has some blood on his clothed chest after being shot there in a dream; A man has some blood on his lips while in a dream from a wound he sustained. We later see him spit a little bit of blood into some white snow; There's a little bit of blood on a man after he's been killed in a dream; We see a little bit of blood when a person is shot in the shoulder while in a dream; We see some blood on a person briefly when they are shot


 Violence: Lots of shooting and debris flying during dream sequences. We see many characters being shot with little to no blood shown, vehicles blow up containing imagined people in dreams (not real people), fights taking place within dreams, etc; In a dream, a woman stabs a man in the chest with a large knife, but we don't see the impact or the wound at all, just the hand motion of the stabbing; In dreams, we see a couple characters jump from great heights and not die but wake up; In a dream, a couple put their heads to railroad tracks to try to wake up from their dream; A person confused about what is reality and what is false jumps from a building to their death in real life; We see a hotel room that has been torn apart – twice, once in a dream, once in real life; At one point, a woman goes after another woman with a broken glass, but nothing happens; We see someone with a large knife but nothing happens; And other action violence