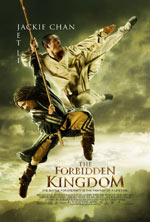 The Forbidden Kingdom



– for sequences of martial arts action and some violence.
Director: Rob Minkoff
Starring: Jackie Chan, Jet Li, Jason Tripitikas
Running Time: 1 hour, 53 minutes
Theatrical Release Date: April 18, 2008
Official Site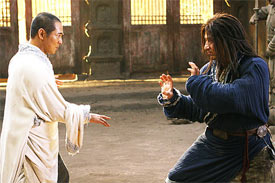 Plot Summary
In Forbidden Kingdom, American teenager Jason (Michael Angarano), who is obsessed with Hong Kong cinema and kung fu classics, finds an antique Chinese staff in a pawn shop: the legendary stick weapon of the Chinese sage and warrior, the Monkey King (Jet Li). With the lost relic in hand, Jason unexpectedly finds himself transported back to ancient China….
Film Review
It didn't seem all that long ago when they hype began about martial arts giants Jackie Chan and Jet Li finally pairing up on the big screen for the first time. While I'm sure Li fans weren't too keen on seeing the more comedy-oriented Chan team up with their considerably more dramatic hero, the matching of talent nevertheless has its promise. It's a shame, however, that it couldn't have happened while both actors were more in their prime.
The Forbidden Kingdom probably isn't the ideal vehicle for putting these two actors together (finally). The story is fantasy in every sense of the word, taking the story about a kid from the streets of Boston who's a fan of kung fu movies and literally dragging him to ancient China where he's some sort of "chosen one" to free an immortal who'd been enslaved in stone. Much of The Forbidden Kingdom is pretty over-the-top actually, but what makes it work as well as it does, however, is that it knows when not to take itself too seriously. Still, the end result is a bit mixed as it tends to get too goofy for its own good.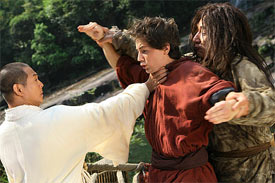 The film's central character, Jason Tripitikas, who's a kung fu movie geek from Boston, is played by Michael Angarano, who oftentimes just comes off more like a poor man's Shia LaBeouf. I was worried from the previews that Angarano would be the total downfall of the film, but luckily he actually did a decent job, even if it was hard to take him serious when it finally called for that. Jackie Chan is a delight as usual as he plays dual roles this time around, while Jet Li turns in two completely bizarre performances — the first of which, as The Monkey King, where I really had a hard time believing it was him. To see a hairy-faced Li gleefully dance and fly around, shaking his butt and performing other completely childish acts, just seemed surreal at best. Sure it's a stretch for Li and he probably had a blast doing it, but those who are used to his "tougher" roles will most likely be completely shocked. Also, Li is part of a completely random and entirely unexpected pee gag that seems not only out of character but wholly bizarre. Its shock value elicited a hearty laugh, but it just goes to show how off-the-wall The Forbidden Kingdom really is. Although I'm undeniably first and foremost a Jackie Chan fan, I still have to say that he was the best part of the film, and not just because I'm a fan of his work. There have been plenty of Chan movies – including The Tuxedo or even, in some respects, the latest Rush Hour installment — where Jackie's heart just doesn't seem to be into the role entirely. However, Chan seemed much more into his characters in this venture, instead of merely going through the motions. Still, even when the action kicks in, most of the martial arts in the sequences seems pretty synthetic, with plenty of wire work helping Chan and Li get the job done. You won't get to see quite as much of Chan's signature usage of his environment to overcome his enemies, but thankfully we're still treated to some. Also, his drunken master style of fighting is primarily seen, which may be a treat for those who have seen the China-made films starring Chan that have showcased this fighting style.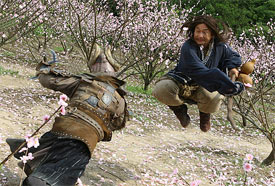 Content is surprisingly mild for this kind of film. Sure there's heaps of violence and fighting, but very little of it is graphic in nature. We do see a few throwing knives quickly land into the throats of two victims or someone drive a large sword into the back of another, but neither are dwelled on for too long and neither are bloody. And aside from the occasional bloody cuts here and there, we see a character take quite a beating at one point and have some blood on his face, but even that is toned down. The movie overall seemed to have been held back to be more accessible to a wider audience, but it's definitely a unrealistic to call it "family friendly" (as other critics have mis-labeled it). The Forbidden Kingdom still offers its share of violence with a little crude humor and language to keep this from being something the whole family could go to.
Overall, it was hard not to enjoy The Forbidden Kingdom. It was ultimately overly cheesy at times, but the movie seldom too itself very seriously. The vibe of the movie kept reminding me of mid-80's fantasy adventure films when it seemed to not only be a trend, but a genre often done really well. Even the main Boston street punk who harasses Jason is a bit of a throwback to Biff Tannen from the Back To The Future trilogy (just not as well-acted, or well-written for that matter). While you can do better by way of entertainment than The Forbidden Kingdom, you can certainly do a whole lot worse. If anything, it's a fun diversion that brings Jet Li and Jackie Chan together for the first time. Hopefully it won't be the last.
– John DiBiase, (reviewed: 4/29/08)
Parental Guide: Content Summary


 Sex/Nudity: Old Hop makes a joke – about Jason liking kung fu movies too much – to "Crouching Tiger, Spanking Monkey"; We see some exotic dancers in China; Ni Chang shows a little cleavage


 Vulgarity/Language: 3 "s" words, 1 "h*ll," 1 "J-sus," 1 possible "a" word, 1 "p*ss," 1 "d*mn," 1 "b*tch"


 Alcohol/Drugs: We see Old Hop drink from a flask; Lu Yan is almost always drinking wine from a container and almost always appearing drunk – which is part of his fighting style


 Blood/Gore: We see some blood on a man after he's been shot; Jason has some blood on his lip and a small bloody cut on his face while fighting Ni Chang; Lan Cae He is hit on the shoulder with a sword causing some blood to soak into his clothes there; A character appears to have veins in his skin as he turns black and burns up when he falls into a lava pit


 Violence: Lots of martial arts-related violence