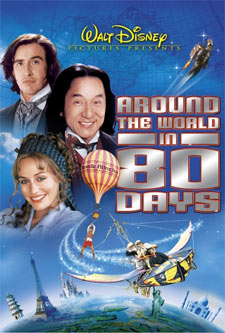 Around The World In 80 Days


– for action violence, some crude humor and mild language.
Director: Frank Coraci
Starring: Jackie Chan, Steve Coogan
Running Time: 2 hours, 5 minutes
Theatrical Release Date: June 16, 2004
Official Site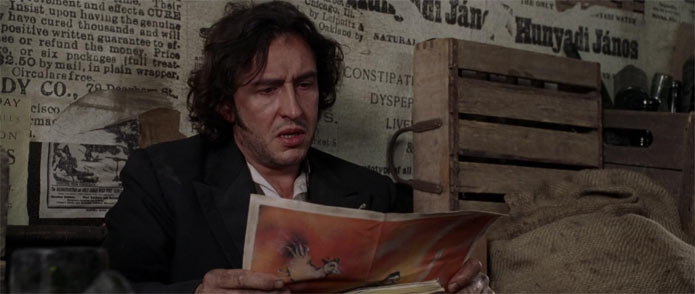 Plot Summary
An eccentric London inventor, Phileas Fogg (Steve Coogan), has come up with the secrets to flight, electricity, and even rollerblades, but the world has dismissed him as a crackpot. Desperate to be taken seriously, Fogg makes an outlandish bet with Lord Kelvin (Jim Broadbent), the head of the Royal Academy of Science: to circumnavigate the globe in no more than 80 days. With his two sidekicks — Passepartout (Jackie Chan) and femme fatale Monique (Cecile De France) — Fogg is headed on a frantic, heart-pounding round-the-world race that takes our heroes to the world's most exotic places by land, sea and air.
Film Review
I must admit I don't quite remember the original Jules Verne story for Around The World In 80 Days, but when I heard they'd cast Jackie Chan as a major part of the story, I knew we weren't in for a direct remake of the original. In fact, this film is such a departure from the classic, it probably shouldn't even be bearing the same title. This update is more appropriately described as a toned-down period Jackie Chan adventure film.
Shanghai Noon and Shanghai Knights teamed Jackie up with Owen Wilson and placed them first in the old west and then in jolly old England. It was a delight to see Jackie use his talents and abilities in those fish-out-of-water
settings and it worked wonderfully. Here, the plot takes Jackie across the globe, but due to his age having reached his fifties making his abilities more limited, the endless possibilities just aren't properly taken advantage of. And while the stunts are indeed less memorable and more been-there, done-that for the audience, a few moments still stick out like when a fight with paint produces a painting or a scuffle with a bench is especially fun to watch.
Unlike the more recent disappointments The Tuxedo and The Medallion, Around The World… offers a far better cast and a much better script. While cheesiness is in abundance still, the end product is nothing short of a silly and fun romp across the globe. This is probably Chan's most family-friendly picture to date, but still remains quite violent. The kung-fu is frequent and oftentimes quite violent, but is always non-lethal and not graphic (which might inspire children to attempt this on their friends). So while the film is more geared to the younger crowd it may be a bit too violent for the youngest, so parents will want to take that into consideration.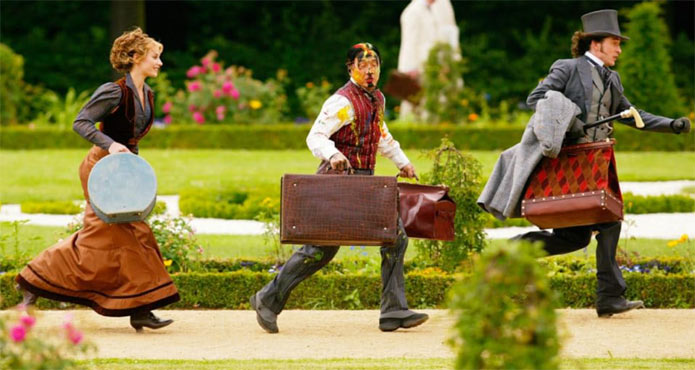 Steve Coogan serves as a worthy partner for Chan, but it's not until Owen Wilson makes a cameo appearance with his brother Luke that you're reminded why the Chan/Wilson team worked so well. In fact, I was sorry to see the brief cameo end. But the cameos are for sure one of the charms of Around The World…, especially when we see Fogg come in contact with the unorthodox street bum played by Rob Schneider. And while 80 Days might not be nearly as polished, funny, or clever as it could have been, it's still an enjoyable experience. However, the film does go a little overboard with its special effects for the travelling sequences that don't quite work as often as the filmmakers must hope they do. And while Coogan and Chan made a pretty good team, the movie falls rather flat in the villain department, serving up the ultra-weak and extremely boring General Fang played by Karen Joy Morris. Other baddies have their moments but are otherwise disposable and just seem to waste screen time.
All in all, I wasn't too sure what to expect going in to the 2004 re-imagining of Around The World In 80 Days. Those expecting the original need to know it's nowhere near it and should stay away from it if that will be a disappointment. Cute, silly, and overall fun, it's a decent family film that will be a little too rough for some, given the amount of martial arts action, but is otherwise mostly harmless entertainment.
– John DiBiase (reviewed: 6/16/04)
Parental Guide: Content Summary


 Sex/Nudity: Some suggestive jokes or are made; While in a bath of sorts, Monique wears a corset-like
top that reveals a lot of cleavage.


 Vulgarity/Language: 3 "d*mn", 2 "h*ll", 2 "G-d"


 Alcohol/Drugs: We see some characters drinking champagne; while in China, a table of people drink a lot of an unknown alcoholic beverage. Fogg gets drunk off of it. We see other characters randomly
having drinks throughout the movie.


 Blood/Gore: We see some blood on Inspector Fix's nose after being hit with a door. A homeless man seems to have some scabs on his face.


 Violence: Heavy kung-fu fighting action (all non-lethal)