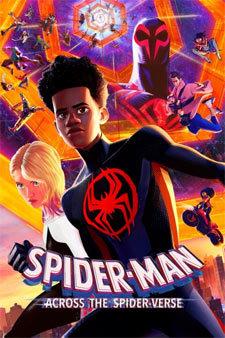 Spider-Man: Across the Spider-Verse


 – for sequences of animated action violence, some language and thematic elements.
Director: Joaquim Dos Santos, Kemp Powers, Justin K. Thompson
Starring: voices of Shameik Moore, Jake Johnson, Hailee Steinfeld, Oscar Isaac, Jason Schwartzman, Brian Tyree Henry, Jack Quaid, Andy Samberg, Mahershala Ali
Running Time: 2 hours, 20 minutes
Theatrical Release Date: June 2, 2023
Plot Summary
Miles Morales catapults across the Multiverse, where he encounters a team of Spider-People charged with protecting its very existence. When the heroes clash on how to handle a new threat, Miles must redefine what it means to be a hero. (from IMDB)
Film Review
It's kind of hard to believe it's already been five years since Sony released the much-celebrated Spider-Man: Into the Spider-Verse. Many viewers lauded Miles Morales' cinematic debut as the best in the Spidey theatrical franchise. The movie boasted a unique, artistic look to it that captured a sort-of animated comic book style, and it certainly was something different for cinemas. But while many thought Into the Spider-Verse was the best thing since Tobey Maguire caught Kirsten Dunst's lunch in mid-air with one hand holding a lunch tray, I wasn't as impressed. I recently revisited the movie with my 12-year-old son and I liked it better — he definitely liked it — but I would never rank it high among the other Spider-Man movies.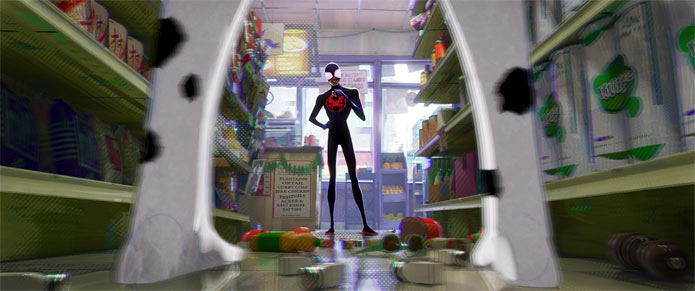 Enter 2023's Spider-Man: Across the Spider-Verse. My first thoughts from the film's chaotic trailer was that they finally had bitten off way more than they could proverbially chew, especially when a sequence showed a seemingly infinite number of different Spider-Man's chasing Miles Morales. I instantly had zero interest in seeing the film, and I was absolutely shocked when I saw how high the Rotten Tomatoes score was.
My son had wanted to see Teenage Mutant Ninja Turtles: Mutant Mayhem, so I suggested we spring for a double-feature at the drive-in where Across the Spider-Verse was the second movie. As Across the Spider-Verse unfolded in front of me, I found myself slowly getting sucked in, and I'm pretty sure I was literally on the edge of my car's driver's seat at one point (we had to retreat inside the car due to rain). Across the Spider-Verse was surprisingly darker than the first movie, and a heck of a lot more serious. Where a Spider-Man pig, voiced by comedian John Mulaney, and a noir Spider-Man, voiced by Nic Cage, were among the wacky characters in Into the Spider-Verse, there's a distinct leaning towards the more serious in Across the Spider-Verse — even in that chaotic sequence involving umpteen Spider-Man's, as seen in the trailer. Oscar Isaac joins the indefinite list of characters as a futuristic Spider-Man named Miguel O'Hara, and he is part of a select group of elite Spider-Man's who try to maintain the integrity of their collective timelines. Meanwhile, in Miles' world, he's struggling with his place in his universe, as well as continuing to keep his identity secret from his parents. All the while, Miles continues to miss his fellow Spider-Man's from the first movie's adventure, especially Spider-Gwen, with whom he shared a distinct bond.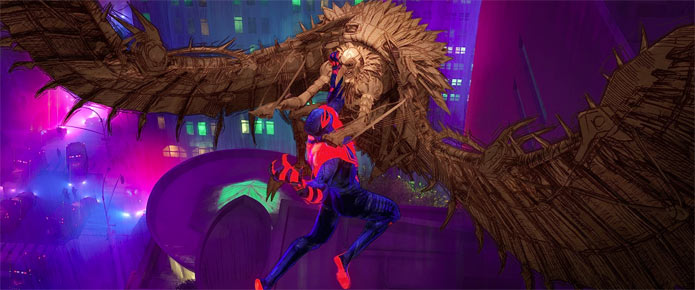 The animation this time around is even more stylized than the first entry. It's to the point where things actually often look unfinished, visually. It sometimes worked really well to complement the mood of a scene – like when Gwen is having an emotionally heavy moment with her father — but even then, with the background looking like a washed-out watercolor painting that bleeds as if it hasn't finished drying, things sometimes feel a little unfinished. Still, the overall effect of this look works infinitely better than the quirky approach of Teenage Mutant Ninja Turtles: Mutant Mayhem (which seemed to try to emulate this more painterly approach).
Again, the tone is much more serious this time around. If anything, the overall vibe of the film is distinctly more "adult" in that Miles' struggles are a bit more mature, the characters – for the most part – are more serious, and the threats to Miles are more severe. Yes, Kingpin was a pretty dark element in the first movie, and the Prowler being Miles' own uncle was also pretty heavy, but there was a whimsical tone to the movie that was backed by the outlandish characters (again, Spider-Ham?). Miles' drama in the first movie largely felt like the kinds of tensions and struggles you'd expect in a teenager's life. In Across the Spider-Verse, it's more focused on his place in the world as a Spider-Man, which makes for some really interesting developments and "twists," if you will.
Although I think I'd heard murmurs about it weeks ago, it still took me by complete surprise to find that Across the Spider-Verse ends with a cliffhanger, teasing the upcoming release of a third movie, Beyond the Spider-Verse, slated for release next year. While this summer's Mission: Impossible – Dead Reckoning, Part One ends with a satisfying conclusion, teasing that the overall story of Dead Reckoning will conclude in a Part Two, the "To Be Continued…" springs up here in a surprising fashion, leaving you with that uneasy sense of incompletion. Not gonna lie: it stings a bit. And it leaves you ready for more. Across the Spider-Verse definitely ends on a somber note, with hope waiting at the ready just around the corner.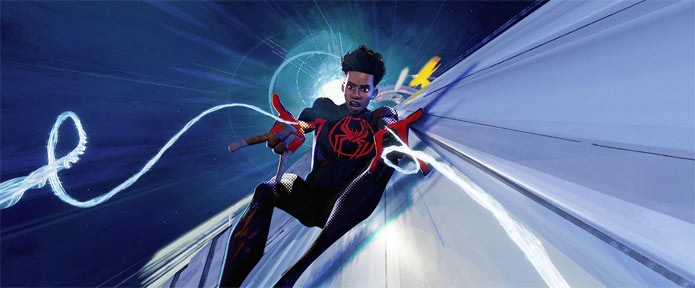 The content is PG-friendly, for sure, but the tone is distinctly edgier. My son actually didn't like this movie, mostly because of it being so dark. It's possible that, if Beyond the Spider-Verse is far more victorious in nature, that it could redeem Across the Spider-Verse's doom and gloom, but until then, we have a pretty gloomy entry here. There's a little bit more profanity this time around, with 2 uses of the "a" word, 2 of "h*ll," and 2 of "cr*p." There's also one use each of both "Dear G-d" and "Oh my G-d." There isn't any sexual content, nor any graphic visuals, but there is plenty of action and comic book-style violence (including a focus on the significance that the death of loved ones play in the lives of each Spider-Man).
For a guy whose second-favorite movie of all time is The Empire Strikes Back, this more serious and exciting entry for the Miles Morales Spidey series is a home run. I can totally understand why my son wasn't into this one as much, but I really liked the more grown-up nature – and higher stakes – of Across the Spider-Verse. I wasn't on board with the first movie much, and I wasn't excited to see this sequel, but Spider-Man: Across the Spider-Verse has me totally hyped now, and you can be sure I'll be grabbing my tickets ASAP for next year's Spider-Man: Beyond the Spider-Verse.
– John DiBiase (reviewed: 8/23/23)
iTunes / Digital Copy Bonus Features Review
Spider-Man: Across the Spider-Verse is now available via digital retailers and will be releasing on 4K, Blu-ray and DVD on September 5th. The iTunes digital copy, and the disc release, feature the following extensive extras: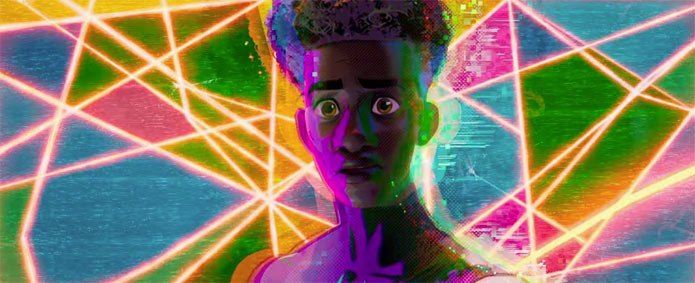 Creating the Ultimate Spider-Man Movie (14:50) – In approaching this sequel, the production team wanted to go bigger, while trying to bring more of the things people liked about the first movie. They actually approached this movie – not as an animated movie, but as a regular Spider-Man movie. They talk here about the production methods, the art direction, and so much more. We see lots of home movie reference footage that they used as guides for the animation. They also talk about the diversity in filmmaking styles, representation (like the Indian culture universe), and more. (1 "Oh my G-d")
Obscure Spiders and Easter Eggs (5:39) – Obscure characters and in-jokes abound, including the different crazy Spider-Man's; production artists' area codes, names and offices thrown in; the LEGO world; Cloudy with a Chance of Meatballs Easter eggs, and much more. They hid so many tiny, intricate little things!
"I'mma Do My Own Thing" Interdimensional Destiny (8:26) addresses how Miles pushes against the expectations for what his role as Spider-Man is supposed to look like. They discuss the philosophical decision of having to save a loved one OR lots of people you've never met. The cast and crew discuss Miles trying to find his own path in the Spider-Verse.
Across the Worlds: Designing New Dimensions (7:53) – Animation allows them to do so much more than in a live action movie. The filmmakers discuss the artistic approach of different worlds and how color and art design impacted the mood and action in the movie.
Your Friendly Neighborhood Spider-Cast (13:10) covers the returning cast members as well as many of the brand new ones making their debut in Across the Spider-Verse. (1 "bad*ss," 1 "big-*ss")
Designing Spiders and Spots (12:32) – This one starts out by talking about Miles being a year-and-a-half older and growing as a teenager. This segment also covers the designs for characters like The Spot, Spider-Punk (masked and unmasked), the Indian Mumbattan Spider-Man, the pregnant Jessica Drew, and finally, Miguel O'Hara.
Raising A Hero (8:56) – Shameik Moore talks about how he loves that Miles stands for family. In fact, family is a theme that runs through all of the main characters. The cast and crew discuss the importance of family in Spider-Man's legacy. (1 "holy cr*p")
Scratches, Score and The Music of The Multiverse (5:17) is about Daniel Pemberton's score and the sonic soundscape of the two movies thus far. They talk about the different sounds and styles that are influenced by the different cultures and such — and how the diversity in the music broadens the Spider-Verse.
Across the Comics-Verse (8:03) – Many of those who worked on the film have a history reading and loving comics, but they actually enlisted the work of original comic artists to design costumes and characters for this movie. They even went to veteran Spidey comics writer Dan Slott for guidance on the different universes seen in the movie. The shift then focuses to comic artist Brian Stelfreeze who worked on Jessica Drew, and it's fun to hear him share his love for art and drawing.
Escape from Spider-Society (8:14) – Miles versus hundreds of Spider-People was a fun idea but such a really overwhelming task to make a reality. At least a hundred characters were created from scratch just for this sequence. They discuss the emotional weight of the scene, Miles' personal journey through it, and the evolution of the scene's execution. (1 "d*mn," 1 "h*ll")
Miguel Calling (5:33) – This is a deleted scene shown in storyboard, unfinished-quality. It's basically an extended / alternate sequence where Miles meets the Spider-Society and talks with Miguel and Gwen.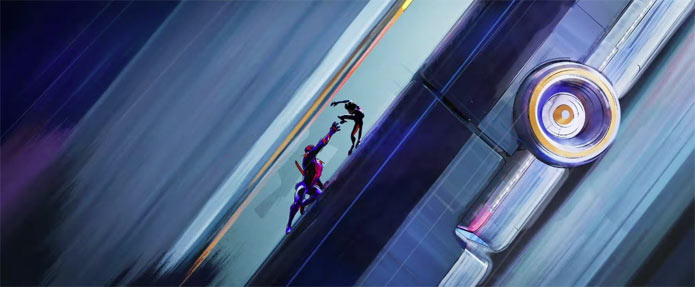 Lyric Videos – Lastly, you can watch Lyric Videos for "Annihilate" by Metro Boomin, Swae Lee, Lil Wayne and Offset; and "Calling" by Metro Boomin, NAV, A Boogie Wit da Hoodie with Swae Lee.
– John DiBiase, (reviewed: 9/3/23)
Parental Guide: Content Summary

 Sex/Nudity: A comment is made to Spot to stop talking about his "holes"


 Vulgarity/Language: 2 "a" words, 2 "h*ll," 1 "Dear G-d," 1 "Oh my G-d," 2 "cr*p"


 Alcohol/Drugs: None.


 Blood/Gore: We briefly see some blood on the face of a live action Spider-Man during a flashback.


 Violence: We see a recap of the events of the first movie (with some action violence) while Gwen plays the drums; Gwen angrily throws her drums; Ned slams Peter into a locker; Gwen fights Croc, which happens to be Peter, who dies; We see an explosion at a museum; Vulture fights Gwen. Then two more Spider-Man's show up and fight too; A helicopter crashes, but Gwen catches it; Gwen's dad fires his gun in the air; Miguel webs up Gwen's dad; Miles fights Spot; Spot accidentally kicks himself in the butt and he falls thru a portal; We see a flashback of Spot becoming the Spot because of a laboratory accident; Spot sticks his head through a hole and is beaten in the head with a purse; When Spot looks through another hole, he scares a LEGO world and a LEGO car crashes; Spot uses the collider. We see an illustrative vision of the future with a sense of doom and people's lives being threatened; A double decker bus almost falls and Miles helps save them; We see a string of Spider-Man's dealing with the deaths of loved ones; A man is shot in a flashback; In Miguel's flashback, we see people dissolving; We briefly see Spot's previous vision again; A live action Spider-Man is shown looking over their uncle dying; There's a huge chase that involves many Spider-Man's; A spider bot forces Gwen thru a gate; Miles gets hit by a bus and hits a car windshield; Aaron punches a punching bag in slow motion; A character is tied up and threatened menacingly.