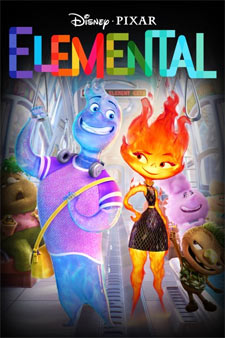 Elemental


 – for some peril, thematic elements and brief language.
Director: Peter Sohn
Starring: voices of Leah Lewis, Mamoudou Athie, Shila Ommi, Ronnie Del Carmen, Wendi McLendon-Covey, Catherine O'Hara
Running Time: 1 hour, 41 minutes
Theatrical Release Date: June 16, 2023
Digital Release Date: August 15, 2023
Blu-Ray Release Date: September 26, 2023
Plot Summary
Follows Ember and Wade, in a city where fire-, water-, land- and air-residents live together. (from IMDB.com)
Film Review
When the trailer for 2023's Elemental debuted, audiences may have gotten the feeling that Pixar had finally run out of creative ideas for their movies. The look and vibe of Elemental seemed to recall a similar look and vibe to their 2015 personified-emotions-driven story, Inside Out. However, upon watching Elemental, I realize that's not the case. Elemental is actually a moderately clever look at a world where the elements of fire, air, earth and water coexist. The usual clever gags that you'd expect from Pixar in regards to things like water people, fire people, earth people and cloud people permeate Element City, but there's still something… off… about this latest entry from the studio. Could it be that it all feels too familiar by now?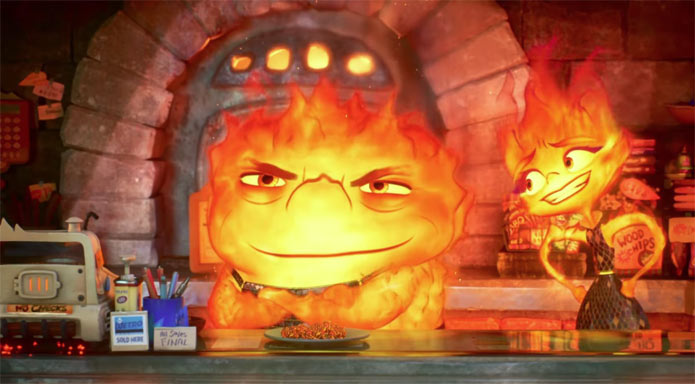 The story's main characters are a family of fire people who immigrate from their Fire Land to Element City where they open their own shop for their people, called The Fireplace (Fun fact: director Peter Sohn based their story off his own parents who had immigrated from Korea to the Bronx). While in Element City, they give birth to a baby girl they name Ember, and she grows up with dreams of taking over her father's business one day. The only hiccup here is that Ember struggles with having a temper, and this causes her father to keep holding off giving more responsibilities to Ember. One day, after letting her temper get the best of her, she radiates a burst of heat and energy in the store cellar that causes pipes to burst and water to pour in. This is when she meets Wade, a water person who also happens to be a City Inspector. Her father's store is instantly in jeopardy – in more ways than one – and Ember has to figure out how to save The Fireplace.
Wade and Ember quickly prove to be strikingly different in personality. Where Ember is quick to lose her temper, Wade is quick to let his emotions get the better of him, with large streams of water frequently erupting from his eyes (something that we soon find out is a family trait). Ember seems strong and more take-charge, while Wade is more sensitive and emotional. They complement each other, but it feels like an unusual gender trait swap – and maybe not just a fire versus water comparison.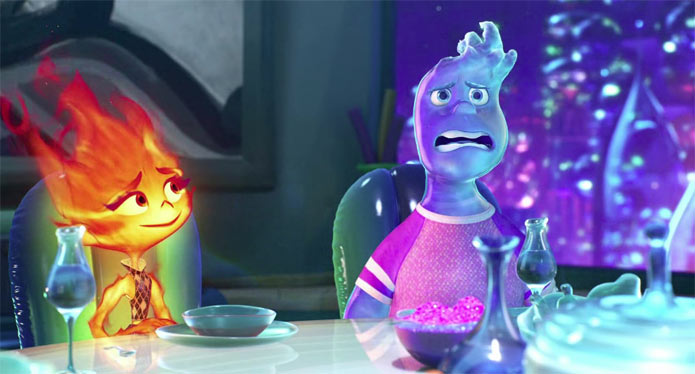 It's sad to think we have to question Disney's intentions with every single piece of media they release now. While many, many players make up and drive the mega entity, there are lots of different voices contributing to what seems to be a unified agenda from the company. Featuring strong female characters isn't necessarily a bad thing to give audiences, but most of the Disney vehicles are being used to diminish male characters in an effort to elevate women. As I've said before, I don't feel threatened in any way by strong women – I think we need them in some ways – but Disney feels like it's on the defensive these days. To champion the idea that "The Future is Female," they continue to flood their stories – be it Star Wars, Indiana Jones, Marvel, or any number of animated and family movies, with a heavyhanded female focus. It's gotten to the point where their efforts are glaring, and their motives questionable. Years ago, we wouldn't question a movie like Elemental. But now, even if some directors and filmmakers aren't even trying to say something about these two gender roles, it's gotten to the point where audiences have to wonder. And amidst all of this, the studio continues to push same-sex relationships in their family material. Elemental is the latest title to add to a growing list of Disney projects.
2022's Strange World featured a teenage boy character being attracted to another male character, and because of that unnecessary content to push in a kids movie, I side-stepped that movie altogether. 2023's Elemental is a lot more subtle in its sexual representation this time around, whether intentional or just happenstance. There are a couple questionable characters that aren't focused on much, but in a brief scene where Wade is introducing his family to Ember, he casually introduces his sister and "her girlfriend" (as if it's totally the norm in Element City). The two characters have a distinct look to them that makes the meaning of the label clear (it's not just that age-old label a woman gives to her platonic female friend in this case). These characters have nothing to do with the story of Elemental, so it's clear Pixar and Disney are just throwing them in for the sake of "inclusivity." But again, I still believe this has no place in a kids movie.
As the story progresses, characters begin to encourage Ember in her artistic expression of melting sand into beautiful glass sculptures. She soon realizes she doesn't want to follow in her father's footsteps, but to make her own way as possibly an artist. It's a fine idea, but at one point Wade tells Ember, "Why does anyone get to tell you what you can do with your life?" which is an idealistic sentiment, but a question without a simple answer. If this is a kids movie, the young and impressionable can misunderstand this as promoting an anti-authority idea. I know what Wade means here – that she should pursue her true passions and gifts, despite what her father may hope for her to do with her life – but it seems careless and thoughtless to possibly suggest that no one should tell us what to do. It seems pretty selfish to just chase after what we want when we want it, with little regard for how it might affect others. I realize I may be overthinking this line, but it stuck out to me as a potentially problematic notion. I'm sure parents wouldn't want their kids clinging to that line as their main takeaway from the movie, applying their own interpretation to it. In the Christian life, we're not only supposed to honor our parents, but we answer first and foremost to our Heavenly Father who very much has a plan for our lives here on Earth.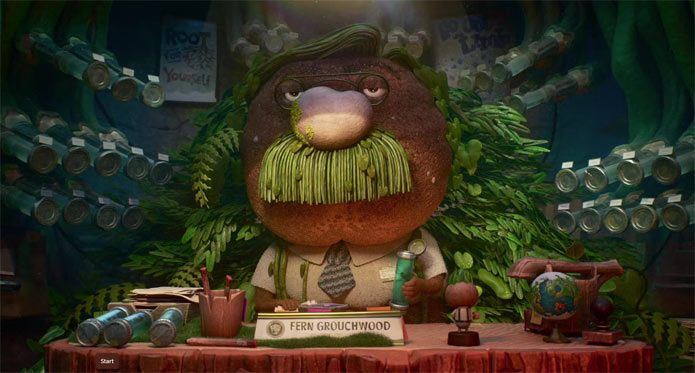 Overall, Elemental is decent, but perhaps a little forgettable. The animation style is unique in some ways, but I'm not sure it always works together well. For instance, the world these characters live in is largely photorealistic, but the characters are quite cartoony. I'm guessing the animation team figured out the water, land and cloud elements pretty quickly, but struggled with how to represent fire. The fire characters have a sketchy, always burning, almost painterly look to them, while most of the other characters are more crisp in detail. Actually, the fire characters feel lifted from a different movie entirely – perhaps from something like the Spider-Verse movies or the recent Turtles entry, Mutant Mayhem. We know "fire and water don't mix," but here, it often feels like fire and Elemental don't quite mix.
Pixar is no stranger to having the "outsider" theme in their stories – even the recent Luca was about the intolerance of humans towards the sea creatures, and here, the elements have their own prejudices against each other. It feels like the makers of Elemental are trying to say something about how we need to all get along and learn to live with each other – which is definitely true – but what makes it not work so well here is that water can literally extinguish fire, and fire can literally vaporize water. I'd say it's a pretty rational fear to have towards an element if you could be burned up by another people group. Here, it's almost like saying, "You can live afraid of a wild grizzly bear, but maybe you can actually be really good friends if you just tried!" And then you're more likely to become his afternoon snack than become besties with that grizzly.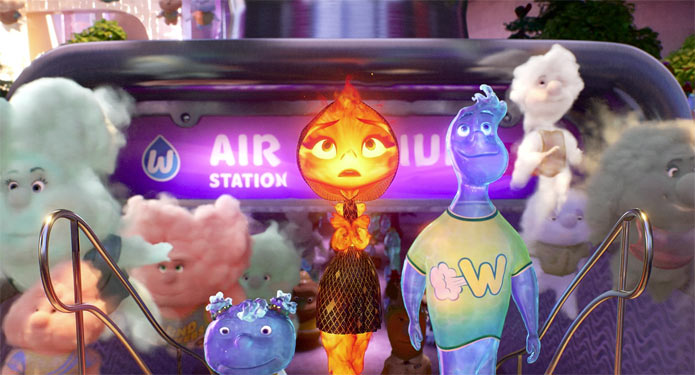 The content of Elemental definitely falls under the PG rating. There isn't much by way of violence or dark content (there are no witches and spells and monsters and such), but there are a few instances of suggested profanity that isn't too subtle. The "a" word is suggested in a play on words when a fire character tells another to "Get off your lazy ash," and the "F" word is suggested when a character (I think it was a cloud) uses "fluffing." Wade also yells "Holy Dewdrop!" at one point, and Ember says the unfinished "What the–" twice. (Although, to be fair, that last incomplete phrase has been heard in many kids shows and movies for years.) There isn't any sensitive sexual content beyond the same-sex teenage couple, but there's a joke where Ember's father, Bernie, happily says he has more time for "hanky panky" at one point. It's an unexpected remark that is likely to elicit laughs out of shock, but it should be vague enough to go over the littler kids' heads.
I used to look forward to each Pixar movie with great enthusiasm and interest, but it's gotten to the point where – not only are their movies just not living up to the standards they've previously set, but I just can't quite trust them anymore to deliver quality family-friendly content. Is Elemental bad? Not at all. But is it among the most notable Pixar entries? Not even close. I wouldn't be surprised it Pixar redeems themselves with a truly great new movie in the coming years, but I also wouldn't hold my breath.
– John DiBiase (reviewed: 8/26/23)
iTunes / Digital Copy Bonus Features
Bonus Features*
Short Film
Carl's Date – Written and directed by Academy Award® nominee and Emmy® Award winner Bob Peterson and produced by Kim Collins, this all-new short, "Carl's Date," finds Carl reluctantly agreeing to go on a date with a lady friend —but admittedly with no idea how dating works these days. Ever the helpful friend, Dug steps in to calm Carl's pre-date jitters and offer some tried-and-true tips for making friends — if you're a dog. "Carl's Date" opened in theaters in front of Disney and Pixar's Elemental.
Featurettes
Ember and Wade – Take a deeper look at the development of main characters Ember and Wade, from early designs to final effects, and learn how the complex work of the technical and character teams brought these characters to life.
Next Stop: Element City – Explore how Element City is built to accommodate its different inhabitants. Director Peter Sohn and crew members share insights about the evolution of the designed world, as well as some of the research that inspired its unique look.
Paths to Pixar: The Immigrant Experience – Hear from first-generation filmmakers on the Elemental crew as they share their journeys to Pixar. Discover how Elemental's real-world themes of sacrifice and identity, amongst many others, reflect or diverge from their own lived experiences.
Deleted Scenes
Director Peter Sohn introduces five scenes that are storyboarded, set to music, timed, and voiced, but are not included in the final version of Elemental.
Intro Ember – An alternate opening in which our hero Ember helps a newly immigrated Fire family navigate through, and acclimate to, Element City. Scene introduced by director Peter Sohn.
Mom Rejects Wade – Ember's traditional parents learn that she's enamored with watery Wade…and it doesn't go well. Scene introduced by story supervisor Jason Katz.
Dante Challenge – In an attempt to keep Ember apart from Wade, Bernie tasks her with finding a place to live for newcomer Dante, who Wade finds himself rather enamored with. Scene introduced by story artist Nira Liu.
Brook Dinner – Ember joins Wade for dinner at his home, in this abandoned storyline in which Wade's mother, Brook, is revealed to be the villain diverting water into Firetown. Scene introduced by story artist Anna Benedict.
Beach Proposal – Sharing a tender moment on the beach, Ember and Wade propose marriage to each other. Scene introduced by story artists Yung-Han Chang and Le Tang.
Audio Commentary
Elemental Filmmaker Commentary – Join director Peter Sohn, supe tech Sanjay Bakshi, supervising animator Mike Venturini, and directing animator Gwendelyn Enderoglu as they provide insight into the making of this remarkable animated feature while you watch it.
*bonus features vary by product and retailer
Parental Guide: Content Summary

 Sex/Nudity: Wade introduces his sister and "her girlfriend" to Ember; Wade comments that Ember is "hot," meaning in temperature, and she takes that as a comment about how she looks and acts offended. He tries to clarify what he meant to no avail; Bernie happily comments that he'll have more time for "hanky panky" with his wife, Cinder.


 Vulgarity/Language: 1 "Get up off your lazy ash"; 2 "What the -"; 1 "fluffing" (instead of the "F" word); 1 "Holy dewdrop!"


 Alcohol/Drugs: None.


 Blood/Gore: None.


 Violence: Water drips on Cinder, a fire woman, and part of her head goes out; Ember loses her temper and sends out a burst of energy, setting things on fire in their store; We see her do this again several years later; A flashback shows their grandmother dying in a puff of smoke; Ember bursts in frustration again and sets stuff in a room on fire. A water pipe bursts and part of her face goes out; Ember accidentally burns up a bush charscter's body foliage off; A vehicle goes through a cloud guy and he reforms; Ember's temper burns up a room of plants and the facial foliage off of an earth man's face; Bernie tries to fix pipes and not get water on him; We see a storm flashback in Fire Land, with the aftermath of destroyed houses; Water floods into a canal and Wade gets swept away until Ember saves him; A little kid whoops Wade in the butt with a pool noodle and he reacts in pain; A dam bursts and a windmill falls and takes out the rest of the dam and then a bridge as water floods the town; Ember tries to escape rushing water and barricades herself in an oven with Wade, who starts to evaporate due to the heat.