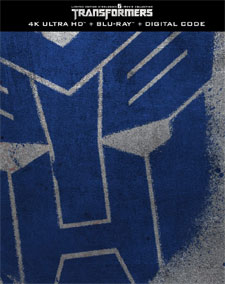 Transformers Limited Edition Steelbook 6-Movie Collection
The Movies:


The Box Set / 4K Transfer:


4K UHD / Blu-Ray Steelbook Release Date: May 30, 2023 (Amazon.com)
Plot Summary
Transformers Limited Edition Steelbook 6-Movie Collection synopsis:
The TRANSFORMERS 6-Movie SteelBook Collection includes TRANSFORMERS, TRANSFORMERS: REVENGE OF THE FALLEN, TRANSFORMERS: DARK OF THE MOON, TRANSFORMERS: AGE OF EXTINCTION, TRANSFORMERS: THE LAST KNIGHT and BUMBLEBEE all in eye-popping 4K Ultra HD. Each film is presented in a separate SteelBook with the feature on 4K Ultra HD Disc plus a Blu-ray Disc™ with legacy bonus content. All six SteelBooks are housed in a striking magnetic slipcase that also includes a collectible decal and access to Digital copies of each film. The TRANSFORMERS film franchise ranks among the biggest of all time, having earned over $4.8 billion at the global box office. (from Paramount Pictures)
Film Review
As a child of the 80's, Transformers played a big part of my childhood. Between the original toys and the killer "G1" cartoon series, The Transformers, I was a big fan. When I was just 6 years old, the series' first film released to theaters – an animated movie aptly called Transformers: The Movie. Sadly, for a child, the movie served as a slate-wiping effort to clear the franchise of its current roster of robots and pave the way for a completely new set of characters. Hasbro did this by killing off their most popular heroes, including Autobot leader Optimus Prime, and remaking the leader of the Decepticon villains, Megatron, as Galvatron. It was a crummy thing for kids to have to experience, and it was pretty much only done to allow the toy manufacturer to introduce an entirely new line of Transformers toys.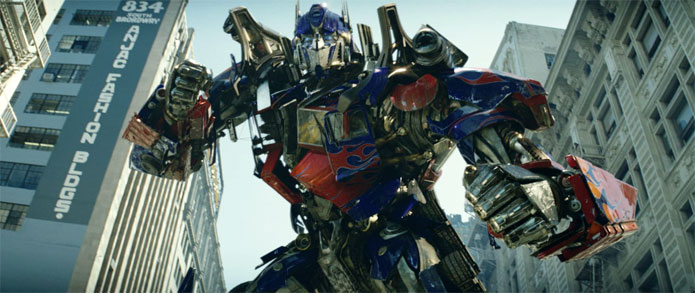 2007 gave birth to a live action franchise for the Transformers that was absolutely mind-blowing. Although action movie director Michael Bay was at the helm, audiences were introduced to the franchise's most popular characters in realistic form. The opening sequence alone, where a Decepticon helicopter wages war on a military base, dropped the jaws of many now-adult fans of the toys and cartoons. But to see Optimus Prime in the proverbial "flesh" was incredible. And they even got the original voice actor for our once-fallen hero, Peter Cullen, to reprise his iconic role.
Now it's 2023 and the franchise has spawned four sequels to that 2007 film, a spin-off movie — with its first sequel just over a week away as I write this — and several new animated series for viewers of all ages. Sadly, Bay and company may have continued to provide some truly impressive action visuals, but the content of the movies grew increasingly more vulgar and dumbed-down with each cinematic sequel. Seriously; every sequel didn't just try to expand on the Transformers universe, but it kept re-imagining the origins of the robots in pretty much each movie. Continuity didn't seem to be something Michael Bay valued. Thankfully, 2018 saw the reins being handed off to Travis Knight who directed the first spin-off, Bumblebee, to wonderful results. The story was set in the 1980's, where a girl first discovers and befriends Bumblebee, and the franchise saw what seemed like a sort of soft reboot that returned the series closer to its roots. And now, Transformers: Rise of the Beasts, which is set in the 90's, is largely inspired by the 1996 computer-animated TV series, Beast Wars: Transformers, and is looking to continue what Bumblebee reset five years ago.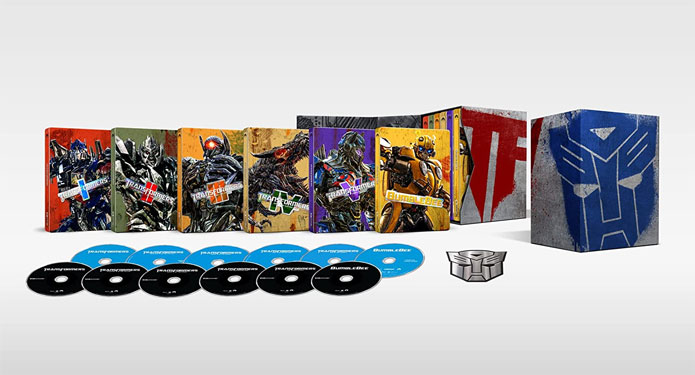 To prep audiences for the release of Transformers: Rise of the Beasts, the seventh live action movie since the 2007 original, Paramount Pictures has repackaged the first six movies into one complete box set of SteelBooks, offering the films in 4K UHD and Blu-Ray discs, along with 4K digital copies that allow consumers to choose from two retailers: iTunes or VUDU. A host of extras are also included (which is listed below). The box set features each movie in its own standard-sized Blu-Ray SteelBook which each contains both discs for the movie and their respective extras (for a total of 12 discs). The first SteelBook in the set, Transformers (2007), includes a paper slip with digital codes for all six movies, as well as an exclusive Autobot decal that is a thick, almost "puffy" sticker with a beautiful chrome shine to it. I slapped this puppy on my iPad case, but the quality of it is solid enough to easily enhance any fan's own automobile. The SteelBook cases themselves all have exclusive artwork for each one, with a standout character from each movie gracing the individual covers. And the SteelBook cases have a matte finish that have a smooth but textured feel to them.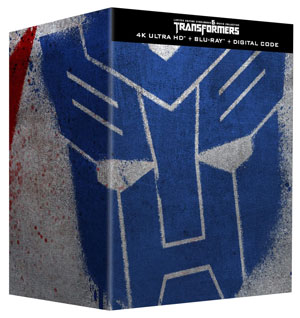 Now on to the films themselves…
I saw all of these movies on the big screen when they released, except for 2017's Transformers: The Last Knight (which just looked terrible to me at the time, and I think I was pretty much fed up with Michael Bay's treatments at the time). Almost all of the movies wowed me to some degree when they first released. I'm honestly not sure how I was able to overlook the immature writing, acting and direction, and the embarrassingly cheesy human characters, but trying to revisit most of these movies in 2023 was surprisingly painful. 2007's Transformers is still the strongest of the five Michael Bay movies, but even that one is plagued with his middle-school-lunch-room humor. It's really unfortunate. As if that wasn't frustrating enough, as the movies progress down the line, more crude jokes, profanity, and sexualization (and objectifcation) of women and relationships take over the storylines. I'd love to be able to watch all Transformers movies with my 12-year-old son, who, by the way, LOVES the original cartoon series, but unfortunately, these movies are just too awful in content to do so without something like VidAngel to filter them (which is how I showed him the 2007 movie, which he liked – but apparently not enough to ask to watch the sequels). 2018's Bumblebee, although not perfect, surprisingly rights the ship a bit, and I'm cautiously eager to see if this year's Transformers: Rise of the Beasts continues on a more mature and family-friendly path.
One slight bummer is that, when some of these movies first released on disc, they included the IMAX aspect ratio as well. I think it was the Walmart-exclusive release of Revenge of the Fallen that featured select scenes in IMAX on disc, and I remember it being pretty great. (The Transformers: Age of Extinction 3D edition definitely showcased its IMAX format as well.) The scene where Optimus takes on Megatron and a bunch of Decepticons in a forest, with Sam looking on, was shown in the full IMAX ratio, which really made the scene feel BIG. Sadly, none of those aspect ratios make it onto these 4K discs, which is a little disappointing.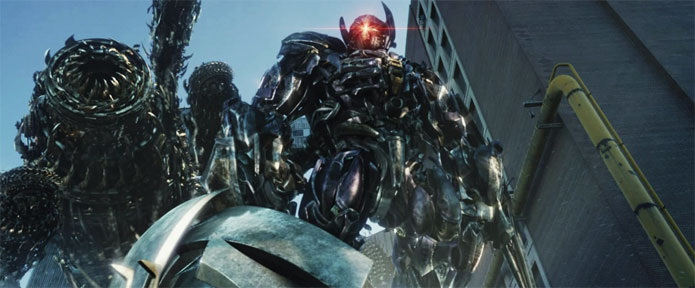 The 4K Transfer:
Of this set, the only movie I've previously seen on a 4K disc was Bumblebee, in 2018. For this review, I revisited the first four movies to see how the 4K quality is and I'm thoroughly impressed with the conversion. Bay loves his explosions and sparks, and all of the computer animated effects and live-action destruction really look incredible in 4K. As stupid as these movies tend to be – particularly with the human storylines – Bay certainly gives audiences a feast for the eyes. (That action sequence in Dark of the Moon that takes place in a collapsing office building is ridiculous, sure, but also really well done.) Sadly, in this day and age, I don't feel as though the visuals are enough to excuse just how awful Bay's sequels are. Still, in 4K, the sparks, flames, glass shards, and intricate details of the Transformers robots are really gorgeous. If you love these movies and love 4K UHD, these movies look fantastic.
The Verdict:
It breaks my heart to feel so disgusted with Transformers movies as I do with what Michael Bay has done with this beloved franchise. At one time, yes, I probably felt that I could overlook his juvenile direction and humor for the chance to see my childhood heroes come to life before my eyes, but I've since come to the accept the reality that it just isn't worth it. Revenge of the Fallen, Dark of the Moon, Age of Extinction, and The Last Knight are so laughably bad, that they're really only worth revisiting with maybe RiffTrax mock-commentary (those Mystery Science Theater 3000 guys) or with chapter-skipping at the ready with your remote. VidAngel does offer filters for all of these movies, actually, so that could help weed out some of the garbage content, but that won't change the fact that the human storylines are so cringeworthy, especially the dialog. 2007's Transformers has its faults and crude humor, but is probably the least offender in the Bay-formers films. It really was something special to see on the big screen in its day, and it's still visually impressive fifteen years later. 2018's Bumblebee course-corrected in many ways, so while I know better than to care too much anymore about this franchise as a film series, I'm a little hopeful that Transformers: Rise of the Beasts can fix things going forward. Only time will tell.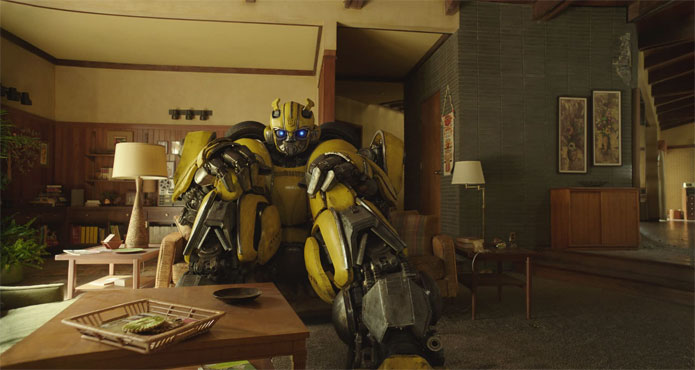 For my far more plucky, individual reviews for each movie – at the time they released – and their respective content breakdowns, please visit these links below:
– John DiBiase (5/29/23)
4K UHD Special Features Review
Bonus content included in the TRANSFORMERS 6-Movie SteelBook Collection is as follows:
TRANSFORMERS
Disc 1 – 4K Ultra HD
Feature Film
Commentary by director Michael Bay
Disc 2 – Blu-ray
Our World
Their War
More Than Meets The Eye
TRANSFORMERS: REVENGE OF THE FALLEN
Disc 1 – 4K Ultra HD
Feature Film
Commentary by Michael Bay, Roberto Orci & Alex Kurtzman
Disc 2 – Blu-ray
The Human Factor: Exacting Revenge of the Fallen
A Day with Bay: Tokyo
25 Years of TRANSFORMERS
NEST: TRANSFORMER Data Hub
Deconstructing Visual Bayhem
Deleted/Alternate Scenes
The AllSpark Experiment
Giant Effing Movie
Linkin Park – New Divide
The Matrix of Marketing
TRANSFORMERS: DARK OF THE MOON
Disc 1 – 4K Ultra HD
Disc 2 – Blu-ray
Above and Beyond: Exploring Dark of the Moon
Uncharted Territory: NASA's Future Then and Now
Deconstructing Chicago: Multi-Angle Sequences
The Art of Cybertron
The Dark of the Moon Archive
The Matrix of Marketing
TRANSFORMERS: AGE OF EXTINCTION
Disc 1 – 4K Ultra HD
Disc 2 – Blu-ray
Bay on Action
Evolution Within Extinction—The Making of TRANSFORMERS: AGE OF EXTINCTION
Just Another Giant Effin' Movie
A Spark of Design
T.J. Miller: Farm Hippie
Trailers
TRANSFORMERS: THE LAST KNIGHT
Disc 1 – 4K Ultra HD
Disc 2 – Blu-ray
Merging Mythologies
Climbing the Ranks
The Royal Treatment: TRANSFORMERS in the UK
Motors and Magic
Alien Landscape: Cybertron
One More Giant Effin' Movie
BUMBLEBEE
Disc 1 – 4K Ultra HD
Disc 2 – Blu-ray
Feature Film
Sector 7 Archive
Deleted and Extended Scenes
Outtakes
Bee Vision: The TRANSFORMERS Robots of Cybertron
Bringing BUMBLEBEE to the Big Screen