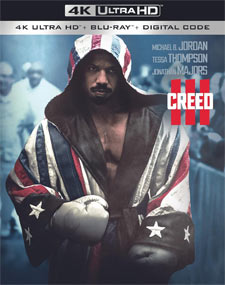 Creed III


 – for intense sports action, violence and some strong language.
Director: Michael B. Jordan
Starring: Michael B. Jordan, Tessa Thompson, Jonathan Majors, Wood Harris, Mila Davis-Kent, Florian Munteanu
Running Time: 1 hour, 56 minutes
Theatrical Release Date: March 3, 2023
4K UHD Release Date: May 23, 2023 (Amazon.com)
Plot Summary
Adonis has been thriving in both his career and family life, but when a childhood friend and former boxing prodigy resurfaces, the face-off is more than just a fight. (adapted from IMDB)
Film Review
In 2015, the 1976 Rocky film series saw its seventh entry with its first spin-off film, Creed. Shifting the focus from Sylvester Stallone's Rocky Balboa to the illegitimate son of fellow boxing legend, Apollo Creed, was an interesting move. Adonis Creed, played by Michael B. Jordan, ends up enlisting the help of Stallone's Balboa to become the next big fighter in boxing. 2018's Creed II presented a chance to do something uniquely special, pitting Creed against the son of the boxer who killed his father in 1985's Rocky IV. Stallone reprised his role as Rocky for what just may be the 8th and final time as Creed III arrives 5 years later, focusing 100% this time on Adonis, his family, and his legacy.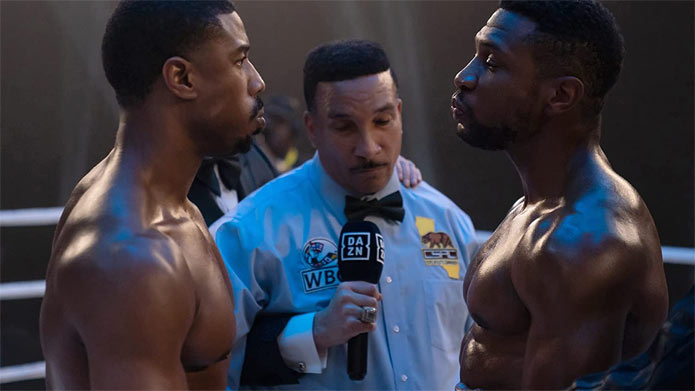 Michael B. Jordan takes the director's chair for the first time with Creed III and reprises the title role, while Tessa Thompson also reprises her role as his wife, Bianca. Rising star Jonathan Majors joins the franchise as the film's antagonist, Damian "Dame" Anderson, a childhood friend of Adonis' who suddenly comes back into his life. Especially if you've recently watched the Rocky films or the previous Creed movies, Stallone's absence is felt, and some are probably wondering why Rocky wasn't around to help Adonis and his family out of a jam this time. According to social media from Stallone and other news reports, the actor had a falling out with the producer of the franchise, to whom Sly had sold the Rocky rights to way back in 1976. Sly also didn't approve of the edgier tone of this movie, and apparently had nothing at all to do with this, the 9th entry in the Rocky series.
Honestly, I wouldn't necessarily say it's a bad thing that Rocky isn't in Creed III. While, yes, the Rocky series has always been entirely centered around him, the Creed series has always felt like a spin-off or soft reboot in a way. Rock went from title character to appearing on the side, so it kind of feels natural that he'd step out at some point so the cinematic boxing world he created could live on without him. To me, I always felt like the Creed films were acting as a passing-of-the-torch in some form. But, admittedly, I haven't had any intense investment in this series like some fans most certainly do.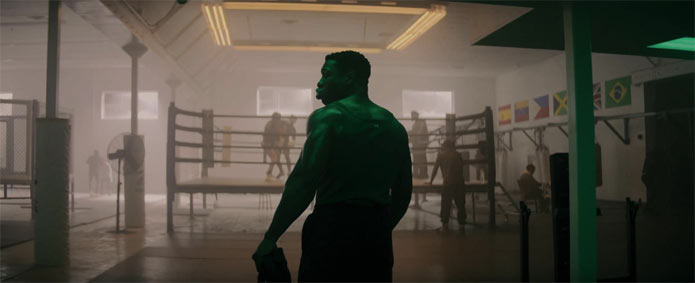 Creed III, alone or within this series, is a solid boxing movie. The fact that the story is extremely personal to Adonis' life makes it unique. And 9 films into a series like this, it only seems fair to change things up a bit — and I wouldn't say they even change it up all that much, either. While Stallone considers this entry unusually dark for the franchise, I'd be willing to counter that Rocky IV killing off Apollo Creed during a boxing match was a pretty dang dark move — and for a PG-rated family film. At least, with Creed III tackling subject matter like foster care, child abuse, imprisonment, and revenge, these are all rather relatable themes for this day and age.
Jonathan Majors' Dame is a good foil for Jordan's Adonis. Honestly, I originally had a hard time warming up to Adonis because he was far more angsty and arrogant in the previous movies than Rocky Balboa ever was. Adonis is a much different character than Rocky, clearly, but I just had trouble even liking him. In Creed III, it seems like Adonis is finally down-to-earth. Sure, he guards his past – of which he is not proud of – with tenacity, and it causes a pretty heated argument with Bianca, but we also get to see him here as a tender, loving father to their deaf daughter, Amara, who is played adorably by Mila Davis-Kent. The scenes with Adonis and Amara are easily some of my favorite in the movie's 2-hour runtime. He's come a long way since we met him in 2015's Creed. It seems like Adonis has finally leveled out and is ready to let someone else have the spotlight in the ring for a change when Dame comes back into his life. It shakes things up for the Creed family and it isn't long before we know Dame's true intentions. When the inevitable fight occurs between Dame and Adonis, Jordan implements some fresh, if not unusual, takes on the boxing action that aim to be more symbolic than straight-forward. Jordan also slows down the action several times to show how the body reacts to a punch, with the skin rippling and sweat leaping off their bodies. For the most part, these changes work to add something new to the series, but it could also be a hard pill to swallow for some.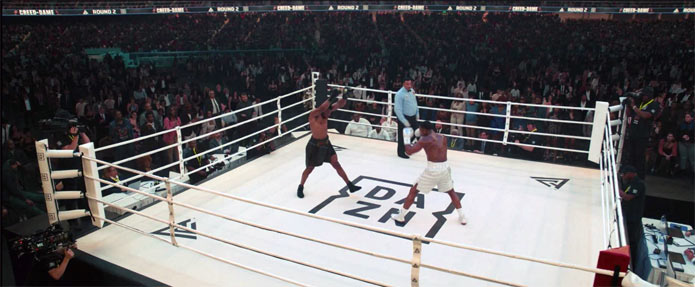 As far as the other content goes, most of it involves some profanity along with the usual boxing action. We clearly hear one "F" word in a song that plays as part of the soundtrack, and about a baker's dozen of the "S" word. There are a handful of other cuss words as well. The boxing action gets pretty bloody at times – I suppose as can be expected – but there's a particular instance where the mouth guard is removed from a man's mouth, and we see blood on the guard and in their mouth as they spit blood and a tooth into a bucket. It's only worsened by some explicit sound effects, too. Finally, the theme of child abuse during foster care is pretty sad. We see a flashback to a child beating up his former caregiver because of his abusive nature, and it's shown a couple times in segments. Overall, it is a bit of a darker entry, but I wouldn't say it's as drastically "darker" as Sly is making it sound.
The Creed films have all been pretty good thus far, and worthy additions to the beloved Rocky franchise. Creed III may deviate from the norm here and there, but I think it stands on its own as a decent and entertaining entry to the series. If you don't mind seeing what is basically a Rocky movie without Rocky Balboa, and are fine with this movie making the passing-of-the-torch a firm direction, then Creed III is definitely worth tuning in to. As far as picture format goes, the 4K UHD transfer is really excellent. I had seen the film on the big screen while on a trip and I found the theater experience to be pretty impressive for the movie. However, with how crisp the visuals are in 4K, and how bold the color is, I have to say this is one of the better 4K releases I've seen recently.
– John DiBiase (reviewed: 5/24/23)
4K UHD Special Features
Creed III 4K UHD and Blu-ray combo packs contains the following special features:
Michael B. Jordan: In the Ring/Behind the Camera – featurette
There's No Enemy Like the Past: Donnie and Dame – featurette
Deleted Scenes
Parental Guide: Content Summary

 Sex/Nudity: Bianca wants Adonis to remove a stained shirt he's wearing and he teases her that she wants to get him naked. He flashes his abs and they kiss playfully as holds her in his lap.


 Vulgarity/Language: 1 "F" word in a song, 13 "S" words (some in songs), 12 uses of the "N" word, mostly in songs, 6 "a" words, 5 "d*mn," 3 "h*ll," 2 "Oh my G-d" (1 being in a song)


 Alcohol/Drugs: Creed and Dame drink together in his home; People are seen drinking at a beach party; We see someone spraying champagne after the last fight.


 Blood/Gore: During Felix and Dame's boxing match, we see blood on Felix's face and his eye swollen. We see, in slow motion, Dame delivering an elbow to Felix's cheek and some blood fly as he does it. We then see the bloody cut on Felix's cheek and blood that has dripped onto his chest; As they remove Dame's mouth guard, we see blood all over the guard and in his mouth. We then see him spit into a bucket in slow motion with blood, water, and a tooth spilling out; We see lots more blood on Felix's face and on his chest; Dame punches Creed in the face. We see some blood around his eye; We see slow motion of blood flying from Adonis' mouth; Adonis has some blood on his shirt while sparring. He also has some on his mouth and nose; Creed has blood on gauze bandages on his hands; Adonis has blood on the bridge of his nose during the climactic fight; Adonis has blood around his swollen eye.


 Violence: We see some boxers sparring in the opening scene; A kid punches a man outside a convenience store. He falls down and the kid keeps railing on him while he's down; We see Adonis boxing in the ring; We see some guys sparring in gym; We see more of the flashback where the boy is punching the man outside the store; We hear that the Creeds' daughter, Amara, hit a child for tearing up her drawing (We see part of it as well); We see Damian sparring with Felix and Dame takes a violent cheap shot at Felix; A fight breaks out at a party and a man hits a fighter with a pipe on his hand. We later hear the fighter's hand was broken; Dame and Felix fight in the ring. Both of them have varied amounts of blood on them; Adonis punches a man at beach party; Dame punches Creed in the face; Creed throws a glass in anger in his house and it shatters; We see more of the flashback as cops arrest a boy who has a gun; We see a training montage with Creed and Dame both sparring with others; We see an intense boxing match between Adonis and Dame.