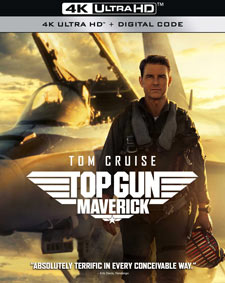 Top Gun: Maverick


 – for sequences of intense action, and some strong language.
Director: Joseph Kosinski
Starring: Tom Cruise, Miles Teller, Jennifer Connelly, Monica Barbaro, Jon Hamm, Ed Harris, Val Kilmer
Running Time: 2 hour, 11 minutes
Theatrical Release Date: May 27, 2022
4K UHD / Blu-Ray Release Date: November 1, 2022 (Amazon.com)
Plot Summary
After more than thirty years of service as one of the Navy's top aviators, Pete Mitchell is where he belongs, pushing the envelope as a courageous test pilot and dodging the advancement in rank that would ground him. (from IMDB)
Film Review
After two years of waiting for its theatrical release, the long awaited, much rumored sequel to 1986's fighter pilot drama Top Gun has landed. It's not common for sequels to arrive 36 years after the original film, but Top Gun: Maverick has done just that. A sequel for Top Gun had actually been in the works 10 years ago, when Tom Cruise was working closely with original film's director, Tony Scott, to develop the sequel for Paramount Pictures. But tragically, Scott took his own life and Paramount grounded the production indefinitely. Years later, however, Cruise teamed up with his Oblivion director, Joseph Kosinski, and the rest is history. So is Top Gun: Maverick worth the wait?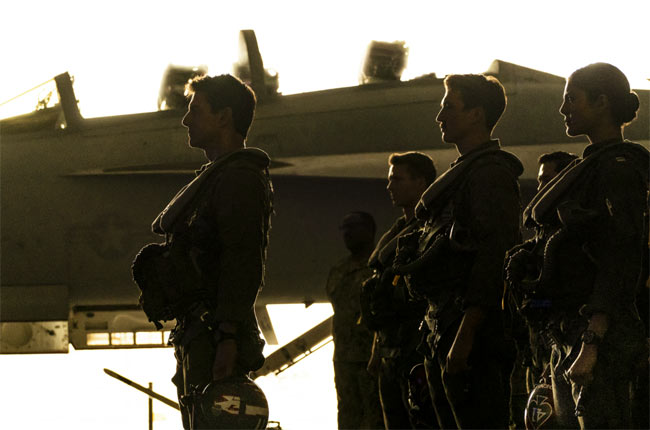 As a child of the 80's, I grew up with the 1986 original. It was iconic for its memorable music, the rivalry between Cruise's Maverick and Val Kilmer's Iceman, and the tragedy of Maverick's co-pilot, Goose (oh, and that awkwardly steamy love scene set to Berlin's "Take My Breath Away"). So, 36 years later, what might a Top Gun sequel look like? I couldn't help but chuckle when the first thing the audience hears as Top Gun: Maverick starts is its very 1980's theme song, written by Harold Faltermeyer. It's then immediately followed by a reprisal of Kenny Loggins' smash hit "Danger Zone," and the movie undeniably feels like Top Gun already. (In a good way, of course.) But what about the rest of the movie?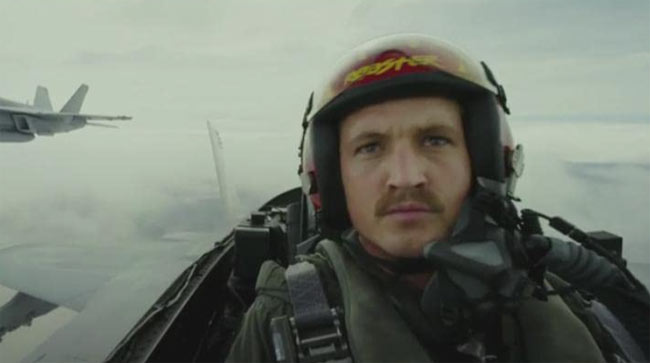 Where any movie 36 years after its original might take things in a completely new direction, forsaking its original characters for a full-on reboot, Top Gun: Maverick embraces them. The first movie has always been about Tom Cruise's character Pete "Maverick" Mitchell, and Top Gun: Maverick unapologetically continues his legacy (I mean, it's even in the title!). Top Gun: Maverick organically follows where Marverick has been for the past couple decades, and where it's brought him to in his life. This sequel is an interesting mix of calling back to what's memorable about the first movie, introducing new characters, but keeping the focus on the heart of what makes Top Gun, Top Gun, and taking the action to a much greater level. One might feel like the movie is one big ego trip for Tom Cruise – and hey, let's be honest, maybe it is – but original Top Gun fans most likely love the movie because of Maverick and Goose, and the fighter pilot's journey. So for Top Gun: Maverick to be predominently about Maverick again just makes it feel genuine. And since Cruise is so dang committed to making sure his movies entertain, he delivers here… in spades.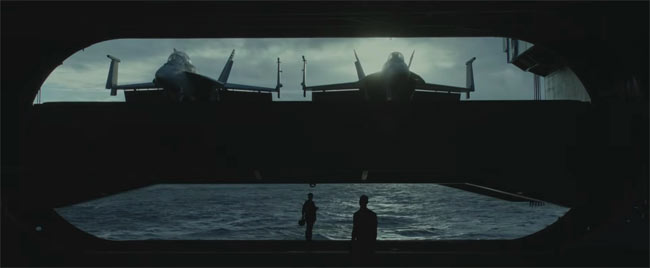 In my personal opinion, revisiting Top Gun two years ago for its 4K release, and then again the night before seeing Top Gun: Maverick on IMAX, I felt kind of underwhelmed by the movie. Granted, it's a little slice of 80's nostalgia that's got its charms, but the in-air action and dogfighting never impressed me. In both recent viewings, I felt like a lot of the action in the air was hard to follow and it was tough to determine who was flying what. It seemed like it wasn't until the result of the action came to light that we actually would find out what was happening (or another character had to verbally explain what happened). I'm sure I'm in the minority with that complaint, but I will say this — Top Gun: Maverick does not disappoint with the high-flying action. It's immediately evident that Kosinski and Cruise set out to make a visually thrilling and immersive action movie, and folks – it delivers. I'm a fan of movies on the large format IMAX screen, but Top Gun: Maverick was filmed specifically to be seen in a this format. The aspect ratio does change from time to time to make use of the full IMAX screen during the action in the air, and it's glorious. Cruise ACTUALLY filmed his scenes while flying a jet, and it's obvious. You can see it on his face. What's even more amazing is all of his pilot co-stars ALSO flew their own jets and were filmed in the air. It's incredible, and the IMAX format really makes you feel like you're right there for the action. It's obvious that there is no blue or green screen; you're right up in the clouds with them!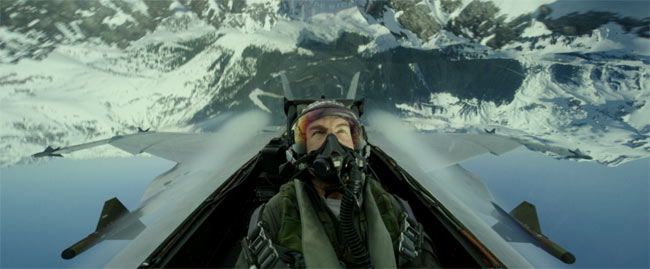 Now, if the 1986 PG-rated Top Gun was released today, it would have definitely been PG-13. The content for Top Gun: Maverick is also definitely PG-13. It doesn't contain nearly as much profanity or blasphemy as the original did, but it still contains quite a bit of langugage, including at least one use of the "F" word from Miles Teller's character later in the film. In what is kind of an emulation of the first movie, there is a brief love scene, but it's far less sensual, there's no nudity, and it's just a couple seconds long involving mostly loving glances and kissing. There is plenty of violence and peril involving the jets — with some great action during the film's climax, but it's not graphic or anything. There's a flashback to the first movie with Goose's dramatic death, but the blood from that scene isn't shown.
I'm quite impressed with what Tom Cruise and director Joseph Kosinski were able to accomplish with Top Gun: Maverick. It's a delight to see Cruise return as Maverick, and the new characters are all surprisingly good (I'm not a Miles Teller fan, but he's great as Goose's son, Rooster). They did a great job assembling a new team of Top Gun pilots, and all of the actors do really well in their roles. And while it's bittersweet that Kelly McGillis does not reprise her role as Charlie, I loved seeing Jennifer Connelly introduced into this Top Gun world as new character, Penny. She and Cruise have some good chemistry and I really enjoyed their scenes together.
Top Gun: Maverick is an anomaly. It's unusual for a sequel to not only be this good, but to come so far removed from its predecessor and still be so good. In an age where computer generated effects and money-grab sequels are all the rage, Top Gun: Maverick is a sincere breath of fresh air — especially on the big screen.
– John DiBiase (reviewed: 5/29/22)
4K UHD Special Features Review
Top Gun: Maverick is out now in 4K, Blu-Ray, DVD and through digital retailers. The special features in the 4K UHD set (which is just the 4K disc and a 4K digital copy) include the following:
Top Gun: Maverick in 4K UHD – I saw this movie in the theaters, I think… 5 times? Which is unsual for me. But 4 of those times were on IMAX (Gotta love AMC A-List!) and another was at the drive-in. It is one of the absolute best big screen movies I've ever seen. Top Gun: Maverick is just incredible in large format. So how does it translate to home video? Not surprisingly, Top Gun: Maverick looks exceptional in 4K. The aspect ratio does change throughout the movie to reflect the IMAX format, so the letterbox widescreen ratio expands to fill the screen to give viewers the best possible image. A lot of 4K releases just look good, and sometimes only slightly better than Blu-Ray HD, but it's obvious that Top Gun: Maverick is true 4K Ultra HD. The clarity and color is just phenomenal. Cruise mentions that they used 6K cameras inside the planes, and it's definitely evident while watching the 4K transfer. This is a beautiful 4K movie, and it deserves it. (Frankly, I'd give this movie 5 stars if it weren't for all the profanity. It's definitely the best of the year!)
Mission: Impossible – Dead Reckoning, Part One with Introduction by Tom Cruise (3:55) – In this iTunes Extra, you can watch the teaser trailer for next year's Mission: Impossible – Dead Reckoning, Part One, with an introduction from Tom Cruise, while he's sitting on a plane as it's really flying in South Africa!
Cleared for Takeoff (9:14) – Tom created a flight school for the cast. He knew the flying action had to do it real. We see some footage of their rigorous test flights and even water training for the cast. (4 "Oh my G-d")
Breaking New Ground – Filming Top Gun: Maverick (7:56) – Tom didn't want to make a Top Gun sequel unless the story was right. They worked with the Navy to figure out how to mount 6 cameras in a real plane and stand up during the G-forces. The cameras were specifically built for this movie, with a resolution of 6K. Some jets had cameras mounted on the bottom to capture the other jets in action. The actors had to be taught how to direct themselves and do their scenes without being able to communicate with the filmmakers on the ground. They had some of the best fighter pilots in the world helping with the production. (1 "Oh my G-d," 1 "h*ll")
Forging the Darkstar (7:30) – Director Joseph Kosinski came up with the idea for Maverick to be testing new aircraft, so Kosinski worked with Lockheed Martin to design a new aircraft, named Darkstar, just for this movie. It's really cool to see what went into the aircraft's design.
A Love Letter to Aviation (4:48) – As Monica Barbaro states, Tom's passion for aviation is infectious. Maverick's plane at the end is really Tom's own P-51 Mustang plane, and he really flies it in the movie — and really took Jennifer Connelly up in the air in it! They show us some cool footage of how they directed and filmed the footage as well.
Masterclass with Tom Cruise – Cannes Film Festival (49:04) – This is an interview with Tom from Cannes Film Festival, where he sits down with an interviewer and live audience to talk about the film and his career. They interview him about his love for movies, when that started, his passions, how films unite people, the technicality of filmmaking (lenses, lighting, etc), and more. He also says he never would have released Top Gun: Maverick to home streaming, as he believes so passionately in the movie theater experience. He's such an intelligent fan of cinema and filmmaking. Even his adoration for film is infectious! (2 "a" words)
James Corden's Top Gun Training with Tom Cruise (26:42) – On The Late Late Show with James Corden, Tom Cruise took the late show host up in a two different planes for an unforgettable, wild ride. Corden is so rattled by the experience that it's just so hilarious and I'm thrilled it's included here! (10 bleeped-out profanities, as well as 19 "Oh my G-d," 3 "Oh G-d," 2 "h*ll," 1 "d*mn," 1 "b*stard" – almost all from Corden)
Finally, both iTunes and the 4K disc also include music videos for Lady Gaga's "Hold My Hand" (3:51) and OneRepublic's "I Ain't Worried" (2:36).
– John DiBiase, (reviewed: 10/31/22)
Parental Guide: Content Summary

 Sex/Nudity: We see the men without their shirts during an extended outdoor football game on the beach, and Phoenix in an athletic micro tube top; After Maverick drops Penny off at her house one night, she pushes her door open, inviting him in. We then see a quick montage of the two kissing and then lying down – they're both clothed. Sex is implied. We then see them in bed afterwards – Maverick without his shirt, and Penny clothed. Her daughter unexpectedly comes home and Maverick sneaks out so she won't see.


 Vulgarity/Language: 1 "F" word, 24 "S" words, 18 "d*mn," 1 "g*dd*mn," 2 "J-sus," 1 "d*ckhead," 3 "a" words, 2 "S.O.B," 5 "Oh my G-d," 8 "h*ll," 3 "p*ss," 1 "G-d"; We see a photo of Goose giving the middle finger; Phoenix flips the middle finger at one of the other pilots.


 Alcohol/Drugs: We see Maverick having a drink in Penny's bar with people drinking all around; We see several scenes in Penny's bar with people drinking.


 Blood/Gore: There's a tiny bit of blood on Goose's face in a flashback; Some characters have some scrapes on their faces.


 Violence: An aircraft is pushed to its speed limit and we see it explode in the sky; A man is thrown out of a bar onto the beach for not being able to pay his tab; We see a flashback to Goose's death with he and Maverick trying to eject, and then Goose smacking his head on the ejected cockpit and Maverick cradling his dead body in the water; A pilot passes out from the G-forces and nearly crashes, but wakes up before he does; A pair of pilots bail out when their plane malfunctions, and they survive; Some jets are hit by a birdstrike, and so we see a bunch of birds hitting the planes, causing damage to the planes; A plane is hit by a missile and ends up crashing; A helicopter shoots at a man on the ground, nearly killing him as he dodges the bullets; A plane shoots down a helicopter; Another plane is hit and crashes; A dogfight ensues where we see multiple planes damaged by gunfire, and some of the planes explode; A plane is hit by a missile and explodes.