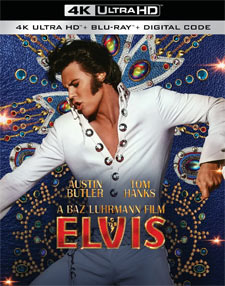 Elvis


 – for substance abuse, strong language, suggestive material and smoking.
Director: Baz Luhrmann
Starring: Austin Butler, Tom Hanks, Olivia DeJonge, Richard Roxburgh, Dacre Montgomery
Running Time: 2 hours, 39 minutes
Theatrical Release Date: June 24, 2022
4K UHD Release Date: September 13, 2022 (Amazon.com)
Plot Summary
The life of American music icon Elvis Presley, from his childhood to becoming a rock and movie star in the 1950s while maintaining a complex relationship with his manager, Colonel Tom Parker. (from IMDB)
Film Review
Musicals and Musical biopics seem all the rage these days. From Get On Up to Bohemian Rhapsody and Rocket Man, there have been plenty of movies in recent years that have shined a spotlight on famous musicians. The latest effort is Baz Luhrmann's story on Elvis Presley. Interestingly enough, though, ELVIS is a film that isn't telling the story of Elvis from his perspective, but from his controversial manager, Colonel Tom Parker, who questionably helped Elvis rise to stardom. Hollywood hero Tom Hanks dons dramatic prosthetics to dive into the role of Parker, and we see him as the devil on Elvis's shoulder through much of the film.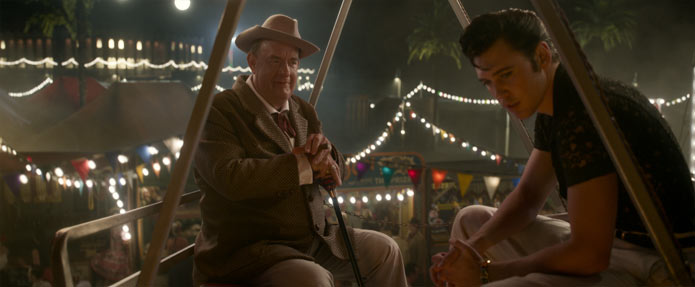 But you can't make a movie about Elvis without the main man. Austin Butler, who some may have seen in projects like Once Upon a Time in Hollywood and The Shannara Chronicles, goes all-in with the role of Elvis, even singing some of the artist's early work in the scenes where he's just starting out (they mostly used Elvis's real recordings for later musical numbers). Butler isn't exactly a dead-ringer for ole E.P., but with the help of wigs, some prosthetics, and devotion to replicating the performer's signature moves, Butler becomes Elvis. He also proves to have the acting chops to carry the dramatic weight of the story, making Butler the main reason for fans to see this movie.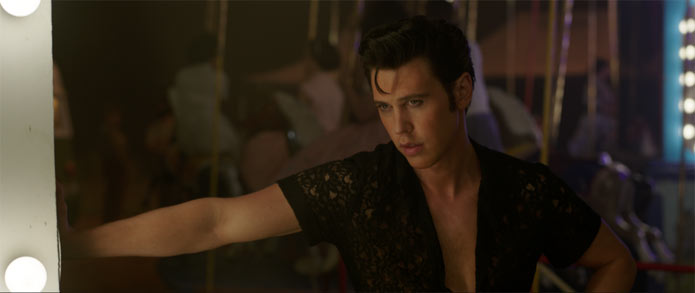 Baz Luhrmann, who previously brought us movies like Romeo & Juliet, Moulin Rouge, The Great Gatsby, and the truly terrible Australia, helms this journey through Elvis's rise and fall of fame, and takes a very stylistic and artsy approach to telling the story. When the movie starts out, Luhrmann takes a fast and frenetic approach to telling the backstory of Presley, whipping in and out of the film's "present" and through various perspectives and viewpoints. It's truly dizzying and disorienting at times, making it difficult to enjoy. But once Luhrmann seems to get that out of his system, and settles on Elvis's prime years, he gives it a chance to breathe. Unfortunately, that isn't the other odd artistic choice of Luhrmann's. He tends to randomly work modern hip hop and rap songs into the film's soundtrack for effect, including a song from Eminem in the end credits. It's absolutely baffling as to why he chose to go this route, as it's often jarring and rips the viewer out of the time period Luhrmann has created for us to visit. Other than those gripes, the director's visual artistic direction and attention to detail is beautiful. From elaborate sets, a faithful recreation of Graceland, live show reenactments, and exquisite warddrobe designs, ELVIS is a sight to behold (especially in the 4K UHD format). When Luhrmann gets it right, he gets it very right, but he also knows how to make a strong misstep too.
Tom Hanks may seem like an odd choice to play the unscrupulous Colonel Tom Parker, but he does well in the role — aside from the questionable accent he gives the character. What's interesting about Parker, and how Hanks plays him, is you're not quite sure what to make of him. Hanks is known for usually being the good guy, and he brings a warmth to Parker that fits the mysteriously supportive nature of the man. But it's that warmth that lulls people into a false sense of security. I don't know the real Tom Parker, just the one presented to us in the movie (and, according to this interesting Vanity Fair article, Luhrmann got plenty wrong about the character), but Hanks' version of Parker feels entirely too believable for the music industry (now that I can attest to) to question his intentions. It's all too often you'll meet people who seem to have your best interests in mind, only for you to later find out – often too late – that you were gravely mistaken. The only problem with Hanks' take on Parker is that he never quite stops seeming like "Tom Hanks in a fat suit." While Colin Farrell knocked it way the heck out of the ballpark as the Penguin in The Batman, buried under prosthetics and an intense performance — really, you couldn't tell at all it was Farrell — you can always tell that Parker is Hanks.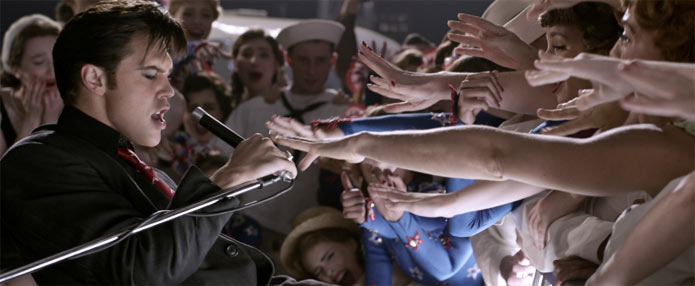 The content for ELVIS is pretty edgy, unfortunately. There's one sort-of mumbled "F" word from Elvis later in the film, a couple uses of the "S" word, and quite a few uses of "g*dd*mn" throughout the film. The fact that Presley danced provocatively, driving the ladies absolutely bonkers, is made clear here that it was received as a sexual gesture. We also see Elvis give into the temptations of the road, sleeping with fans – before marriage and even during his marriage – and struggling with a serious drug addiction (which may or may not have caused his death at just 42). There is some moderate violence – mostly some things getting thrown around in anger, and some news footage announcing the assassination of Robert Kennedy (with what looks like might have been authentic news footage). Elvis also clearly struggled with alcohol abuse, as did his mother, which apparently caused her death. The content is relatively weighty, so do keep that in mind when tuning in to watch ELVIS.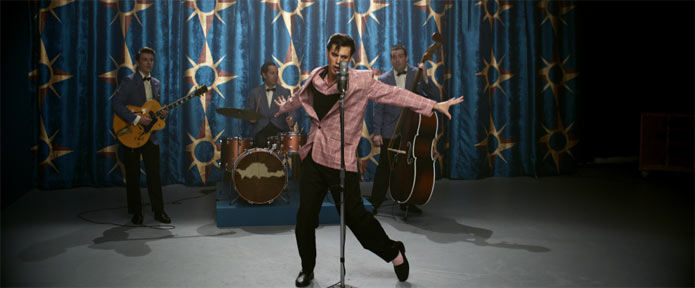 Fans know that Elvis Presley came from a God-fearing Christian family and had roots in gospel music. (His stepbrother has claimed that Elvis would even pray before shows and credit God with his success.) This is touched on very lightly throughout the film, but doesn't play a really big part in Elvis's story here. Clearly, the man had his demons, no matter what his relationship with God was (didn't David have that, too?), but it's evident that the man had soul and a heart for his gospel roots. I would have loved to see a little more hope and a deeper look into his spiritual beliefs in ELVIS.
ELVIS isn't a movie for everyone. I'm no expert on the superstar's life, so I can't say how accurate Baz Luhrmann's telling of the artist's story is. But as a musical dramatic film about the music icon's life, ELVIS is a very good film. Again, the content is edgy at times, so do use your own discretion when deciding whether or not to watch.
– John DiBiase (reviewed: 9/12/22)
4K UHD Special Features Review
ELVIS is out now in 4K, Blu-Ray, DVD and through digital retailers. The special features in the 4K UHD set include the following:
Bigger Than Life: The Story of ELVIS (22:24) – The cast and crew of ELVIS talk about the process of making the movie a reality. Baz talks about the casting process, while Austin discusses his audition, and his dream for playing the lead in a movie like this. They also talk about how the movie is really Colonel Tom Parker's story, and we see how they assembled the prosthetic makeup for Tom Hanks. (1 "d*mn")
Rock 'n' Roll Royalty: The Music and the Artists Behind ELVIS (7:34) talks about using great artists and musicians to round out the cast for the musical stars that surrounded Elvis. Austin talks about going to Nashville and singing in a real church to get a feel for the setting, and recording his musical parts in Memphis as the young Elvis.
Fit for a King: The Style of ELVIS (8:02) – Baz's wife Catherine Martin is a celebrated costume designer who worked on making 3 decades of designs for Presley in the film. She even reveals that Austin – as Elvis – had 90 "changes" during the movie, which is incredible! She also discusses Baz's focus on specific color schemes per decade the film takes place in.
Viva Australia: Recreating Iconic Locations for ELVIS (7:27) is about the various locations seen in the film, and Catherine talks again about how color comes into play there as well. Austin Butler actually visited the real Graceland and spent a day there, and marveled at how they had recreated it in Australia for the film.
"Trouble" Lyric Video (2:16) – This is a short music video for the performance of "Trouble" from the film, set to various scenes from the movie, with the lyrics creatively displayed throughout the song.
Musical Moments (46:14) – On iTunes, a total of 19 song moments from the movie are isolated for viewers to watch completely separate from the movie (meaning, selecting a song jumps to that part of the movie, but once the song selection is over, it jumps back out of the movie instead of continuing the film from there).
– John DiBiase, (reviewed: 9/12/22)
Parental Guide: Content Summary

 Sex/Nudity: A couple dancing sensually. She wraps her legs around him; We see girls in the audience freaking out and lusting after Elvis's moves as he wiggles his body and shakes his hips; When Elvis's mother expresses to his father that she worries the girls in the audience want to hurt him, he replies "Hurt him? They look like they want to —" and it cuts off there; The Colonel says in narration something like "Girls were having feelings they weren't sure they should enjoy," calling it "forbidden fruit," and that they wanted to "eat him alive;" We see girls throwing their underwear on stage while Elvis is playing; A girl comes into Elvis's hotel room and starts undressing. They kiss on the bed and the scene ends (sex is implied); News reports, headlines and officials complain about Elvis's dancing and performances as vulgar; Elvis passionately kisses Priscilla. We then see the two kiss again and learn that they get married; We see girl dancers pawing Elvis during a TV special; Elvis playfully slaps Priscilla's butt when they're in their bedroom bathroom; We see Priscilla in a small, but not revealing, nightgown; in Priscilla's dress shows cleavage; Priscilla watches as Elvis kisses a bunch of female fans on the lips; Someone throws lingerie at Elvis on stage and he puts it on his head on stage; We see Elvis with a girl in her bra and panties in his bed. (He's married to Priscilla at this time, so it's an affair). She gets mad at him and we see her throwing an outer shirt on and storming out; Priscilla comments to him that she knows about all the girls who visit him; Priscilla complains that Elvis won't make love to her anymore.


 Vulgarity/Language: 1 "F" word, 3 "S" words, 15 "g*dd*mn," 3 "S.O.B," 5 "h*ll," 3 "a" words (in a soundtrack song); 1 "b*tch" (in a soundtrack song); 1 "Oh G-d," 7 "d*mn" (3 of these are in the end credits song); 1 "G-d," 1 "*ssh*les," 2 "Oh my G-d," 1 "Oh L-rd," 1 "b*stard"


 Alcohol/Drugs: A man hands Elvis a drug pill that he takes; We see his mom carrying beers and his dad having one in hand; We see Mom drinking and hear that she drank a lot. We see his dad with a beer; We see Elvis taking pills; Priscilla throws bottles of pills at Elvis; Elvis grabs a martini from the audience and guzzles it down on stage.


 Blood/Gore: We see news of Senator Kennedy being shot and see a little bit of the news footage on TV with what might be a little blood visible.


 Violence: We see an old man fall off a step ladder and appear to be passed out on the floor (with their eyes open). He seems dead but we see him rushed to the hospital and is alive; We see distorted footage of Elvis's face being shoved into a bucket of ice water; His mom angrily slaps her hands on the table; We see cops hitting people with clubs at a concert; A man with a drum topples off the stage. Police force Elvis from the stage and shove him into a car. The audience is shown rioting as police try to get control of them; Elvis's mom collapses at the top of the stairs. We quickly learn she passed away; We see brief footage of an airplane dropping bombs; We hear about Martin Luther King Jr. being shot; We see news of Senator Kennedy being shot and see a little bit of the news footage on TV with what might be a little blood visible; The Colonel throws his cane at a picture frame, shattering the glass; Elvis receives some death threats; Some guys run on stage while Elvis is performing and he kicks one back while band members and security stop others; Paranoid, Elvis goes throw a case full of weapons and pulls out a gun. He then shoots several TV's in his penthouse; Priscilla throws bottles of pills at Elvis; Elvis collapses. They put his head in a bucket of ice water. We see a doctor preparing to give him a syringe of medicine; Elvis throws stuff around his hotel room in anger.