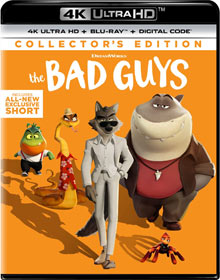 The Bad Guys


 – for action and rude humor.
Director: Pierre Perifel
Starring: voices of Sam Rockwell, Awkwafina, Craig Robinson, Marc Maron, Anthony Ramos, Zazie Beetz, Alex Borstein, Richard Ayoade
Running Time: 1 hour, 40 minutes
Theatrical Release Date: April 22, 2022
4K UHD Release Date: June 21, 2022 (Amazon.com)
Plot Summary
Several reformed yet misunderstood criminal animals attempt to become good, with some disastrous results along the way. (from IMDB)
Film Review
When I saw the first trailer for DreamWorks' The Bad Guys, I couldn't help but think, "But we already have like five Despicable Me movies?" But with closer examination, the idea behind The Bad Guys is a fairly unique one. The movie's story centers around a group of frequently feared animals that have devoted their lives to crime because they feel as though that's what they're destined for. With everyone seeing their kind as evil or scary, they feel as though they should just embrace who they are and be the bad guys. Making up the fearsome five are Wolf, Shark, Snake, Piranha and Tarantula. All are presented in fairly cute, cartoony animated form, with each having distinct skills and personalities. And just as they try to pull off one of the biggest crimes of their careers, they're forced to consider an alternate route — do they practice being good to avoid imprisonment?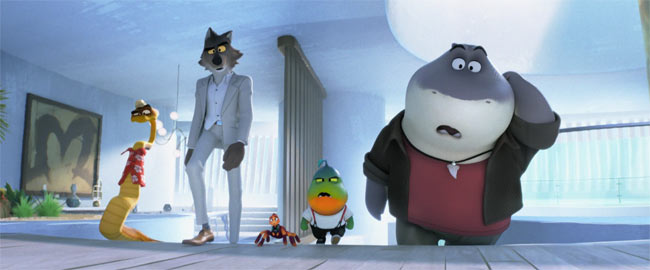 With Sam Rockwell's perfectly cast voice talents serving as the slick and cool Wolf leading the pack, The Bad Guys are instantly likeable — despite your personal feelings on any of the individual real-life creatures in question. While I still struggled with embracing the creepy-crawly nature of Awkwafina's Tarantula, I almost found myself feeling just a tad bit eased up on the frightful creatures after seeing her portrayal. The Office's Craig Robinson gives a fun performance as the spunky Shark, and Marc Maron is perfectly prickly as the grumpy Snake. Rounding out the pack is Anthony Ramos as the crazy but reliable Piranha, making the quintet a tightly performed central group. Rounding out the rest of the cast is Family Guy and The Marvelous Mrs. Maisel's Alex Borstein as Police Chief Misty Luggins, Deadpool 2's Zazie Beetz as Diane Foxington and The IT Crowd's Richard Ayoade as Professor Marmalade. They all turn in great performances here as well. The animation style is also a unique approach. It reminded me slightly of Spider-Man: Into The Spider-Verse, with its almost comic book style, but with a touch of anime mixed in (especially in how the Police Chief is portrayed). There are even subtle action-driven animation effects mixed in, like marks shown for someone knocking on a door, or sweat flying from someone's face as they exclaimed. It all worked to the benefit of The Bad Guys to give viewers something a little different.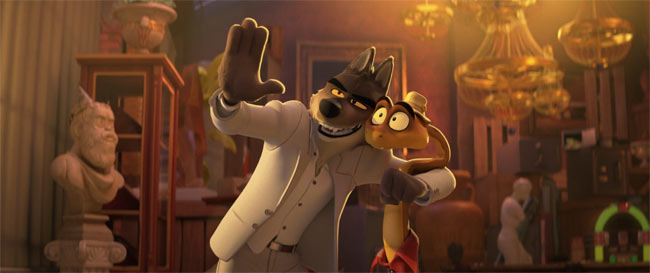 If there was a downside to The Bad Guys, it's that some of it is kind of predictable. While it wasn't enough to ruin the picture, it still was like "Oh yeah, called it." when a twist is presented. On the other hand, there are a couple fun additional twists and surprises revealed that help make The Bad Guys feel like a kids version of an Ocean's heist film, and it also works in the film's benefit. At times, The Bad Guys feels surprisingly small, but by the climactic craziness, it opens up and proves to have a few extra tricks up its proverbial cinematic sleeve. Daniel Pemberton, who composed the fun and slick The Man from U.N.C.L.E. and actually an Ocean's film – although it was Ocean's 8, his score was the best thing about it – provides a fun and stylish score here that begs revisiting.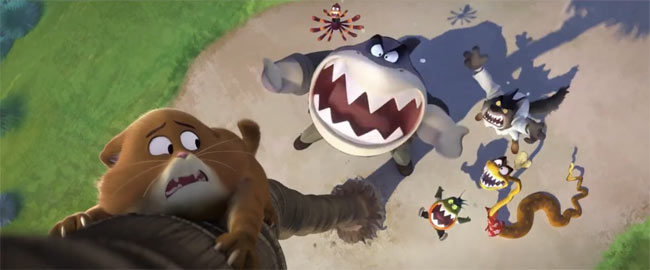 The content for The Bad Guys is decidedly PG, with a theme of redemption, not being the negative things that others may think about us, and pursuing a good lifestyle. It's not an original theme, but it works here and is a fun one to experience. I can't think of too many heist movies for kids outside of something like Despicable Me, so this may be a new concept for some children. It does glorify the thieving lifestyle a little bit, but ends up settling on the fact that it's wrong and there are better things for us to do with our lives. There's even a fun moment where one of "The Bad Guys" has his things — which he stole from others, mind you — taken from him and he remarks on how he now knows what it feels like to be robbed. It's funny and cute, but a very legitimate point. As far as other content goes, there isn't any outright profanity, but a pair of play-on-words phrases: "Make like a wolf and get the pack out of here" and "What the bolt is that?" (or something like that. We saw it at a drive-in, so the audio wasn't super clear). There's no blood or gore, but there's plenty of action violence, involving some slapstick silliness, as well as explosions and crashes and such. It shouldn't be too intense for most family viewers.
While it probably won't even be the best animated movie you'll see this year, The Bad Guys is a lot of fun and a delightful animated action comedy. Some of the best moments were indeed spoiled in the trailer, but there are still some great gags in there. When all is said and done, The Bad Guys is still quite good.
– John DiBiase (reviewed: 4/24/22)
4K UHD Special Features Review
The Bad Guys is out now in 4K, Blu-Ray, DVD and through digital retailers. The 4K UHD transfer is beautiful; it's crisp and colorful, even though the movie doesn't have a ferociously detailed animation style. It still is a lovely UHD transfer. The 4K disc special features, and iTunes digital copy, include the following:
Maraschino Ruby (3:50) – In this new short, the Guys have a battle of wits with Police Chief Misty Luggins as she tries to catch them in the act of doing something bad after having gone good.
Deleted Scenes (10:53) – There are five deleted scenes with a Play All option. All of these are shown in unfinished storyboard sketch form. "Original Opening" is the longest sequence, featuring mostly scratch voice work from actor stand-in's. It's an alternate version of the gang working together to rob a bank. "Snake Attack" shows the team arguing while dressed in animal costumes. Snake goes to attack Marmalade but is caught. In "Extra Secret Base Tour," Marmalade and the guards tour his secret base. "You Can't Fake Good" takes place at the banquet where the Guys act like they've gone straight. Marmalade tries to make Webs and Shark appear less scary to people. Lastly, "Post Credits – Scientist Button" is a super random reference to the scene where Shark pretends to be a scientist's father to play catch with him. He throws away the ball to get rid of him. In rough computer animation form, this scene shows the scientist coming around a hallway corner with the baseball in his hand and calling out for his Dad. It then quickly ends.
Devise the Plan: Making The Bad Guys (6:57) — The voice actors and animation team talk about bringing the movie to life — and how they imagined the movie in the style of a Quentin Tarantino movie for kids. They also talk about the artistic look of the animation and detail what it took to plan the heist.
Assemble The Crew (6:46) – This is broken down for each main character with a Play All option. It talks about the characters in each section and the actors who voice them, as well as the inspirations for the characters' personalities.
It's Showtime: Cast Table Read (5:51) – This cool feature shows the cast meeting over a video call and running through scenes together. We first see the scene where they're in their lair watching TV at the beginning of the movie, and then we see part of the heist. I actually wouldn't have minded seeing a much longer cut of this – or even the full movie as a table read. (1 "Oh my G-d")
Snake's Frozen Pop Shop is broken down into two parts. First is "Frozen Pop Recipes" (3:34) which quickly shows you how you can make fresh fruit smoothie blends to put into frozen pop form. These look great and easy to make. I'm tempted to try some of these out sometime, too. "How to Disguise Your Frozen Pop" (3:26) is kind of silly but a unique craft idea for you and your children. It's broken down into three more parts, describing design ideas. "Easy Distractions" shows using construction paper, googly eyes, and other fun and creative ideas for disguising your pops. "Next Level Double Agents" shows how to make some scenery and a Guinea pig design. Lastly, "Professional Snake Design" shows how you can make a cutout design to look like Snake.
From the Drawing Room features Head of Story artist Nelson Yokota giving some artistic tips to viewers. "How to Story Board" (4:32) may be the first time I've ever seen something like this on an animated movie's bonus features. Nelson explains what storyboards are, the purpose of them, and gives tips on how you might approach drawing a panel (like drawing a character reaction instead of the person talking). We then see some really cool storyboard comparisons to the final movie scenes. "How to Draw" (11:45) has a Play All option and is divided by each of the central characters, starting with Wolf. Nelson shows how to draw them by breaking them down into shapes and explaining how the character's structure works.
Finally, we have a feature-length Feature Commentary with Director Pierre Perifel, Producer Damon Ross, Head of Story Nelson Yokota, Head of Character Animation JP Sans and Production Designer Luc Desmarchelier.
– John DiBiase, (reviewed: 6/20/22)
Parental Guide: Content Summary

 Sex/Nudity: Shark dresses up like a woman for a heist and pretends to go into labor, even splashing a drink on the floor saying he's in labor; Diane and Wolf flirt and dance together.


 Vulgarity/Language: There isn't any outright profanity, but a pair of play-on-words phrases: "Make like a wolf and get the pack out of here" and "What the bolt is that?" (or something like that. We saw it at a drive-in, so the audio wasn't super clear).


 Alcohol/Drugs: The Bad Guys toast to Snake's birthday with goblets of undefined beverages; A man offers Shark a drink and he grabs both the drink he's offered and the man's drink; Shark throws his drink on the floor and says he's having a baby (meaning the drink is his "water" breaking); Police Chief Misty goes to drink a martini but grabs Snake by the neck by accident who then poses as the martini; Wolf sprays people with champagne;


 Blood/Gore: None.


 Violence: There's absolute mayhem on the streets with car pileups and crashes during the The Bad Guys' getaway; Piranha jumps out of car's glove compartment, scares the driver and causes some car crashes; We see another police car pileup from the car chase; Shark and Snake fight over an ice pop. Piranha gets involved and after their scuffle, we see Shark spit out Piranha; A security guard catches a small flying bug in his hand and punches it repeatedly; Piranha attacks a couple guards; A laser blasts a statue; Shark swallows Snake; We see Wolf get it by a truck; Snake swallows hundreds of Guinea pigs. Wolf swings him around to try to get them out. We also see Shark with guinea pigs hanging out of his mouth; Snake's tail gets caught in briefcase. Then he bites another part of his own tail in pain. Police Chief Misty goes to drink a martini but grabs Snake by the neck by accident who then poses as the martini; Wolf steps on Police Chief's face; Piranha shoots a grapple that hits Shark in head and knocks him out; Snake attacks Wolf; The Crimson Paw enters the detention center and violently beats up several guards – much to the surprise of The Bad Guys; We see a lot of little animals whose eyes light up as they are being mind-controlled; A little animal hits a bowl of carrots back at the owner; Little animals attack trucks and throw their drivers out as they steal them; We see Crimson Paw and Wolf tied up, hanging upsidedown over a pit of spinning blades as they're slowly lowered towards it; We see waves of little animals chase a car. They then act as one collective object as they chase and attack the car; A car tries to jump a long distance but crashes and explodes; A character's helmet gets knocked off and explodes in a helicopter's blades. The helicopter then loses control, but we later see it hasn't crashed; A huge explosion is seen in the background on the horizon; A large object falls over onto a character.