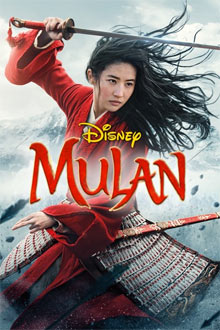 Mulan


 – for sequences of violence.
Director: Niki Caro
Starring: Yifei Liu, Donnie Yen, Li Gong, Jason Scott Lee, Jet Li, Yoson An, Tzi Ma, Rosalind Chao
Running Time: 1 hour, 55 minutes
Theatrical/Digital Release Date: September 4, 2020
Plot Summary
A young Chinese maiden disguises herself as a male warrior in order to save her father. (from IMDb)
Film Review
Disney continues their run of live action versions of their own hit animated films with this year's Mulan. Admittedly, as a teenager in 1998, I opted to pass on seeing the fantastical tale about a Chinese woman pretending to be a man to lead troops into battle and save China (at least, that was all I knew about it — oh, and Eddie Murphy voiced a talking dragon in it). So, in preparation for seeing this live action remake, I decided to finally sit down and watch that 1998 animated film. Honestly, I wasn't too impressed by it, and it felt to me like an uneven mix of goofy, slapstick humor and serious war action. Everything about 1998's Mulan caught me by surprise — from a view of a battlefield covered with defeated soldiers, to Mulan skinny dipping in a lake, and then awkwardly being joined by other guys in her regiment. The story celebrated strong women and honored the legendary character of Chinese culture, but the movie didn't land well with me; at best, it was lower tier animated Disney fare.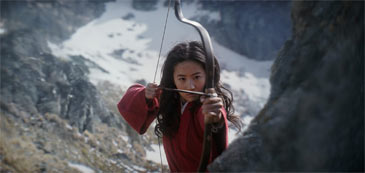 With that said, I have no attachment to the original Mulan story going into the 2020 update. Still, I found that director Niki Caro took some very odd artistic liberties in her handling of the material. Fans of the original animated movie will be disappointed to learn that Murphy's beloved fast-talking dragon Mushu is totally absent from this movie–along with the "lucky" bug that served as sort of a sidekick to Mulan. For better or worse, there are no singing numbers in this adaptation (in my opinion, it was a nice change-up), and surprisingly enough, the romantic angle of the 1998 story is completely dropped. Other huge changes begin with the addition of a witch who can change into a bird (OK?), and a "phoenix" that brings protection to Mulan (in a similar way to what Mushu did for Mulan). Lastly, Mulan is explained to have supernatural powers called "chi" and she only really becomes a hero when she stops trying to hide her chi and otherwise embraces it (in this case, it seems like "chi" could otherwise be interchangable with "The Force"). Some other plot shifts happen here and there, but Caro & Co. do pretty well to try to reference and honor the original animated story, yet also go to great lengths to make some changes so this Mulan is something new.
Overall, 2020's Mulan is a well-cast, entertaining Asian action/drama. I've seen a lot of disgusted comments online about how Caro's biggest changes (like the addition of "chi," the phoenix and the witch character) have nothing to do with Chinese culture and are insulting because of that. Other diehard fans of the 1998 film are sickened by the lack of singing, the absence of Mushu, and the missing romantic subplot. While I see points to all of those objections, I found the story entertaining and engrossing regardless. Perhaps my lack of attachment to the original (and my lack of knowledge, otherwise, of the Mulan legend) allowed me to enjoy this version a lot more than those who are closer to the source material and previous iterations.
Still, while I did find myself really enjoying this Mulan, it definitely doesn't all work. The 1998 animated movie had some really, really goofy (and not "witty" goofy) corny comedy. There are a few moments in this Mulan that emulate those oddball moments–from Mulan's failed meeting with the Matchmaker, to the other men in her regiment who goof around and share a few silly moments (like Cricket cuddling with whoever is sleeping nearby). Otherwise, the tone of 2020's Mulan is pretty straight and serious. The film's musical score, provided by Harry Gregson-Williams, works for the movie, but doesn't stand out as anything special. In fact, his score often closely resembles his 2010 Prince of Persia score, which, coupled with the stylized action in both films, made me think of that movie quite a few times while watching Mulan. A sweeping score (even something as unique and memorable as 2000's Shanghai Noon by Randy Edelman) could have really helped elevate the overall feel and impact of this movie. (Kind of like how Alan Silvestri's Back to the Future score, or John Williams' Star Wars, Jurassic Park and Indiana Jones scores take the movies to a whole different level.)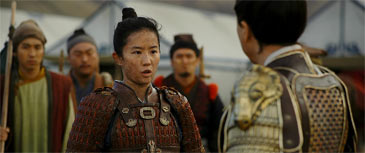 Otherwise, Yifei Liu is wonderful as the title character, Mulan. She's got a sweetness to her and a hidden fierceness that she's able to pull off well from scene to scene. I'm not sure she's believable for being mistaken as a man when she needs to be, but it all works well enough for the story. Any problems that seem to stick out about her character were no fault of Yifei Liu's, but of this update of the story. For one, Mulan is now a bit more like Wonder Woman than the Mulan of the 1998 film. In that movie, she learned how to be a soldier alongside her male comrades, and of course, she had some supernatural help from the dragon Mushu. Here, she has the supernatural power of "chi," and was also trained by her father to be a warrior at a young age. So, by the time she goes off to war in place of her father, she is forced to "hide" her chi and hide who she really is in order to conceal her identity. (I did, however, like the change where she assumed the name "Hua Juan" instead of… "Ping.") They also made the big mistake of omitting the scene from the animated film where she gets severely injured from a tussle with the main villain, and that is how she is discovered for who she really is. Here, they try to draw a little bit of a parallel (with a not-so-subtle death-and-rebirth metaphor), but it heavily involves the weird witch character instead, which they also use to add a little extra "girl power" to the movie. Mulan is a powerful enough warrior without having to make her seem like she wields extra, supernatural power, so I'm not quite sure why they decided to go that route. In the same way fans have maligned Disney's Star Wars sequels for making Rey seem super powerful and like she can do everything without having done anything to earn it, Mulan is rich with chi in the same way Rey was super strong in The Force; it kind of cheapens the impact of her underdog story some.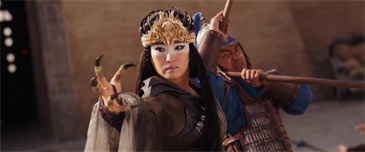 The content for this Mulan is mostly PG-13 because of the war violence. There's almost no blood shown in the movie (although there is a little bit), and there are quite a few deaths caused by soldiers being slashed with swords, stabbed with spears, or being thrown around. It's too rough for younger viewers, but it's still on the lighter side than a Lord of the Rings PG-13, or even the aforementioned also-Disney movie Prince of Persia, which was surprisingly pretty bloody. The only real noticeable blood in this Mulan comes after Mulan slashes the witch's palm with her sword, drawing a couple droplets which we see fall to the ground. There's also another scene–much like the animated movie–where Mulan's troop rides into a field which is littered with dead soldiers. This is shown dimly lit, so it's not graphic, but the sight of helmets piled high and dead bodies strewn about may be unsettling to some. Lastly, the witch character will be disturbing to some for sure. In one of her first scenes, she possesses a man, and we see their shadows merge into one. She ends up possessing a couple other men during the film, and this is a much darker spiritual theme than what the animated movie offered. The movie also presents her as kind of a damaged woman-gone-astray – the yin to Mulan's yang, so to speak. It makes her whole character puzzling, really – especially if her evil powers don't seem to have much to do with her being evil.(?!) Oh–and for anyone who finds spiders unsettling, Mulan's meeting with the Matchmaker is upended when a spider descends from the ceiling and startles Mulan's sister. (And the camera focuses on the little pest for a few shots.)
Overall, I was surprised to have enjoyed this Mulan as much as I did. To me, as an adult, I thought it was a lot more enjoyable than the 1998 animated venture (although I still appreciate good animated films, so age probably has little to do with it in my case.) Some of people's beefs with this Mulan are warranted, but for the most part, I think it deserves better than the bad rap it's been getting. If you're a fan of the cast or the original, give it a shot–just know this isn't quite the film you may remember.
– John DiBiase (reviewed: 10/13/20)
Parental Guide: Content Summary

 Sex/Nudity: We see the young soldier boys in their tent fooling around. One accidentally drops his towel and Mulan shuts her eyes tightly in horror; She strips down and bathes in the lake. One of the other young men joins her, not realizing she's a girl.


 Vulgarity/Language: None.


 Alcohol/Drugs: None.


 Blood/Gore: Bori Khan has some gross-looking scars on his face and chest; We see the helmets of dead soldiers piled up with a little cloud. The camera then pans to show dead soldiers littering the battlefield; In a very quick shot, Mulan slashes the witch's hand with her sword. We later see blood drip in a couple droplets onto the ground.


 Violence: A really young Mulan chases a chicken through her village, wreaking havoc, and breaking a statue. She nearly falls off a roof but she lands gracefully instead; A witch possesses a man which we see in shadow; The witch throws blades into soldiers' chests from a distance; The Rourans attack a city and run up the walls before slashing at their victims with swords; The witch grabs Khan's throat and threatens him; A spider scares Mulan's sister who causes a table to overturn and a teapot to soar through the air. Despite Mulan's best efforts, it crashes to the floor; Mulan's father falls over in public; Her father slams the table in anger; After Mulan joins the male soldiers, a young soldier accidentally slaps another in the face. A few of the boys bump into each other and Mulan falls over. They draw swords on each other while scuffling till the commander stops it; We see the young soldier boys in their tent fooling around (pushing and smacking each other); We see the young men training with swords and accidentally hitting each other. We see a training montage scene with them shooting arrows and carrying buckets of water up the mountain; Mulan and one of the boys spar with spears; The Rourans raid a city, stabbing and beating people. Some of them are thrown off building rooftops. The witch digs her claws into a man's armored chest. She then uses scarves to whip them around and throw people (doing things like wrapping around their heads); We see the helmets of dead soldiers piled up with a little cloud. The camera then pans to show dead soldiers littering the battlefield; We see riders on horseback hit with arrows and fall from their horses as Mulan's soldiers chase the Rourans; The witch as a bird knocks Mulan from her horse and the two then fight. Mulan slices the witch's hand. The witch then hits Mulan in the chest with a throwing star and she falls over. Meanwhile, soldiers battle hand to hand and sword to sword; Mulan joins the fight, slashing her sword, jumping through the air and kicking spears that were flying through the air back at the Rourans; Large catapults launch flaming debris at the soldiers who hide together under their shields; Mulan shoots arrows at the Rourans, killing many. They fire back at her; A catapult misfire hits the mountain behind them, causing an avalanche of snow that wipes out many of the Rourans as everyone runs away; Cricket is pinned by the trebuchet debris but is rescued; Honghui is swept away by the avalanche, but Mulan runs to save him; There's a sword and arrow fight in the city between Commander Tung's troops and Rourans who look like ninjas all dressed in black; The Emperor fights soldiers, whipping around the hanging tapestries. They wrap him in ropes instead, trapping him; Soldiers corner Mulan's team and they fight with swords. Mulan runs along the wall and slashes a guy, then dodges a mace that is swung at her head. Honghui grabs a mace and wraps it around a man as Mulan gets by; The witch, as a bird, is hit in the back with an arrow and falls. Mulan catches her as she turns into a human and dies; Mulan fights Khan. At one point, she cuts a rope that causes him to fall off a suspended beam. He shoots an arrow at her from the ground, which she kicks back at Khan, killing him; Cricket lies on the ground with his eyes wide open, appearing to be dead. He suddenly blinks his eyes, revealing that he's fine (but his appearing to be dead at first may be jarring to some).