Days of Thunder



Director: Tony Scott
Starring: Tom Cruise, Robert Duvall, Nicole Kidman, Michael Rooker, Randy Quaid, Cary Elwes, John C. Reilly
Running Time: 1 hour, 47 minutes
Theatrical Release Date: June 27, 1990
4K/Blu-Ray Release Date: May 18, 2020 (Amazon.com)
Plot Summary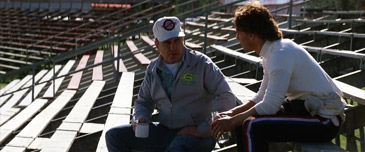 From the engine roar and fever pitch of professional stock car racing, Days of Thunder explodes with the most spectacular racing action ever captured on film. Tom Cruise plays race car driver Cole Trickle, whose talent and ambition are surpassed only by his burning need to win. Discovered by businessman Tim Daland (Randy Quaid), Cole is teamed with legendary crew chief and car-builder Harry Hogge (Academy Award®-winner Robert Duvall) to race for the Winston Cup at the Daytona 500. A fiery crash nearly ends Cole's career and he must turn to a beautiful doctor (Nicole Kidman) to regain his nerve and the true courage needed to race, to win and to live. (from iTunes)
Film Review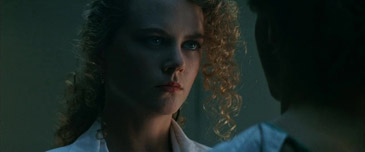 Four years after the success of Top Gun, Tony Scott and Tom Cruise reunite for a Top Gun-on-land style racing action drama, Days of Thunder. This was a movie that I'd missed when it came out (it wouldn't have been appropriate for a 10-year-old, anyway), and I really hadn't seen until sometime within the past decade. I remembered not really caring for it much, either, which surprised me since it was a title I frequently heard mentioned. Fast forward to its 30th anniversary in 2020, and its 4K UHD debut (alongside the same day-and-date release of Top Gun and War of the Worlds (2005) in 4K UHD), and I took my second trip around the Daytona 500 track with Cruise and the gang. I was surprised to find myself enjoying it more this time around.
Now, to be fair, it's certainly not a great movie, nor is it one of Cruise's best. It does have some silly dialog and moments–especially regarding the awkward romantic subplot–but for the most part, the performances are solid, and the film is entertaining. Aside from Cruise, who plays a hotshot wannabe racer who is reckless (hmm… Top Gun, anyone?), Michael Rooker (Yondu in Guardians of the Galaxy) turns in a great performance as the new Ice Man of the race track, Rowdy, and Robert Duvall plays Harry, a lovable mentor for Cruise's Cole Trickle. And who could forget Nicole Kidman, playing Dr. Claire Lewicki, who serves as the love interest for Cruise in this outing. There are plenty of parallels between Top Gun and Days of Thunder, with the former being the unmistakable stronger of the two, but there's some good racing action and serious drama here.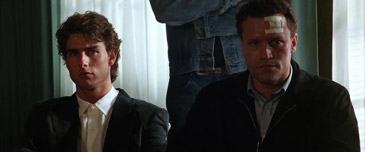 The content of Days of Thunder is about on par with Top Gun, too. However, while there are less than half of the uses of the "S" word this time around, there's the addition of a loud-and-clear use of the "F" word from Randy Quaid's character, and still several uses of blaphemy. There are also frequent uses of "S.O.B," "h*ll," "d*mn," and "a**." There's a bedroom scene between Cruise's Cole and Kidman's Claire, but it's mostly a talking sequence after the fact, with some playful rolling around (it's not nearly as sensual as the scene from Top Gun). There isn't any graphic violence here, but there is quite a bit of race car wreckage, with a long sequence involving serious injuries sustained during one major accident.
After seeing last year's fantastic Ford v Ferrari, a movie like Days of Thunder just doesn't hold a candle to it, but for a racing movie, it's a decent entry into the niche genre. Cruise fans will probably find it worth checking out, but like its predecessor Top Gun, the rougher content (and other inherent flaws) makes it tough to recommend.
– John DiBiase (reviewed: 5/18/20)
4K UHD / Blu-Ray Special Features Review

The 4K UHD combo pack of Days of Thunder includes the feature film in stunning 4K UHD, the standard Blu-Ray disc and a digital copy. There are no bonus features on the 4K disc (and there are no iTunes Extras), but there are some extras on the Blu-Ray disc (most likely from its original Blu-Ray debut).
Days of Thunder in 4K UHD – The 4K picture for Days of Thunder is pretty impressive. Some of the action sequences, especially the racing scenes with smoke and such, get a bit murky, but for the most part, the image you get here is topnotch, breathing new life into this 30-year-old movie. The transfer is actually better than the movie deserves, but I definitely recommend it for any fans hoping to upgrade their copy of the movie.
– John DiBiase, (reviewed: 5/18/20)

Parental Guide: Content Summary

 Sex/Nudity: The guys get pulled over by state troopers and a sexy female cop pushes Cole up against the side of the trailer and frisks him. She then rubs her hands over his crotch saying he's got a concealed weapon. She undoes his jeans and puts her hand in his pants. Then she opens her patrolman's coat to reveal her cleavage as she's wearing just a bra. She then kisses him passionately as the other guys hoot and holler, revealing it was all a prank on Cole; Cole thinks Dr. Claire is another joke the guys are playing on him, so he takes her hand and puts it on his crotch, saying he knows what she's looking for. She says she's not that kind of a doctor and walks out of the room, as Harry and the boys laugh at him and Cole realizes he made a mistake; Harry explains the highway cop incident to Dr. Claire; Cole kisses Claire during his check-up but she doesn't react. Afterwards, he complains that she didn't give him the reaction he hoped and she pulls him close and throws him against the wall kissing passionately (they are clothed). We then see them in bed under the sheets the next morning. They talk and he plays with sugar packets on her bare thigh to illustrate a race. She rolls on top of him, and we see a little sideview of her chest, as they kiss. He rolls back over on top of her and they kiss more. The scene ends there.


 Vulgarity/Language: 1 "F" word, 14 "S" word, 9 "g*dd*mn," 2 "J-sus," 16 "S.O.B," 1 incomplete "Son of a –", 17 "h*ll," 19 "d*mn," 12 "a**," 2 "b*tch," 2 "b*lls," A character flips the middle finger. Rowdy flashes middle finger at Cole.


 Alcohol/Drugs: The guys have drinks after the race inside their truck trailer; We see Harry drunk one night and he attacks Cole in anger, pushing him.


 Blood/Gore: None.


 Violence: We see some race car violence where a car gets pushed on the track and spins out of control; We see race cars crashing into each other on the track; Harry throws his hat in anger and then kicks the side of the car; Cole crashes into the race track pit; Frustrated with Harry, Cole gets out of his car in anger and goes chasing after Duvall; Cars bump into each other on the track; We see more cars hitting the race track wall; Harry playfully jumps on Cole like they're going to fight; We see a massive pile of wrecked cars on the race track and Cole crashes into it. It puts him and Rowdy in the hospital and we see them on stretchers and recovering in bed; Cole and Rowdy are in wheelchairs being pushed by nurses and the progressively speed up to be ahead of the other until they launch into an all-out wheelchair race through the halls of the hospital, bumping into people and walls; Cole and Rowdy rent cars and race each other, bumping into each other, crashing the cars up completely; During his physical exam, Rowdy falls over to the floor (Cole then runs out of the room apparently to throw up); We see more race cars bumping into each other on the track. One of them catches on fire; Russ knocks Cole's car off the track; Cole t-bone crashes into Russ's car, severely damaging both cars; A taxi bumps Cole's street car, which makes him mad, so he backs into it hard. The taxi then pulls away and they have a reckless car chase through the streets. It only stops when Claire threatens to jump out, so Cole pulls over; Cole slams a bat on Rowdy's pool table threatening to hit him if he doesn't go to the hospital; We see Harry drunk one night and he attacks Cole in anger, pushing him as they argue; Some race cars crash during the Daytona race.