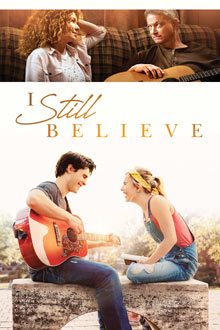 I Still Believe


– for thematic material.
Director: Andrew Erwin, Jon Erwin
Starring: K.J. Apa, Britt Robertson, Gary Sinise, Shania Twain, Melissa Roxburgh, Nathan Parsons, Abigail Cowen
Running Time: 2 hours, 1 minute
Theatrical Release Date: March 13, 2020
Blu-Ray Release Date: May 5, 2020 (Amazon.com)
Plot Summary
The true-life story of Christian music star Jeremy Camp and his journey of love and loss that looks to prove there is always hope. (from IMDb)
Film Review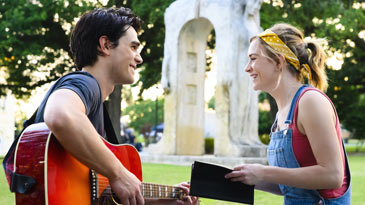 For the sake of transparency, I feel the need to admit to you, the reader, that I've grown very leery of most faith-based films. I've seen enough of them through the years that I've come to realize the consistent trend that, despite their apparent good intentions, they often really lack when it comes to quality and acting. And most of them, even when the main cast were turning in decent performances, were filled with supporting cast that had worse acting abilities than someone making a fan film with their home camcorder. As a Christian who loves movies, I've found it embarrassing. Thankfully, however, the bar has slowly been raised over time–usually when new talent rises up behind the lens, and known acting professionals are enlisted to enhance the end result. I am happy to say that I Still Believe really is a cut above others in this faith-based genre.
One of the biggest problems I find with the genre is its frequent lack of authenticity. It's tough to work a gospel message into something like a run-of-the-mill action film. I'll never forget 2009's terrible In The Blink Of An Eye, Pure Flix's attempt at merging the action and faith genres. The way many films like it try to present the gospel just doesn't fit or feel natural. I've found mainstream movies like Signs and Lady in the Water – heck, even Indiana Jones and the Last Crusade – far more spiritually inspiring than most movies designed to inspire. Filmmakers Andrew Erwin and Jon Erwin – also known as The Erwin Brothers – found a surprise hit on their hands when they helmed the successful I Can Only Imagine, in 2018, which was about the real life story of MercyMe's Bart Millard. While it was the brothers' first musical biopic, following previous features like Mom's Night Out and October Baby, their first follow-up movie centers around another known Christian music star, Jeremy Camp.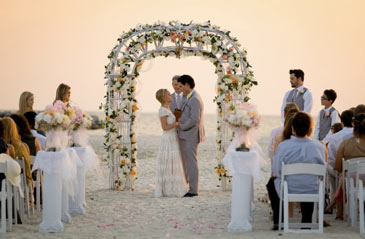 If you know anything about Jeremy Camp, it's the heartbreaking story about his first wife, Melissa, who died of cancer shortly after they got married. Jeremy has told it countless times from the stage through the years, and I will always remember standing in the audience and hearing him tell it to the Festival Con Dios audience in 2002. (In fact, I'm quite certain the concert shown at the end of the film is supposed to be this tour; it's also the tour in which he met his now-wife, Adrienne, when she was fronting the band The Benjamin Gate.) I Still Believe is entirely about Melissa's story, as the film opens with Jeremy leaving his home to go off to Bible college, where he meets Melissa. In the film, Jeremy is played by 21-year-old New Zealand actor K.J. Apa, who's best known for his work on TV's Riverdale. If you know anything about Jeremy Camp, K.J. seems absolutely nothing like him–in look or singing voice–which is certainly an adjustment. It's much easier to accept Britt Robertson, known for Tomorrowland and Dan in Real Life, as Melissa, since most fans of Camp won't have as much of a reference for her. But once you can move past this to settle into the story, Apa and Robertson make a great pairing.
It's obvious from the start that the Erwin Brothers want to avoid the usual cliches found in the Christian film genre. Everything from the soundtrack to the artful (yet sometimes a little distracting) cinematography elevates the movie above the usual fare. Apa is good in the role as Camp, but the story doesn't allow for a whole lot of development for his character. We don't really get to know Jeremy all too intimately as he meets Melissa within the first few minutes of the film and she instantly becomes a passionate pursuit of his. At the same time, however, Jeremy is hoping to develop his musical career, as he befriends Jean-Luc La Joie (played by Nathan Parsons) of Christian band The Kry. And I was surprised to find–whether it's true to life or not–that Jeremy had some competition for wooing Melissa with Jean-Luc in the picture (who was also friends with Melissa and had a crush on her). Most of the film is spent on the relationship between Melissa and Jeremy, which is crucial to making the film work, and Robertson steals the show with a very intense and emotional performance; not only can you understand why Jeremy was so captivated by her, but she brings so much more weight to the heartbreaking struggle the two go through.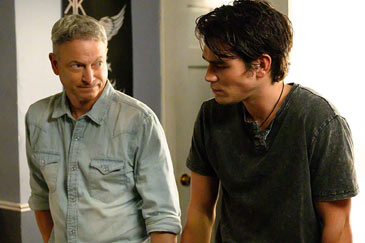 One of my favorite aspects of the film was seeing it as a snapshot of the late 90's/early 00's era of Christian music. I Still Believe represents this age pretty well, as when we get a peek into Jeremy's bedroom at home, we see posters of DC Talk, Audio Adrenaline and The O.C. Supertones. Seeing things like The Kry's logo on a stage backdrop, the old Winter Jam 2000 banner, and the festival at the end all bring back warm and authentic memories of this period, not only in music, but in time. The youthful romantic pursuits amidst college life also felt genuine and authentic; I found it easy to get invested in these characters.
I'm not sure what is or would be weirder: hearing K.J.'s voice singing Jeremy's songs as Jeremy, or if they'd used Jeremy's voice for when his movie character sings. K.J. has a decent voice, but he sounds nothing like Jeremy. I'm sure it's fine for anyone who doesn't know Jeremy Camp or his music, but for those of us who are familiar with him, it's kind of strange. But, for the movie's sake, it works for the story and doesn't hinder it.
The content for I Still Believe fits safely within the PG-rating, but it's an emotionally weighty and draining film. Jeremy and Melissa's journey through her struggle with cancer is harrowing–especially since we know it really happened. (There's a featurette that comes with the film's home release where Jeremy recounts his experience, paralleled with scenes from the film, and he ends up breaking down in tears. To see that the memories still affect him so strongly makes this story even more heartbreaking.) There is no bad language in the film, or inappropriate sensual content. There's a very brief, partial glimpse of blood in a sink and on her mouth when Jeremy finds Melissa coughing up blood one night (young ones would find this disturbing for sure), and two scenes of violence take place when Melissa accidentally breaks a jar while trying to open it (and then throws and breaks another glass in frustration and anger) and later when Jeremy angrily smashes his guitar in his room. So, thematically, it's a heavy and emotional story that not everyone will be able to handle.
Melissa's story is one that needs to be shared. Her faith is moving and inspiring, and the film addresses what it's like to believe in God when He doesn't come through in the way we hope, pray or believe. Clearly, we can see the silver linings and blessings that have grown in Jeremy's life since this happened two decades ago, but it can be excruciating to endure the pain and heartache of loss and disappointment in the midst of the storm. While not perfect, I Still Believe is nevertheless a beautiful and inspiring movie, and a triumph for the faith-based genre.
– John DiBiase (reviewed: 5/10/20)
iTunes / Digital Copy Bonus Features Review
I Still Believe is available on Blu-Ray/DVD/Digital, DVD, and through the usual digital providers. It's a shame this movie couldn't have enjoyed a longer run in the theaters before the worldwide pandemic caused them to close, but it's a perfect movie to watch at home right now.
Along with the feature film, and an Audio Commentary with director Andrew Erwin, writer/director Jon Erwin, writer Jon Gunn, and producer Kevin Downes, the iTunes digital copy includes the following extras:
Deleted Scenes (11:28) – There are several deleted scenes, most of which certainly weren't needed for the movie. "How 'Bout Now?" shows Jeremy talking to Jean-Luc right after one of The Kry's performances. Jean-Luc says it was nice meeting him and they can talk about music anytime. Jeremy ambitiously asks if "now" works. "That's Your Song" seemingly takes place either right after the previous scene or another time Jean-Luc mentors Jeremy. Here, the two talk about what Jeremy wants to say with his music. "Modern Art" is a brief moment of Melissa and Jeremy looking at a painting at an art exhibit. In "Where's Melissa?", Jeremy goes to her dorm but finds out she'd already left for holiday break. In "Keep Singing," Jeremy and Melissa talk about his demo while standing in the kitchen. She shows him her newly shaved bald head, and he tells her he can't pursue his musical career while she's sick. She insists that he does. "Hasten the Day" takes place at the cemetary as they lower the coffin into the ground. Jean-Luc and Jeremy talk briefly afterwards and he reminds Jeremy to hasten the day. (It's good this scene was cut.) "It's about That Girl" is an odd scene. Presumably a fellow bandmate of The Benjamin Gate walks into Adrienne's dressing room and finds her crying. He asks her what's wrong and she points to an article about Melissa and Jeremy's relationship. This was another wise cut from the film, as it seems really random and awkward. "I Believed in You" is a rough moment where Jeremy comes home after losing Melissa and sees the photos and gifts from the wedding. He then throws his Bible at the wall, shouting "I believed in You!" (It's a sad moment that the real Jeremy Camp has said actually happened.) The next scene shows him going to a concert, which happens to be a Benjamin Gate show with Adrienne singing on stage. He accidentally bumps into a person in the audience and they get into a fist fight. Adrienne watches this and is clearly disturbed by it. (It's another really awkward scene that was wisely cut out.)
The Casting of I Still Believe (9:15) – The Erwin's talk about how they found K.J, and knew he was the right fit right away. K.J. then recommended Britt for the role of Melissa and he invited her to the be a part of the film himself. The featurette also talks about everyone working together, the theme of young love, and more.
Jeremy and Bart (10:40) – This is a great little featurette where we just see MercyMe's Bart Millard and Jeremy Camp sitting in a studio talking about what it's like to have a movie made about their lives. They talk about how they shared the same first-ever tour when Jeremy met Adie (Which has to be Festival Con Dios, but they never mention it by name). Jeremy also shares how, when he was watching the filming of the scene where Melissa sits up in bed and says "It's gone, I'm healed!" he had to throw the headset down and run out of the room because of how painful it was to relive the moment. (Who could blame him??) Overall, this is a great conversation.
The Music of I Still Believe (6:39) – The Erwin's talk about their unique approach to the music of the film, and how David Leonard of All Sons & Daughters / Jackson Waters recorded the singing vocals for The Kry's Jean-Luc! This is an interesting and insightful featurette.
The Origin of I Still Believe (9:51) – In this emotional interview, Jeremy Camp retells the real life story of his relationship with Melissa, her sickness, and the struggle with faith. As he tells the emotional story, we see clips of the movie mixed into his talking-head interview. This is a must to watch if you see the film.
– John DiBiase, (reviewed: 5/10/20)
Parental Guide: Content Summary

 Sex/Nudity: None.


 Vulgarity/Language: Melissa says "Oh, God" a couple times after accidentally dropping and breaking a jar of pickles, but I don't think it's meant in an irreverent way.


 Alcohol/Drugs: None.


 Blood/Gore: Jeremy hears Melissa coughing and finds her spitting up blood in the bathroom sink. We see some blood splattered in the sink and on her mouth


 Violence: Melissa accidentally breaks a pickle jar and smashes another glass in frustration; Jeremy wakes in the middle of the night and hears Melissa coughing and finds her spitting up blood in the bathroom sink. We see some blood splattered in the sink and on her mouth; Jeremy smashes his guitar in his room repeatedly in anger.