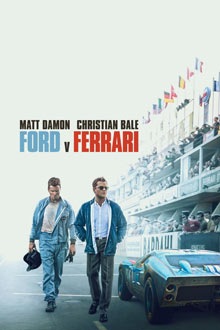 Ford v Ferrari


– for some language and peril.
Director: James Mangold
Starring: Christian Bale, Matt Damon, Caitriona Balfe, Josh Lucas, John Bernthal, Noah Jupe, Tracy Letts
Running Time: 2 hours, 32 minutes
Theatrical Release Date: November 15, 2019
Blu-Ray Release Date: February 11, 2020 (Target.com)
Plot Summary
American car designer Carroll Shelby and driver Ken Miles battle corporate interference and the laws of physics to build a revolutionary race car for Ford in order to defeat Ferrari at the 24 Hours of Le Mans in 1966. (from IMDb)
Film Review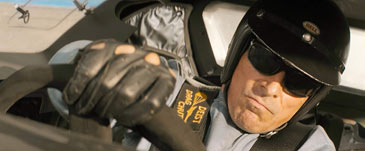 It's a rare thing when a film set within a very niche genre can go way beyond its boundaries. Ford v Ferrari is not just based on a true story, it's largely a racing film. However, director James Mangold's approach to the material is much broader than what one might expect in this case. The story centers mostly on the iconic real life men, American car designer Carroll Shelby and driver Ken Miles. With acclaimed actors Matt Damon, as Shelby, and Christian Bale, as Miles, leading the way, it's nearly a can't-miss formula. But Mangold tackles the material with a focus on the friendship and bond between these two men, their infectious passion for racing, and the joy it brings them. Thanks to a boisterous and emotional score from Marco Beltrami and Buck Sanders (with a vibe that often feels like an Ocean's movie heist), backed by a lot of American rock and roll classics, Ford v Ferrari often exudes fun… even when things slide to the considerably more serious. It's an emotional balancing act that Mangold seems to have a handle on, and it just plain works.
Christian Bale is one of those actors that can elevate a mediocre movie into the realm of average, if not above average. He's an intense actor who has proven himself versatile time and time again. Here, his interpretation of Ken Miles is quirky, charismatic, and even charming, with his love for automobile racing being irresistably palpable. I've never considered myself to be a "car guy," but this movie brings a whole new appreciation for the vehicles that something like the Fast and the Furious movies could never do. It doesn't hurt that Miles is a real person, as well as Shelby, who's also wonderfully played by Damon. But as great as Damon is here, I can't help but feel like he's eclipsed by Bale whenever they're on screen together. Still, Damon gets some great moments (like when he takes Henry Ford Jr. for a ride in their GT40), and it'd be a shame to overlook his performance.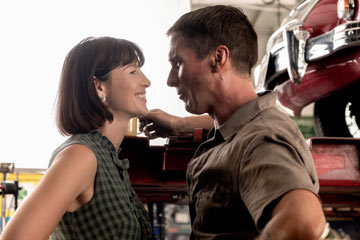 Ford v Ferrari is an underdog story, and that's one of its greatest charms. Miles and Shelby are the kind of guys you'd want to hang out with and listen to stories from. They believe in their work and, at least in Miles' case, are family men. Loyalty and committment are virtues to these guys — unlike the suits working at the car companies that continuously prove to treasure the opposite. It's frustrating to see these guys get shafted by the Ford Motor Company throughout the film, and it's even more infuriating that it's based on true events. Josh Lucas, who has played a villain before, is deplorable as Ford's marketing guy, Leo Beebe, serving as a constant thorn in these underdogs' sides. But Caitriona Balfe and Noah Jupe are wonderful as Ken's wife and son, respectively, and they add a lot more to Ken Miles' character. Balfe gets some great moments as well, like when she tries to get Ken to tell her about a meeting he'd had with Shelby by recklessly driving their station wagon around regular roads until he caved, or when she calmly observes a silly brawl between the two men outside their home. And Jupe (A Quiet Place) also shines in a few father-and-son moments with Ken that are some of the movie's best scenes.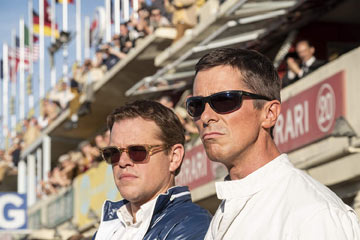 Honestly, I could probably gush about this movie for quite a while. It's a near perfect human story that, to me, is only held back by an unnecessary amount of profanity. Aside from just one or two off-color remarks (that probably could go over youngsters' heads anyway), it's otherwise a movie you could watch with your family. But, as it is, there's at least one clearly spoken "F" word from Bale and another kind of grunted one by Damon during a heated moment later in the movie. Additionally, there are roughly 30 uses of the "S" word (although around 10 of those are said really fast by one Ford executive terrified on an airplane ride), over 25 uses of "h*ll," and about 14 instances of blasphemy as exclamations (half of which are "g*dd*mn"). There are also quite a few other cuss words as well. There is some race car action violence that involves cars crashing, catching on fire and exploding. None of them reportedly end in deaths, except for one significant crash outside a race near the end of the movie. There is no sexual content, as well, except for a couple suggestive remarks, but none are explicit or raunchy.
Overall, Ford v Ferrari is a near-perfect underdog tale that is extremely entertaining, moving, and even funny. I'd easily give it a 5/5 if it weren't for the frequent swearing, but as is, it still remains one of the best movies of 2019.
– John DiBiase (reviewed: 2/8/20)
iTunes / Digital Copy Bonus Features Review

Ford v Ferrari is available on 4K/Blu-Ray, Blu-Ray/Digital, DVD, and through the usual digital providers. Along with the feature film, the iTunes digital copy includes the following extras:Matt and Christian: The Conversation (14:39) – This is a fun and candid chat between Bale and Damon about the racers, playing Miles and Shelby, friendship, the film sets, and even the love they have for acting. This is definitely worth checking out. (1 "d*mn," 2 "g*dd*mn," 1 "b*stard")
Bringing Rivalry to Life (59:51) – This hour-long featurette is available to watch broken up into a series of 8 chapters. "Prologue: The Perfect Lap" (3:41) features the cast talking about doing something great while showing the scene between Ken and his son Peter on the airport runway being filmed. In "Directing the Rivalry" (5:02), the cast and crew talk about working with James Mangold. Christian says they had been talking about making this movie for many years before it actually came together. "The Real Ken Miles" (11:52) features the cast talking about who the real Ken was as a person. Bale talks about what it's like to play the character, and how much freedom he has in playing a real person. (1 "My G-d") "The Real Carroll Shelby" (8:49) also covers Shelby as who he was. Mangold talks about how he met him when first starting work on the film, and what it was like working with Matt for this film. (2 "S" words, 1 "h*ll," 1 "g*dd*mn") "The Real Ford GT40" (5:55) is about the challenge of recreating and representing the vehicle for the movie, and the real car itself. (1 "S" word) "What Makes a Good Movie Car" (9:04) is about building the cars, driving them and filming them. "Creating an Era" (12:46) covers recreating this time period in the 60s and shooting on location in France, Italy, California, and Georgia. They also had to make areas of California look like Florida or Georgia look like France! This segment also talks about rebuilding a portion of the very first Ford factory (which is pretty amazing). Lastly, "Epilogue: Brotherhood" (2:42) addresses how the movie is about friendship and brotherhood and those in our lives who change us as people. (3 "h*ll," 1 "b*stard")
The 24-Hour Le Mans: Recreating the Course (22:11) – This is a fascinating documentary about rebuilding the Le Mans track that was originally in France… in Georgia! Mangold reveals that they had to use 5 or 6 completely different locations to represent different portions of the track. This also covers recreating the stands and starting line at Le Mans, filming weather conditions, recording surround sound with a recreated GT40 and even showing different levels of dirt on the cars during the course of the movie. (1 "h*ll," 2 "Oh my G-d," 1 "b*stard")
Pre-Vis – There are two separate Pre-visualization animation videos. The first is for the Daytona Race (7:22), and the second is for the Le Mans Race (18:45). Both Pre-Vis videos show a mix of hand-drawn storyboards and computer game-grade CG animation that map out the scenes and racing action. Sound effects are added, but while there are no audible voices for the character dialog, we see subtitles for the dialog, which includes any profanity from the film in them.
– John DiBiase, (reviewed: 2/8/20)
Parental Guide: Content Summary

 Sex/Nudity: Before viewers know who she is, we see Ken flirting with a woman at his garage who turns out to be his wife. He jokingly asks if she's some kind of "deviant" because of her interest in cars and men like him; Henry Ford remarks during a speech to his factory workers that, regarding their competition, they're "Getting it in the tail pipe from a Chevy Impala;" During a marketing ideas meeting, Iaccoca says something like "Soldiers, when they first came home, what's they do? They had sex. And now those kids want a car that needs to be sexy." He then shows some sexy photos of actresses and we hear some of the execs in the room whistle; Ferrari calls Ford executives "sons of whores." We hear it again when Iaccoca relays this message back to Henry Ford;


 Vulgarity/Language: 2 "F" words, 7 "g*dd*mn," 29 "S" words, 26 "h*ll" (1 written on a sign), 3 "S.O.B," 7 "d*mn," 5 "*ssh*le," 4 "a" word, 1 "jack*ss," 1 "pr*ck," 5 "Oh my G-d," 1 "By G-d," 1 "G-d," 2 "p*ss," 3 "b*stard," and many uses of the British profanity "bloody"


 Alcohol/Drugs: Molly visits Ken at work and brings a pair of beers (or it could be soda); People have drinks at a restaurant (shown briefly) during a victory celebration.


 Blood/Gore: There's a barely noticeable little bit of blood on Shelby's nostril after Ken punches him in the face.


 Violence: We see a race car catch on fire and the flames spread to Shelby. His pit crew pats it out on him and he shakes it off and gets back to the race; Ken violently bangs a hammer into the underside of a car trunk to make it bigger; Ken throws a wrench at Shelby and it misses him and hits the car windshield behind him, shattering part of it; We see some car crashes during a race; A kid working in the garage lights a firecracker and throws it at a group of girls as a prank; Molly drives recklessly on the road as she interrogates Ken (it's more funny than frightening); Ken punches Carroll in the face. They then violently wrestle on the ground, hitting each other with groceries that Ken just bought (more played for laughs than intensity); Ken's car careens out of control off the runway and catches fire. It then explodes in flames, but they're able to pull him out. We see his arm bandaged up later; Beebe shatters a door's window in an effort to get out of a locked office; Shelby takes a Ford exec for a very fast ride in the GT40 and he screams almost the whole time; We see a car blow up into flames during the Daytona race; Shelby has beers while sitting alone at the track night before; At Le Mans, we see cars smashing into each other on the track. One shreds to pieces and scatters across the road; We see more car crashes, with some on fire; A car smashes into another and one pushes the other off the road; We see a car crash into a hill off in the distance and explodes. The scene ends there but we learn the driver didn't survive the crash.