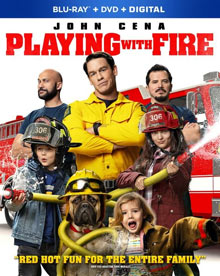 Playing With Fire


– for rude humor, some suggestive material and mild peril.
Director: Andy Fickman
Starring: John Cena, Keegan-Michael Key, John Leguizamo, Brianna Hildebrand, Judy Greer, Tyler Mane
Running Time: 1 hour, 36 minutes
Theatrical Release Date: November 8, 2019
Blu-Ray Release Date: February 4, 2020 (Amazon.com)
Plot Summary
A crew of rugged firefighters meet their match when attempting to rescue three rambunctious kids. (from IMDb)
Film Review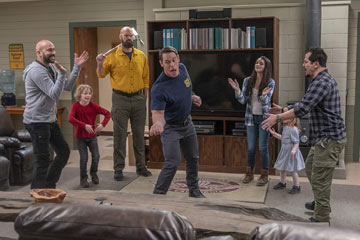 The family film genre, particularly in its live action form, is a tricky genre to get right. In most cases, when the movie is entertaining the children, it's alienating parents who often feel like they're being punished for an hour and a half, leaving those adults to also wonder what in the world made the actors on screen decide this movie was a good idea to make. For the sake of full transparency, I found the trailers for Playing With Fire entirely unappealing, so my expectations for this film were already extremely low. However, after having just subjected myself to the grueling disappointment that was Dolittle, I was surprised to find Playing With Fire was actually a good example of a campy family comedy done well — and I still can't believe it.
As a kid, I do remember liking movies like these. There was a silly movie from Disney back in the 90's called Blank Check (you can probably find it streaming on Disney + now), about a kid who gets a blank check from some thugs and ends up buying every ridiculous thing his little heart desires. I can't imagine watching it now as an adult–and even a parent–as the movie paints the kid's parents as pretty inept. But that story was told through the eyes of the movie's child hero, whereas Playing With Fire is mostly through the eyes of a group of smokejumper firefighters, led by former WWE star John Cena, who rescue three kids from a cabin fire and find that they may be equipped to handle a roaring fire, but not childcare. It's a very silly movie, but Playing With Fire never pretends to be anything else. From the opening scenes introducing Cena and his team, you know what you're in for – a goofy family comedy that doesn't take itself seriously. Still, when it counts, the movie does attempt to say something about the importance of family and what that looks like, and it proves to be the heart that this movie needs to raise it just slightly above average for its genre.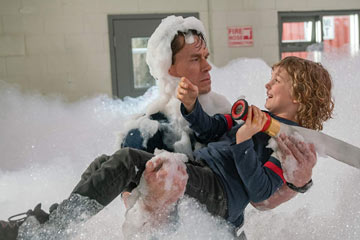 Cena plays Jake Carson, the leader of the smokejumpers who is vying for a promotion when the three young siblings fall into their care. His team is comprised of other recognizable comedic talent, namely Ice Age's John Leguizamo (who voiced Sid in that series) and Key and Peele's Keegan-Michael Key (who recently leant his voice to Toy Story 4 and The Lion King). The only female in the cast, outside two of the children stars, is Judy Greer who plays a former flame of Carson's, and there's clearly still something there between them. The comedy that stems from the firefighter's interactions with the kids is very slapstick and of the low brow variety, but Cena, Leguizamo and Key are charming enough to pull it off and make it enjoyable to watch. Even Tyler Mane, who may be recognizable as having played Sabertooth in the first X-Men film, brings something to his intimidating, ax-wielding character, Axe. The child actors are also little charmers, led by Deadpool's Brianna Hildebrand as the older sister, Brynn.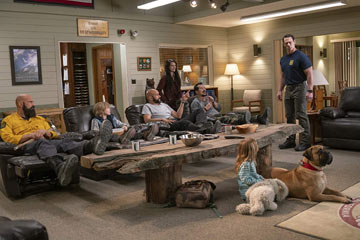 The content of Playing With Fire is pretty mild, with no real bad language used (they even make it a point to say "gosh"), and only a couple minor suggestive lines. Cena does manage to go without a shirt a couple times, which must be to appease the moms taking their kids along. (Ha!) But overall, some might find the fire scenes a little intense, but they're brief and even those are peppered with comedy. There's also a scene during the film's climax where a couple characters dangle precariously on the edge of a cliff in a car, but everything turns out okay.
Playing With Fire isn't exactly comedy gold or even among the top tier of family films available, but it's probably one of the better ones to have been released recently. If you're a fan of any of the cast, and are looking for something benign to watch with the kids, keep your expectations low and check out Playing With Fire.
– John DiBiase (reviewed: 2/1/20)
Blu-Ray Special Features Review

Along with the feature film in HD, the Blu-Ray/DVD/Digital combo pack version of Playing With Fire offers some bonus content. The Blu-Ray disc features are as follows:
Deleted Scenes (14:43) – There are 13 deleted scenes with a Play All option. Most include pieces of other scenes. First, we see more of Mark and the picture of Carson's dad, trying to hang it straight on the wall. The scene extends to show they use a chore wheel to assign duties around the station. The second one shows a dog peeing on Mark's gear. The third shows alternate footage with a different actor answering questions on the news on TV, representing the Chief. The fourth scene is a brief moment of Mark and Rodrigo arguing while flying the helicopter. Next, Carson rescues Zoey's stuffed bunny and Brynn rescues her backpack of personal belongings. The sixth scene shows Brynn trying to convince her siblings to sneak out of the station. Next, the guys try to calm Zoey while she's screaming. This one features two batches of takes of Mark riffing during the scene. The following is a short scene of everyone teasing Carson about Amy. The ninth scene shows Rodrigo telling Will about his criminal record and how he became a firefighter. The tenth scene is more of Carson chasing kids on the ATV. Then, in the next scene, we see more of Rodrigo reacting to the peppers (including dousing himself with the water cooler jug). Finally, there's an extended version of the "FUPA" scene, and then Mark gives Rodrigo a cookbook as a gift.
Bloopers (2:33) – These are the bloopers that play during the film's end credits. I'm not sure why they're given their own featurette spot here, but you can see them take up the full screen here instead of as a picture-in-picture during the credits.
Story Time with John Cena (1:27) – Here, John briefly tells the story of the three little pigs. (Well, his version of it!)
Lighting Up the Laughs (3:05) – The cast talk about which actor is the silliest on set and what was the most fun about the shoot.
The Director's Diaries: Read by Star Cast (5:05) – Members of the cast read emails they had received from director Andy Fickman during the production of the film. They're actually pretty amusing, too.
What It Means to Be a Family (4:32) – The cast talk about the theme of family in the story, and then they speculate where their characters might be in 5 years.
The Real Smokejumpers: This is Their Story (2:34) – John Cena introduces this short segment that is dedicated to the real fire-fighting smokejumpers out there.
– John DiBiase, (reviewed: 2/1/20)

Parental Guide: Content Summary

 Sex/Nudity: A woman flirts with Carson after being rescued, but the camera moves to reveal her husband is right there during this, looking dumbfounded (played for laughs); Rodrigo rips down a picture near his bunk that shows the back of a shapely woman in a bikini; We see Carson's bare torso while he showers to get baby poop off his body; We see Carson changing his shirt again and Amy peeks as he does it; Brynn tells Carson to tell Amy to spend the night and he says "that's inappropriate." She then clarifies that there are enough bunks (so it's not that Jake and Amy would be together); We briefly see Carson change his shirt again to put on a small My Little Pony shirt.


 Vulgarity/Language: None.


 Alcohol/Drugs: Axe lights a tea cup filled with lighter fluid on fire and drinks it


 Blood/Gore: While trying to find food, Carson presents a skinned chipmunk on a stick for them to roast, but no one wants to eat it.


 Violence: The film opens showing a fire raging in the forest, trapping people in their cards on the road. The smokejumpers show up to help put out the fire and rescue everyone. At one point, Carson catches a flaming branch in one hand before it falls on a man; A kid runs to hug Carson but misses and runs into the side of a parked van; We see a cabin on fire, engulfed in flames; Dr. Hicks is almost hit by the water bucket hanging from the helicopter and falls into the lake; Carson, while tethered to the helicopter and inside the burning cabin is slammed repeatedly on the ceiling of the cabin; Will accidentally trips Carson with fire hose; Mark briefly touches a stove pipe and reacts to it being hot (played for laughs); Will fires flares indoors and Carson falls over and his pants catch on fire. They hose him with an extinguisher to put it out; Will climbs up a shelf and it falls over; Carson sits up fast in his bunk and it causes the bunk bed to collapse on him; When the water pressure on a hose kicks on, Will whips around while riding the hose; Zoey shoots a nail gun at Mark, who frantically dodges them; While changing Zoey's diaper, poop shoots up Carson's sleeve into his mask; Axe lights a shot of lighter fluid and drinks it; Rodrigo crawls through a training area in a trailer that surrounds him with fire; The guys slide across an oiled driveway, falling over; The kids crash into Carson with an ATV and he goes flying through the air; Rodrigo touches his eye and mouth with pepper juice on his fingers and he reacts to the pain; Carson accidentally douses a barbecue grill with a lot of lighter fluid and it surges with a big flame (they extinguish him again); There's a big, playful balloon fight. Axe throws one that hits and propels Rodrigo across the room; A man sips a cup of lighter fluid, thinking it's tea, and he spits it on a birthday cake, which burns up; A hummer slides off the road and hangs on the edge of a cliff. There's then a prolonged sequence where the fire team rushes to help save them.