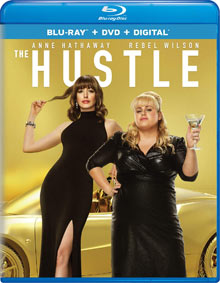 The Hustle


– on appeal for crude sexual content and language.
Director: Chris Addison
Starring: Anne Hathaway, Rebel Wilson, Alex Sharp
Running Time: 1 hour, 33 minutes
Theatrical Release Date: May 10, 2019
Blu-Ray Release Date: August 20, 2019 (Amazon.com)
Plot Summary
Josephine Chesterfield (Hathaway) is a glamorous, seductive Brit who defrauds gullible wealthy men. Penny (Wilson) amasses wads of cash by ripping off her marks in neighborhood bars. Despite their different methods, both are masters of the art of the fleece so they con the men that have wronged them. Wilson's talent for physicality and Hathaway's withering wit are a combustible combination as the pair of scammers pull out of the stops to swindle a naïve tech billionaire, played by Alex Sharp (How to Talk to Girls at Parties), in this hilarious comedy. (from Universal Pictures Home Entertainment)
Film Review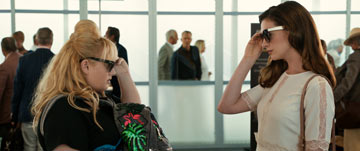 While it's easy to harp on a film that seems to be nothing more than a shameless remake, Hollywood has definitely churned out some really excellent remakes through the years, too (to name a few: the 2001 Ocean's 11, 2010's True Grit, 1999's The Mummy, 1940's His Girl Friday, and The Magnificent Seven). But the bad outweighs the good, and I think it's much easier to name failed remakes than good ones (Let's see: The Truth About Charlie, Overboard, War of the Worlds, The Day the Earth Stood Still, 2017's The Mummy, Poseidon — I could go on, although, to be fair, many of them still have some good moments or performances). So where exactly does The Hustle fall on the remake quality spectrum?
I've been a fan of the 1988 Michael Caine, Steve Martin comedy Dirty Rotten Scoundrels for years, and it's one I grew to appreciate more as I got older. The performances in the film are fantastic, the comedy is solid, and it's a very memorable 80's film. However, I don't think I realized that it itself was a remake until watching the special features for The Hustle. Marlon Brando and David Niven previously starred in 1964's Bedtime Story, which was the first telling of this con-man rivalry tale. Since I haven't seen it (although, now I want to), I'm not sure how much Dirty Rotten Scoundrels compares to Bedtime Story, however, I can tell you how it compares with this year's direct remake, The Hustle. (UPDATE: I found Bedtime Story streaming in full on YouTube. The movie is extremely similar to both of the remakes, except it has a much happier ending. The twist ending of Dirty Rotten Scoundrels is a clever one, and The Hustle mimics it almost identically.)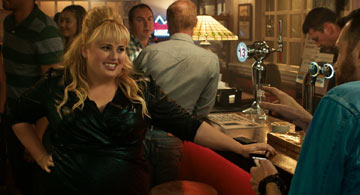 The Hustle takes the 1988 film's premise and flips the genders. Instead of two men competing to be the top dog in the con game, and instead of them both chasing a single female mark, this film features two female con-women chasing a male mark. And, sadly, if you've seen Dirty Rotten Scoundrels, there really are no surprises in The Hustle as it plays out beat-for-beat in similar fashion. Even similar shots from the 1988 film are mimicked, and the end result just feels like a poor imitation of what had come before it. At what point does homage become nothing more than a lesser shadow of what it's trying to honor? It's unfortunate, but The Hustle is a largely unfunny retread of everything that made Dirty Rotten Scoundrels as good as it was.
For starters, there's casting. British comedienne Rebel Wilson steps into the Steve Martin role (just… let that sink in for a moment), mostly because she actually had pitched the idea for this gender-swap remake and serves as a producer on the film. Academy Award-winning American actress Anne Hathaway takes the more accomplished con-man role previously played by Michael Caine, but she plays the role with a British accent and class. Of the two, Hathaway truly gives an admirable performance and is easily the best thing this movie has going for it. For Wilson, unless you're a fan of her particular schtick (which I'm not), I'm afraid what she brings to the film just doesn't work (at least, not in its favor). She admits in the featurettes that accompany the home release of the film that, as a producer, she was free to bring more of her own brand of comedy to the film, and that's certainly evident (kind of like Will Ferrell or Adam Sandler usually do with their films). I'd have to say the only scene that genuinely elicited a laugh from me was when Hathaway's character–posing as a doctor–tests Wilson's character's affliction–in this case, she's faking blindness–in front of their mark. It's wonderfully played and a fun exchange between the two, recreating a standout moment from Dirty Rotten Scoundrels, but sadly, I find it difficult to highlight much else that stood out about this comedy.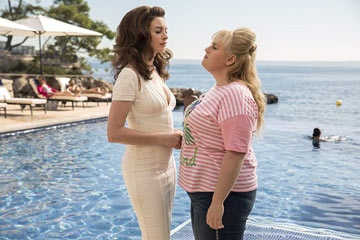 The content contains a fair amount of language and quite a bit of crass, sexual humor. Wilson says the film's lone "F" word at the end of the film when trying to pronounce a real-life location (that is spelled in a way that looks like it should be pronounced that way), and she appears the mouth the "F" word twice in an earlier scene. There is some blasphemy, as well as several uses of the "S" word, among other cuss words. There is no nudity, but there is one off-camera sex scene, and another where Hathaway's character tries to seduce a man while wearing a cleavage-revealing slip-style lingerie. The aforementioned sex scene features Wilson's Penny trying to convince a man in an airplane bathroom that they should have sex there. We then hear thumping from outside the bathroom and see the occupied/vacant sign flash back and forth quickly during this. Lastly, there is some violence, but it's all done comedically. The worst may be when Penny, as part of a con, pretends to shoot the butler who is running across the field.
If you're fans of either of the main cast, and maybe haven't seen either of the films this movie is copying, there's a chance you may enjoy The Hustle way more than I did. But if you've seen Dirty Rotten Scoundrels, this film comes off as a lazy and uninspired remake that even borrows the same twist at the end, and carries it on through till the final scenes exactly as Scoundrels did. (Although, I did appreciate the epilogue scene that shows life for the characters a few months later.) But, for the most part, The Hustle is so much like Dirty Rotten Scoundrels that you're much better off skipping this remake altogether and just watching Dirty Rotten Scoundrels–either again, or for the first time. Oh, but if you do decide to see The Hustle, and you brave the obnoxious pop song during its end credits, there is a deleted scene tacked on at the end that shows more of one of their sillier cons, and it's worth a watch if you liked the film.
– John DiBiase (reviewed: 8/17/19)
Blu-Ray Special Features Review

The Hustle is available on Blu-Ray/DVD/Digital HD, DVD, and through the usual digital providers. Along with the feature film, the Blu-Ray disc and digital copy include the following extras:
Hitting the Mark (4:35) talks about The Hustle as a remake, offering a different kind of conning with it being women instead of men this time around. We also learn here that it was Rebel Wilson who had pitched the idea! (1 "a" word from a scene)
Comedy Class (5:51) covers the comedy style of the film, Rebel's process, Anne and Rebel working together, and working with the film's director.
Con Artists (6:32) is dedicated to the wardrobe and sets, the clothing style, everyone working together, and the cast having fun on set. It's clear that they all had a blast making this film.
The last extra is the Feature with Commentary (1:33:32) from Director Chris Addison, which gives more of an inside look into the film while you watch it.
– John DiBiase, (reviewed: 8/17/19)
Parental Guide: Content Summary

 Sex/Nudity: A man looks at sexy photos of a girl on his phone, then zooms in on her cleavage and says "Those babies look legit." When Penny arrives at a bar to meet this man, she shows him a photo of him on her phone with his pants down and just in his briefs. She then talks about the girl in the photo the man was looking at being her sister who needs a boob job; A man comes on to Josephine. He touches her leg and says maybe she can pay him in other ways. She says she has a boyfriend and he says "as do I;" Penny talks about her sister's friend being a slut; Penny talks about a community where she can con men and Jo says it's actually a community of lesbians (to try to dissuade Penny from going) and Penny wonders if she can con a woman; Penny dances on jail cell bars seductively to try to entice the warden because she thinks it's a lesbian community; Penny suggests there might be more between Josephine and her female partner; An older man and Penny talk about Jo's con while crammed into an airplane bathroom. She tells him they should have sex, but he acts resistant. He says he has "many STD's," and she seductively says she does too. We then see the door shaking from outside the room and the occupied / vacancy sign flashing as they press against the door inside. We also hear the pilot say over the intercom that they're experiencing unexpected turbulence; Josephine asks Penny what men want and she says "Boobs. Backdoor. Front door. Pegging. Threesome." to which Josephine stops her and tells her it's something else; Josephine says to Penny that being attractive means you have to "pay for things in other ways" and then she specifies "sex"; Penny dances around, shaking her butt exaggeratedly; A dress Josephine wears reveals her cleavage; Penny makes a remark about a man having his own "whores"; Penny lifts up her dress to reveal a large chasity belt; After he gets paid, Penny says she still wouldn't "bang" the butler despite the money he now has; Penny calls a statue a "dinosaur clitoris;" Penny calls Josephine "an animatronic c*cktease"; Penny gropes Josephine's chest while pretending to be blind and calls her sir; While dancing, Jo grinds on Thomas's crotch with her butt; Penny mentions guys sending "d*ck pics" to her in the past; Jo wears a slip-type lingerie to Thomas's suite. She basically throws herself at him, but he rejects her. He then tells her to wait and turns out the lights. The scene ends there. (SPOILER: Nothing happened between them.) Penny asks a bell boy if Jo seemed happy like "she got some;" Penny talks about withholding sex from a guy.


 Vulgarity/Language: 1 spoken "F" word (instead of the country that's pronounced "Poo-kit," 2 mouthed "F" words, 5 "S" word, 5 "Oh my G-d," 3 "Chr-st," 4 "t*ts," 3 "b*tch" (and 1 in subtitles); 1 "g*dd*mn" (in subtitles); 4 "h*ll" (and 1 in subtitles); 7 uses of "*ss," 2 "*ssh*le," 1 "w*nkers," 2 "cr*p," 1 "p*ss off," 1 "c*cktease," 3 "d*mn," 2 "d*ck," 2 "Oh G-d," 1 "jack*ss;" The song "Bad *ss Woman" by Meghan Trainor plays over the credits and features 16 uses of "bad *ss" in the song as it plays. Josephine flips both middle fingers in the air at someone while screaming in anger.


 Alcohol/Drugs: The opening scene takes place in a bar where people are seen drinking; Penny and Jo pour champagne and Penny struggles to get it open; We see Penny and Josephine at a wine tasting event. Penny spills it on Jo and then drinks from the pitcher; Jo pours herself a drink and drinks it in their suite.


 Blood/Gore: None.


 Violence: While being chased by a man and two police officers, Penny pushes a pile of kegs over, causing them to trip and fall; Penny punches a man in the throat by accident when he startles her. He then struggles to breathe normally again (and does); They practice throwing knives at a target. Penny gets mad and stabs it. She also accidentally fumbles one and apparently stabs her hand (seen from a distance with no blood or anything). She also practices jumping over things and just flounders and falls over; Penny and Jo pour champagne and Penny struggles to get it open. She gets hit in the face with the cork; Penny beats a mannequin as part of a con; Thomas accidentally trips and falls over; Josephine stops just short of hitting Penny in the face with a rod. Then she blows air directly into her eyes. Jo then wipes a French fry in the toilet and makes Penny eat it. Jo also makes Penny run down a hallway, but closes the door on her fast so she runs into it; As part of a con, Penny pretends to shoot the butler as he's running across their lawn; Penny slips on the floor and hits the wall and a large vase falls on her; Penny slaps Thomas in the face.