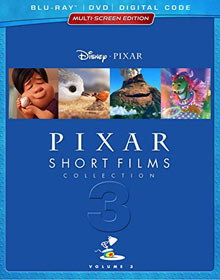 Pixar Short Films Collection: Volume 3


Director: Various
Running Time: 1 hour, 18 minutes
Blu-Ray Release Date: November 13, 2018 (Amazon.com)
Plot Summary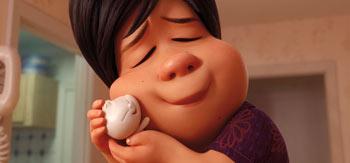 From Disney•Pixar and the creative minds who brought you The Incredibles, Finding Nemo and Toy Story comes the studio's latest collection of delightful and inspiring animated stories – Pixar Shorts: Volume 3. Eleven short films include Oscar® winner Piper (Best Short Film, Animated, 2016) and nominees Sanjay's Super Team (2015) and Lou (2017). With unforgettable characters, insightful bonus extras, and cutting-edge animation, it's a must-own for any movie fan! (from Disney)
Film Review
Six years ago to the day, Pixar released the second volume of animated short films as a separate collection for fans to take home a batch of the littler doses of Pixar goodness. Volume 3 is now here and it unites another group of short, animated cartoons Pixar has released either in theaters with one of their featured films, or via the home release of these films.
Leading the pack is the latest short, "Bao," which preceded this past summer's Incredibles 2. It may be one of the oddest stories yet for the shorts, but it's loaded with heart as it showcases a Chinese mother dealing with empty nest by reliving parenthood when a dumpling she makes in the kitchen comes to life and she suddenly becomes a mother once again.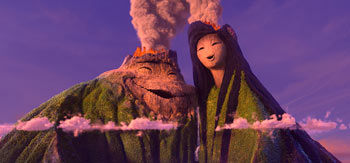 The rest of the shorts here are a mix of original stories and side stories for known, beloved characters. A personal favorite is "Partysaurus Rex," where Rex from Toy Story joins the tub toys for a magnificent dance rave. Similarly, we get to see "Party Central" in the Monsters University world, where Mike and Sully hijack a huge frat party and bring it to their sorority, with the help of the human "door stations" (we do see them with unidentified drinks in cans as they have a rowdy party, just FYI). "Piper" is an original, which utilizes jaw-dropping photorealistic animation to bring a baby bird to life on a beach. "Lava" is a fun and cute love story involving a pair of volcanoes, while "Riley's First Date?" serves as a hilarious follow-up to the feature film, Inside Out. "The Radiator Springs 500 1/2" is a fun additional Cars adventure, but it isn't really one of the highlights, while "Miss Fritter's Racing Skoool" isn't quite the "mini-movie" advertised here as it's literally just a mock commercial for Miss Fritter's racing school, with testimonials from various cars. Similarly, "Marine Life Interviews" was a bonus on the Finding Dory release and is just included here as a bonus.
"The Legend of Mor'du" released with 2012's Brave and features a witch telling the story of the beast Mor'du, with the story being presented in painterly, lightly-animated images (with some creepy imagery as well). It's a short you should definitely watch only if you've already seen Brave. Otherwsie, it will spoil some of the film's plot for you. "The Blue Umbrella" is from 2013 and features cute, colored umbrellas that fall in love, and "Sanjay's Super Team" is based on a true story about a little Indian boy who loves superheroes trying to relate to his father during a time of prayer and reflection (and the two worlds collide in a big, big way). Finally, "LOU" is about a box of lost and found objects that teaches a playground bully a lesson. It's pretty cute and heartwarming, but it's also a bit heartbreaking to see the bully terrorize the kids. It has a great twist (and message) at the end, though. To sweeten the Pixar Shorts pot, however, each short has an introduction from the film's director that tells a bit about the story you're about to watch. There's also optional commentary for them.
Overall, I'd say this set is more for completists and diehard Pixard fans than anyone else. I can't imagine many wanting to watch this whole batch over and over as a feature, but there are definitely some real gems in the mix (like the Toy Story and Monsters shorts, especially).
– John DiBiase (reviewed: 11/13/18)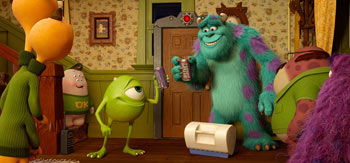 Shorts List:
Bao
LOU
Piper
Lava
Sanjay's Super Team
Riley's First Date?
The Radiator Springs 500 1/2
Party Central
The Blue Umbrella
The Legend Of Mor'du
Partysaurus Rex
Bonus Mini-Movie: Marine Life Interviews
Bonus Mini-Movie: Miss Fritter's Racing Skoool
Blu-Ray Special Features Review

The only extras on the Blu-Ray/DVD set are two little featurettes…
Making Bao (6:02) – First-time director Domee Shi talks about how she came up with the concept for Bao, and reveals how she spent a year storyboarding it on her own at first. Domee shares about how the story came to life (and what "Bao" means in Chinese!) and how she wanted it to mirror her own family's story to a degree–about a Chinese immigrant family who had moved to Toronto (and how she inserted some Canadian imagery into the story to illustrate that). (1 "Oh my G-d")
Caricature: A Horrible Way of Saying "I Love You" (3:53) – The Pixar team show us a party they have where the artists make caricatures of each other… which can get a little rude. But it's an interesting practice for sure.
– John DiBiase, (reviewed: 11/13/18)