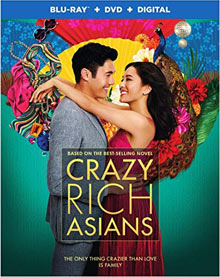 Crazy Rich Asians


– for some suggestive content and language.
Director: Jon M. Chu
Starring: Constance Wu, Henry Golding, Michelle Yeoh, Gemma Chan, Ken Jeong, Awkwafina
Running Time: 2 hours, 00 minutes
Theatrical Release Date: August 15, 2018
Official Site
Blu-Ray Release Date: November 20, 2018 (Amazon.com)
Plot Summary
This contemporary romantic comedy, based on a global bestseller, follows native New Yorker Rachel Chu to Singapore to meet her boyfriend's family. (from IMDB)
Film Review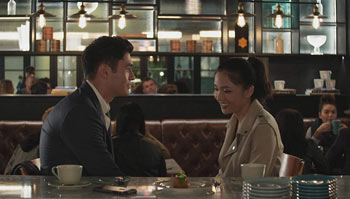 It's a curious thing when certain films become unexpected hits. For Kevin Kwan's book, Crazy Rich Asians, it's one of those quirky out-of-left-field films that just kind of surprises audiences and wiggles its way into the hearts of moviegoers. Crazy Rich Asians isn't your typical rom-com either, although it has some of the things you've come to expect from the genre for sure, but it's more or less the kind of ethnic romp that almost feels like this generation's My Big Fat Greek Wedding.
Romantic comedies are tricky in that they often alienate the male audience, but I've always felt like a good romantic comedy is for both sexes. And a good romantic comedy should actually live up to the expectations of being both romantic AND funny, and not just one or the other.
Crazy Rich Asians takes viewers into a stereotype-smashing culture where Asians are literally "crazy rich," residing in places like Singapore and Malaysia. The story is Sabrina-esque, where the lead girl, Rachel – charmingly played by Constance Wu – comes from a modest family, while her boyfriend is actually from one of the wealthiest Asian families in the world… but she doesn't know it. When he takes her to meet his family, she's in for the culture shock of her life as she has to deal with the bigotry of his mother and the snobbery of others in the community.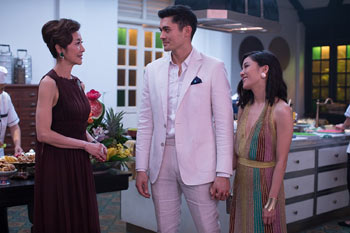 While Crazy Rich Asians deserves props for being a quality production that is a rare all-Asian production coming out of Hollywood, its story feels surprisingly familiar. The rich-and-poor-clash tale is anything but fresh and new, but Crazy Rich Asians does a good job of making it feel fun and unique, even if it does have frequently familiar plot beats. The characters, performances, and even the film's style are what propels it forward and raises it above standard fare. (Think Ocean's Eleven meets The Proposal meets My Big Fat Greek Wedding). But in the end, you're likely to feel like "hey, that actually reminds me of…." but you probably won't mind that much.
The content is especially PG-13, although at times it doesn't feel like it would be. There's a sweetness to Rachel and Nick's relationship, but they're often surrounded by some crass characters, like the horny party animal Bernard, or the PDA-abusing moviemaking couple that can't stop making out in public. And then there's Ocean's 8's Awkwafina who plays Peik Lin Goh who frequently swears casually and super swiftly drops the "F" word in one scene. There's no nudity in the movie, or gratuitous sex scenes, but we see some characters making out, and sex is implied in a couple scenes that take place in bedrooms (and the scene ends before it goes past some passionate kissing). We also learn that a married man is cheating on his wife at one point. There is frequent drinking at parties, and implied drug use by the aforementioned Bernard, while one shockingly graphic scene has a character finding a disemboweled fish in their bed with fish guts and blood all over the sheets and window behind it.
Crazy Rich Asians may not be the laugh-a-minute romantic outing some have hyped it up to be, but it is a cut above its kind in its genre. And while aspects of it may remind you of other films and stories, other traits of the film make it feel like you've never seen a movie like this before. Perhaps the hype raised my expectations to unreachable heights, but while Crazy Rich Asians is enjoyable, it's hardly one of the best of the year, but fans of the genre may still want to check it out.
– John DiBiase (reviewed: 8/5/18)
Blu-Ray Special Features Review

Crazy Rich Asians is available on Blu-Ray/DVD/Digital, DVD, and through the usual digital providers. Along with the film in high definition, the Blu-Ray disc and digital services include the following extras:Crazy Rich Fun (7:18) – Director Jon M. Chu talks about the book and how inspired he was by it to make this film. This featurette also addresses how the film aimed to break boundaries for Asians and get rid of stereotypes. It also covers the film's casting and the different cultures represented by the story. (1 "Oh my G-d")
Gag Reel (1:47) – This silly gag reel features some ad-libs, line flubs, and some bleeped out cuss words (as well as a few crude jokes). It's mostly just the cast goofing off on set, though. (1 "b*tch")
Deleted Scenes (12:08) – There are seven deleted or extended scenes. "Karaoke" takes place right after Rachel dismisses her students from class. We see her at a bar with a friend, and then she's forced to do karaoke. (But the scene cuts before she sings. 1 "S" word) "Shopgirl" is an extended version of the scene where Rachel and her mom are dress shopping. Here, the saleswoman is especially rude to Rachel's mom. (1 "Oh my G-d") "Exterior Singapore Airport" is a cute little scene of Nick and Rachel teasing each other outside the airport. "Nick and Mom Fight Over Rachel" is a game-changing scene that takes place near the end of movie. Here, it looks like his mom still needed convincing to approve of Rachel after her final showdown with her. In a heartbreaking exchange, Nick tells his mother that all he'd ever wanted from her was for her to be there for him. "Arrival at Bachelor Boat Party Extended" shows more glamour shots… and bikini butt shots. (1 "b*tch, 1 "*ssh*le") "Medevac" reveals how Nick and his brother escaped the party boat. A Medevac arrives and takes them out after the groom fakes being sick. Finally, "Wedding Dance" introduces a future love interest for Astrid, and shows her dancing with a young guy. It's the same guy she flirts with at the end of the final cut of the film, so this scene kind of sets all of that up better.
– John DiBiase, (reviewed: 11/14/18)
Parental Guide: Content Summary

 Sex/Nudity: Rachel's mom tells her to wear red when she meets Nick's family because it symbolizes fertility; We see a fight being filmed in a movie. One of the actresses acts sensually towards the director and she puts his hand on her chest as they make out, and he grabs her thigh; We briefly see Rachel and Nick in pajamas and kissing while in bed. He then climbs on top of her as they kiss and the scene ends (sex is implied); We briefly see a man showering from the waist up and then exit the shower and put a towel on. We then see him put pajamas on, get in bed with his wife, and they passionately kiss; Nick and Rachel wake up in bed. His arm is around her (he has no shirt, she is in a camisole). He gets out of bed and we see him in just pajama pants. He then climbs back in and they kiss and it's implied there's more, but the scene ends; Wye talks about how Rachel has a nice backside while his son looks longingly at her; We see Rachel in a dress where the neckline cuts in a V shape to almost her navel; Women at a party wear dresses revealing cleavage; Astrid finds a text on her husband's phone that isn't from her that reads "The bed feels empty without you," implying that he's cheating on her; A character named Oliver is flamboyantly gay but doesn't do or say too many things relating to this, aside from acting very feminine; Oliver talks about Nick's brother's girlfriend not wearing a bra and a rumor that she was in a porno with 2 girls; Bernard often walks around with no shirt or a shirt open and makes crude remarks. At one point he yells, "Let's make some babies!"; Bernard talks about a bachelor party needing drugs and hookers; We see lots of girls in small bikinis; A girl remarks on Rachel having "small t*ts;" Bernard makes a comment about tying someone up and shaving his "cookoo chow" (or something like that); Nick's friend jokes about asking his buddy to marry him after he sees the size of the engagement ring he has; We see some girls' bare backs as they lie facedown getting massages; We see a dress with hands printed on the woman's chest area, to which Oliver makes a suggestive remark about it; We see Wye dirty dancing and making out with his wife, including pretending to spank her; We see more low cut dresses; Bernard says to the groom, "Make sure she doesn't take your balls" and hits him in the crotch; We see Allistair making humping motions with his girlfriend on the dance floor; We see Bernard with his pants down on the dance floor after making out with Allistair's girlfriend.


 Vulgarity/Language: 1 "F" word, 4 "S" words, 2 "h*ll" (and 1 in subtitle); 6 "Oh my G-d," 2 "g*dd*mn," 2 "d*mn," 3 "*ssh*le," 5 "b*tch" (and 1 written on a window), 1 "t*ts," 1 "cr*p," 2 "a" words (and 1 in subtitle); 2 "G-d," 1 "J-sus," 1 "b*stard," In one scene, we see some text messages pop up on the screen that imply strong profanity, like "WTF," "AF" and "OMFG"; Someone refers to another character as a "douche nozzle"


 Alcohol/Drugs: Astrid and her husband have wine; We see drinking at a party; We see lots more drinking at another bash; Bernard rubs his nose like he recently sniffed drugs. He talks about the party needing drugs and hookers; Nick and his friend have beers together; More drinking at parties.


 Blood/Gore: We see a gutted fish on Rachel's bed with its entrails spilling onto the sheets. It's shocking, unexpected, and very bloody. Some of the blood was used to write "You gold digging b*tch" on the window behind the bed.


 Violence: We see a gutted fish on Rachel's bed with its entrails spilling onto the sheets. It's shocking, unexpected, and very bloody; We see an action scene being filmed on a movie set.