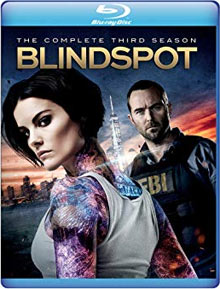 Blindspot: The Complete Third Season

Starring: Jaimie Alexander, Sullivan Stapleton, Rob Brown, Audrey Esparza, Ashley Johnson, Luke Mitchell, David Morse
Running Time: Blu-Ray – 4 discs: 946 minutes
Blu-Ray/DVD Release Date: August 21, 2018 (Amazon.com)
Plot Summary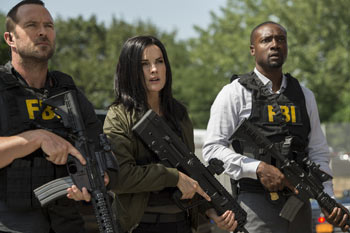 Following the shocking revelation of new bioluminescent tattoos on Jane Doe's body, Season Three jumps forward two years as FBI teammate and husband Kurt Weller finally tracks down Jane. Together, they return to the FBI, where, along with agents Edgar Reade and Tasha Zapata and tech-savvy Patterson, they set out to decode the latest developments. But with the always unpredictable Rich Dotcom assisting and new FBI director Eleanor Hirst bringing challenging dynamics to the once-cohesive team, Jane's lethal brother, Roman, remains at large. Weller, Jane and the team set out to solve new puzzles and stop the dangerous conspiracies they uncover in 22 of Blindspot's most danger-filled episodes yet…for Jane's tattoos also reveal the team's deepest secrets. (from Warner Bros.)
Season Review
It's risky business to feature a significant time jump as the conclusion to a television show's season. The final season of comedy Parks and Recreation took place three years after the Season Six finale, and similarly, Season Three of action/crime drama series Blindspot jumps a full two years into the future. What we're presented with is that the show leads – Jane and Kurt – had married during that span of time, their FBI team had fragmented, and Jane ran off on her own in the name of self discovery. This set up the season to be a free-for-all where anything goes, so to speak. As jarring as the time jump is to the architecture of the show, it seemed to work for Blindspot, while I felt it seemed like an odd choice for Parks and Rec to use it for their final, truncated batch of episodes.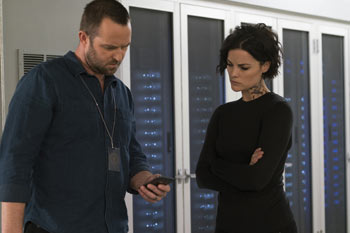 Out of the gate, Blindspot has been a bit of a Bourne Identity kind of story. The main character lost their memory and is determined to find the truth about who they really are and what happened to them. For Jason Bourne, he was a government agent who had been brainwashed to be an assassin, and upon waking up with no idea of who he is, he's had a change of heart–for the better. For "Jane Doe," we found out in Season Two that she was part of a terrorist group that had groomed her as a weapon against the United States, poised to infiltrate the government via the FBI. But with her mind wipe, she is like a new person, and so she ends up teaming with the FBI to bring down the terrorist organization – which was spearheaded by her adopted mother, "Shepherd," and blood brother, Roman.
In a lot of ways, I felt that Season Three was actually the show's most enjoyable season so far. It's very different, yet it still offers everything fans of the show had signed on for. I was worried at first by the team being so fragmented, but it isn't long before they're brought back together again — of course, not without drama. Where the show felt gritty and real (like a Bourne film) at first, this season ventured more in the direction of science fiction. Even characters who probably should have died make some kind of resurrection of sorts and come back to the show for an episode or two. New to the cast this season as the central villain is actor David Morse, while Jane's brother Roman, played by Luke Mitchell, returns to pull strings behind the scenes to torment her FBI friends. Some of the stakes are definitely upped pretty high, and it makes for some good action and tension. Just when the show might feel like it's running out of steam in some way or another, the writers found enough drama or something new to throw into the story to spice it up a bit. It definitely doesn't always work though. There's plenty of relationship drama that starts to feel a bit strained or hokey here — not to mention an extended plotline where we discover one of the characters suddenly has a teenage child they didn't know about. The show sort of makes it work (at times, at least), but it feels so out of left field that it seems like it only enters the story in an effort to shock the audience. (Furthermore, the character is often just annoying, so it feels even more so like an uninvited plot device. Thankfully, however, it hasn't hurt the show too much overall.) This is definitely one of those shows where the central cast is what brings viewers back each week, and they keep things fun and entertaining. Ennis Esmer, who has played Rich Dotcom since the first season in a few really memorable episodes, becomes a series regular this season when we find that he's joined the FBI team as a reluctant consultant in the time that's passed (think White Collar). He almost always adds to the show, and he helps make Season Three a memorable effort.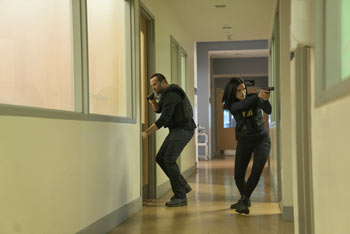 The content is certainly TV-14 on an episode to episode basis. And if it were to be rated by the MPAA for theaters, it's safe to say it's a PG-13 show. There is infrequent use of mild/moderate profanity, but there's usually some in each episode – be it "h*ll," "d*mn," "a–," or "S.O.B" (with the only blasphemy being exclamations, like "Oh my G-d"). There is some sexual content, but it's only on occasion. It can get a little heated sometimes when it does show up, but it's not explicit and doesn't last too long. But when they do have sexual scenes, it's usually pretty passionate, albeit brief. Also, with Rich Dotcom around more, he often makes awkward sexual remarks towards Jane and Weller (for comedic effect), as well as often bisexual references (and his "ex boyfriend" is part of the plot of one episode, titled "Technology Wizards"). However, violence is the most consistent red flag of the show. It's not gruesome (like The Blacklist or something over the top like The Walking Dead), but it can get bloody at times for sure: gunshot wounds, scrapes and bruises, bloody bandages, characters getting stabbed, etc. The show just isn't gory, thankfully. The violence is often intense and physical, also very similar to a Jason Bourne film. So, overall, it's not a show that's good for the whole family to tune in to, but if Bond or Bourne are your cup of tea, you'll probably really enjoy the show.
The ending of Season 3 has me genuinely concerned as to where Blindspot is headed. Chances are good, however, that they'll "right the ship" after a few episodes, much like they did with Season 3, but from the looks of it, Season 4 is shaping up to have the show's formula shaken up pretty good from the start. There isn't much merit about the show beyond entertainment value, but one thing I enjoy about it is the persistence for the characters to do good in the midst of extreme circumstances–and often forgiving each other when needed. (I'm a sucker for heroes defying all odds–including human nature–to do the right thing.)
If you like spy and crime dramas, Blindspot should be right up your alley. It isn't perfect by any stretch of the imagination, and sometimes there's a subpar episode in the mix (or just plain bizarre, yet still kind of entertaining, like "Everlasting" when Patterson is dreaming different scenarios), but overall, it's a relatively solid show. As the momentum picked up through the season, I found myself looking forward to it each week again. If you haven't seen it and are interested, I recommend binge-watching it from the beginning. It's mostly designed as a serial with continuing story threads from episode to episode, so you'll get the most out of your viewing experience if you watch it in one large chunk. In summary, Season Three is different from what came before it, but it felt like a step in the right direction. It ends on a concerning note for sure, but it does have me intrigued as to where it may be headed for Season Four.
– John DiBiase (reviewed: 8/16/18)
Blu-Ray Special Features Review
Blindspot: The Complete Third Season is available with all 22 episodes in a 5-disc DVD set (without Digital HD, unfortunately) or a 4-disc Blu-Ray set. The Blu-Ray discs for this show are really solid HD transfers, so I definitely recommend seeing it in HD. The special features are slimmer this year for some reason; all of the discs offer deleted scenes, but the only other extras are a gag reel and one little featurette on the last disc…Surveillance on Set: Agent Zapata (4:18) – Audrey Esparza, who plays Agent Zapata, talks about working on the set, as we see her moving around the set. Audrey reveals behind the scenes videos she took herself, while the rest of the cast talk about working with her or are shown having fun on set. I think this could have been a lot longer than just 4 minutes…
Bound and Gag Reel (6:38) opens with Jaimie doing a real serious scene and then suddenly breaking character because she forgot her line. For the most part, this fun gag reel shows the cast fooling around, laughing mid-scene, messing up lines, and just having fun. There's some bleeping out of language here, as usual. Highlights include Ennis beat-boxing, Patterson trying to talk while literally bound and gagged, and Ennis adlibbing silly stuff for a scene.
Deleted Scenes – All four discs feature some deleted scenes, with the most appearing on disc 4. Sadly, there's no Play All option for the deleted scenes, but there is one for the episodes. I'll break down the deleted scenes here by disc and episode title. SPOILER WARNING: Some of them may contain spoilers if you haven't seen the episodes.
Disc 1
"Back to the Grind" (3:44) – This opens with a brief shot of Jane chasing Roman through the streets. Next is Jane and Weller talking on a plane about a secret pass phrase. We then see them captured and being interrogated by foreign authorities.
"Upside Down Craft" (2:43) – Reed and Zapata are shown trying to press someone for info. We then see Jane talking to Weller's ex-girlfriend while riding in a car (and Jane apologizes for being responsible for putting her child in harm's way)
Disc 2
"Hot Burning Flakes" (0:42) – Weller apologizes to team for keeping his contact with Roman a secret.
Disc 3
"Deductions" (2:52) – We briefly see the team moving into a building with rifles raised. The next scene has Weller and Jane meeting with her daughter about what she knows about Crawford and her father's dirty deeds.
Disc 4
"Clamorous Night" (0:30) – Weller is with the team at homebase trying to find where Jane is.
"Defection" (0:50) – Roman and Blake are on the job talking to someone and then Blake asks him what's wrong. The next scene is a super brief moment of Roman leaving a room and getting a flashback or headache (but it cuts to black and the scene ends)
"In Memory" (5:57) – We see the team watching, and discussing, a message from Roman. Next, the team is shown talking about Roman and Crawford. In it, Rich likens Blake's blind love for Roman to Weller's blind love for Jane, not wanting to accept she wasn't Taylor Shaw (back in Season 1). The next scene shows Rich revealing to Patterson that he is tracking Blake's phone. The next scene is Rich and Patterson talking about Roman. The following scene is Weller and Jane discovering they're not pregnant. Lastly, Reed confesses his love to Zapata over the phone in a voicemail.