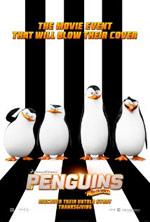 Penguins of Madagascar



– for mild action and some rude humor.
Director: Eric Darnell, Simon J. Smith
Starring: voices of John Malkovitch, Benedict Cumberbatch, Tom McGrath, Chris Miller, Ken Jeong, Peter Stormare, Andy Richter
Running Time: 1 hour, 32 minutes
Theatrical Release Date: November 26, 2014
Official Site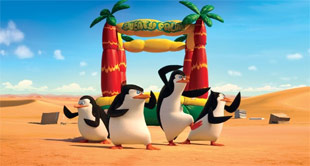 Plot Summary
Skipper, Kowalski, Rico and Private join forces with undercover organization The North Wind to stop the villainous Dr. Octavius Brine from destroying the world as we know it.
(from IMDB.com)
Film Review
Sequels and spin-offs aren't uncommon these days. With a Minions movie arriving next year, spawning from the popular Despicable Me series, the crazy penguins from Madagascar are in good company. This film takes place moments after the finale in Madagascar 3: Europe's Most Wanted, and it sees the penquin quartet venture out on another adventure to celebrate Private's birthday, when they have a run-in with a villainous character named Dr. Octavius–an octopus named Dave in a human disguise with a grudge against the penguins. The octopus, voiced wonderfully by John Malkovich, hates the penguins because when they were all in the Central Park Zoo together, the foursome's cuteness had made Dave's presence obsolete. After encountering Dave, the penguins meet up with a secret crime-fighting organization called The North Wind, who begrudgingly work together with the little black-and-white heroes to stop Dave's sinister plans.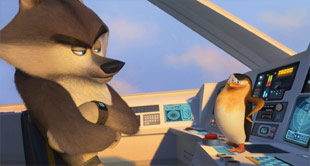 Much like Scrat for Ice Age or the minions for Despicable Me, the penguins were a sparingly used asset for the Madagascar films. Even when the sequels weren't quite as good as the first film, the penguins were always a highlight of those follow-ups. To make them the focal point this time around is indeed a risky move, as one may worry that it could be too much of a good thing. However, after a successful TV series that spawned over 80 episodes, a hilarious Christmas short, and other appearances, it proved that these characters had potential for greater things. And for this film, aptly titled Penguins of Madagascar, the story pits the characters against all new co-stars, from the Benedict Cumberbatch-voiced wolf (whose name is Classified) and his team, to Dave and his garble-voiced octopi underlings. It's a familiar yet all-new world for the penguins to exist within.
From start to finish, Penguins is ridiculous, but ridiculously fun. I've enjoyed their antics from their first appearance, so having a whole movie centered around them is just too perfect to me. Of course, it's possible for something like this to be really horribly executed and therefore a wasted effort, but the humor was right up my alley. It's almost weird, too, to see the story get fleshed out to include–dare I say it–character development. In some ways, it does feel a little forced. We're used to these characters being mere caricatures, but they're fleshed out more here, even given the dreaded origin story. But it actually works beautifully here. Instead of nearly ruining the character–like in X-Men Origins: Wolverine or Ron Howard's take on The Grinch, seeing the rag tag band as hatchlings is as precious as it is humorous. It also gives the youngest of the group, Private, a story. Here, we discover that Skipper, Rico, and Kowalski had actually saved his egg from destruction and adopted him into their little family of misfits. From this intro (which deliciously pokes fun at March of the Penguins and documentaries in general), we're then brought right up to the finale of Madagascar 3 and we follow the Penguins from there. And it's just a lot of fun.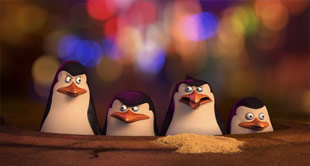 The finale does struggle a bit, however. It gets even more frenetic and even a bit too off-the-wall, and then you realize… wait a second! I've seen this before! The finale–and plot in general, really–has far too many simularities to Despicable Me 2. I won't divulge too much, but just think "purple minions" and that might give you a hint as to where this movie goes. Now, it's unlikely that the film crew saw that film and rushed in a year's time to replicate it (especially because these movies take far longer to make than a single year), but it's fascinating how many similarities there are (even down to the North Wind and the Anti-Villain League from Despicable Me 2). Still, while it robs a hint of freshness from this movie's plot, it doesn't exactly ruin it. And it's still looking to be one of my all-time favorite animated features (only repeat viewings can clarify that).
The content is probably less crass than a Madagascar movie, but there are a couple rude jokes. Also, Dr. Octavius is pretty creepy. They try to inject humor into it, but when he slithers and creeps before ripping off his human disguise to reveal being an octopus, it's super creepy and could frighten little kids. So just be warned. There's also plenty of action and slapstick violence to keep in mind. Overall, it's a good move to brand it PG, but it isn't too bad (and my 4 year old son liked it… even if it wasn't quite as much as the adults did).
In the end, Penguins of Madagascar is a sweet surprise and a wickedly enjoyable movie. If you love the penguins, you have to see this. If you can't stand them or random, silly humor, steer clear. But, really, it's up there as one of this reviewer's favorites of 2014.
– John DiBiase, (reviewed: 12/7/14)
Parental Guide: Content Summary


 Sex/Nudity: We see Private's bare butt cheeks after his feathers are burned off his butt.

 Vulgarity/Language: None. But they use the word "flippin'" a few times as a substitute profanity because of them having flippers.

 Alcohol/Drugs: We see the North Wind team drinking champagne while sitting in a raft.

 Blood/Gore: None.

 Violence: Lots of comedic violence. Also, Rico eats a lot of items and then spits them back up as he needs them; The penguins playfully slap each other with their flippers; Private is kidnapped and strapped to a chair to be shot with a ray gun. He escapes at the last second, but not before his friends think he died; We see a lot of penguins in cages; Deformed, mutated penguins run around in large numbers for an extended sequence; Private inserts himself inside of a large machine to help save the day but it's uncertain if he'd be harmed or not; Dave threatens the penguins and they assume he wants them dead, but we find out he has other plans for them; We see a montage of Dave in captivity and in unhappy conditions; and other action violence.