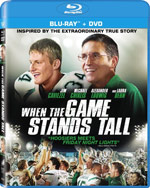 When The Game Stands Tall



– for thematic material, a scene of violence, and brief smoking.
Director: Thomas Carter
Starring: Jim Caviezel, Laura Dern, Michael Chiklis, Alexander Ludwig, Clancy Brown, Matthew Daddario, Joe Massingill
Running Time: 1 hour, 55 minutes
Theatrical Release Date: August 22, 2014
Official Site
Blu-Ray Release Date: December 9, 2014 (Amazon.com)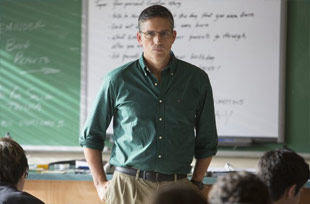 Plot Summary
The journey of legendary football coach Bob Ladouceur, who took the De La Salle High School Spartans from obscurity to a 151-game winning streak that shattered all records for any American sport.
(from IMDB.com)
Film Review
It's a sure fire sign that you're a serious fan of an actor when you're not into sports but watch a sports film just because they star in it. I became a Jim Caviezel fan upon seeing his 2000 film Frequency in the theater. It's a fandom that only strengthened upon his inspired portrayal of Jesus in Passion of the Christ, and upon briefly meeting him at a press event for Michael W. Smith a couple years later. And now, TV watchers can see him almost weekly in the popular series Person of Interest, which is now in its fourth season. Caviezel is known for his devout faith and it's no surprise to see him in a role like that of coach Bob Ladouceur, a high school coach that lead his team to a 151-game winning streak over the course of 12 years. Caviezel can be an intense actor, and while his role as Bob is pretty laid back, he makes it believable and tangible, capturing Ladouceur rather well.
So as a movie fan who doesn't regularly follow any sports (I traded my love of baseball for music in my teens… Which lead to me starting this very website), a movie like this one is a gamble. It's a drama with an emphasis on football, and while some such movies end up having next to no sports action in them, When the Game Stands Tall actually has quite a bit–and it's very well done. The weaker aspects of the film, however, seem to be in the telling of the story itself. We go from slightly disjointed vignettes of little character moments involving Bob, his family, and the players, to long sequences of sports action and drama. It starts to feel like you changed the channel mid-movie to something entirely different. The drama also is centered heavily around loss and faith. This offers some of the most inspirational moments, but also makes the movie feel a little aimless at times. I wondered a few times while watching the film what its goal was, and if there was a plot in there somewhere. When we meet the team members at the beginning, they're heroes and stars, and then, suddenly, the coach has a heart attack, a teammate is murdered unexpectedly, and the team loses their first game in over a decade, breaking the streak. The movie then appears to be focusing on them losing their mojo and trying to get it back.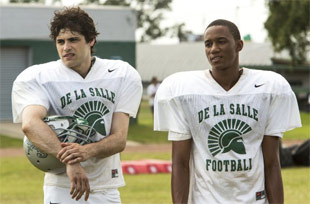 In all of this is some sort of cliche and forced drama. Bob's son is on the team, and when he sees his dad in the hospital bed after the heart attack, he's literally mad at his father for sustaining the heart attack and not being able to return to coaching to help him with his game. I mean… really? Your dad almost died and you have a hissy fit about him not being able to coach you, so you storm out? Even if the boy had really felt that way, it seems unrealistic and petty. It sure doesn't do much in favor of the boy's character for the viewer either. Then star player Chris Ryan has a father who roughs up his son a bit and wants nothing more than for the kid to win him a trophy. He doesn't understand the game or honor or loyalty, and he ends up just serving as a sort of villain to actually drive all of those values home in the end. Bob's coaching values are emphasized and given the spotlight, placing importance not on winning but what it means to be a team. Still, there are moments where the focus is so heavily placed on "the game" that you have to wonder what the big deal is– after all, it's just a high school football game. But thankfully, even when one player tells his teammates that he'd die for them on the field, coach Ladouceur chimes in "collapse, not die. It's a high school football game."
The content is mostly family friendly. The language is kept to a minimum, which includes mostly a use or two of "d*mn," and some of "oh my G-d" a few times–and 1 "J-sus Chr-st" said in exclamation when the murdered player's parents find him. The coach's heart attack is an intense moment, involving a seizure and choking, and then the sequence where a student is suddenly shot to death (off screen) while just sitting in a parked car to pick up a friend, is shocking and emotionally affecting. It becomes an emotional cloud that hovers over most of the middle of the film. In another scene, Bob takes the team to a rehabilitation ward where many of the patients are missing limbs (in reality, too) and have scarring as well. It's real life stuff, but a little unsettling visually. Finally, Chris's tense relationship with his dad, Mick, is a little heavy as well. He punches Chris in the stomach in one scene and threatens him in another while grabbing his collar and slamming him against the inside of a car door a few times. It's all still mild enough to remain PG, but it's intense stuff to note if you're sharing this with the family.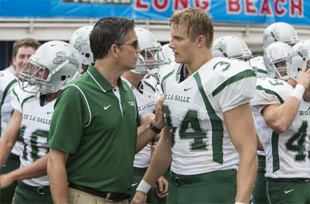 The faith element of the story is a good one. At first, it starts to feel way too much like a scripted "Christian movie," but it proves to set up where Bob is coming from and ends up asking some really important questions once they lose the teammate to senseless murder. Caviezel delivers a fantastic speech from the pulpit at the boy's funeral that is real, honest and impactful. It's moments like these that flesh out Bob as a real man with real faith and not just a character on a page for a movie.
All in all, When the Game Stands Tall may not be one of the better football movies or even for movies in general released this year, but it is a good effort that certainly has its moments. Good acting and capable direction make up for its weaker spots, so it might not stand quite as tall as its title promises, but with a touching finale, it should leave you with a warm feeling and maybe even an inspired heart.
– John DiBiase, (reviewed: 12/7/14)
Blu-Ray Special Features Review
When The Game Stands Tall is available in a Blu-Ray/DVD 2-disc combo pack or as a single-disc DVD (and through the usual digital services). The Blu-Ray disc has a few bonus features while the feature film looks really crisp and clear in HD. The following extras are included:
Deleted/Extended Scenes (14:30) – There are six deleted or extended scenes. The first scene is Cam confronting Bob and Bev about what God's plan is right after his mom dies (and he tears up the coach's goal card). The next one is a dialog-heavy scene between Terry and Bob as they're reminiscing alone on the football field before practice. Next is a super cheesy scene where a food fight erupts in the restaurant early in the film. But it allows for Chris, the team captain, to tell off a player, Tayshon, who is ridiculously self-centered. After that, we see a short scene where Bev encourages Danny while the two sit on his bed in his room. The fifth scene is a short one where Landrin mourns the loss of T.K. by visiting his bedroom. The final scene is an extended pep talk from Bob to the players. It's a shame they had to cut it down (1 "crap," 1 "d*mn," 1 "a" word in this scene).
Undefeated: Making When The Game Stands Tall (12:49) is a nice little featurette about how the book was written and how that translated into the film. We hear from some of the real-life sources, particularly Bob Ladouceur, and the book's author, and hear some about the production process.
Gridiron Action (7:43) is all about filming the football action. Stunt coordinator Allan Graf, who's an expert in filming football action for movies, talks about his craft and working on this film. The player actors also talk about working out the football action.
The Heart and Soul of a Program: Bob Ladouceur (11:50) is all about the real-life man, and we see some footage of him in action coaching the players, as well as hear from him directly. We also hear from Caviezel on playing the part.
Commentary – There's a feature-length film commentary from the director, Thomas Carter, as well as a separate commentary track featuring Bob Ladouceur himself being interviewed by Carter about his experiences during the events that the film represents. There's 50 minutes of commentary from the two of them. The subject matter is interesting, but ends up sounding more like an interview pasted over the scenes from the film and less about commenting on the actual film we're watching itself… but it's still pretty interesting stuff.
– John DiBiase, (reviewed: 12/7/14)
Parental Guide: Content Summary


 Sex/Nudity: Some of his teammates tease Beaser when they ask him if he's "hopping all over that," referring to his pretty girlfriend, and the player says he and his girl have agreed to wait for marriage. They then ask what cult he's apart of and he responds that he's a Baptist.

 Vulgarity/Language: At least 4 "Oh my G-d," 1 "d*mn," 1 "J-sus Chr-st," 1 "G-d," 1 "Oh G-d."

 Alcohol/Drugs: Bob smokes a cigarette briefly and then we see him with a pack of them afterwards; When T.K. gets a late night phone call, he asks the caller if he's high.

 Blood/Gore: After a hard hit in a game, Chris has a bloody nose with some of it on his mouth as well; There may be a little blood in the aftermath of T.K. having been shot.

 Violence: We see Bob having a seizure in bed, choking and shaking as Bev screams for help; Cam shoves T.K. backward hard and he stumbles into a lamp on a dresser; A man walks up to a kid sitting behind the wheel of a car and mumbles something about schooling him. We see him aim a gun at the kid and then we hear gunshots off screen. We see him lying dead briefly as paramedics assist him, and then his parents see him and respond in hysterics; Mick punches Chris in the stomach; Bob takes the team to a rehabilitation ward where many of the patients are missing limbs (in reality, too) and have scarring as well. It's a little intense for sensitive viewers; After a hard hit in a game, Chris has a bloody nose with some of it on his mouth as well; Mick grabs Chris by the shirt and slams him against the inside of their car door repeatedly while telling at him to win him a trophy.