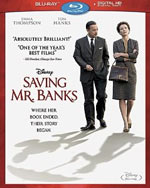 Saving Mr. Banks



– for thematic elements including some unsettling images.
Director: John Lee Hancock
Starring: Tom Hanks, Emma Thompson, Colin Farrell, Paul Giamatti, Ruth Wilson, Jason Schwartzman, B.J. Novak, Bradley Whitford
Running Time: 2 hours, 5 minutes
Theatrical Release Date: December 20, 2013
Official Site
Blu-Ray Release Date: March 18, 2014 (Amazon.com)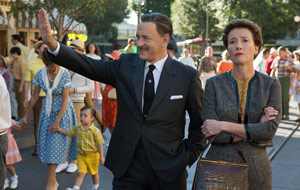 Plot Summary
Author P. L. Travers reflects on her difficult childhood while meeting with filmmaker Walt Disney during production for the adaptation of her novel, Mary Poppins.
(from IMDB.com)
Film Review
When it was first announced that a film was being developed to tell the story of how the book Mary Poppins was brought to the big screen in 1964, I remember reading many snarky remarks online about how much of a snoozer that sounded like it would be. However, when the names Tom Hanks and Emma Thompson were attached, one would have to rethink such cynical assumptions. The film, aptly titled Saving Mr. Banks, examines Walt Disney's pursuit of P.L. Travers' beloved children's story, to the point of simultaneously unveiling the childhood of the author herself (which inspired the original book). The story parallels Travers' youth and her special relationship with her father with Walt Disney's own pursuit of gaining the rights to the story of Mary Poppins from Travers to make the film. His greatest motivation was a promise he'd made to his own children some years earlier to make a movie of the popular book. Travers is soon flown in to California to sit down with Walt to convince her to let them make the film. However, she won't sign off on the character until she can approve of the creative direction of the film — something that becomes less and less likely as the project continues to develop.
Colin Farrell portrays Pamela Travers' father in the family flashbacks and he wonderfully plays the part as a prince in his daughter's eyes. It's a very different role for Farrell and it really shows how versatile he is as an actor. Her memories of him are idealized, clearly, showing a deep bond between her and her troubled father. Even as her father falls ill and cannot continue providing for his family, she still sees him through rose-colored glasses. This somewhat unrealistic view of her father colors the character of Mr. Banks in the Mary Poppins tale, making the story mostly about the rescue of Mr. Banks and less about Poppins being a hero for the children. When the story begins, anyone who's seen the movie Mary Poppins knows what the movie will end up being, so to see how strongly against the songs and character designs (including Mr. Banks' mustache) Travers was makes it almost miraculous that the film turned out the way it did, let alone ever coming to be at all. But the fact that Walt's quest for the story and Travers' memories from her years growing up with her family in Australia are unfolding before us at the same time, it makes for a unique way to paint a portrait of why P.L. Travers was the way she was while simultaneously giving intriguing insight into the production of a beloved American family film.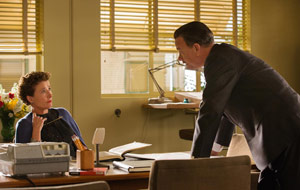 Tom Hanks and Emma Thompson are really the stars of this film, however, with the main focus being Thompson's portrayal of the author. Hanks is fantastic as Walt, although I had a hard time not seeing him as "Tom Hanks pretending to be Walt Disney" in every scene he was in. Still, he's given one of the best moments of the film near the finale and, like his recent stint as Captain Phillips, proves what a tremendous actor he is. But Thompson immersed herself far more deeply into Travers. Travers appears here as bitter, unfriendly, cold and stubborn, and because we knew what kind of movie she was ultimately standing in the way of letting be made, it made her very difficult to empathize with or understand. It's not until we learn the full story of her past that things like her tossing pears from a gift basket into a hotel pool or rejecting any kind of cartoon animation in the movie make sense. The true story behind Mary Poppins as a story (and not a film) was a dark one and deeply personal to Travers. But it's something the audience won't comprehend until the story has been fully revealed. As such, Thompson's Travers can almost be unbearable to watch at times. Sometimes you'll just want to hug the woman and other times you'll want to write her off as a lost cause and wish she'd go away. But once we get to see what's hardened her heart, we can understand just where she's coming from. And then we can realize just how brilliant Thompson's performance truly is.
The supporting cast is also impressive. Bradley Whitford, who is an excellent character actor, is quite memorable as Don DaGradi, and Jason Schwartzman and B.J. Novak are inspired as the Sherman brothers (although Novak is the less convincing of the two, being a fairly bland actor at times). Finally, Paul Giamatti is absolutely charming as P.L. Travers' driver, Ralph, as he turns in a heartwarming performance. Such a strong cast just adds so much to an already great film, which just makes the end product all the more rewarding.
The content of the film is only of the PG-13 variety because of Travers' backstory. Note: some minor spoilers are ahead here. Basically, her father struggles with a severe drinking problem that causes him to cough up blood in a few scenes. He's eventually bedridden and we see a few scenes of him trembling severely with blood on his mouth and clothes. When the illness inevitably claims his life, we see him lying on the bed with blood on him and his eyes wide open as he lays there lifeless. These sequences are very dramatic and emotional and it definitely is weightier content for a family film. However, it's an important part of P.L. Travers' story; it just wouldn't have the same impact without it being told. Other content is limited to just a couple uses of "d*mn" and "h*ll" and a single "g*dd*mn" from Pamela's father while he's sick in bed.
Saving Mr. Banks is definitely not everyone's cup of tea. It's a wonderful drama and a unique look into filmmaking in the 60s, while also serving as a sort of love letter for the film and character of Mary Poppins. When we actually get taken back to the premiere of the original film in 1964 and even get to see Thompson's Travers watching the film on the big screen for the first time, we realize how special this film really is. The acting is brilliant, the approach is expert and the end result is an unsual drama that will be cherished by fans of the principal cast and Poppins fans alike for years.
– John DiBiase, (reviewed: 12/22/13)
Blu-Ray Special Features Review
Saving Mr. Banks makes its home entertainment debut on DVD and Blu-Ray and through the usual digital retailers. The Blu-Ray set only includes one Blu-Ray disc but it also includes the Disney "Magic Code" to get an HD digital copy. It works with the brand new "Disney Movies Anywhere" app which you can also synchronize with your iTunes account to get your movies — all of the ones you've ever redeemed the "Magic Code" from — to your iTunes cloud, which are also downloadable. For a while, Disney seemed to be moving away from including iTunes downloads with their movies, but I noticed when I synchronized my iTunes account with the Disney Movie Rewards account, it added all the missing movies to my iTunes cloud. Pretty classy!
The special features are shockingly thin on this release. The recent 50th anniversary Blu-Ray debut of Mary Poppins had a 14-minute "Becoming Mr. Sherman" featurette that is not included here. It was all about Jason Schwartzman playing Richard M. Sherman. A behind-the-scenes featurette is not included here, and neither is any kind of collection of cast interviews. For such an acclaimed film, it seems odd how bare bones of a release this is. To hear how the actors prepared for their parts and such would have been interesting. Even packaging Mary Poppins in with Saving Mr. Banks would have been a cool move on the studio's part, but unfortunately, that isn't the case here. The special features that are included are the following:
The Walt Disney Studios: From Poppins To Present (14:35) – This little featurette is hosted by director John Lee Hancock who talks with the adult children of former animator staff members of the Disney team as they reminisce about their parents working on the lot and they themselves visiting. It also talks about the early movies and events that technologies were created for that lead to the effects you saw in Mary Poppins (like live action mixed with animation, animatronics, etc). It's a pretty cool little retrospective.
Let's Go Fly a Kite (1:47) – The real Richard Sherman leads the whole crew in song on the last day of filming in November 2012. I wish they had more stuff like this on here!
Deleted Scenes (7:24) – There are 3 deleted scenes. In the first, "Stargaze," we see Mr. Goff sitting with Pamela late at night when his wife comes over and encourages him to send the little one to bed. After she leaves, he invites his wife to sit with him and they share a nice little moment together. We then see the daughter is on the other side of a nearby window listening in and looking a bit jealous. It's nice to see more of a connection between Mr. and Mrs. Goff here; I feel like they should have left it in. "Nanny Song" picks up from where one of the Sherman brother realizes that Walt doesn't yet have the rights to make the movie and so they propose the "Nanny Song" to Pamela. She then tells them it's the worst song she's ever heard. Finally, "Pam Leaves" has Walt following Pamela to her car and trying to convince her to let them make the movie. All three scenes were great and I think they should have been left in, but I understand why they might have wanted to cut it for time.
– John DiBiase, (reviewed: 3/19/14)
Parental Guide: Content Summary


 Sex/Nudity: None.

 Vulgarity/Language: 1 "g*dd*mn," 2 "h*ll," 1 "d*mn," 2 "G-d," 1 "Good L-rd"

 Alcohol/Drugs: Margaret finds a bottle of alcohol in her husband's jacket but he insists it's to fight a sore throat or something; We see Travers' father drinking many times during the movie; At a fair where he's supposed to give a speech, he sees some people drinking and wanders off to join them. We then see him delivering his speech while very intoxicated; While bedridden, he's being denied alcohol but asks Ginty for some. She eventually finds a bottle and gives it to him. We later see a flashback of him hiding it in bed.

 Blood/Gore: We see blood on a handkerchief after P.L. Travers' father coughs into it; We see more blood on a handkerchief as he lies in bed sick; We see blood dripping from his mouth and on his clothes as he lies in bed. We then see this same sight as he lies in bed after passing away with his eyes wide open; We see some blood on some bed sheets that have been removed from his bed.

 Violence: P.L. Travers' father is seen yelling and throwing stuff around his office at the bank; Her father slips off a stage after giving a speech, while drunk, and hurts himself (but lies there laughing); Travers, as a little girl, sees her mom walk off through the night into a lake to potentially drown herself (commit suicide), but she seems almost as if she's sleepwalking. Travers then touches her and she realizes what she's doing and becomes hysterical; In the present, Travers throws the script for the movie out a window; She also throws pears out her hotel window into a pool below (near people sitting by the pool); We see a dead man lying in his bed a couple times.