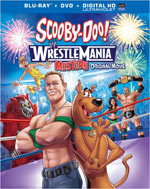 Scooby-Doo! WrestleMania Mystery


Running Time: 1 hour, 24 minutes
Blu-Ray Release Date: March 25, 2014 (Amazon.com)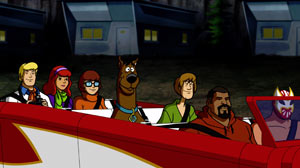 Plot Summary
When Shaggy and Scooby win tickets to WrestleMania, they convince the entire Mystery Inc. gang to travel to WWE City in the Mystery Machine to enjoy the show. But the trip quickly turns into another mystery as WWE City is full of secrets! A mysterious ghostly bear appears and threatens to ruin the show and steal the championship title belt. With the help of WWE Superstars John Cana, Triple H, Sin Cara, Broadus Clay, AJ Lee, The Mize, Sandino Marcella and Kane, Scooby-Doo and The Mystery Inc. gang team up to solve the case before it is too late!
(from Warner Home Video)
Film Review
Since the late 60's, super-sleuthing dog Scooby-Doo and his teenage friends have been solving crimes of all kind. Even in 2002, Scooby got his first live action, full-length film that even spawned a sequel. Through the years, Scooby has appeared in dozens of cartoons and straight-to-video features and the latest comes in a truly unique form–a partnership with WWE films, Scooby-Doo! WrestleMania Mystery.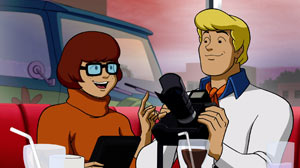 The concept of Scooby-Doo! WrestleMania Mystery may be a bit of a head-scratcher to the average viewer, but celebrities have guest-starred with Scooby-Doo and the gang since the very beginning. Live action star Matthew Lillard, who played Shaggy in the 2002 and 2004 films, has been voicing Shaggy ever since and he appears here once again in the role. He does a decent job, although my first impression of him is that he sounded little to nothing like the original Casey Kasem version. Frank Welker returns as the original voice of Fred and also provides the voice of Scooby quite well. And many WWE personalities join the gang, too, including Triple H, John Cena, Vince McMahon, and AJ Lee (among others), being voiced by the real-life actors. It's an odd merger to get used to at first, but Warner and WWE do a pretty decent job mixing the two and keeping a classic Scooby-Doo feel to it.
At the risk of dating myself horribly here, as a child of the 80s, I grew up with WWE being WWF (World Wrestling Federation)–that is, until the World Wildlife Fund kind of made them change it. We had personalities like Hulk Hogan, Macho Man Randy Savage and Junkyard Dog–all colorful characters that seemed like live action cartoons in their own right. I've since not followed a lick of WWE, although names like John Cena and Triple H tend to infiltrate mediums beyond just wrestling (like movies especially for Cena). So, honestly, the whole WrestleMania/Scooby-Doo mash-up is a bit wasted on this reviewer. Still, as someone who grew up on the likes of Scooby and his pals, it was kind of neat to see them back in action once again (as I also have not kept up with the latest movies and shows in recent years).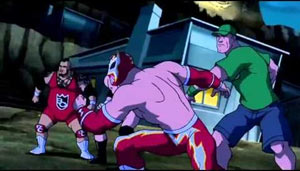 The plot is pretty wacky, but the story does a decent job of justifying some of it. To start, there's a WWE city, a town built around the world of WWE Wrestling. When we meet Shaggy and Scooby again, they're playing an elaborate WWE video game, which Scooby then wins in the hardest possible mode, and are given a grand prize trip to visit WrestleMania. They convince their Mystery Machine buddies to travel to WWE City and it's there that they learn that a "ghost bear" is attacking the WWE group, threatening the existence of WrestleMania itself (something that, really, only diehard WWE fans will appreciate the cruciality of). And in the midst of this plot, there's plenty of WWE wrestling action that ropes in the Scooby gang, including the famed pooch and Shaggy too. I wouldn't say it's fun for the whole family, though, as younger viewers might not be ready for all the wrestling violence and the ghostly bear is likely to scare some of them too.
In the end, only diehard Scooby fans and rabid WWE fans will fully appreciate what's presented here with Scooby-Doo! WrestleMania Mystery. It's a little long and grows a bit tedious by the time it crawls to nearly an hour and a half, but those who can't get enough of Scooby-Doo will certainly not want to miss this new adventure.
– John DiBiase, (reviewed: 3/24/14)