The Captains: Close Up


Director: William Shatner
Starring: William Shatner, Patrick Stewart, Scott Bakula, Kate Mulgrew, Avery Brooks, Chris Pine
Running Time: 2 hours, 30 minutes
Blu-Ray Release Date: August 13, 2013 (Amazon.com)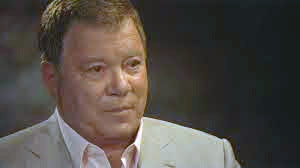 Plot Summary
Since first soaring onto TV screens in the 1960s, Star Trek has become one of the most durable and beloved franchises of all time. At the center of each Star Trek incarnation is what has become a truly iconic character: The Captain. THE CAPTAINS CLOSE UP is a five episode mini-series, as seen on Epix, that "boldly goes where no man has gone before," giving viewers an intimate look at the actors that have inhabited this role – all through the eyes of the man who played the first Captain more than 45 years ago: William Shatner.
Based on the multi-million dollar budget feature documentary The Captains, written and directed by Shatner, THE CAPTAINS CLOSE UP provides an even deeper behind-the-scenes look at the actors who have made the Star Trek an international phenomenon. Each episode features William Shatner conducting an in-depth, one-on-one interview with one of his fellow Captains, and delves into the working challenges and personal rewards each actor garnered from his or her groundbreaking role at the Star Trek Starfleet helm.
(eOne)
Film Review
If you're any kind of sci-fi fan, you've probably grown up watching Star Trek in one form or another. Whether it's the original series from the 60s, the follow-up animated series, the theatrical movies or any of the spin-off television series (The Next Generation, Deep Space Nine, Voyager or Enterprise), you've probably been exposed to Star Trek in some way or another. The original television captain, Captain James T. Kirk, who was played by William Shatner in Star Trek (AKA Star Trek: The Original Series or Star Trek: TOS) decided to visit each of his fellow captains from all of the succeeding television series to dig a little deeper into the person behind each Starfleet uniform.
The Captains: Close Up probably isn't really what diehard fans will expect. Shatner interviews each cast member and leads the discussion each time, digging into their childhood, their careers, and how they were brought into the world of Star Trek. But Shatner's leading tends to be a little heavy-handed at times. While watching each of the five "episodes" of this documentary series, you'll see Shatner interrupt Patrick Stewart while he's talking, and ask Scott Bakula for a singing lesson on the spot. Then you'll see the legendary actor encouraging Avery Brooks to sing with him as he interviews him while seated at a piano. It may seem somewhat understandable for Shatner to weave this series around his own character and persona a bit, but it tends to sometimes take the thunder away from the respective actor and "captain" for a given episode.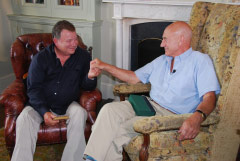 Kate Mulgrew, who starred as Captain Janeway in Voyager interviews William Shatner for his segment. Immediately, there's this bizarre sexual energy between the two of them as they talk about their careers. They're frequently complimenting each other too, and it adds an air of prentention to the conversation. Shatner later tells Brooks that "everything is music" and that is clearly a theme that flows from interview to interview. Shatner talks about his own musical career as well as his acting career. With Mulgrew, it gets a little uncomfortable as he admits that the fame he found with Star Trek lead to having access to many women, an indulgence he ended up taking advantage of, despite being married at the time. He briefly talks about having multiple marriages and not really settling down until his current marriage in his more elderly years. In fact, failed marriages comes up in nearly every interview, and it's unfortunate to hear how, ultimately, the respective television series caused a lot of tension for the actors and sometimes even caused the divorce. While it's clear that Shatner wants fans to see the human beings behind the television facade, it's ultimately rather disenchanting.
The best moments in the individual episodes come when the actors talk about their respective involvements in Star Trek and/or the movies, and when key supporting actors are interviewed to talk about the captains they followed on the small screen. Actors and actresses like Jonathan Frakes, Gates McFadden, Michael Dorn, Rene Auberjonois, Terry Farrell, Nana Visitor, Robert Duncan McNeill, Robert Beltran, Robert Picardo and more all pitch in their two cents on their experiences with the show. However, these little snippets are all too infrequent and rather short. The bulk of the interviews are Shatner talking to the actors about their relationships and careers. Sometimes it's pretty interesting, but other times it can really get off the subject. If there isn't too much focus on William and Bakula talking about horseback riding, or Mulgrew's real but discouraging regrets in life, the subject turns to something like the afterlife and reincarnation with Bakula while sitting in a diner. I think the problem isn't necessarily in the subject matter but in how much time is devoted to it. With an average of 29 minutes per episode (which can feel a little long at times), there's just not much focus on the Star Trek chapters of these actors' lives to make the series a little more upbeat. For example, we don't even hear about the Enterprise experiences in Bakula's career until the last ten minutes of his respective episode. And then when you hear Mulgrew and Brooks talk about their time with their shows in their lives, it usually isn't with much fondness.
The content of the documentary is mostly family-friendly, but there are a few moments here and there that get a little edgy. The William Shatner episode might be the edgiest, however, as Bill is seen talking with some other actors and he quotes an entertainer as he mouths "What the f—?" (with it partially audible). Later, Chris Pine says the "S" word once when he comes to talk to Bill (who tries to pry into Pine's romantic lifestyle as Pine keeps dodging the subject). Additionally, as mentioned earlier, Shatner is pretty open about his affairs he had back in the day and talks about "erotic" energy and such while talking about the industry with Mulgrew. Most of the other interviews are pretty clean, though, with just a use of "h*ll," "d*mn" or "*ss" a couple times over the course of the whole DVD.
If you're a Star Trek fan and want to dig into the personal lives of any of the aforementioned actors and actresses, you'll really enjoy The Captains: Close Up. However, if you're hoping for a little more insight into the shows of Star Trek and maybe some of the imagined glamour of it, you'll get a rather significant reality check with this series of mini-documentaries. It's pretty revealing and, at times, quite sad as we hear more tragedies than triumphs here. It may be a bit deflating for some fans, and Shatner's self-focus is a bit too evident, but The Captains: Close Up is truly for forgiving diehard Trekkies, or fans of any of the individual actors, only.
– John DiBiase (reviewed: 9/3/13)
DVD Special Features Review
The Captains: Close Up is available on a single-disc DVD which offers the five individual episodes to watch individually only (Actually, they're all on Netflix right now too). There are surprisingly only two bonus pieces of footage that don't even add up to a full three minutes included as extras on the disc.
Both pieces are deletions from Shatner's story, but both are quite interesting and well worth watching:
Paramount Fire of 1983 (1:12) — Here we see Shatner riding a golf cart on the Paramount lot as he talks about how he helped put out a fire on the set of Star Trek III in 1983!
Merger of Desilu and Paramount (1:40) — Shatner runs into an employee of Paramount as they're about to walk off the studio on their last day of work, and they briefly mention the merger of Lucy and Ricky's Desilu company with Paramount many years ago.
– John DiBiase, (reviewed: 9/3/13)