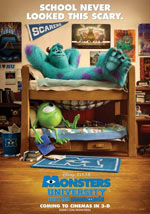 Monsters University




Director: Dan Scanlon
Starring: voices of Billy Crystal, John Goodman, Helen Mirren, Steve Buscemi, Nathan Fillion, Alfred Molina, Sean Hayes, Dave Foley, John Krasinski, Bonnie Hunt
Running Time: 1 hour, 44 minutes
Theatrical Release Date: June 21, 2013
Official Site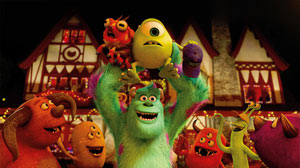 Plot Summary
Ever since college-bound Mike Wazowski (voice of Billy Crystal) was a little monster, he has dreamed of becoming a scarer—and he knows better than anyone that the best scarers come from Monsters University (MU). But during his first semester at MU, Mike's plans are derailed when he crosses paths with hotshot James P. Sullivan, "Sulley" (voice of John Goodman), a natural-born scarer. The pair's out-of-control competitive spirit gets them both kicked out of the University's elite Scare Program. To make matters worse, they realize they will have to work together, along with an odd bunch of misfit monsters, if they ever hope to make things right.
Screaming with laughter and oozing with heart, Disney•Pixar's "Monsters University" is directed by Dan Scanlon ("Cars," "Mater and the Ghostlight," "Tracy"), produced by Kori Rae ("Up," "The Incredibles," "Monsters, Inc.") and features music from future Rock-and-Roll-Hall-of-Fame–inductee and award winning composer Randy Newman ("Monsters, Inc.," "Toy Story 3").
(from Disney)
Film Review
It's been twelve years since Pixar introduced the lovable scarers Mike Wazowski and James P. Sullivan. The unique tale about a world of monsters that use the screams of frightened children to power their lives has become a modern Disney classic, and I think it's pretty safe to say that no fan of the film would have ever imagined that a prequel would be made for the potential franchise. In 2001's Monsters, Inc., Mike and Sulley meet a human toddler that Sulley dubs "Boo" and through their encounter, they realize that humans aren't the evil, toxic creatures they believed them to be. Boo melts Sulley's monstrous heart and she becomes a unique dynamic for Mike and Sulley. Monsters University takes the twosome back to where they first met. The story starts out while Mike is just a little kid on a field trip to Monsters, Incorporated where he meets a celebrated scarer who inspires Mike's lifelong ambition to become the top scarer ever. Monsters University has a completely different feel than Monsters, Inc did in almost every way, which is something that is reinforced by the absence of Boo and the story's focus shift from Sulley to Mike. Furthermore, Mike and Sulley are adults in Monsters, Inc., and here they're quite literally college kids. As such, we meet all kinds of colorful fellow college students — almost all who share the same interest as fellow "scare majors."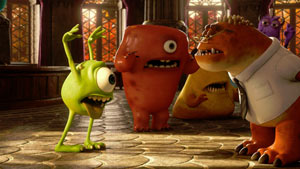 From the teaser trailers that just show Mike and Sulley goofing off in school (note: the mirror ball gag from the teaser is not anywhere in the movie), to the semi-iffy full-length trailer, to even the promo art, I had a sinking feeling that Monsters University was just plain a bad idea. If anything, Monsters University seemed to resemble those immature party-minded college comedies that put the focus more on partying and less on making the grade (or doing anything even remotely responsible). But while some of that is indeed present in Monsters University, the story is more about the book-conscious Mike Wazowski doing his absolute best to excel in school, while the slacker Sullivan is more into stealing another frat's pig mascot and having a good time. More than a couple times, Monsters University reminded me of Blue Like Jazz with that partying, over-the-top college party scene. But with the super colorful monsters littering the campus of MU, it's no surprise that the outrageousness of Blue Like Jazz's characters would pop in my head. Thankfully, Monsters University keeps things mostly G-Rated in the process. You can expect to not see a single red cup or suggestion of alcohol consumption (although some characters do play actual ping pong), and most of the partying is just kids having a good time at a dance party or participating in scare events.
Monsters University has some familiar faces, but it also introduces a plethora of new characters. When Mike is just a little kid visiting Monsters, Inc, he's inspired by a top scarer named Frank McCay, voiced by the often underused in animation, John Krasinski. But when Mike gets to college, the world really expands. The head of the fraternity "ROAR," Johnny Worthington, is voiced by Firefly/Castle's Nathan Fillion, who gives the character just enough flair for you to love him and hate him at the same time. Comedians Sean Hayes and Dave Foley voice the two-headed Terry and Terri, and Helen Mirren voices the terrifying Dean Hardscrabble. Of course, Billy Crystal and John Goodman also return as Mike and Sulley, respecitively. It's a solid voice cast that only strengthens an already topnotch animation production, and any fans of these actors are liable to enjoy their contributions to the film.
The story isn't quite as unique as the original film, but there are still some nice twists and surprises included, especially toward its finale. Just when you think it's taking a rather predictable route (and it does), there are a few moments of near brilliance that make the movie stand out from the norm. The film's payoff at the end certainly makes the journey worthwhile. There's a lot going on in the movie and a lot to see visually, so I think the film will be one of those that will improve with succeeding watches. Still, it doesn't quite hold a candle to the excellence that Monsters, Inc. possessed.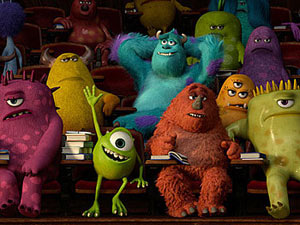 The only real content to be wary of is in how potentially scary it can be for your child. I found the most frightening character to be Dean Hardscrabble. Physically, she's this intimidating and creepy mixture of a bat and a centipede. My wife and I cringed at every moment they showed her creepy-crawly legs scurry across a surface. Also, there's still quite a few other potentially scary characters. A sorority of girl cheerleaders have the ability to look cute one second and then appear rather scary with red eyes and fangs. A gothic team of college students called HISS are kind of a joke in and of itself, but there isn't a single cute moment for them. And the frat boys in ROAR can be a bit scary at times — especially when they're trying to out-scare each other in a competition. The story involves the characters training to be the top scarers, so this movie has even more to do with trying to be frightening than Monsters, Inc. did. Just recently, my 2-years-and-8-months-old son discovered the first Monsters, Inc. movie. He loves a lot of Pixar movies–like Toy Story 2 and 3, Wall-E and more recently, The Incredibles–but I had thought Monsters, Inc. would be too much for him. He proved me wrong, so we decided to take him to see Monsters University. Nothing in it seemed to scare him and he even clapped when characters in the movie cheered, and he would randomly practice his own roar like they were doing in the movie. So, depending on your own child's sensitivity to scary things, the movie might be totally fine for your young ones.
Overall, I enjoyed Monsters University more than I ever thought I would. But revisiting Monsters, Inc. before seeing this new film did help my appreciation and enjoyment of this movie. It could be intense for some kids, but most of the scary stuff is done tongue-in-cheek and the movie is pretty lighthearted, even when it targets our hearts by showing the vulnerability of Mike and Sulley. The animation is also tremendous. The colors are as vibrant and colorful as ever, and the detail in each scene is just remarkable. The opening short "The Blue Umbrella" will have you convinced they mixed live action footage with animation. So while Monsters University may be far from Pixar's best, it's still a great summer movie.
– John DiBiase, (reviewed: 6/27/13)
Parental Guide: Content Summary


 Sex/Nudity: None. But when Don tries to tell Squishy he'll be his father when he marries his mother, he tries to reassure him that he'll still be his brother but also his father. Squishy is increasingly weirded out by it and Don stumbles around his words. It sounds a little awkward, but it's intentionally funny.

 Vulgarity/Language: 2 incomplete "What the–" and a "Son of a mustache!"

 Alcohol/Drugs: None.

 Blood/Gore: When the characters run through an obstacle course full of toxic sea urchin-like creatures, various parts of their body touch them and instantly swell up. So we see many characters with swollen lips, arms, faces, bodies, etc, during and after the game.

 Violence: The comedy gets kind of slapstick, with Randy getting a face-full of cupcakes when Sulley and Mike chase a fraternity pig around campus, or a scene where Mike and Sulley are chased by "authorities" during the finale, but none of the violence is especially alarming; When the characters run through an obstacle course full of toxic sea urchin-like creatures, various parts of their body touch them and instantly swell up. So we see many characters with swollen lips, arms, faces, bodies, etc, during and after the game; Some of the monsters scratch bedposts and walls to make creepy sounds; In a scene where a couple monsters try to intimidate some adults, we see beds knocked over and thrown around, scrapes appear across wooden floor boards, and other creepy things.