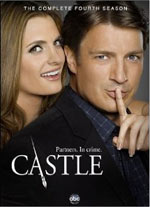 Castle: Season 4



Starring: Nathan Fillion, Stana Katic, Jon Huertas, Seamus Dever, Susan Sullivan, Molly C. Quinn, Tamala Jones
Running Time: 5 discs: 985 minutes
Blu-Ray Release Date: September 11, 2012 (Amazon.com)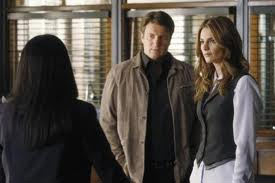 Plot Summary
Television's most unlikely crime-fighting team is back and their relationship is stronger than ever! Prepare for a season full of suspense where lines are drawn, sides are chosen and careers are put on the line as Castle tries to protect Beckett following her near death encounter.Castle's relationship with Beckett radically changes during the season, leading to a final confrontation with a mysterious man who holds all the answers that Beckett has been searching for since the night her mother was murdered. Features all 23 episodes plus exclusive bonus material including "Nathan & Friends: Castle Goes Radio;" "Anatomy of A Stunt;" audio commentaries, deleted scenes, bloopers and more!
(from Click Communications)
Film Review
If you look at all of the shows on television now, let alone over the history of the entertainment outlet, it's amazing to see just how many rely on murder mysteries for entertainment. Without launching into the psychology of why our society is so fascinated with humans killing humans in creative ways, there is something to be said for the mystery of it all. One of the most popular murder mystery shows on TV right now is a series called Castle, a show about a wealthy mystery writer who consults for the detectives of the NYPD, and the relationship he has with them.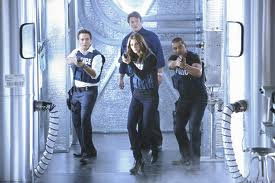 Richard Castle is infectiously played by actor Nathan Fillion (who, ironically, is most popular for his stint in the short-lived show Firefly, which barely finished one season while Castle is entering its fifth!). Fillion plays Castle as a man who hasn't quite grown up, having two failed marriages and a daughter now in college. He finds the mystery of solving murders to be invigorating and maybe just a bit too much fun as well. But what really keeps him hanging around the precinct is detective Kate Beckett, a beautiful, strong-willed and smart detective who Castle is ultimately in love with. However, the Castle/Beckett pair seem to share this attraction mutually, but neither of them want to admit it to one another.
But Castle: Season 3 ended with quite the cliffhanger (some spoilers ahead!). In the season's final scenes, the police captain was killed and Beckett was shot down. As Castle cradles his fallen partner in his arms, he confesses his love for her and then the screen goes black.
End Season 3.
That's a pretty big event to leave your audience with, and Season 4 opens with the gruesome images of Beckett being rushed to the emergency room and having immediate surgery to save her life. She obviously does recover, but she starts seeking counseling for the traumatic experience…and lies to Castle that she doesn't remember any details of the shooting (including his confession). It's disappointing for anyone who spent all summer hoping the two will make some headway after that, and the rest of Season 4 continues the "Dangit, just tell each other, guys!!" drama. However, this tension works for the show in a big way. It reminds me of how the Jim and Pam relationship for The Office had been a big part of its charm before they started dating in Season 4. But Castle: Season 4–without ruining it for anyone reading–takes a HUGE risky step forward in its final episode that will be a game changer for Season 5, which starts up on TV the last week of September.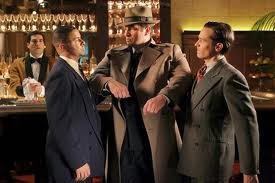 Season 4, otherwise, is another great season for the show. A major character has a wedding and we see little maturations in the characters. There is also the introduction of a new police captain – a woman this time – who really shakes up the drama and tension in the team. She's a bit too hard, though, and really doesn't have many redeemable qualities. But the mere fact she's just waiting for an excuse to boot Castle from the office is enough tension to raise the stakes a bit. The murder mysteries in the episodes are some of the most intricate and unique yet. While some of them venture into the absurd thematically, it always is done in a tongue in cheek way and kept fun and entertaining. Comedy is a big part of the show, usually thanks to Fillion, and that alone helps keep things lighter when it's getting a bit on the heavy side. Occasionally, an episode will play out like a mini movie ("The Blue Butterfly" and the "Pandora"/"Linchpin" two-parter for example), which pump up the drama a little. But this season seemed to have a lot more theme-specific murder mysteries than before. For example, "Heroes and Villains" is all about superheroes, "Demons" is about ghost hunters (and Castle's nerdiness shines through with plenty of satisfying Ghostbusters references), "Til Death Do Us Part" and "Pandora" make reference to spies and Jason Bourne, "The Blue Butterfly" pays homage to the film noir genre, "Once Upon a Crime" deals with fairy tales, and "Undead Again" is about zombies, just to name a few. Admittedly, it's fun material, and the writers give a grounded explanation for everything, but there is a surreal nature to many of these episodes that weren't found in the more level-headed earlier seasons. It's something that often happens with a show as it progresses from season to season, but I could see it being an issue for fans of the earlier seasons who miss that more grounded reality.
Content-wise, the show would probably be rated PG-13 from episode to episode. The language is mild, usually including varying amounts of words like "h*ll," "d*mn," "a**," "Oh G-d," "Oh my G-d," and sometimes "S.O.B," but it stops there. There are occasionally some sensual moments or double entendres played for laughs, but it usually isn't as bad as most sitcoms are these days. The biggest red flag is probably the murder victims, which can range from just a little blood on a dead body or surrounding it, to a stitched up post-autopsy body in the morgue and charred bodies in a burned up car. One episode shows a person sliced in half vertically all shown via their shadow on a wall, and then we see two body bags on the street later on. Other episodes can be just as gruesome, so parents probably won't want to let their kids watch a show like this one.
Overall, as a murder mystery show, Castle is about the best you can get on TV right now. I have to say I'm not typically into these kinds of shows as much as I am the characters and how well-written a show can be; I'm more into a show like this one and Monk, which mix quirky characters and comedy into the murder mystery pot, than something like CSI. Castle: Season 4 is solid and it leads up to what may be a really different season for the show as it launches into Season 5 this month!
– John DiBiase, (reviewed: 9/12/12)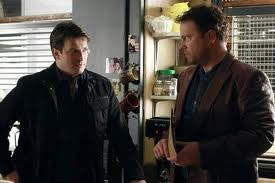 DVD Special Features Review
Castle: Season 4 is available in a 5-disc DVD set or from your usual digital video providers. I do have to wonder why ABC hasn't been on the ball to release any seasons of Castle in Blu-Ray yet, but in the meantime, DVD is all we got. On the plus side, the DVD transfer is quite good, one of the best out there, so it makes the absence of an HD video release a little more forgivable. In addition to 23 episodes are the following bonus features:
Episode Commentaries – There are three episode commentaries – "Rise," "Cuffed," and "The Blue Butterfly." It seems kind of slim to only include a handful of commentaries, but the ones included are pretty fun and insightful. "Cuffed" features Nathan and Stana, while the others have other cast members or crew providing the commentaries. Castle fans will definitely want to check these out.
Deleted Scenes – There are a few deleted scenes scattered across the five discs in Season 4. On Disc 2, we have a scene from "Dial M for Mayor" where Alexis is trying to find the right internship for her. On Disc 4, there is a scene from "Linchpin," which includes Castle and Beckett discussing how life may have been different had they never met, and another short snippet (36 seconds) of a character talking about a new identity from "A Dance With Death." Finally, Disc 5 contains the most all at once with five scenes in a row. The first has Ryan and Esposito talking about Castle's disloyalty in working with another detective besides Beckett in "Headhunters." Next is a deleted scene where we see a murder happen (an injured man goes to meet someone and is overpowered by another who takes his bag), followed by Ryan, Castle and Beckett talking about the aforementioned victim and Castle possibly resurrecting his book character Derek Storm. Next is a throwaway scene "Outside Montgomery's House" which shows the team arriving and looking worried. Lastly, Castle and Beckett talk about her obsession with her mom's case.
Fillion & Friends: Castle Goes Radio – This is a unique bonus section about Nathan Fillion and Molly C. Quinn performing for a special podcast where they also get to perform their characters live in a theater before an audience while the audio is being recorded. "About The Show" (11:44) talks about their involvement and is hosted by Molly, "Sparks Nevada: Marshall on Mars" (21:16) is the radio show performance (where Molly shows up halfway through), "Cactoid Jim: King of the Martian Frontier" (21:44) is another radio show which stars Nathan throughout the episode, and finally, if you click on the icon of a coffee cup, you see a scene (4:32) from the radio show on a stage in the theater as they act out a "Work Juice" commercial. Overall, this has nothing to do with Castle, and I'd rather have seen more stuff about the show itself, but fans of Molly and Nathan will enjoy this.
Submerged: An In-Depth Look at Stunts (17:34) – This is a featurette dedicated to the car stunt at the end of "Pandora" and the beginning of "Linchpin." Here, they go all the way from the pre-production meeting to the actual filming of the scene. It's also great to hear from the main cast and crew talking about it as well. They then show us how they created a safe submerged car for Fillion and Katic to be in, and then actual b-roll footage of them on set during the scene. We even hear from the episode's composer about how he created the music and mood for the scene.
Bowman, Bowman and Castle (10:26) – This featurette focuses on Executive Producer Rob Bowman's father Chuck Bowman stepping in to helm the 1940's noir episode "The Blue Butterfly." Chuck has been involved with directing TV shows like MacGyver, The A-Team, Dr. Quinn, Touched By An Angel, and many others over the years. Chuck and Rob both reflect on their careers as well as working on the episode (and how hard Rob was in the editing room on his father's work on the episode).
Bloopers (4:24) – To close the extras we have a blooper reel that contains mostly line flubs and goofing around on set. It's actually one of the funnier blooper reels I've seen in a while, too (Do, however, keep in mind that nearly all of the cast have at least one instance of an "F" word usage being bleeped out. Any use of the "S" word is also bleeped out).
– John DiBiase, (reviewed: 9/12/12)