Based On The New York Times Best-Selling Book By Donald Miller, BLUE LIKE JAZZ Arrives On Blu-ray Disc, DVD, Digital Download and On Demand August 7 from Lionsgate Entertainment
Film Soundtrack Available on iTunes® August 7
"This is a rare bird, a sincere movie about Christian faith." – (New York Post)
"It's a glorious anomaly: a subtle, sophisticated, open-minded, and courageously non-judgmental Christian film even non-believers can enjoy. Hallelujah!" – (A.V. Club)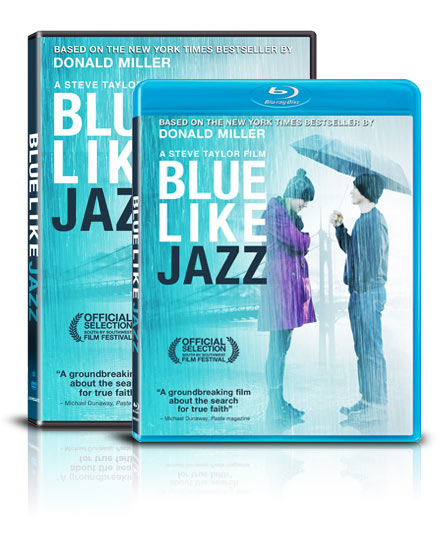 NEWS SOURCE: The M Collective
July 30, 2012
Nashville, Tenn., July 30, 2012 – The film that received widespread support and praise from fans, critics, Christian leaders and more, Blue Like Jazz, will release on Blu-ray Disc, DVD, digital download and On Demand August 7, 2012, by Lionsgate Entertainment.
Based on The New York Times best-selling novel that swept the nation, Blue Like Jazz brings Donald Miller's semi-autobiographical stories and reflections to life, following his path to self-discovery and a deeper, more authentic Christian faith. Chosen as an official Selection of the SXSW Film Festival and already named one of Paste magazine's Top Movies of 2012, Blue Like Jazz was directed by Steve Taylor and co-written by Taylor, Miller and Ben Pearson (The Second Chance).
Taylor eloquently delves into the intricacies of friendships, faith and finding one's self to reveal that everybody belongs somewhere. This film was also made possible by a dedicated fan base that refused to let this project fall through the cracks. In starting the "Save Blue Like Jazz" Kickstarter grassroots campaign, fans not only raised $350,000 in one month to bring this project into theaters, but in doing so congregated a passionate, built-in fan base committed to spreading the word about the film's release. The Kickstarter backers hosted pre-screenings, enlisted street teams to sell out screens in advance and were actively engaged in social media reaching out to their peers and communities.
Marshall Allman (HBO's "True Blood") gives a solid performance as Don, a pious nineteen-year-old, who uproots himself from his Bible-belt upbringing and ventures to Portland where one new experience after another forces him to confront the meaning of life and true faith. The New York Times hailed the film as "sincere and literary," while Paste magazine deemed it "witty, provocative and life-affirming." Blue Like Jazz also stars Claire Holt (TV's "The Vampire Diaries"), Tania Raymonde (TV's "Lost"), Justin Welborn (TV's "Body of Proof") with Eric Lange (TV's "Victorious"), Jason Marsden (Fun with Dick and Jane), Will McKinney (Super Zeroes) and Jenny Littleton (Deadline).
The Blue Like Jazz Blu-ray Disc and DVD is packed with special features including audio commentary with Donald Miller, Ben Pearson and Steve Taylor, numerous featurettes, a Director's Master Class, deleted scenes and more, and will be available for the suggested retail price of $39.99 and $27.98, respectively.
Additionally, churches, colleges and ministry organizations will be able to purchase institutional screening licenses of Blue Like Jazz through an arrangement with Dunk Tank Marketing, a marketing partner on the film working with churches, denominations, campus and youth ministries. The site, www.dunktankresources.com will provide licenses and screening kits with a suite of resources for host organizations to promote movie events.
Accompanying the DVD release on August 7 is the soundtrack to the film, featuring tracks from artists such as Menomena, Katie Herzig, score composer Danny Seim and a new track from Steve Taylor. The project will be available at iTunes® and all digital retail outlets.
Synopsis
Don, a nineteen-year-old student at a Texas junior college, spontaneously decides to escape the hypocrisy of his religious upbringing for life in the Pacific Northwest. Upon arrival at Reed College, one of the most progressive campuses in America, he quickly discovers that its surroundings and unconventional student body proves to be far different than he could have ever imagined. With everything this new environment brings, Don is forced to embark on a journey of self-discovery to understand who he is and what he truly believes.
Blu-ray & DVD Special Features*
Audio commentary with Author/Co-Writer Donald Miller, Cinematographer Ben Pearson and Co-Writer/Director Steve Taylor
Making Blue Like Jazz
Master Class: Directing Actors on Set
Deleted Scenes
Photo Gallery
"Save Blue Like Jazz" featurette
"The Cast" featurette
"The Animator" featurette
"This is My Story" featurette
"The Music" featurette
Theatrical Trailer
*Subject to change
Blue Like Jazz Soundtrack Track Listing
1) TAOS – Menomena
2) Yellow Cake – Dat'r
3) Theme From Rockie – Danny Seim
4) Sandpiper – Action!
5) Moving Upstairs – Danny Seim
6) Etched – Danny Seim
7) Fate – Danny Seim
8) E Is Stable – Menomena
9) I Hurt Too – Katie Herzig
10) RabbitChase – Danny Seim
11) Oh, Pretty Boy, You're Such A Big Boy – Menomena
12) A Life Preserved – Steve Taylor & The Perfect Foil
13) Confession – Danny Seim
Program Information
Street Date: August 7, 2012
Price: $39.99 Blu-ray / $27.98 DVD
Rating: PG-13 for mature thematic material, sexuality, drug and alcohol content and some language
Run Time: 107 minutes
Type: Theatrical Release
Genre: Comedy/Faith
Blu-ray Closed Captioned: English SDH
DVD Closed Captioned: English
Subtitles: English and Spanish
Blu-ray Format: 1080P High Definition 16×9 Widescreen (1.78:1)
DVD Format: 16×9 Widescreen (1.78:1)
Blu-ray Audio Status: 5.1 DTS-HD Master Audio
DVD Audio Status: 5.1 DTS-HD Master Audio
Title Copyright: © 2012 The Blue Like Jazz Movie LLC. All Rights Reserved.
###
About Lionsgate Lionsgate is a leading global entertainment company with a strong and diversified presence in motion picture production and distribution, television programming and syndication, home entertainment, family entertainment, digital distribution, new channel platforms and international distribution and sales. The Company has built a strong television presence in production of prime time cable and broadcast network series, distribution and syndication of programming and an array of channel assets. Lionsgate currently has 15 shows on more than 10 networks spanning its prime time production, distribution and syndication businesses, including such critically-acclaimed hits as the multiple Emmy Award-winning "Mad Men", "Weeds" and "Nurse Jackie" the Golden Globe-winning drama "Boss" and the syndication successes "Tyler Perry's House Of Payne", its spinoff "Meet The Browns", "The Wendy Williams Show" and "Are We There Yet?".
Its feature film business has been fueled by such recent successes as THE LINCOLN LAWYER, TYLER PERRY'S MADEA'S BIG HAPPY FAMILY, THE EXPENDABLES, MARGIN CALL, THE LAST EXORCISM and the critically-acclaimed PRECIOUS, which won two Academy Awards®. With the January 2012 acquisition of Summit Entertainment, the Company now has the two leading young adult franchises – the blockbuster TWILIGHT SAGA, which has grossed more than $2.5 billion at the worldwide box office, and the HUNGER GAMES franchise, whose first film will be released on March 23. Recent Summit hits include RED, LETTERS TO JULIET, KNOWING, the STEP UP franchise and the Academy Award winning Best Picture THE HURT LOCKER.
Lionsgate's home entertainment business is an industry leader in box office-to-DVD and box office-to-VOD revenue conversion rate. Lionsgate handles a prestigious and prolific library of approximately 13,000 motion picture and television titles that is an important source of recurring revenue and serves as the foundation for the growth of the Company's core businesses. The Lionsgate and Summit brands remain synonymous with original, daring, quality entertainment in markets around the world.