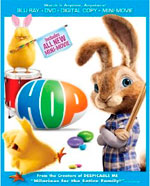 Hop



– for some mild rude humor.
Director: Tim Hill
Starring: James Marsden, Kaley Cuoco, voices of Russell Brand, Hank Azaria
Running Time: 1 hour, 35 minutes
Theatrical Release Date: April 1, 2011
Blu-Ray Release Date: March 23, 2012 (Amazon.com)
Official Site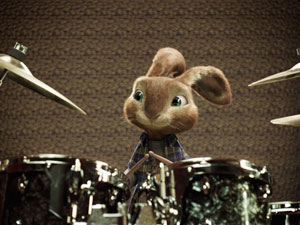 From the makers of Despicable Me comes an all-new comedy about candy, chicks and rock 'n' roll! He was destined to be the Easter Bunny, but all he wanted to do was rock! When teenager E.B. (voiced by Russell Brand) leaves for Hollywood in pursuit of his dream to become a rock star drummer, he meets Fred (James Marsden), an out-of-work slacker with his own lofty goals. Together the two encounter a series of hilarious mishaps and misadventures and in the end help each other recognize the importance of family.
(from Universal)
Film Review
Nearly every Christmas season yields a couple of new films vying to be added to movie watchers' annual viewing list. However, one season that doesn't really see a lot of movies being made for it is Easter. With secular Christmas films often centering their stories around Santa Claus, elves, Scrooges or Grinches, it seems only natural that here would come along a little film about the Easter Bunny. However, while many movie-goers are desensitized to the over-secularization of the Christmas holiday, it may still seem rather strange to watch an Easter film that only ever focuses on the retail end of the holiday: bunnies, chicks and… candy, candy, candy.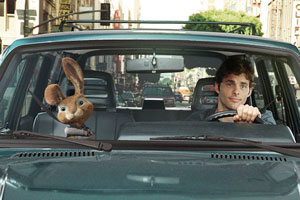 What HOP does have going for it, however, is its tone and approach. Right out of the gate, the movie doesn't take itself seriously at all. The opening scene reveals that James Marsden's character, Fred O'Hare (get it?!), becomes the first human Easter Bunny, and this is his story. With a premise like that, you know you're in for a silly film. And with that in mind, director Tim Hill delivers. This director has plenty of experience with mixing live action with animation, having previously helmed the first Alvin and the Chipmunks and the Garfield sequel, A Tail of Two Kitties. HOP takes a familiar topic and gives it a truly unique spin, unashamedly borrowing from the Santa Clause concept some in the process. But casting in a film like this one is everything. Giving James Marsden–who's played all kinds of roles from the hammy prince in Enchanted to Cyclops in the X-Men trilogy–the lead role as a thirty-something man who's failed to make it on his own was inspired casting. His expressions and reactions actually compliment his CGI co-star, a rabbit named E.B. who is voiced by Russell Brand. I was leery about the idea of the usually-crass comedian handling an icon as beloved by children as the Easter bunny, but a good script and some solid Eddie Valiant/Roger Rabbit chemistry between Fred and him made it all work. In a movie like this, if the main characters don't work too well, you're doomed from the start. While I didn't make it a point to see any of the recent Alvin and the Chipmunks movies, I did see both Garfield films (being a longtime fan of the comic strip), and those movies relied much more heavily on an animated Garfield being able to carry the film by himself. So-so stories and weak scripts made those movies lackluster, but the human characters weren't very interesting or compelling enough to help that out much.
As I mentioned earlier, it's a bit ironic to find a movie that focuses on the secular side of a spiritual holiday to be a little alarming when we largely accept Christmas movies as being the same way. Maybe because it's not even remotely inspired by bestowing gifts on a baby Savior and instead is entirely about a fictious bunny that delivers candy to children, I don't know. But as a comedy and family film, Hop succeeds in entertaining and being mostly inoffensive (more on that later). But as a film glamourizing the secularization of a holiday that is largely known as celebrating the resurrection of our crucified Savior, I can't shake an uncomfortable feeling I get about that. This is a feeling reinforced by comments in the film made about "that's what Easter is all about" (which, I think in the film was something about delivering candy to children). It sounds ridiculous and completely nonsensical (So you're saying Easter is all about bringing sugar-intensive, teeth-rotting sweets to little hyperactive children that really don't need such a stimulant?), and it cheapens a holiday that means a great deal to a great many people. Sure, it sounds to some like I'm overreacting and sounding a bit like an extremist, but it's an idea–a concept–that really shouldn't sit well with any Christ followers. On the other hand, because Hop does not take itself seriously at all, it does make it easier to enjoy it as nothing more than an entertaining fairytale about the Easter Bunny, much in the same way that a film like Elf can, in regards to the Christmas holiday. There's nothing in the film that's directly intended to mock the spiritual side of Easter; it merely does not address it at all. If parents are concerned that Hop could send the wrong message to children, it'd be best to only show it to youngsters who can understand that Hop is intended to be pure, fictional entertainment and nothing more, or just avoid it altogether.
I did appreciate the unique take on the Easter Bunny story, though. As I said earlier, it does take a similar approach to the legend as the Santa Clause series did, and uses Easter Island as a sort of "North Pole," even going so far as to give the Easter Bunny a big candy factory with worker baby chicks in the same vein as Santa's toy workshop and helper elves. Heck, we even see that the Easter Bunny rides a sleigh pulled by about 50 little chicks! E.B. is a young rabbit who's about to inherit the family tradition of being the big bunny himself, but he can't forget his real passion… playing the drums. It's a bit random, but it leads the film to have a musical side which works pretty well for itself… although it is kind of odd to hear songs by Good Charlotte and Poison being played in a little kids' movie. Meanwhile, Fred is an aimless young man who's been unable to find his true calling, and the story becomes all about two different characters pursuing what they really want in life and what they were made to do. Along the way, E.B. and Fred have a bit of a love/hate relationship that offers some solid laughs (There's a great cameo from The Blind Boys of Alabama, as well one from Russell Brand as he meets his animated alter-ego, a fun Knight Rider joke, and a subtle but appreciated nod to Jurassic Park. It's stuff like this that just reinforces the fact that the movie is merely trying to have fun and entertain, nothing more).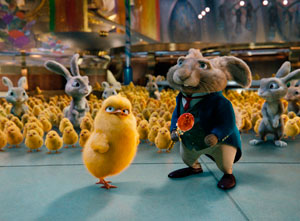 The content for Hop, overall, is pretty mild. Still, a few things happen that make you wonder just what they were thinking. While a pretty clever gag, E.B. shows up at the gate of the Playboy Mansion because he read in a Hollywood star map that it's been the "home for sexy bunnies since 1971" (or something to that effect) and states that he's a bunny and sexy. We never see past the gate (which has the bunny and bowtie logo on it) and intercom at the mansion, but the idea that they stuck such a joke in a family film may cause your kids to ask questions you didn't want to have to answer. The language is pretty clean, with the exception of two uses of "Oh my G-d," as well as some name-calling. And there is some comedic violence, but nothing too harrowing. At one point, the animals believe Fred may have boiled E.B. in a pot (but the audience knows he didn't), while a scene where a small chick slowly turns into a rabbit is handled in a way that may creep out younger viewers. But besides some rude behavior (and the misplaced Playboy gag), there isn't a lot about Hop to alarm parents (aside from the possible confusion as to the true meaning of Easter, as I mentioned earlier).
As a family comedy, I found myself really enjoying Hop. It's not the most clever movie, and it plays more like a spoof of the Santa Claus legend than something completely new and original, but it's one of those movies that is really cute and really silly and wants you to know that it is aware of this. The complete secularization of the sacred holiday is something to consider before sharing it with the younger ones, but treating it as nothing more than a fun movie about a bunny and his dream of being a drummer will yield a good time watching Hop with the family.
– John DiBiase, (reviewed: 3/16/12)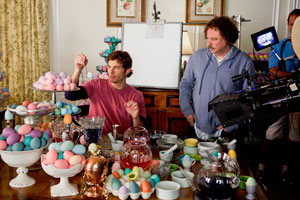 Blu-Ray Special Features Review
Hop arrives on Blu-Ray disc with a nice combo pack that includes a DVD and a code to download your digital copy. The picture looks great in high-definitions–especially since it's quite a colorful film–and it's an ideal option for watching the film. The Blu-Ray disc does include some extras for those who want to dig deeper into the world of Hop, however, they're of the drive-thru variety. Not one of the many bonus features reaches four minutes in length. Even the "mini-movie" is just over three minutes and literally only shows two little chicks dancing. The behind-the-scenes featurettes are interesting, but the end just as they seem to be starting up. Overall, the extras are worth a peek, but they feel rushed and incomplete…
Phil's Dance Party (3:14) – This is a short cartoon that shows Carlos and Phil dancing against a white background to all kinds of random styles of song clips. Interestingly enough, Hank Azaria's voice job as Carlos has been replaced by Disney-regular Jim Cummings (he voices Winnie The Pooh) who does a great job sounding like Azaria. It's super short, so I'm surprised they tried to pass it off as a new "Mini-Movie."
The World of HOP: A Look at the Candy Factory (1:34) – This short little video is dedicated to the factory in the film and briefly features the crew, including Russell Brand, talking about it.
The World of HOP: A Look at E.B. (2:02) focuses on Russell Brand's performance as E.B., how he was cast, and what kind of character E.B. is… in two minutes' time.
The World of HOP: A Look at Fred (1:19) – James Marsden talks briefly about his role as Fred. It's just under a minute and a half and ends just as quickly as it begins.
The World of HOP: A Look at the Easter Bunny (1:10) shows Hugh Laurie in the studio filming his voice for the role of the iconic Easter Bunny.
The World of HOP: A Look at the Carlos and Phil (1:45) reveals that both Carlos and Phil are both voiced by Hank Azaria. He's ridiculously talented and we even get to see him briefly in the studio dialoging with himself as both characters!
The World of HOP: A Look at Sam (1:17) – Lastly, we see a short video dedicated to Kaley Cuoco's performance as Fred's sister Sam in the film. They show some cutting up on set and just how much fun they all seemed to have working together.
All Access with Cody Simpson (2:28) – Some kid named Cody Simpson recorded a cover of "I Want Candy" and he talks about his experience covering the song and then takes us to the film premiere at Universal's City Walk.
Russell Brand: Being the Bunny (1:07) – This is a strange Monty Python-style animated cut-outs video that has Russell talking nonsense about preparing for the role of E.B.
Russell Brand: Kid's Crazy Crack Ups (2:57) – This is a montage of clips from the film as well as Russell interviewing a batch of silly and sometimes very awkward children. Kaley Cuoco makes an appearance near the end of the video too.
Carlos on Carlos: The Premiere According to Carlos (3:30) – Oddly enough, Jim Cummings returns as the voice of Carlos as he sticks a video camera in the cast's face while they're on the red carpet at the premiere. What's interesting about Cummings' version of Carlos is it's much happier than Azaria played him in the film.
Emotion in Motion: The Dance of Ken Daurio (2:34) is a mockumentary about Ken Daurio, who choreographed the animation performance of Phil's dancing in the film (and is also one of the writers of HOP).
Post Coup Commentary: Carlos and Phil Tell All (2:59) Cummings returns one last time to provide the voice of Carlos as he and Phil provide some post-film commentary as if they're in the editing room. It's pretty silly, but Cummings does a wonderful job as Carlos (maybe even a little better that Azaria?). Loved the Cyclops/Marsden joke here too as well.
Games – There are three Blu-Ray games: Drum Along, Pink Beret Skill Tester and E.B.'s Candy Challenge. The Drum game shows different patterns you're supposed to remember and use your arrow buttons to copy. The Pink Beret game has a couple of different little observation tests to see if you qualify in joining the Pink Berets. And lastly, the Candy challenge is like a board game with little mini games inside of it. This one is even two players. The games here are pretty simple in concept, but they're some of the better games I've seen on Blu-Ray discs.
– John DiBiase, (reviewed: 3/17/12)
Parental Guide: Content Summary


 Sex/Nudity: E.B. shows up at the Playboy Mansion in Hollywood where a voice on an intercom says that "The Playboy Mansion is not a hotel!" to which E.B. reads a star map that describes the Mansion as home to many "sexy bunnies." He then adds that he's both a bunny "and sexy." But he walks away and we don't see anything risque; Hoff makes a comment about E.B. being able to have "all the bunnies [he] could ever want;" E.B. jokes with Fred about him "seeing another bunny" and says he has an open mind; SPOILER: The Easter Bunny has a ceremony at the end that rings in Fred and E.B. as "Co-Easter Bunnies" that sounds a lot like a marriage.

 Vulgarity/Language: 2 "Oh my G-d"

 Alcohol/Drugs: None.

 Blood/Gore: None.

 Violence: We see a basket of candy go flying and an angry woman chasing the Easter Bunny away; Fred accidentally hits E.B. with his car. Assuming the bunny is half-dead, he holds a large rock over his head to drop it on him and end his "misery" but drops it off to the side when he realizes E.B. is alive; A pink beret bunny hits a guard in the neck with a tranquelizer dart; Two vicious dogs tackle Fred while he's wearing a safety suit; E.B. slaps Fred's face repeatedly and then Fred shoves E.B. in the drawer, closing it on his ears; Alex kicks Fred in the shin and calls him a jerk; E.B. slaps Fred in the face; E.B. hits Fred with a wooden spoon; Fred trips over a hedge and falls. Later he bounces off a big ball and rolls down a hill; Carlos slips on a conveyer belt and falls over; The pink berets use darts to knock out a couple of guard dogs; Fred is shot in the face with multiple tiny tranquelizer darts; We see a frozen turkey in a pot wearing a t-shirt that the bunnies and chicks believe was E.B. (obviously it's not); A bunch of little chicks tackle a bunny; Carlos hits a little chick with a scepter; A bunny is hit by rapid fire gummy bears; We see a bunch of razor blades swiftly carving Easter bunnies and one blade narrowly misses E.B.'s face, slicing his whiskers; We see a chick suddenly start turning into a bunny in a semi-creepy way; E.B. punches and kicks a large chick's stomach and then face. The large chick hits him in the face with a scepter and then throws him and jumps on him; A sleigh crashes to the ground.